Hair accessories are things that are wrapped, knotted, twisted, inserted, or otherwise fixed to the hair, and may be decorative or practical. Throughout history, religious significance, social class, age group, and level of fashion awareness have all been denoted by the adornment styles and materials used.
Hair accessories for women come in a variety of forms, dimensions, and materials, including hair bands or rings, ribbons and bows, hairpins, combs, barrettes, beads, thread or string, hair spikes and sticks, as well as other affixed trinkets (shells, jewels, coins, flowers, and feathers) thought to have aesthetic or social and cultural value.
Here is a guide on how to style the best hair accessories this season, taking inspiration from Bollywood's favourite ladies.
1. Barrettes
Barrettes are a contentious fashion trend; some ladies have wasted no time in snatching up the most ostentatious styles, such as velvet bows or clips with diamond embellishments or colours reminiscent of the fifth grade. And then, there are those who timidly put on a straightforward hairpin while gently doubting their ability to pull it off. However, joyful, amusing, flirtatious hair accessories remain the most wearable 1990s trend—much simpler to pull off than frosted tips, frosted lips, opalescent eye shadow, and drawn-on eyebrows.
Take a look at how Aliaa Bhatt styled a simple yet elegant barrette, that became an eye-catching statement when it came to her ensemble. Barrettes are the easiest and simplest hair accessory to use, to elevate any hairstyle in a matter of minutes.
2. Bandana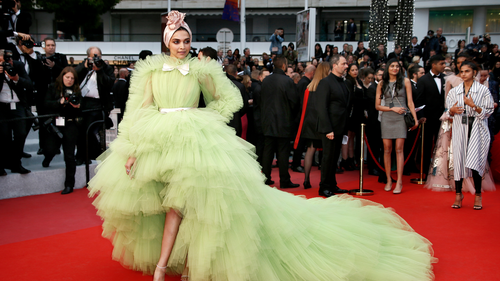 Deepika has proven to be a huge admirer of bandanas. A bandana is a sizable, printed handkerchief that can be worn around the neck, although it is most frequently used as a headband-style hair accessory. In the 1940s, bandana hairstyles for women were very popular because they used them to prevent their hair from getting trapped in the tools and machinery they worked on.
They also became a common 1990s hair ornament, and were worn by performers like Tupac Shakur and Aaliyah. And now, well-known celebrities, bloggers, and Instagram influencers are demonstrating how flexible and fashionable bandanas are as the hottest hair accessory to wear in 2023.
3. Statement parandi
A hair accessory for women that is constructed using multicoloured silk threads and embellished with flowers and decorative tassels is called a paranda in Punjabi, also known as a parandi. Though traditionally pranda is a component of traditional Punjabi attire, our favourite Bollywood celebs have been seen wearing a parandi to take their look to the next level. You can take inspiration from how Rhea Kapoor styled a parandi to make heads turn. This is definitely a must-have accessory for Diwali.
4. Hair scrunchies
Some of our favourite influencers and celebs have been spotted wearing their go-to scrunchies in a topknot or high ponytail, which has subtly encouraged us to give it a shot. Sonam Kapoor's hairstylist used a scrunchie to give her the perfect look.
There are no restrictions on how you can use a scrunchie, regardless of how long, short, wavy, or straight your hair is. This is why, the scrunchie is undoubtedly the best hair accessory to start with if you're a beginner! We wholeheartedly support buying many scrunchies to accessorise any ensemble, whether it is for the day or the evening. 
5. Hair bun accessory
Usually the bun is regarded as a classic, elegant hairdo. There is nothing quite as chic as the classic hair bun that we have all seen our favourite celebrities don every now and then. It is a simple, fuss-free hairdo that is perfect, regardless of the occasion. How do we take the simple hair bun one step further? By using a hair bun accessory like how Sonam Kapoor has done here. If you're looking for party hairstyles that are easy, in one simple step, you can glam up a simple bun. What more could a girl want when she's already running late to a party?
6. Embellished hair comb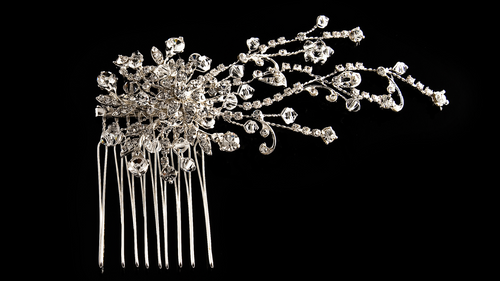 A hair comb has been a hair accessory that has been a part of our hair kits for years, but we've never really used them out. The age-old hair comb is getting a brand new makeover with many new embellishments. Shraddha Kapoor was seen flaunting this accessory and it's been a trend ever since.
---
Photo: Shutterstock