The world of beauty sees new products launching almost every day. Most of these products are designed to make you look and feel good while keeping your skin and body healthy.
This month's beauty releases focus more on keeping the skin hydrated and moisturised, given that the season of harsh winter is here. But, how can you make an informed decision on what to add to your stash? Well, this edit has some of the hottest new beauty picks that you may want to get your hands on.
1. Colorbar Vita Hemp range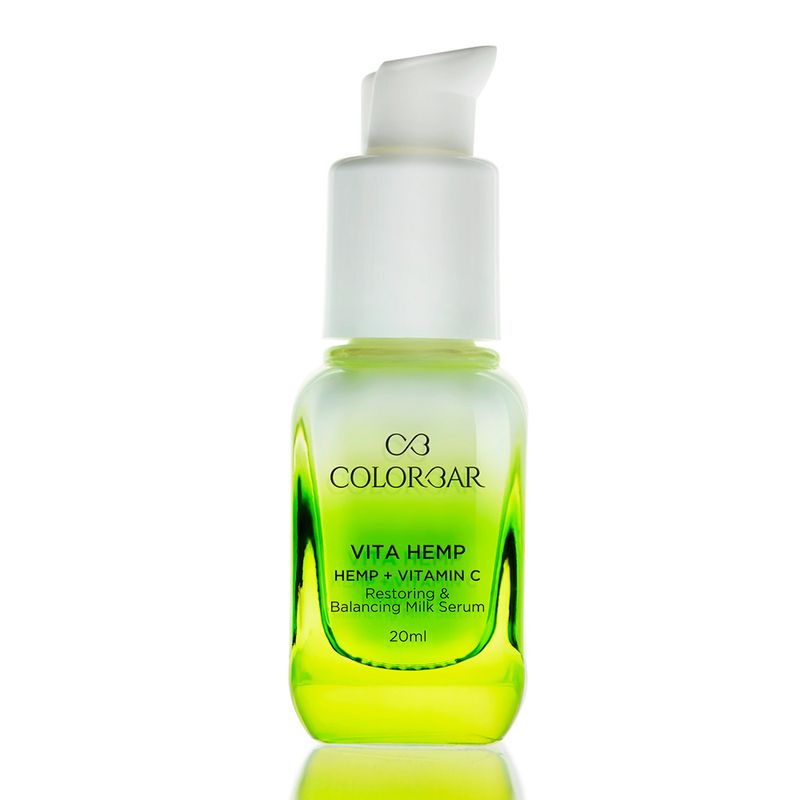 There's a new hero ingredient in the beauty industry—hemp. Recently, hemp has started enjoying an elevated position in the beauty business and is regarded as an absolute treat for the skin when it comes to hydration, relaxation, and repairing damage. Colorbar Cosmetics now has a skincare range dedicated to the goodness of hemp, curated with another incredible ingredient—vitamin C. The new range includes a milk serum, moisturiser, and night face oil.
The milk serum has hyaluronic acid and vitamin E that keeps the skin hydrated and plump—apt for the winters. It is quick-absorbing and has a lightweight texture that suits most skin types. The moisturiser promises a smooth texture. It instantly seeps inside the skin and hydrates while giving you a rejuvenated look skin. Given the dry winters, face oils have become a must-have for the season. With the added goodness of vitamin E, oil-soluble retinol, argan oil, rosehip oil, and almond oil—the formula for Colorbar's face oil is light-weight, as it absorbs quickly without weighing down the skin and is non-sticky.
2. Kama Ayurveda new range of face oils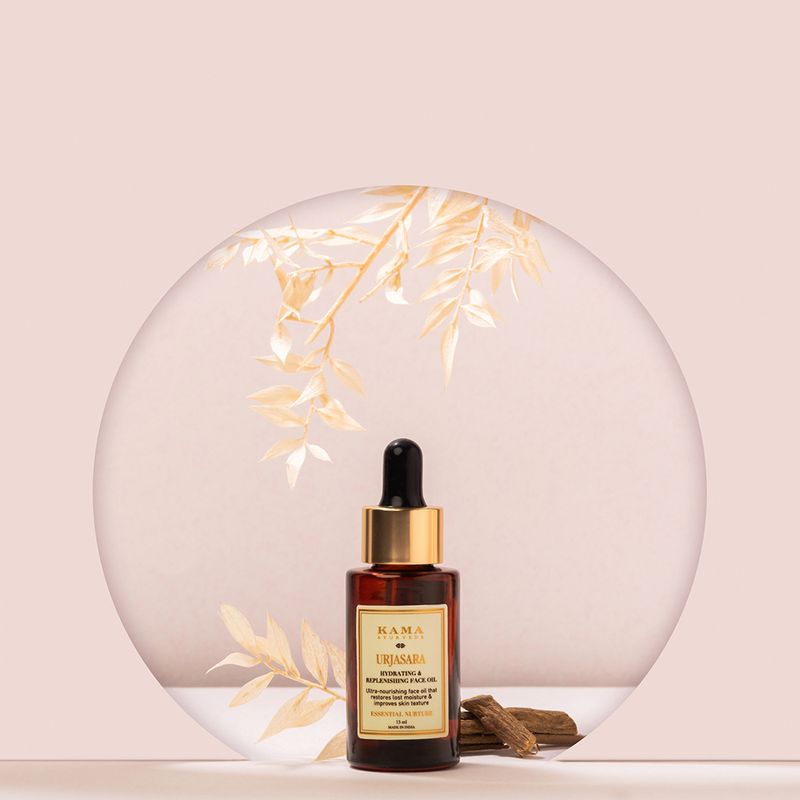 Known for their Ayurvedic formulations, Kama Ayurveda has launched two new face oils. While one Urjasara promises to deliver hydrated, even-toned, and smooth skin, Amarupa is all about firming the skin while also reducing the signs of ageing. Both are available in 3 ml and 15 ml packs.
Rich in antioxidants and packed with liquorice, cardamom, and sesame oil, the Urjasara face oil gets absorbed pretty easily—however it may leave a sticky residue behind. That said, it does the work of making your skin moisturised, plumped, and hydrated well. The Amarrupa face oil is said to accelerate the production of skin collagen and increase the skin's elasticity with centenella asiatica (gotu kola), oleic acid, and carrot seed oil. An interesting fact is that this formulation is clinically tested to reduce under-eye dark circles by 31%.
Both the oils can be used for AM and PM routines. For normal to oily skin, you may use 2-3 drops and 4 drops for dry skin. Moisten your skin with a natural water-based toner first and then massage the oil gently until it is fully absorbed. The final effect is nourished and glowing skin!
Where to buy - Urjasara and Amarrupa
3. Simply Nam lip oil range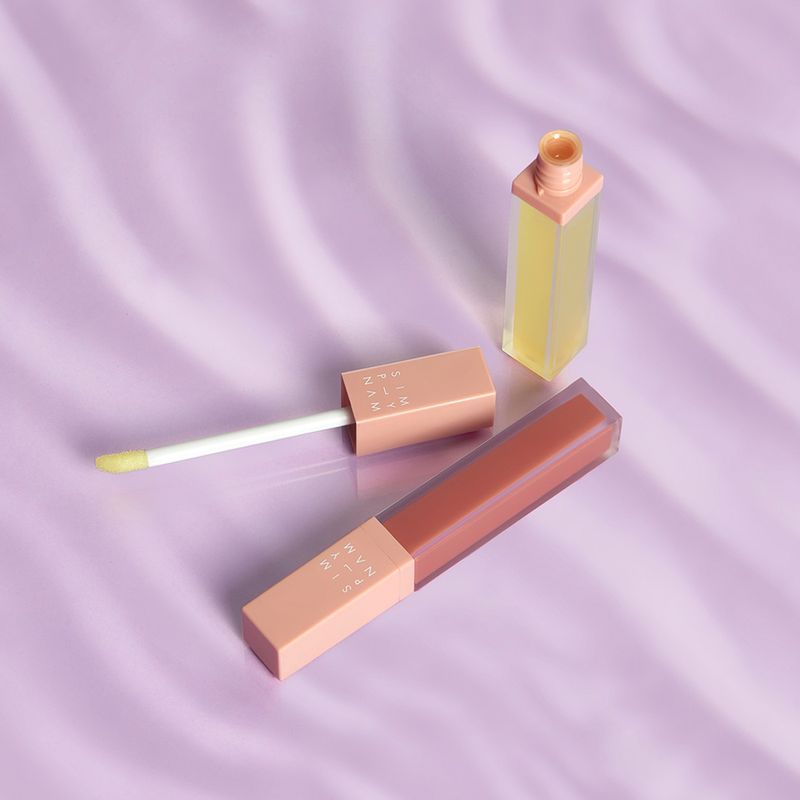 Celebrity makeup artist Namrata Soni's eponymous brand Simply Nam has rolled out another stellar lip product—a range of lip oils. They have two variants—transparent and tinted—both with a glossy texture, and moisturising and hydrating properties. They are easy to glide and can be used anytime. If you find your matte lipsticks to be too drying, especially in the winters, gloss it out with these oils for an extra layer of shine. Infused with jojoba oil, macadamia oil, sweet almond oil, coconut oil, shea butter and avocado—they also give long-lasting hydration. Regular use of these oils also keeps the problem of chapped lips at bay. The range is quite versatile, as these lip oils can also be used as a lip mask too to soothe chapped lips. Just apply a thick layer, leave it on for 10 minutes, and then wipe off for plump and soft lips.
4. Just Herbs compact powders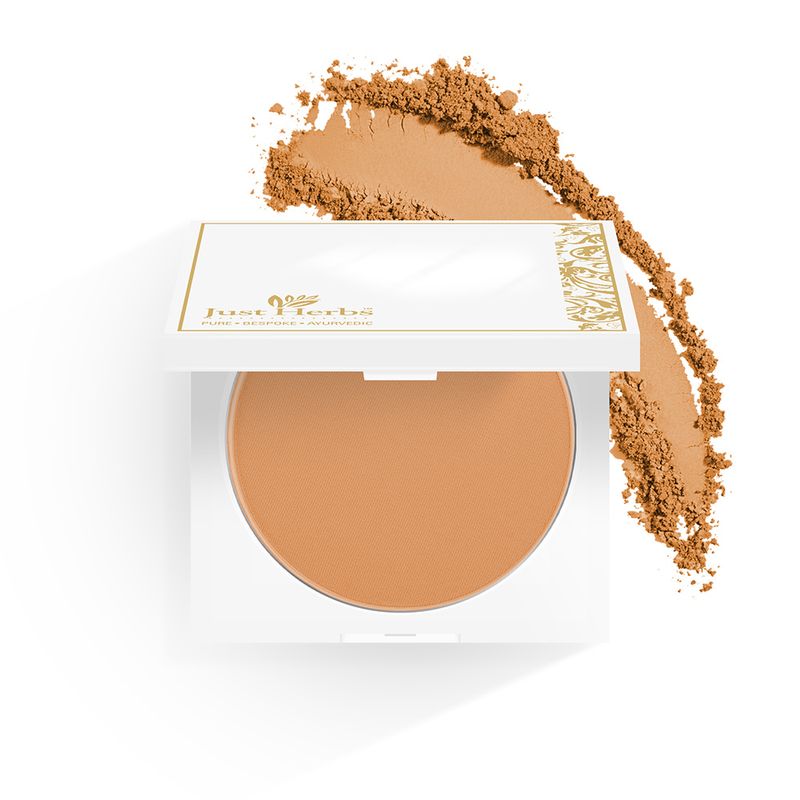 Definitely the tip of the iceberg in the Indian beauty industry is Ayurvedic cosmetic products offering stellar results. Just Herbs, the Ayurvedic makeup-skincare hybrid brand launched India's first mattifying and hydrating compact powder in six different shades, catering to quite a wide range of Indian skin tones. The powders stay true to the brand's character, inspired by natural beauty ingredients like rice starch and liquorice root, along with other revered Ayurvedic herbs such as manjistha, priyangu, and usher. All of the ingredients have oil-controlling and skin brightening—without drying the skin.
The range consists of feathery light pressed-powders that offer a mattifying texture and quickly absorb into. They give a seamless base, good coverage, a stunning-luminous finish without any creases or cakiness, and a long-lasting finish. These lightweight compact powders are super easy to use and feel light on the skin—making them a great pick and touch-up essential for regular use.
5. Plum tea tree hair range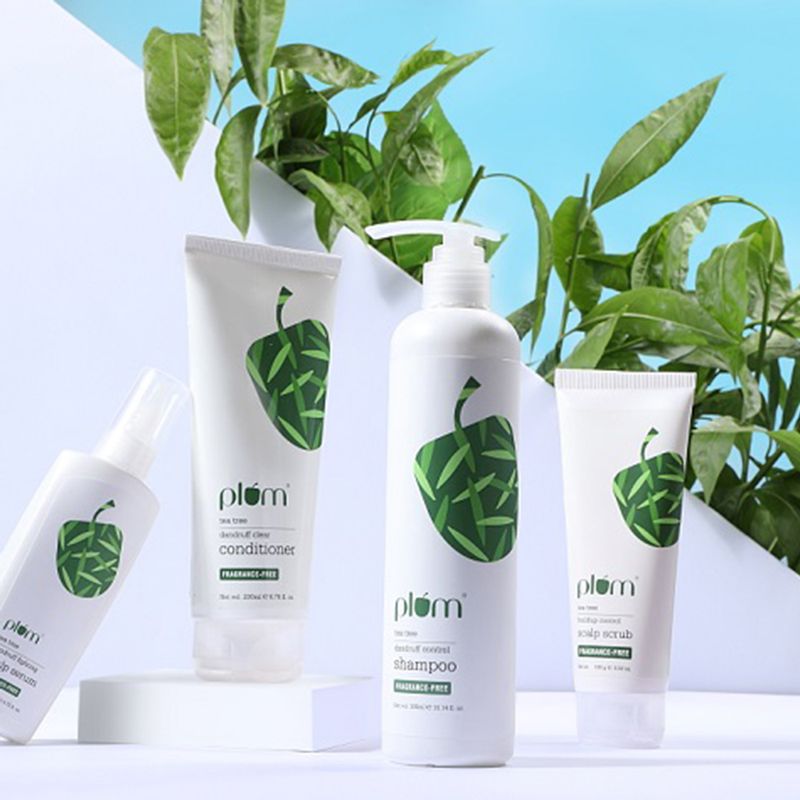 An ingredient that is a favourite when it comes to hair care is tea tree oil, which is known for its antimicrobial and antiseptic properties. Plum is one of the best homegrown beauty brands that has now launched an exclusive tea tree four-step haircare range, which includes scalp scrub, anti-dandruff shampoo, anti-dandruff clear, and a dandruff-fighting scalp serum.
With powerful physical exfoliants like shikakai, brahmi, coconut, and walnut shell—the scrub isn't hard on the scalp and works wonders for removing flakes. Apply the product directly onto the scalp and give yourself a nice scalp massage and rinse it off with water. People with dandruff have too much sebum on their scalp. This encourages an unhealthy overgrowth of Malassezia, although it naturally lives on our skin biome. Hence, the shampoo with piroctone olamine, an antifungal compound and willow bark extract, a natural source of salicylic acid—quite common in skincare products that promise deep exfoliation—calms the itchy scalp and regulate the scalp's sebum production.
With caprylic triglyceride, which is a coconut oil derivative, the tea tree conditioner keeps the hair strands hydrated while not weighing them down. The serum consists of Propanediol Caprylate, a certified conditioning ingredient that is primarily effective against Malassezia—which also prevents dandruff from coming back.
6. The Switch Fix mushroom hair range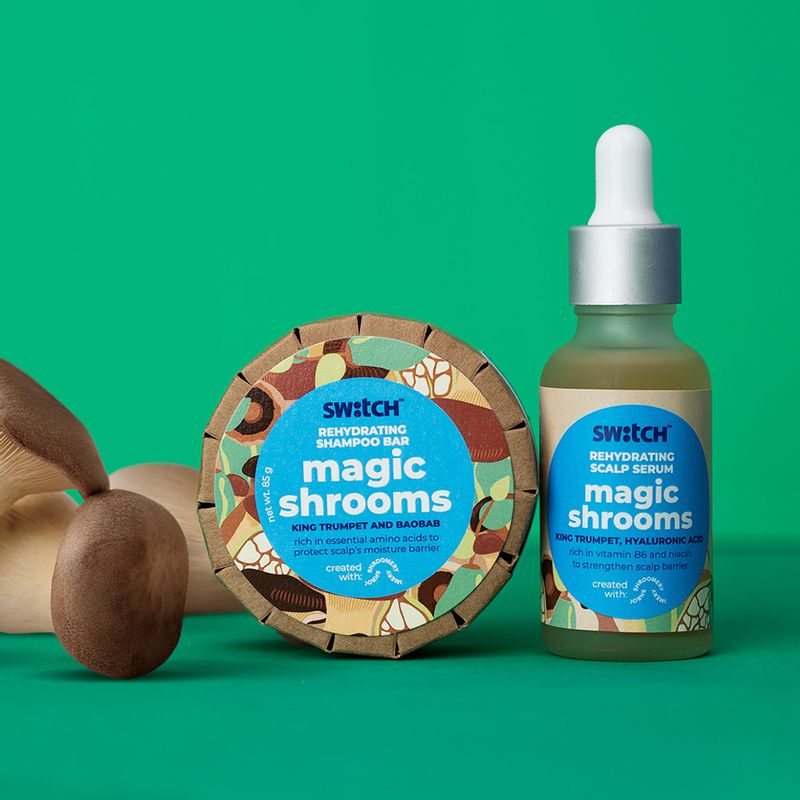 Until now, the haircare conversation has narrowly been focused only on the indicators of healthy hair rather than the solid link between hair and scalp health. Clean and conscious personal care brand, The Switch Fix has joined hands with homegrown mushroom start-up Shroomery to launch Magic Shrooms—an exclusive range of haircare products that include hair mask bar, shampoo bar, conditioner bar, and scalp serum, featuring mushroom as the key ingredient.
Mushrooms are widely popular as an ingredient in skin care due to their ability to repair the skin barrier. They also go a long way in maintaining scalp health. With King Trumpet Mushrooms—which are rich in vitamin b6 and niacin, which is regarded to improve the appearance of your scalp and hair—this bundle of products also has baobab protein that provides both hydration and protection to the scalp. Unlike most clean botanical formulations, the shampoo bar lathers rather generously and the serum doesn't have a thick consistency that weighs hair down. The products are pleasant smelling—setting them apart from other green products. The range dislodges dirt buildup without drying out the scalp, while also supporting hydrated and healthy hair.
7. amag Beauty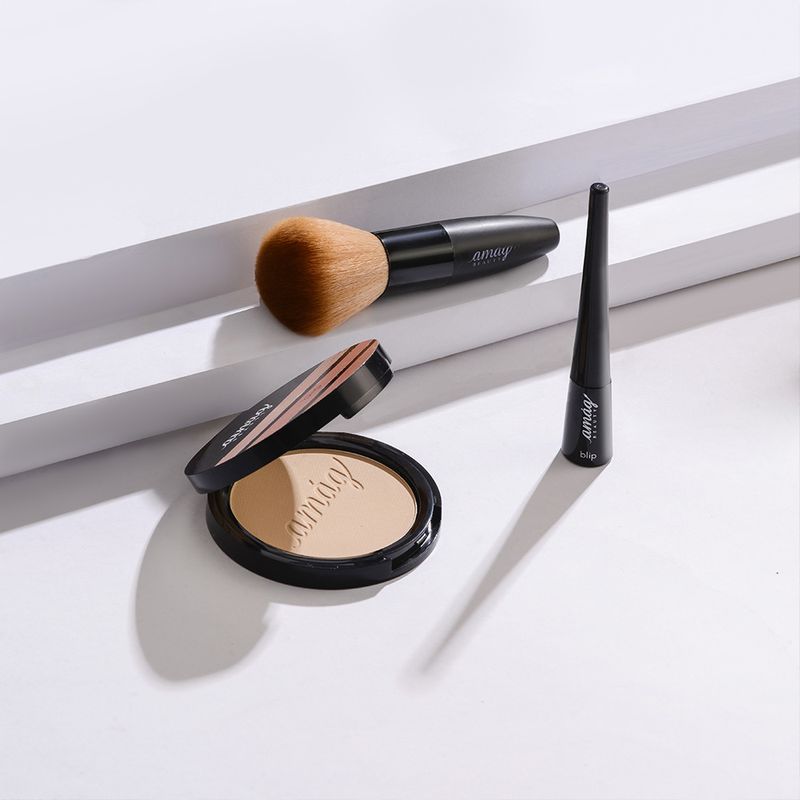 Working from home has us spending hours and hours in front of our screens. Prolonged exposure to the blue light thus emitted can damage the skin—as it is similar to the sun's UVA rays and can leave behind long term side effects. amág Beauty—a new entry in the market—has emerged as a saviour for our skin in this regard. Their makeup products have 'Blue Light Insta Protect', which blocks out blue light. Carefully crafted with clean ingredients, the brand is cruelty-free, vegan, and certified organic—i.e. free from all parabens and sulphates.
Their first line of products includes a powder foundation that gives a full-sheer coverage with its lightweight texture while being easy to blend. You'll notice a non-cakey blurring effect upon use, and the product also makes the skin look matte, but never dry, thanks to vitamin E. Next up is a highly-pigmented, lightweight, and long-lasting eyeliner that comes with a sturdy applicator with a long handle for that perfect line in a single stroke. The formulation also doesn't crack or peel off after drying. The kohl-kajal pencil glides easily without creasing because of its smooth and creamy texture. The brand has also introduced a range of liquid matte lipsticks that come in 12 highly-pigmented shades. The formula is creamy and lightweight, courtesy of cocoa butter and jojoba oil. Just one swipe of this liquid lipstick will do the trick!
8. The hyaluronic acid range from Skincare by Dr G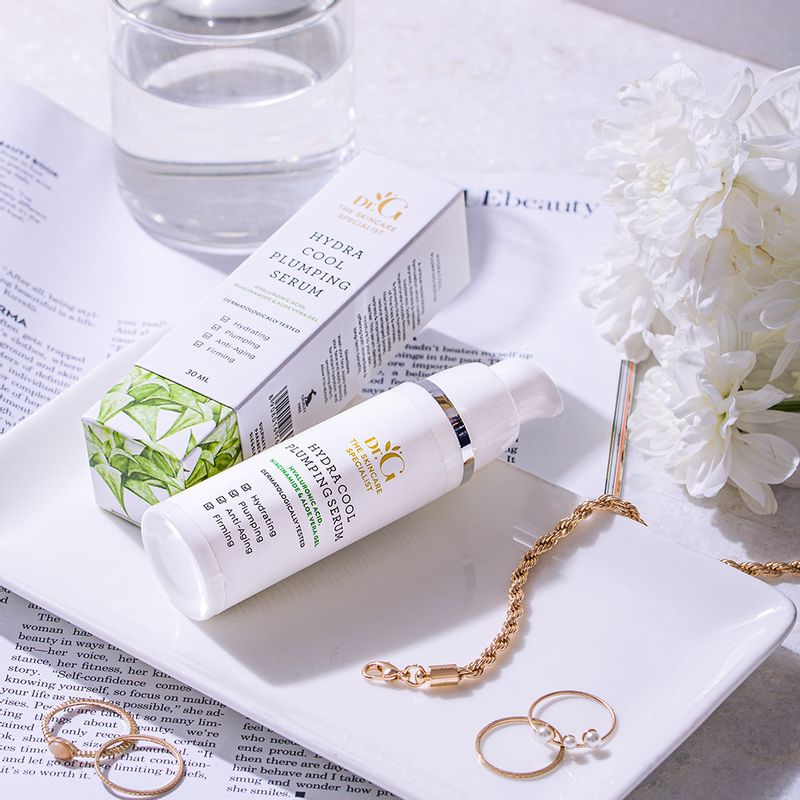 Skincare by Dr G, the luxury skincare range curated by celebrity dermatologist Dr Geetika Mittal Gupta, has new winter essentials to offer—including products that feature the goodness of hyaluronic acid. First up is an intensive hydrating serum that seeps deep within the skin to provide hydration. It also has niacinamide to reduce inflammation and improve the skin's barrier. Both the ingredients work together for a firmer, refreshed, and long-lasting radiance. This serum delivers instant moisture, while also offering long-term benefits. They also offer a lightweight cream with advanced hyaluronic acid technology. The texture makes it a boon for those who have always desired dewy and plump skin. The texture battles dry patches and flakiness, and lets you enjoy a subtle glow instantly. This moisturiser feels both light and right on the skin.
9. Arata lip balms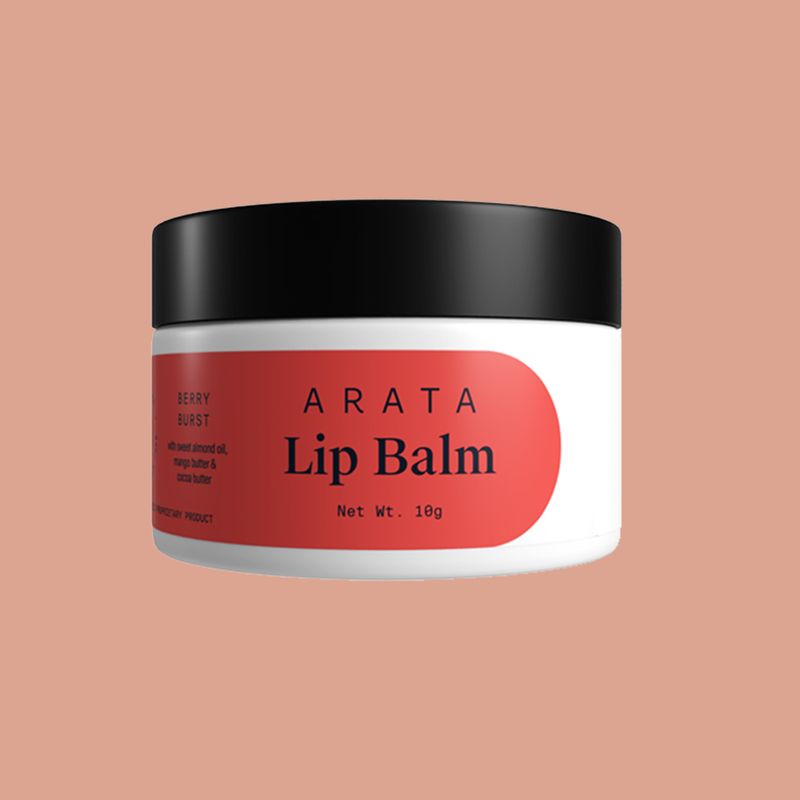 Chapped lips can really bring you down. Homegrown personal care brand, Arata, has launched two new, high-performance lip balms—summer citrus and berry blast. These power-packed balms have a thick consistency and are infused with rich, plant-based oils and butter which makes them extra moisturising and hydrating, with long-lasting results. Both the balms have a soothing and sweet fragrance with the potency to restore the lush, supple texture of your lips. Moreover, you can layer your lip gloss or lipstick over these balms to keep dryness from peeking through.
10. Forest Essentials' fragrance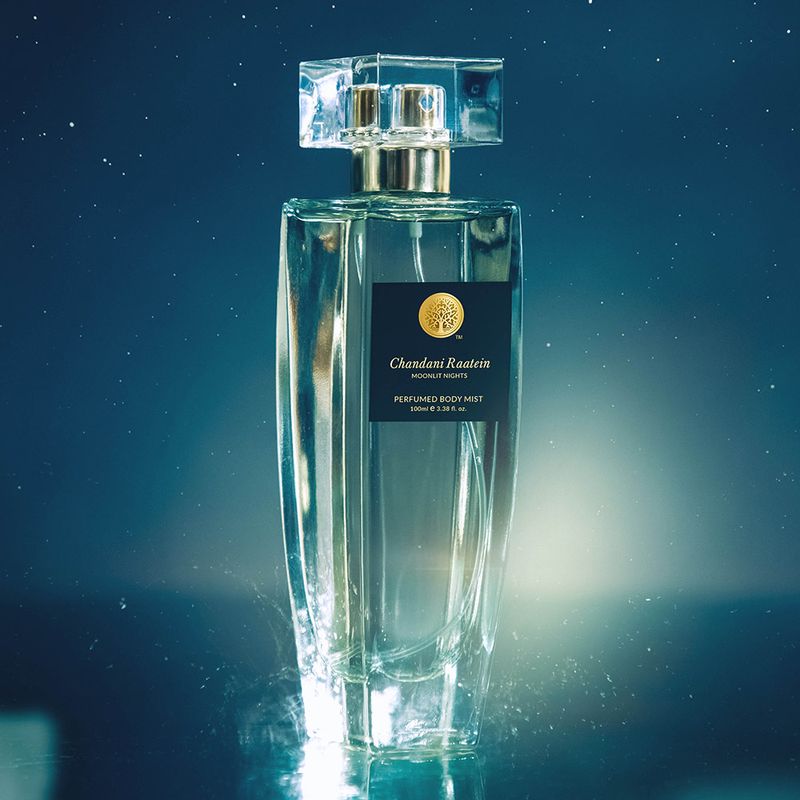 The evocative and transformative power of fragrances can be captivating,  and Forest Essentials' new fragrances—Sunehre Din (for daytime) and Chandani Raatien (for dusk hours)—are curated with botanicals, pure essential oils, and floral waters. Moreover, the body mists also have pure aloe vera juice in them to keep the skin hydrated.
Sunehre Din has a sweet and refreshing scent thanks to a blend of Kashmiri saffron, marigold and rose. This rich floral scent is sure to awaken the senses and is recommended for daytime wear. Chandani Raatein has the enchanting notes of white jasmine, golden champa, and sandalwood to bring a soft and evocative sensual scent—quite apt for evening hours. The perfumes are made with essential oils that help the scent last for hours.
11. Kaya face masks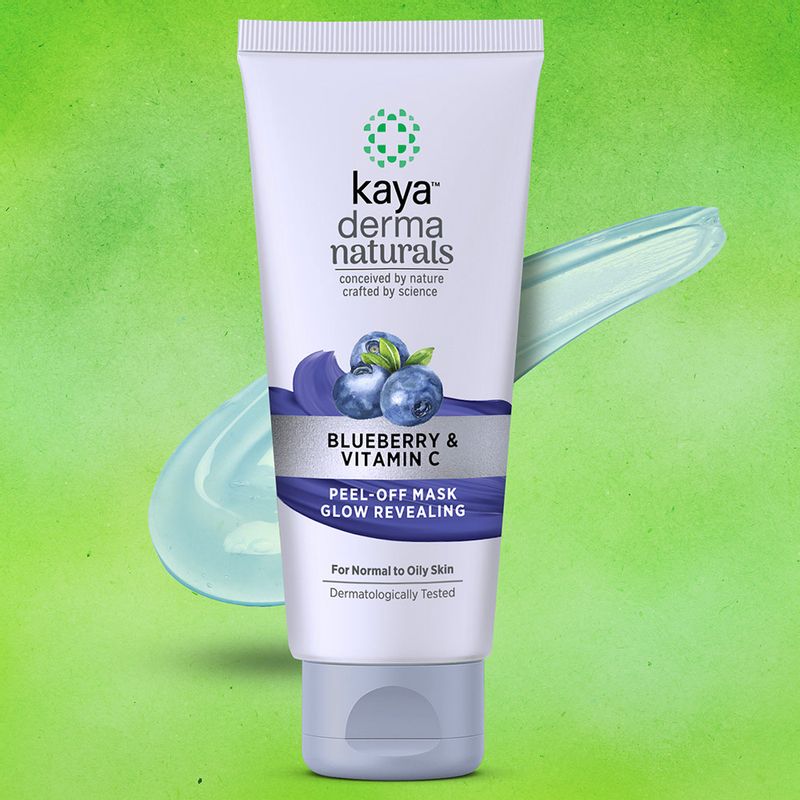 With the promise of an at-home facial, face masks became an undisputed part of our everyday lives. Kaya has introduced two new peel-off face masks that are great for deeply cleansing the skin. The peel-off masks are easy to apply and even come off easily, without leaving the skin dry. They work best for people struggling with dehydrated skin.
First is a blueberry and vitamin C mask. While vitamin C works to brighten the skin and gives it a natural glow, blueberry extract—known for its potent antioxidant and skin conditioning benefits—lightens dark spots and blemishes. For radiant and glowing skin, this is your go-to mask. The second mask has green tea and vitamin E, and is more suited to protect your skin against environmental pollutants. Even though it deeply cleanses the pores and removes oil, it doesn't strip off the skin and is gentle.
12.  Ciel body yogurts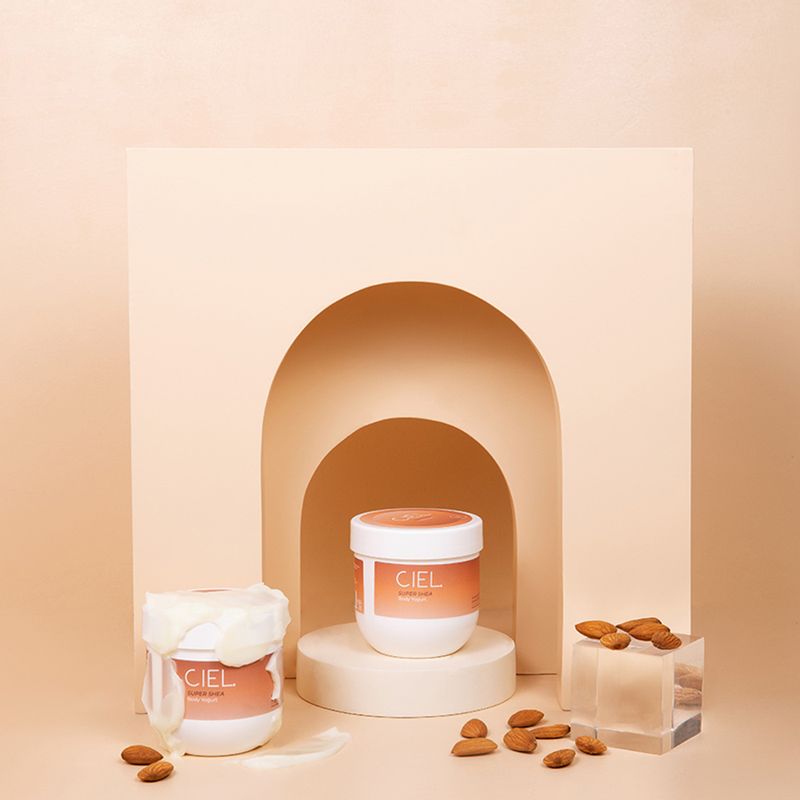 A PETA certified, 100% vegan and cruelty-free beauty brand—Ciel has introduced an innovative range of body yogurts. The body moisturisers repair, hydrate, and moisturise the skin from deep within, but have a gel-like cream texture that's lightweight, non-sticky, and quick-absorbing.
The two body yogurts, VeryBerry and Super Shea, work to keep the skin hydrated for a long time thanks to the goodness of shea and cocoa butters and hyaluronic acid. These hydrating moisturisers leave the skin with a kiss of scent that isn't overpowering and are best suited for dry skin. What makes these body yogurts even more interesting is that they provide all-around moisturisation that doesn't weigh down the skin, making them apt for the summer too.
13.  Beautywise Vegan Collagen Builder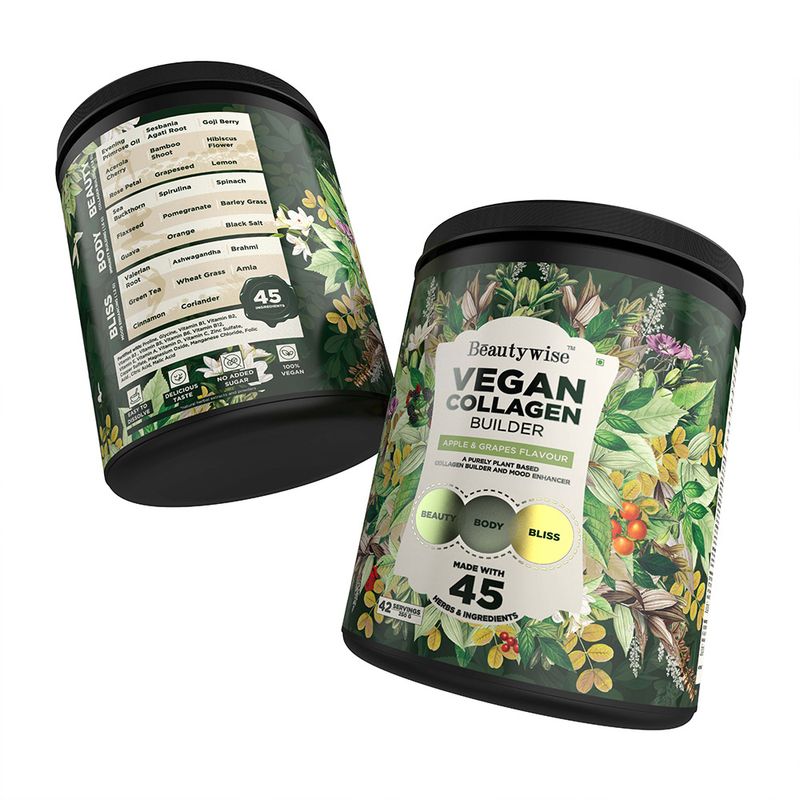 Beauty edibles are another buzzing category. Offering superfood for the skin, Beautywise has launched their newest product—Vegan Collagen Builder. This super supplement has a unique blend of beauty, body, and blissful collagen herbs that helps with skincare and mood regulation, amongst other things. The supplements are made with 45 ancient herbs and flowers, antioxidants, vitamins, and minerals. All you have to do is measure one scoop and mix it in 100 ml of water, stir well, and consume immediately. The drink has a sweet and fruity flavour, so you won't have to worry about the taste.
14.  Zariin zodiac wellness range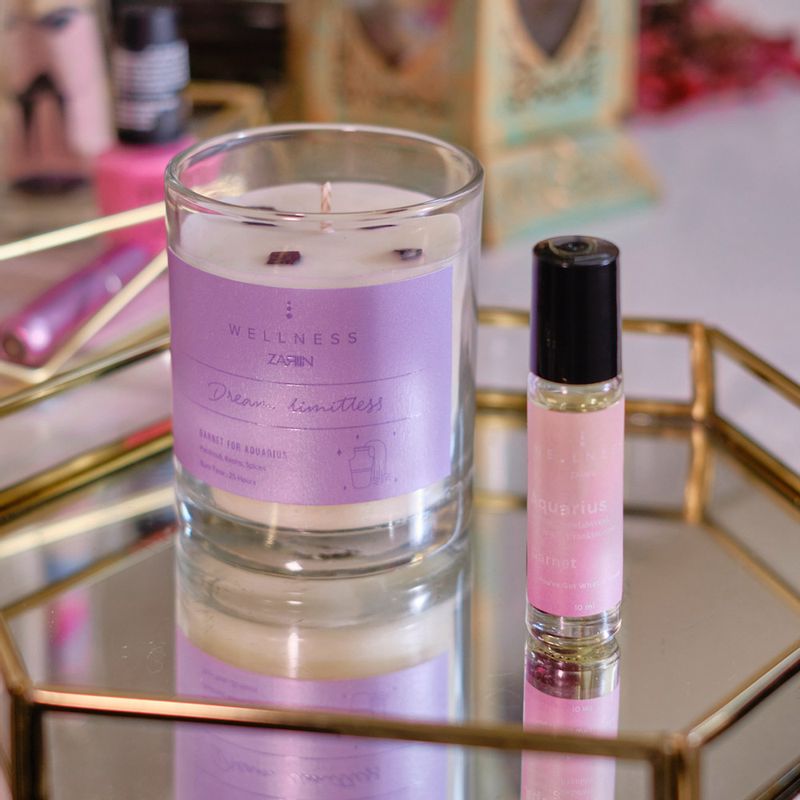 Beauty is synonymous with wellbeing. From essential aromatherapy and lighting up your mood to helping you escape when things get too overwhelming—scented candles and essential oils are now a necessary luxury. Jewellery brand, Zariin has plunged into the wellness sector by introducing essential oils and candles based on one's zodiac signs. The essential oils are in the form of a compact roll-on with aromatic goodness extracted from plants, while the scented candles are differently designed for each zodiac sign based on their birthstone. The candles give off a strong whiff that lingers for a good amount of time.
---
Photo: Ciel; Featured Brands