In 2023, ring in the new year in style, why not consider updating your interior decor to reflect the latest interior design trends? Whether you're seeking inspiration for a Pinterest-worthy home makeover or simply looking to freshen up your living space, you've come to the right place. Read on for some ideas and tips to help you create a stylish space which is also up-to-date with interior design trends in 2023.
This year's modern house design trends focus on sustainability, maximalism, and technology integration. Interior design experts are predicting a shift towards more sustainable and eco-friendly materials, along with a renewed focus on maximalism and bold, expressive colour palettes in interior design trends in 2023.
Whether you have a large or a small space, modern house design trends provide creative solutions to cater to all areas. Another interior design trend is the use of multifunctional elements, such as furniture, that can double up as storage spaces.
Feeling motivated? You don't have to spend hours browsing online for some creative and budget-friendly wall decor ideas to give your plain room a stylish and personalised touch. 
Here's a lowdown on the interior design trends of 2023
1. Keeping it raw and natural in 2023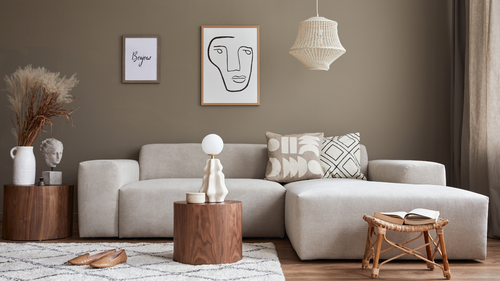 Similar to the change in the status quo of the beauty industry, modern house designs are also adopting a raw and natural approach. As part of this trend, there is a growing preference for materials that showcase their inherent textures and qualities. This approach accentuates the natural beauty of materials and aims to create a connection between the user and the environment. The use of materials such as unpolished wood, rough stone, and natural fibres is gaining popularity as people seek to incorporate more eco-friendly and sustainable elements into their homes. Additionally, the trend towards hypertextuality is also influencing the use of fabrics and wallpapers as wall decor ideas.
So if you are looking to create an elegant and sophisticated atmosphere, you can incorporate minimalist furniture, neutral colour palettes, and innovative lighting solutions in your modern living room design.
2. Modern maximalism in home decor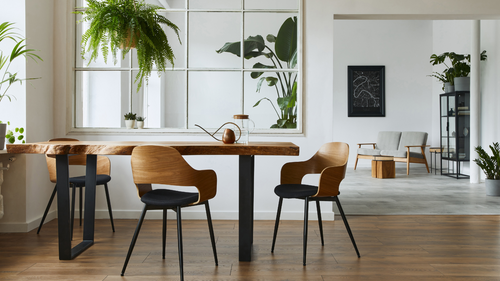 All these years, minimalism has served us in big ways, but it's time for a graceful exit. 
In contrast to the previous era of stark minimalism, the coming year will see more expressive interior design trends. While maximalism will continue to be a popular style, there will be a greater emphasis on layering sculptural silhouettes and three-dimensional objects rather than relying on prints and patterns. This approach creates a more textured environment, allowing for a greater sense of depth and visual interest. As per the trend, interior designers are recommending their clients invest in valuable sculptures and 3D art pieces, which can serve as the focal point of a space and add a sense of sophistication and refinement.
Interestingly, this year we can see a growing interest in creating spaces built around art and collectable objects. This approach creates a more personal and unique environment, highlighting the owner's tastes and interests. It also creates a sense of intimacy and warmth.
3. All hail the green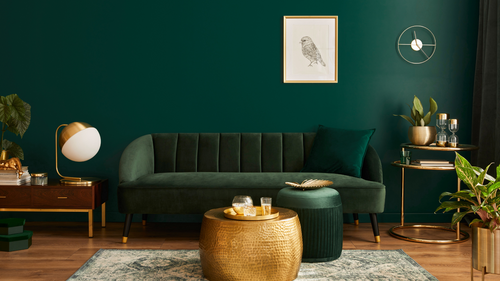 'That's a lot of green', said no nature lover ever, and since we're going au naturel, expect it to make a grand appearance in the home design trends of 2023. From grassy flooring to leafy furniture, green is a versatile colour that can add a sense of vibrancy and freshness to any space. Designers are embracing deep, moody greens like Green Smoke and Studio Green, which add a sense of sophistication and depth to a room. These darker greens can be used as a statement colour on a feature wall or incorporated into furniture and accessories for a more subtle effect.
According to a survey conducted by 1stDibs, emerald green has been a popular choice among designers for three years. It is expected to continue to be a significant home design trend in the coming years due to its rich and luxurious appeal. This bold colour can be incorporated in various ways, from a plush velvet sofa to a statement rug or a striking accent wall.
Sage is another popular shade of green that is versatile and easy to work with. This soft, muted green pairs well with other neutrals and can add a sense of calm and tranquillity to a space.
Home design trends are shifting towards the use of natural elements like plants to bring a touch of the outdoors inside, along with the incorporation of different shades of green, which have become increasingly popular among designers in recent years. Living walls, potted plants, and other greenery can be used to create a more organic and natural environment, adding a sense of peace and tranquility to a space.
4. Rug it up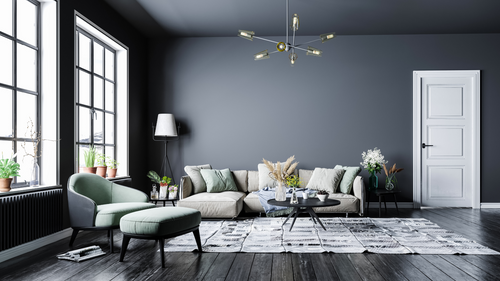 Rugs and carpets are a great way to instantly elevate the look of any space, especially your living room designs. With the right rug or carpet, you can enhance your interior decor and tie the various 'afloat' elements of the room together. The trend of vintage-inspired rugs is still going strong but with a new twist. Designers are now focusing on distressed rugs in monochrome palettes, which offer a fresh take on this popular trend. The other rug trend includes traditional Tibetan knot rugs. Home design trends emphasise the use of unique pieces, vintage accents, and geometrical patterns to achieve a distinctive and personalised look.
5. Say it with sustainability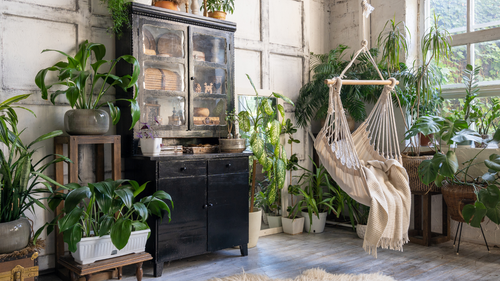 Sustainability is not new and neither is it a fleeting trend, therefore it will continue to be a top priority in the design industry in 2023. The focus on eco-friendly practices is expanding beyond just the materials used in living room designs and furniture to include objets d'art and even gardens. The use of sustainable materials has become a necessity for designers, and many are incorporating recycled or upcycled items into their work. This home design trend has been reinforced by the pandemic, as more people are seeking ways to live and work in a more environmentally friendly way.
6. Stone trims and wall accents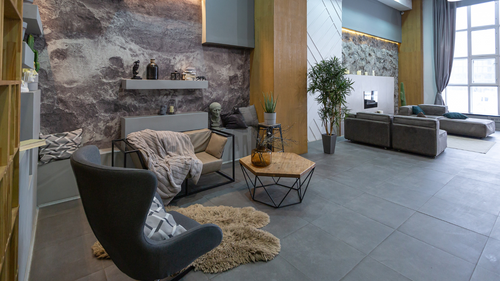 Stone trims and wall accents are popular in interior design trends in 2023. Natural elements, such as stone, are becoming more popular as people seek to incorporate sustainable and eco-friendly materials into their homes. Stone trims and accents can be used in a variety of ways, from adding texture and depth to a feature wall to creating a statement fireplace surround or adding character to a kitchen backsplash.
Using a combination of different textures, patterns, and colours, you can create a stunning modern living room design and transform any boring wall into a focal point with these creative home and wall decor ideas.
Find out ways to revamp your space with rugs and throws for your space - choose the best Tibetan knot rug that suits your home. Are you always on the hunt for statement living room decoration items? Check out the chic new range from the H&M home launch in India.
---
Photo: Shutterstock