A bedroom is not just a room with a bed and some furniture in it. For kids, it's a safe haven where they spend a significant part of their growing-up years. It's a space that should be tailored to their personality and interests. A child's bedroom is a place where they can play, learn, and dream. It's a sanctuary where they can unwind, relax and feel secure. It's a place where they can retreat when they need some alone time or when they feel overwhelmed by the world. This is particularly important for introverted children who need a place to recharge their batteries. A bedroom that reflects their personality will make them feel more at home and ease.
As children grow and change, so do their interests and preferences. Therefore, their bedroom must reflect their evolving personality. Whether they are into sports, music, art or science, their bedroom should reflect their passion. This will make them feel more connected to their room and make them more likely to spend time there.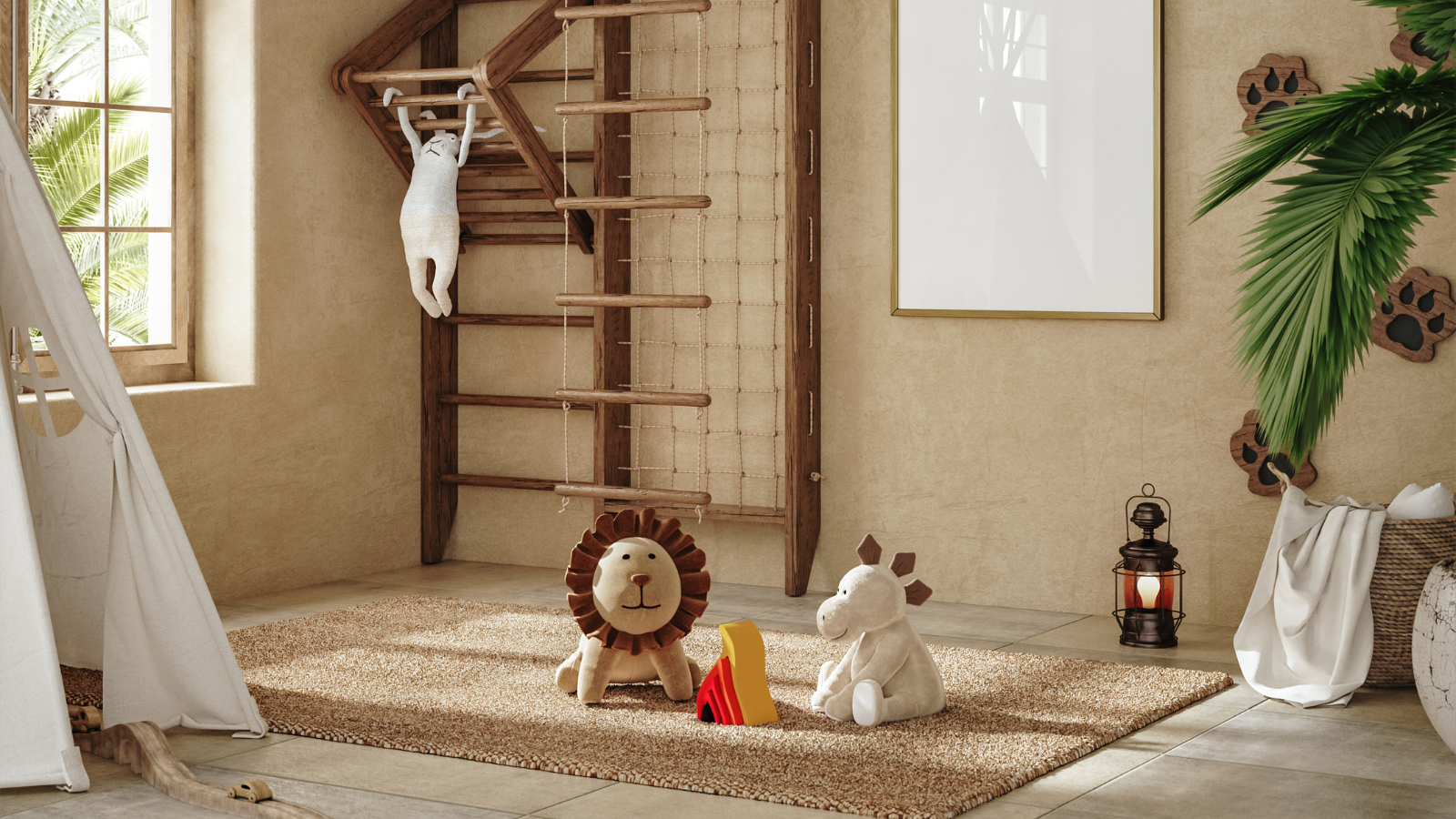 Transforming your little boy's bedroom into a stylish and fun space doesn't have to be a daunting task. It can be a fun and exciting adventure for both you and your child! That's why we've curated a list of the top 10 trending boy's bedroom ideas that will leave your little guy elated. From bold accent walls to cosy reading nooks, these ideas will inspire you to create a space that not only reflects your child's personality and interests but also brings a sense of fun and adventure to their room. So, gear up and get ready to explore these incredible boys' room decor ideas that will take your child's room from drab to fab!
Here are 10 boys' bedroom ideas for you
1. Adventure awaits
If your child loves exploring the outdoors and wildlife, an adventure-themed bedroom is the best pick from the many options for boys' bedroom designs. Incorporate a jungle theme with rich greens and earthy tones, creating a lush environment with indoor plants, animal prints, and safari-themed decor. A safari tent bed can be a centrepiece of the room, surrounded by jungle vines, adding thrill and excitement. Add some adventure-themed artwork, a hanging globe light fixture, and a stuffed animal or two to add a playful touch.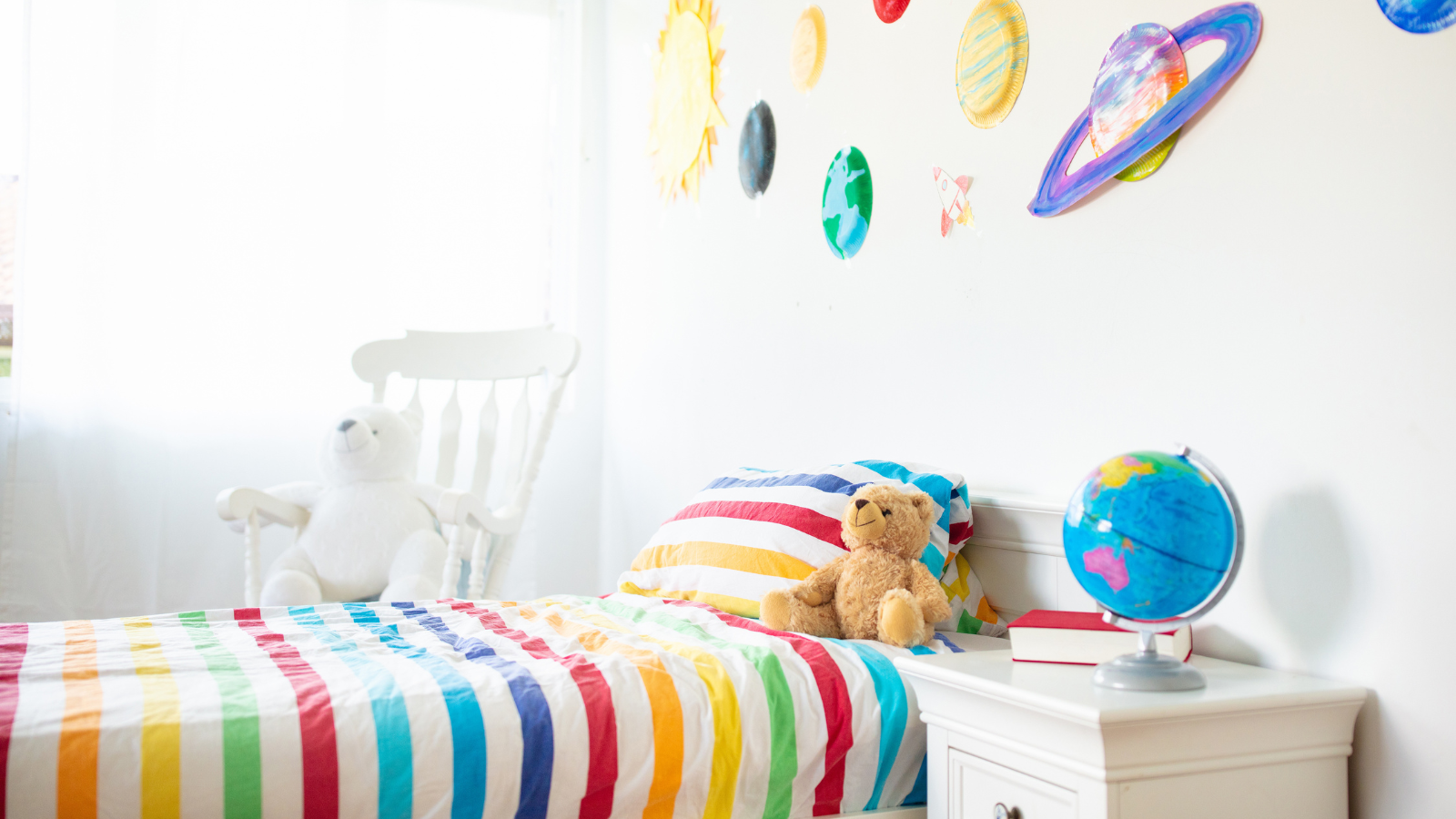 2. Cosmic dreams
For the little space explorer, create a cosmic-themed bedroom with starry night ceilings, glow-in-the-dark stars, and planets. A spaceship bed or rocket ship storage unit can make a bold statement and be the focal point of the room, while constellation wall art and moon lamps add an extra celestial touch. Opt for a sleek colour scheme with navy blues, greys, and black to make the room feel like a galaxy far, far away.
3. Sports fan
If your child is a sports enthusiast, create a sports-themed bedroom that showcases their favourite team's colours and decor items. Some boys' room decor ideas for a sports fanatic include adding a locker-style dresser or a basketball hoop mounted on the wall to add a fun and sporty touch. Use team jerseys as artwork, and incorporate sports-themed bedding and pillows to complete the look.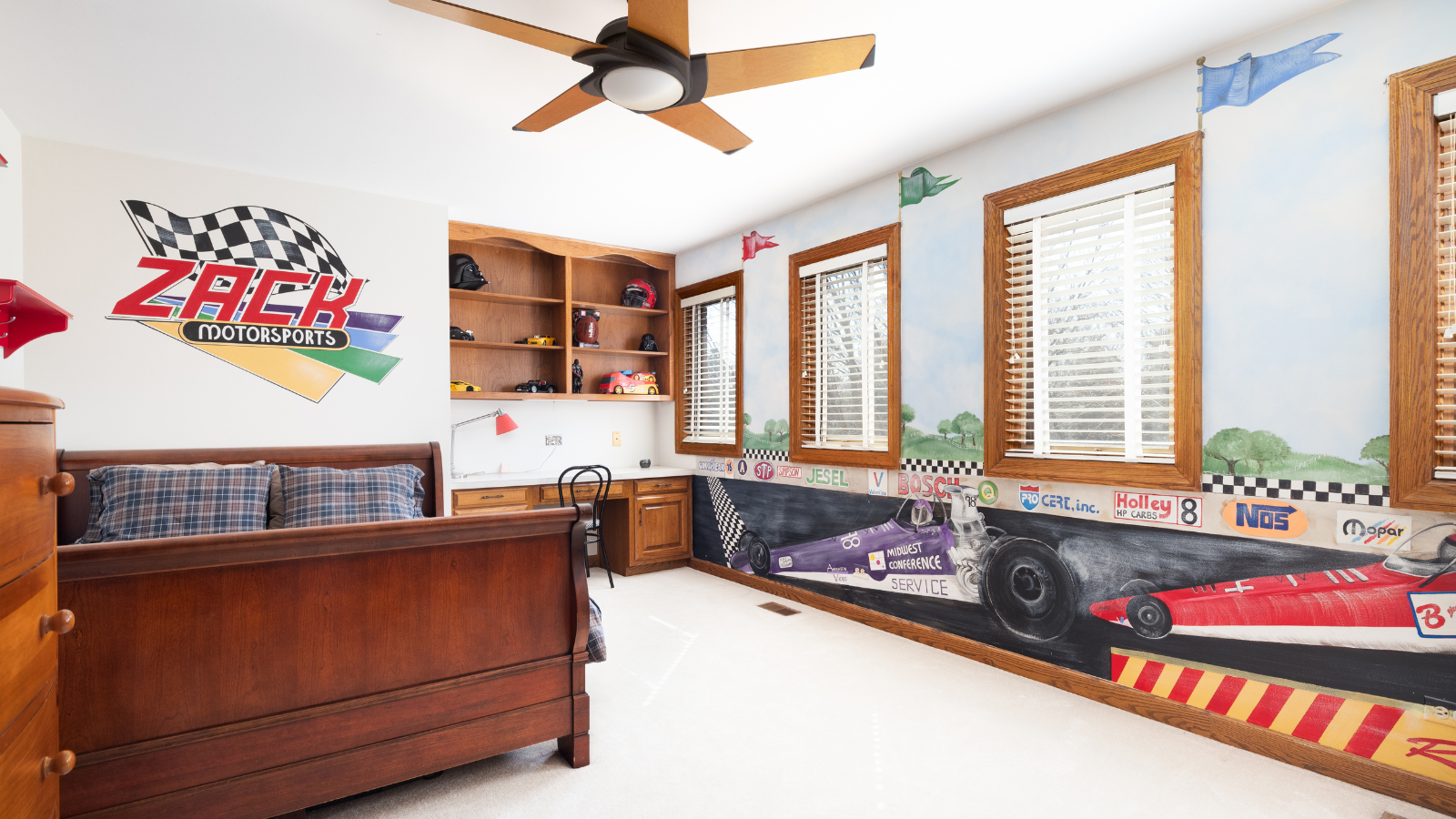 4. Rustic charm
If your child loves a cabin feel, a rustic bedroom with wooden accents, plaid fabrics, and vintage decor items can create a warm and inviting atmosphere. A wooden bed frame, wooden bookshelves, and a wooden dresser can be paired with flannel bedding and buffalo-check pillows to create a rustic look. Add a vintage wooden sign or a wooden rocking horse to the room for an extra touch of nostalgia.
5. Modern minimalist
If you prefer a modern and sophisticated bedroom design, go for a minimalist look with clean lines and neutral colours. Use a monochromatic colour scheme with shades of white, grey, or black to create a sleek and minimalist look. Minimalist decor items like a wall-mounted bookshelf, a floating desk, or geometric art can add a touch of style and sophistication to the room.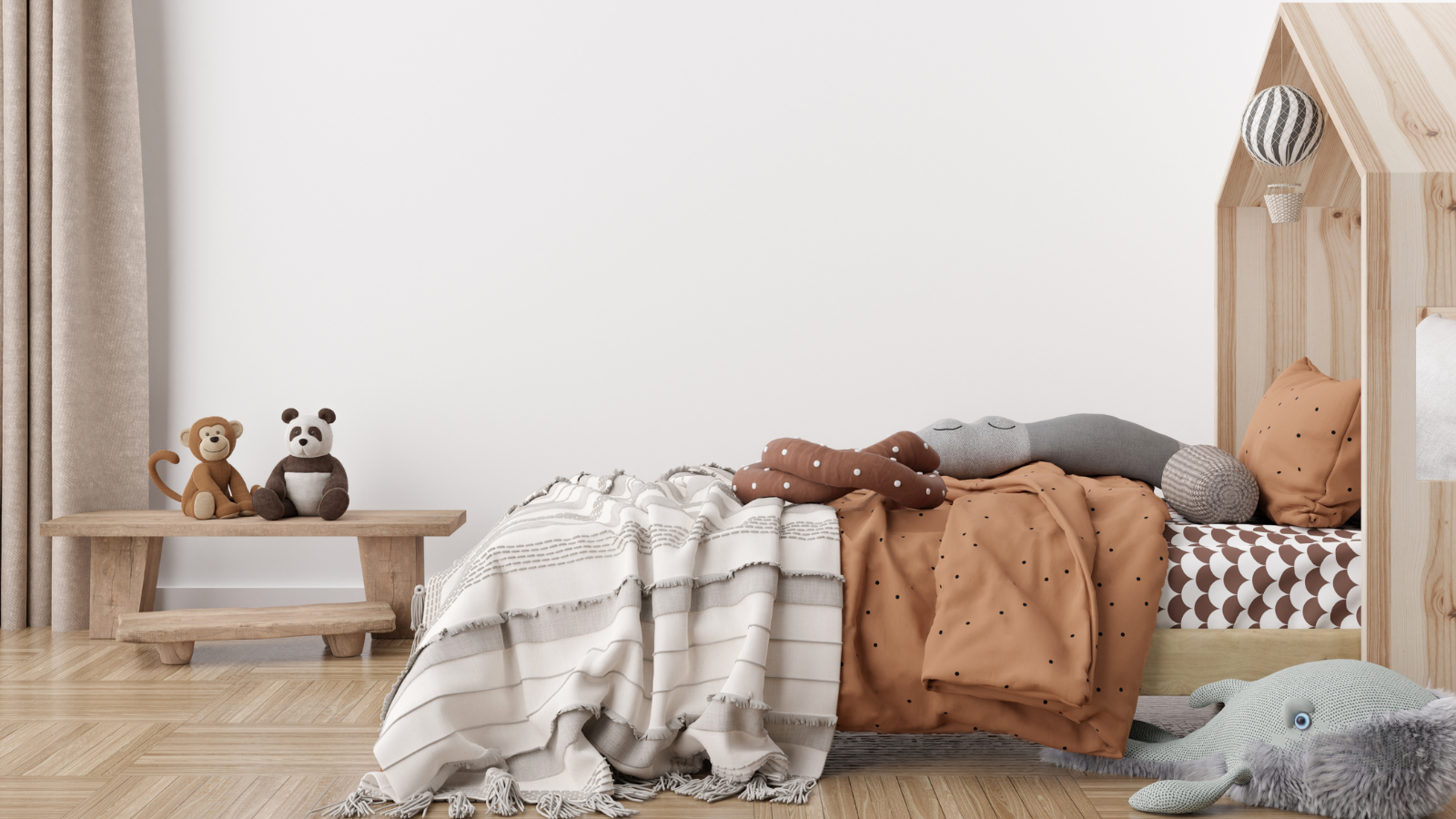 6. Creative corner
For the artistic child, create a creative corner where they can explore their artistic side. Set up a designated art space with a chalkboard wall, a desk, and plenty of art supplies to create an inspiring environment. You can use a colourful rug to add visual interest and set up gallery walls to display your child's artwork. Encourage your child's creativity by displaying their art and providing them with the tools to explore their talents.
7. Music lover's paradise
If your child is a music lover, create a bedroom that showcases their passion for music. Incorporate musical accents like a guitar-shaped shelf, wall art with music notes, and a record player. Use a musical-themed bedding set and pillows and display music memorabilia such as posters or tickets from concerts. These boy room design ideas can help your child express their individuality and create a space they love.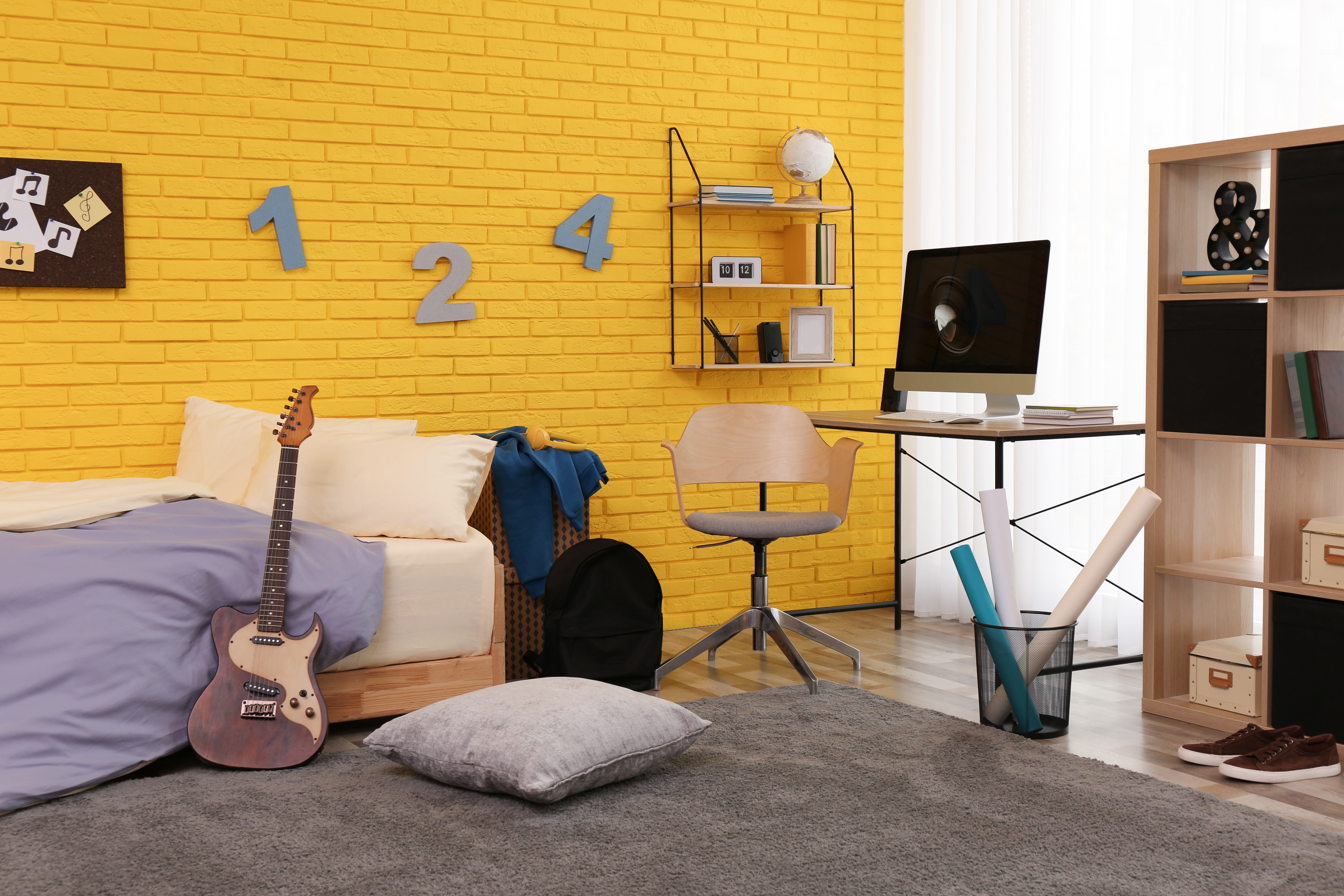 8. Under the sea
For the little ocean lover, create an under-the-sea-themed bedroom with an ocean blue colour scheme, fish and sea creature accents, and a bed that's shaped like a boat. Add a touch of adventure with a porthole mirror, a treasure chest toy box, and sea creature wall decals. You can also use fishing nets, seashells, and beach-themed decor to create a calming and imaginative atmosphere.
9. Video game haven
If your child loves gaming, create a bedroom inspired by their favourite video game. You can incorporate elements like a video game-themed bedding set, a gaming chair, and a gaming console storage unit. Display video game figurines or posters on the wall and use neon lights to add a colourful touch to create a fun and exciting environment for your child to play games and unwind.
10. Superhero sanctuary
We believe in leaving the best of the boys' bedroom designs for last. For the little superhero in your life, create a superhero-themed bedroom that showcases their favourite comic book characters. Use a superhero bedding set, action figures, and superhero-themed artwork to add a sense of adventure and excitement. You can also incorporate superhero colours like red, blue, and yellow in the room's decor to make it feel like a superhero hideout.
By incorporating these trending boys' bedroom designs, you can create a space that resonates with your child's personality and interests, making it their safe haven to relax, play, and grow.
While you are in a decor mood, check out these kids' room decor ideas, bedroom decor ideas and bedroom wall designs for an added dose of inspiration.
Photo: Shutterstock