The heart and soul of a house is its bedroom. We spend our most intimate moments relaxing in the bedroom. When it reflects our personality, it helps to put our mind at ease after a long day. Whether you spend your entire day in the room or use it to get your basic eight hours of sleep, when it comes to bedroom decoration, there is no denying that comfort is non-negotiable.
So, if you're looking for bedroom decor ideas, go with the trends that make you tick. Our guide on bedroom decoration caters to whimsical print lovers, opulent colour aficionados, modern mavericks and grounded traditionalists. Whatever your style, you'll find something here that is in sync with your modern Indian bedroom.
6 Stunning Bedroom Decoration Ideas
1. Muted Monochrome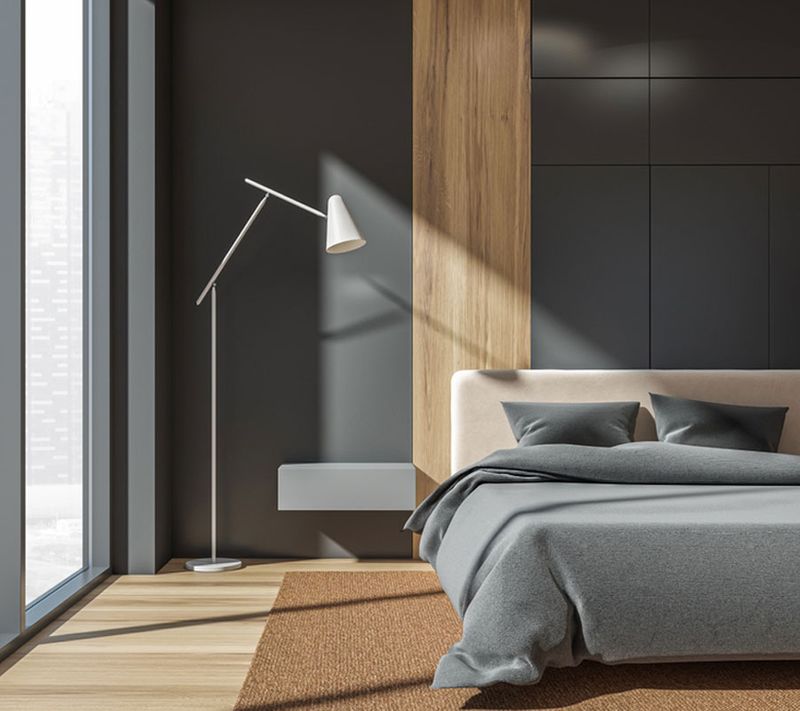 Bored of the same bedroom decorating ideas in the market? Instead, creatively incorporate soothing monochrome colours throughout the bedroom and work your accent pieces along the way. And what better than charcoal grey to do the job? An airy bedroom that lets in ample sunlight and fresh air will never feel 'dark' despite being on the darker end of the colour palette. Use natural elements of wood with grey to balance the room for cleaner aesthetics.
2. Earthy Hues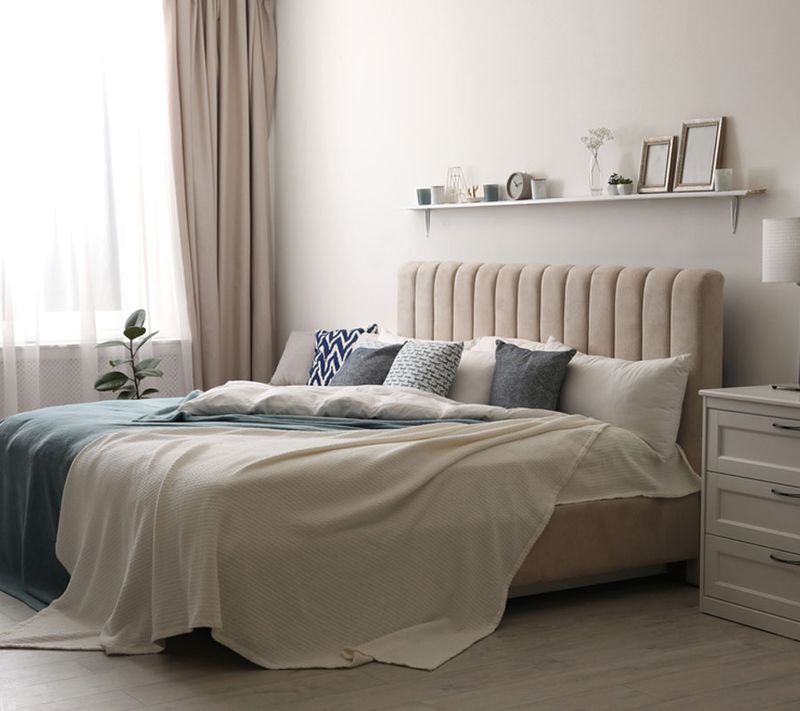 When in doubt, pick bedroom decoration ideas that manage to make the space feel lighter and brighter. Exuding cosy vibes, a beige bed with matching walls and sheer curtains in a modern layout elevates natural light seeping through the window. The use of a statement emerald throw and an elegant night lamp adds glamour to an otherwise soft space.
3. Opulent Fabrics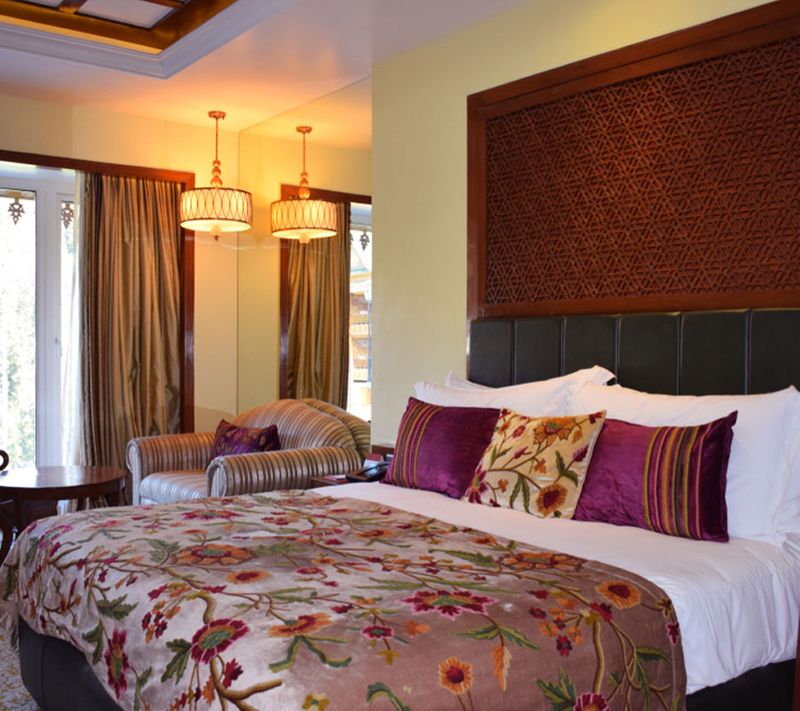 Opulent fabrics are a status symbol when it comes to bedroom designs in India. The use of maroons, magenta and gold with vintage wooden furniture lends a refined elegance to the space. For some, these colours might be too gaudy, but if they bring solace to you, who cares? A point to remember when playing with loud colours is to balance them out with solids like white. A white bedspread with contrasting cushions and an exquisite silk runner will create a happy space to come back to.
4. Bohemian Vibes
If you're a bright, happy soul looking for bedroom decor ideas that match your vibrant personality, use the bohemian trick. A mix of whites with bold prints and Indoor Plants For Bedroom will breathe life into your space. Jewel tones of green and blue add a focal point to the room and create a moody boho vibe. A stand-alone printed pouffe and a life-sized mandala printed sheet hanging behind the couch will take the aesthetics of the room from an eight to a solid ten. While our bedroom shelf ideas will add to the storage space without making the area look cluttered.
5. Modern Driblets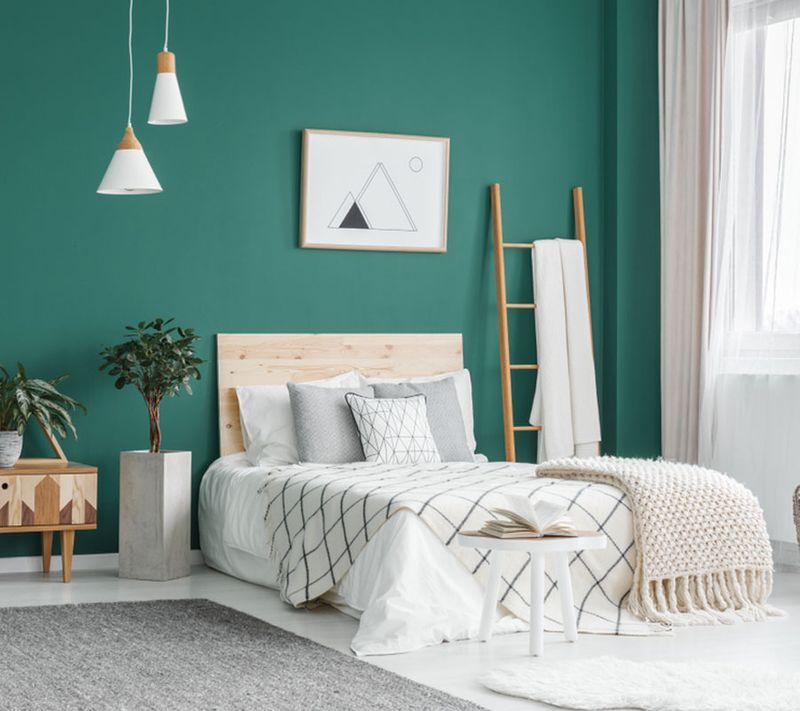 Simple room decoration with modern aesthetics is a great way to incorporate character into a bedroom. If you are a millennial with a liking for modern statements and elegant silhouettes, try the one-wall glam idea. Pick a single wall in the room and paint it a colour of your choice. The use of green with white and blush pink is a unique colour scheme that can transform a bland bedroom to cosy and bright. Statement pendant lamps and a chic floor rug will take things up a notch.
6. Minimalistic Glam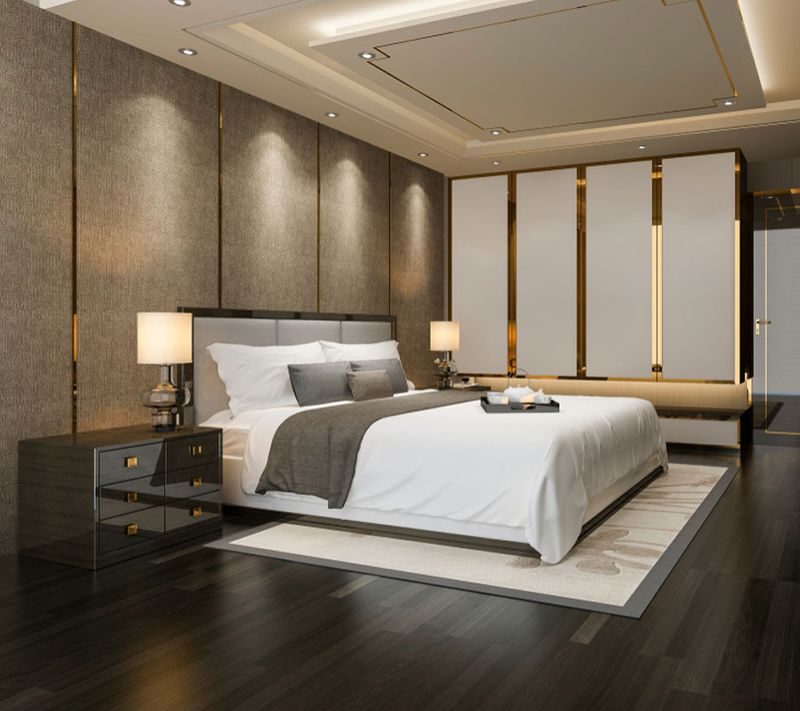 If you are an extrovert who loves brazen blacks and striking golds but not as much as Bappi Da, this cocoon-like minimalist bedroom decoration will check all your boxes. A lavishly spacious room done in dark tones of black and deep brown exude a charismatic charm to the space when paired with striking gold elements. The play of modern yellow lights against a beige and gold wall and a white-gold panelled wardrobe will uplift your design scheme.
These 6 bedroom decoration ideas will help you navigate your thoughts into actionable reality. Start by finalising a colour palette for the room before moving on to bed storage ideas, accent fixtures and trendy statement walls. Following a guided method will ensure you can bring in add-on furniture, curtains and more to complement the theme of your bedroom. 
---
Photo: Shutterstock