Rohina Anand Khira is a proponent of creativity, beauty and quality. As one of the biggest décor influencers in India, her social media profiles will give you décor goals to emulate—clean and serene home with splashes of colourful yet tasteful knickknacks and curios. Anand Khira has a soft spot for the colour white and utilises it effortlessly in her home.
Anand Khira's minimalist aesthetics extends to her boutique home décor brand AA Living in Mumbai. The store specialises in high-quality bed and bath textiles, rugs and accessories, and is a contemporary revamp of her family's textile export business. "I relaunched the export showroom Ajay Anand Living, in Mumbai when I was just 23 years old as AA Living," she says. In fact, textiles are such a strong part of her DNA that she even pursued a degree from the University of Leeds, the UK in woven textiles.
Scandinavian aesthetic
Over the last decade, both Rohina Anand Khira and AA Living have become a go-to in the world of home décor professionals and enthusiasts alike. Anand Khira's choicest selections adorn homes of many a celebrity and social media influencers and play peek-a-boo from the corner of a carefully designed room. This high-profile client list includes the likes of Karishma Tanna, Sherry Shroff, Kusha Kapila, Savi Munjal and Vidit Taneja, and Roshni Chopra who have been sporting the very popular evil eye Frida Kahlo cushion. These pieces have become quite a rage in the digital world. "I have always explored different materials, recycled, sustainable products as well as developed new fibres and experimented with practical but aesthetic yarns. This has allowed us to carve our own niche in the bed and bath textiles department," she says.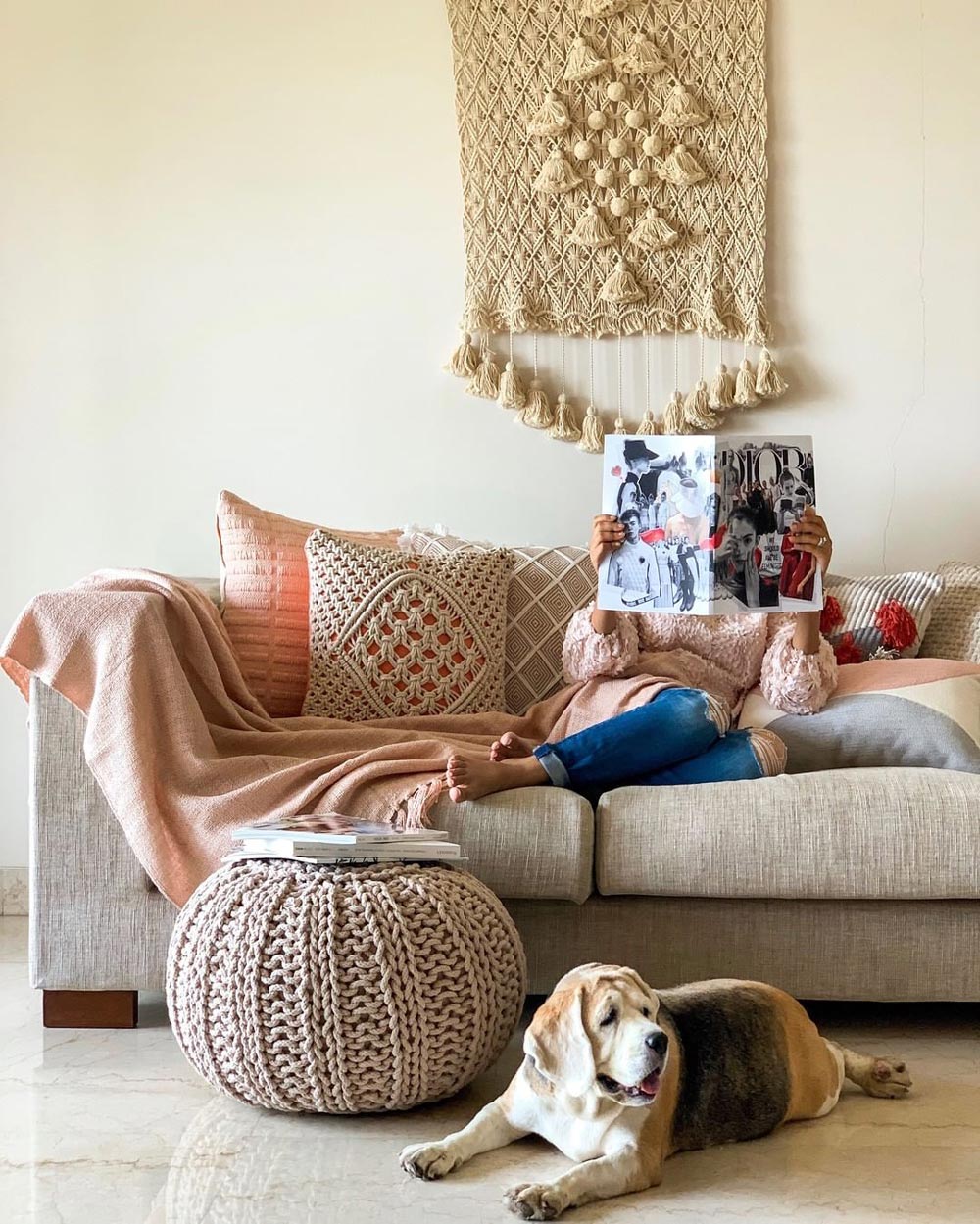 Her choice of design and styles for most of her product range has a strong Scandinavian influence and are derived from current décor trends. "I think the love for Scandinavian boho design continues to dominate. The highlight is the importance that is given to textures and textile layering," she explains. She further suggests looking for different fabrics, yarns and textiles when selecting bed sheets, throws, accent cushion covers.
Anand credits her success to her ability to accurately predicting trends. She explains, "Before the pandemic, I was an extremely keen traveller and I used to go to a lot of the trade fairs overseas. These offered great insights and research material on upcoming trends and the fact that we can pick and choose the ones that we resonate with." With this, she also confesses that she must cater to very different audiences. One, the brick-and-mortar store and the second, e-commerce. "Our only challenge is that some of the most beautiful things don't photograph well, and they don't do justice to the product online. So, now we have to design things exclusively for the online space, keeping the pictures in mind," she explains.
The AA Living Store has also been Rohina Anand Khira's muse for décor. The four-poster bed, which works as a display showcase of the variety of fabrics the store has, has been at the heart of many of Anand Khira's design and décor showcases. And as much she loves sharing décor inspiration, she is also a master of home DIY projects.
Rohina Anand Khira's five rules of decor
1. Use of neutral colours, 
2. Use lots of mirrors, 
3. Plants are the cheapest and the best way to accessorise. 
4. Less is more and
5. For every one thing that you buy give something away. 
Queen of DIYs
While DIYs have taken off during the lockdown, Anand Khira has taken it upon herself to not only learn new skills herself but also share them with her audience. Her dry flower resin wall clock is one of our favourite projects. She also shares many tried, tested and perfected hacks such as tricks to keep your white bath linen as good as new. She uses a mix of liquid bleach, borax and baking soda during a wash cycle in the washing machine.
"I think DIYs have gained momentum in the pandemic because people have realised that their home needs a little bit of TLC. They are simple and use day-to-day items, then why not try and add a little creativity to the mundane?" she says. She goes on to add that Indians are not always the kind to pay attention to their personal spaces. "Now every nook and corner of the home is being used and there's so much more importance giving to making a space that is healing and reflects your personality" she adds.
During the monsoons to keep mustiness at bay, Anand Khira recommends using orange peels as a lamp (diya) to keep your home citrusy fresh. She carefully peels the orange to ensure that there are two semicircular pieces—one side still has the pith attached. She places the pith side inside the other side, fills it with a carrier oil and lights it. The DIY diya will last two hours and emanate not just fragrance but also good vibes.
Photo: Facebook/ AA Living