India has had a tradition of Royalty in every far corner. With a history of kings and queens, and princes and princesses, going back a thousand years, their legacy has been carried forward for generations. Not only have they managed to preserve their heritage but have molded themselves to keep up with the modern times without losing the old-world charm.
Meet Archana Kumari Singh of the House of Badnore, whose elegant collection of jewels, accessories, artifacts, antiques, and other home décor items, have been all the rage with a young clientele, due to their Royal elegance coupled with a hint of modernity. Or, what she likes to call, "a Princess-Wears-Prada enthused design language."
Creating a contemporary home
Former editor of Gems & Jewellery Magazine, then president at Frazer and Haws, and now the Founder of the House of Badnore, Archana Kumari Singh credits her other two career stints for the launch of the House of Badnore. "They shaped my sensibilities and honed my capabilities to give me the confidence to launch my own label."
Behind the idea of connecting the past with the present lies a simple thought, "the changed world of today with changed choices; where instead of waiting to be served anymore, princesses are exploring their dreams and passions with awareness in the modern world while still being connected to their roots."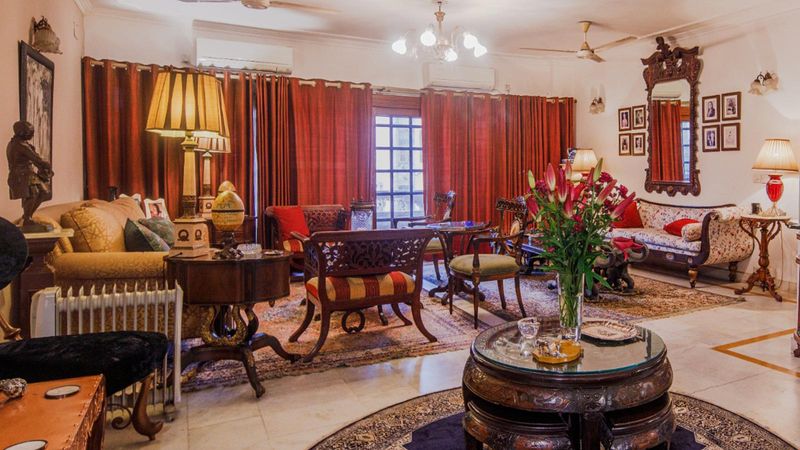 The starting point
Raised in the erstwhile principality of Pratapgarh in Uttar Pradesh; Archana Kumari Singh is married to Thakur Ranjai Singh of Badnore  and resides in South Delhi, in a home that embraces royalty in every modern way possible.
Home, which she considers, "a reflection of an individual's personality," says that while decorating one's abode, it's important to first find place for a central piece, be it a center table or a large artwork or a mirror; and once that's done, all else falls into thematic order.
"When we got our dramatic center table with four elephants holding up a vintage `jhoola' plank, we planned the sofa, the chairs, the carpets, the wall mirror, lamps and almost all other bric-à-brac to co-ordinate with it. Since the table is large and striking, everything else around it needed to be appropriate – neither overpowering nor dwarfed against it. Nothing is matched yet all of it looks like it belongs where it has been placed," she explains.
Colours, of course, play an important role with the interiors. Leaving no room for comprise, she prefers darker and stronger shades in her bedroom, study, and lounge to make it more intimate and cozier, and "create a boudoir-feel." And for the living room or the foyer, softer shades work better for her.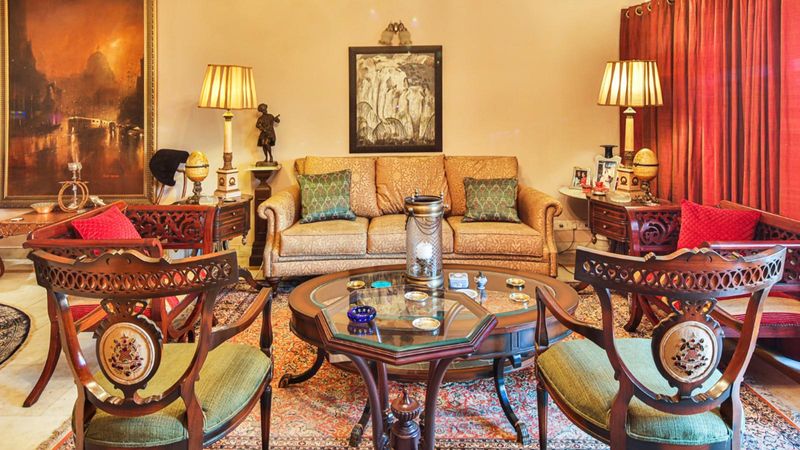 Every piece tells a story
Redefining class and style for her customers when it comes to home décor items, she offers at The House of Badnore, pieces that tell a story and are vintage with a past that can evoke nostalgia.
"Once while walking in Paris, we came across a pair of beautifully crafted silver roosters in an antique shop. I was instantly drawn to it as we always had silver birds and pheasants as decorations in our home. We were told that French nobility always placed these roosters on their dining table to bring abundance and luck. I carried them back despite their weight," she recalls.
Designed with immense thought and detailing in every nook and corner, an area that takes most of her time and is also her favourite is the lounge -- a family room. "It is casual, comfortable and has plenty of light. The dogs' beds are also placed here so it's their comfort zone as well. We read, write, and watch TV and lounge with close friends and family in this space."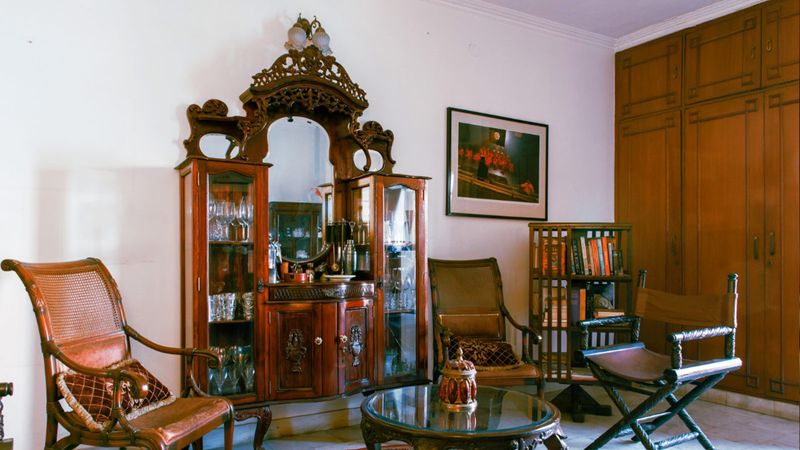 Old meets new at House of Badnore
Speaking of the House of Badnore, she says, it is a reflection of her personality, and speaks a modern language with vintage elements. "We pick motifs or detail from the yesteryears with their unhurried pace of life and re-design it with clean, modern lines to fit into the present context. I feel vintage must be given a modern voice and recreated with modern metaphors to find relevance in today's world. I personally am rooted in vintage décor and that is why plenty of elements from the past find an easy fit in all my creations. "
Not only does the craftsmanship and detailing attract Archana Kumari Singh to antiques, but she also likes to study the period that the pieces belong to and the kind of skills that were used to craft them. "I like to connect with the whole story line of the piece – who bought it or who had it made and why. It's always the details of the past that add character to the product."
Badnore as a legacy
While things have changed and being a Royal in modern India is not the same anymore, she believes that it's important to re-invent the past to make it relevant in the modern world.
Carrying forward the legacy of Badnore in her own unique way and challenging it in a manner that retains the glory of the past, while also making the world her oyster, she says, "It is a colossal responsibility that cannot be treated flippantly."
"Badnore is our ancestral home in Rajasthan and while using the family name and its insignia as the logo, I have to be mindful that the creations bear the gravitas of the centuries' old principality."
"Enamel on silverware" is the specialty of all the House of Badnore home accessories. And, in the future she plans to add to the family, "a sustainable range of rugs that are woven with jute and recycled PET bottles and digitally printed with vintage motifs."
Importance of classics & space
Be it at her home or at the House of Badnore collection, classics are paramount, and she strongly recommends them. Leaving people awestruck with its style, a city that has managed to grab her attention with its architecture is Florence. "I was greatly inspired by every street, building, shop, and museum. There was so much flamboyance in the sculptures, monuments, buildings, and the designs all around. I could spend a lifetime there to soak in the details."
For someone who has always had access to large spaces, she believes, the limitation of the same in today's time is a factor that has changed home décor in India. "Most people prefer cleaner silhouettes and more Spartan and neutral colour palettes, easy interiors with not-so-fussy artifacts. Everything is about the ease of maintenance. The younger generation wants less baggage and the freedom of movement."  
---
Photo: House of Badnore