Eco-friendly doesn't have to mean boring. There are designers and brands who are thinking out of the box to create products that captivate the mind of the evolving and experiential Indian consumer. From upcycling tyres and old furniture to using natural fibres and concrete, there are décor brands that are reinventing what sustainable and eco-friendly means. They are also a good starting point for you in your endeavour to be environmentally conscious of the choices you make.
Here are five environmentally conscious décor brands that will help you on the journey of slow living and sustainability.
1. Conkreate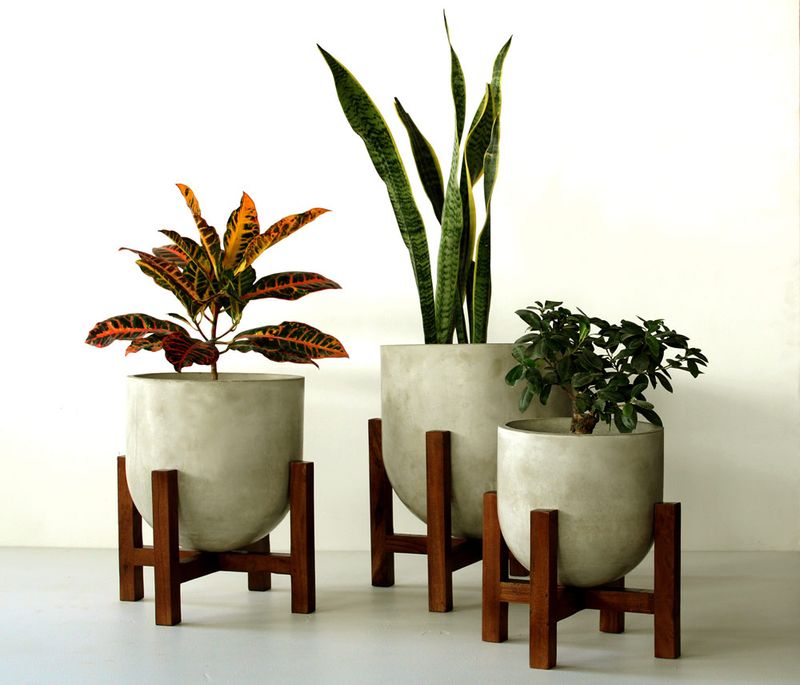 If you're looking to add edginess to your little urban jungle, check out these planters by Haryana-based Conkreate. The company started by Ashrey Dhawan and Aanchal Walia, aims to show concrete in a new light—one where there is an impeccable balance between artistry, craftsmanship and engineering. Their range of planters is handcrafted with contemporary design for a modern beautiful space. With these eco-friendly planters, you can reshape your living area into a minimal yet elegant space. 
2. The Rug Republic
Delhi-based The Rug Republic is doing its bit to fight environmental degradation by recycling plastics into carpets. By using yarn made from discarded water bottles, their artisans are weaving carpets and rugs to beautify your home. As part of their 'Rethink, Rediscover, Renew' philosophy, the brand is recycling bicycle tubes, PET yarns extracted from recycled water bottles, recycled silk yarns, and other multi-fibre textiles, to create unique and vibrant rugs and carpets. 
3. The Pitara Project
To showcase India's rich woodworking techniques, The Pitara Project, works with artisans across India, using sustainable wood to craft serve ware and décor items. Their best-sellers include multipurpose wooden boards and trays. Each of their products tells a unique story about how they came to be created and where they come from. 
4. DaisyLife.in
Nothing says nature more than the earthy tones of wicker and bamboo. These materials also add warmth to your home. From wall baskets and serve ware to toys and personal care products, DaisyLife has everything you will want for your home. The brand aims at using plant-based materials such as bamboo, cane, coconut-shells, jute, wood and wicker to create products that are simple, functional yet beautiful. 
5. Baro Design
Mumbai-based Baro Design specialises in handcrafted furniture and lighting. Spearheaded by Siddharth Sirohi, an award-winning designer who also co-founded the lifestyle store Baro, Baro Design plays with a modern palate while staying true to old wood and time-honoured craft techniques. Baro Design's furniture is made from reclaimed teak, for its age and quality as well as to keep our world sustainable. The wood is brought to life using layers of linseed oil and beeswax.
 
---
Photo: sustainable decor brands India