Actor, presenter, Roshni Chopra describes herself as design-obsessed, fashion and beauty nerd, who is always planning her next vacation and equally importantly, her next meal. A glimpse of her stunningly curated Instagram will have you fixated on the picture-perfect effortless glamour she exudes. She likes to refer to her Instagram page as a "visual aesthetic diary of sorts." 
When you meet her in person, the same iridescence captivates you. A firm believer in the power of good vibes, for Chopra beauty is not skin deep. We got talking to this self-confessed 'beautiholic' who is known for her love for natural products and brands, and her own skincare and haircare beauty decoctions. A mother of two boys, she also co-founded the fashion label 'RCDC' along with her sister Deeya Chopra. 
In a freewheeling conversation about her secret to glowing skin, beauty myths, tips and make up dos and don'ts, Roshni Chopra bares all, from her party essentials to her homemade face masks. 
For parties and social gatherings, what is your signature look?  
Social gatherings are about celebrations; for me, it means celebrating my individuality. Instead of following trends I tend to dig out my favourite looks, restyle them, and wear a lot of colours and a little bling too.  
I'm big on coloured eyeliners to add a pop to my look, along with a healthy dose of mascara, and a flushed look on the cheeks. I prefer highlighter sticks rather than powders. My favourite is Nudestix and the genuine glow stick from Estée Lauder. I also love the Mary-Lou Manizer highlighter by The Balm cosmetics.  
What does the perfect shoot look involve? Something that you don't really wear daily. 
For shoots, eyelashes go a long way. Also contouring and a very defined brow, which I never do in real life, works great with studio lights. 
Since you lean more towards naturally derived beauty products, which have been your best finds? 
I'm loving Enn's Closet and Just Herbs from the homegrown brands. Internationally, I've loved Versed skincare. Their products are gentle and effective.  
What will we find on your vanity dresser right now? 
On my dressing table, you will always find Huda power bullet (lipstick), Drunk Elephant's C-Firma Day Serum and Kiehl's Pure Vitality Skin Renewing Cream. When it comes to fragrances, it is 'The Noir 29' by Le Labo. I'm also loving the Sebamed face wash and the Aveda Invati Scalp Rejuvenation Serum. 
What is the secret to your fit body after having two kids? And any tips for mothers-to-be? 
I believe eating right plays a significant role. My simple rule is: No carbs after 7:00 pm (I eat my dinner with my kids). One often neglects mental health and stress and its impact on weight management. I know this sounds silly but if your mind is calm and you get eight hours of sleep, it keeps you from binge eating.  
My advice to new mums-to-be will be to moisturise a lot. Oils are good for this. I've used Bio-Oil and liked it quite a bit. Be careful that the stretch marks never really go once they come so the thing is to prevent that by regular oiling of the skin, especially the abdomen area. 
---
BEAUTY QUICKIE WITH ROSHNI CHOPRA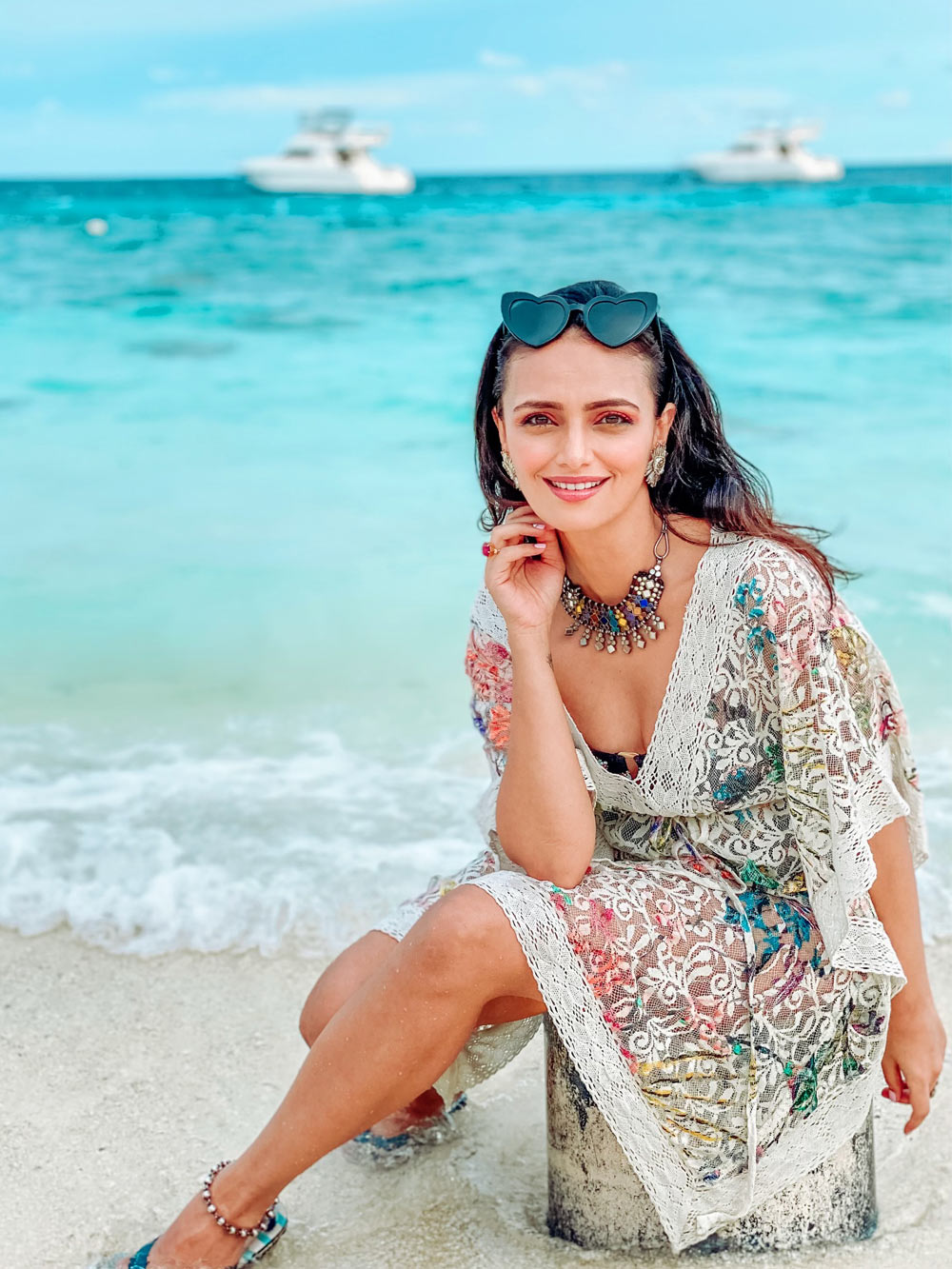 What is your beauty product fetish? 
Face sprays (I collect them). 
One beauty product that you always carry… 
Lip balm. 
Past beauty faux pas that makes you smile now... 
In my early TV days, I would just let them cake me up. I still shudder when I recall those days of pure ignorance!  
A beauty ritual you wish you could indulge in more frequently than you do… 
Sleep! 
What do you do to perk up a bad hair day?  
Braids, ponies, and hairbands.  
Most understated beauty product? 
Almond oil, Vaseline, coconut oil and haldi and honey and lemon…I could go on…  
One product that you will always advise a friend to add in their skincare routine... 
Try not to forget eye cream. The area under the eyes ages faster than the rest of the face. Also, the most obvious, the sunscreen—we all know this but forget it too often.  
My personal morning skincare routine is to cleanse, tone, apply vitamin c serum and then day cream followed by sunscreen. At night, I just cleanse and put on the Estee Lauder Advanced Night Repair for eyes and face. 
---
What is the one skincare lesson you learnt in recently and would like to share? 
Mix it up, be regular, have fun with it! Make the skincare ritual about me-time and pampering yourself. And drink lots of water!  
DIY beauty remedies you swear by… 
I've been using aloe on my hair. It's a great hair mask and really conditions the hair. Another ingredient which I use very often is turmeric. It's great for brightening and purifying the skin. I mix some turmeric powder with some apricot oil, honey, kaolin clay and almond meal for a nice clarifying face pack. 
You travel a lot, and often for work, shooting and creating looks. What is the secret to your holiday skin?  
Holiday glow comes naturally from the happiness within! But that aside, it's nice to carry overnight leave in masks, hydrating face sprays and serums and lots of sunscreen because we're mostly outdoors on holidays! 
I also carry Moroccan oil, a scalp rejuvenator, and my Dyson Airwrap. Also, I make it point to pack a hair mask that is easy to travel with in a small package. 
What would you recommend to women who would wish to have Instagram-ready skin while travelling?  
Summer Fridays makes a Jet Lag Mask which is great for hydration. I put that on before a flight. Also, the Farsali Rose Gold Elixir is great to spray on. Another favourite for hydration is the Clarins Beauty Flash Balm, it can go over or under make-up and is multipurpose.  
As a frequent flier, is there in-flight ritual you follow to stay looking fresh? 
Your skin should be prepped for travel before you board a flight. I use a mask the day before I travel as well as one before I get on the plane. I also hydrate a lot by drinking plenty of water.  
What is your hair type and what is your haircare routine? 
My hair has become fine over the years, it never used to be though. I oil it once a week and mask once a week and wash every three-four days.  
A beauty ritual that gives you an instant high… 
It has to be face masks! I love the entire process, the ritual and feeling like I am doing something good for myself.  
What is on your beauty wish list?  
I am always on the hunt for new fragrances. 
Which is your best spa memory? 
One of the best spa memories was in a boutique hotel in Rajasthan. They really had the ambience and the rituals down pat. Sometimes it is not about how fancy the spa is but the attention to detail!  
Biggest beauty myth according to you is… 
More is more! So untrue, girls with the simplest routines often have the best skin.  
Most overrated beauty tip/product? 
All the super expensive creams. Read the ingredients and do not fall for the packaging and the hype. Your skin doesn't need very much, a simple cleanse and moisturising routine works well, if done consistently.
Photo: Instagram.com/roshnichopra