If Diwali for you is all about memories that have faded away like the days spent anticipating the Diwali holidays, upbeat family gatherings highlighted with exchange of gifts and the early morning ritual of bursting crackers and abhyangasnan—elaborate oil bath—it's time to revive to them all. In an era of Facetime and sugar-free laddus, if there's one way to get a glorious glow on your skin without raiding your neighbourhood beauty store or peeling off skin sheets, it's to trust your granny-approved ubtan ritual.  
Our grannies were the ultimate queens of DIY beauty—no steeply-priced facials and beauty creams, their beauty potions were made from fresh ingredients from the pantry. Powdered legumes, sundried herbs, different flours, good old natural ingredients tackled most skincare woes.  
Turmeric for brightening and blemishes. Tomato for mattifying oily skin. Almonds for keeping those wrinkles and fine lines at bay. Neem leaves to cure the most stubborn acne. Gramflour or besan as an exfoliator for oily to combination skin. Powdered masoor dal mixed with milk as a gentle exfoliator for dry or mature skins. And we're just about getting started.  
A royal recipe for face mask
Mix together in full fat cow's milk, a few strands of saffron, soaked almond paste and a generous pinch of turmeric. This may sound like the recipe of turmeric latte but is one of the most effective masks for face to render skin that's soft, clean and radiant. In fact, add to this some sandalwood powder, and you have a secret that will get you glowing for the festive season. 
In south India, a mix of legume powders, gramflour, herbs, turmeric and Kumkum oil is traditionally used as a daily exfoliating cleanser to keep the skin soft and bright. Before Holi, in north India, there is a tradition of making super nourishing sarson ka ubtan with turmeric, chickpea flour, mustard, sesame oil, fresh cream and honey. 
However, these super effective remedies came at a cost. They were a little messy and time-consuming, compromising on the convenience that modern skincare formulations promised. As spending time sourcing, pounding and blending the best ingredients got tougher—our time-tested beauty rituals were elbowed out.  
Not anymore. Desi DIYs once dismissed as rustic, pedestrian and messy, are getting ahead of the sheet masks and peel-off facials and staging a comeback of sorts! Beauty brands are curating the best of natural home remedies in easy-to-use powders—grandma-approves!  
Ubtans – Ayurvedic beauty rituals 
"Ubtans or powdered cleansers are the world's oldest cosmetics. The purist Ayurvedic remedies don't have a mention of creams, gels or lotions, it was always formulations that are oil-based or in powder format," explains Arush Chopra, co-founder and CEO, Just Herbs.  
Ubtan is herbal cleansing powder, that can be used in dry powdered form, or mixed with water or milk to make a cleansing paste. "Ayurveda mentions 32 ubtans and their recipes, the proportion in which herbs, roots, leaves, grains, barks, nuts and seeds should be mixed for a particular result. Ubtan is part of the 16 shringars (16 steps to top-to-toe beautification) of bridal beauty. Different regions of the country may have a different take. Turmeric-sandalwood-saffron is one of the most ancient and popular ubtan recipes," adds Dr Taruna Yadav, senior Ayurveda expert at Forest Essentials.  
The classic haldi-chandan ubtan was used by the royal princesses to get a pre-festive golden sheen on their skin, in pre-highlighter era. Whether you want to calm the breakouts or get rid of the tan or reduce the appearance of fine lines, this is the perfect go-to powder mask. So effective was the combination of sandalwood, saffron and turmeric that it is an integral part of Indian wedding festivities. 
Mayoon, is a similar ritual for the muslim brides-to-be where a ubtan made from turmeric, sandalwood powder, herbs and aromatic oils is applied to their hands and face. What has changed is the ease with which you can access it. All you need to do is to reach out to our favourite ayurvedic beauty brand, and chances are that you will find there. Take your pick from Forest Essentials Sandalwood and Turmeric Body Polisher, Kama Ayurveda Suvarna Haldi Chandan Face Pack, Just Herbs Body Luster Sandal Turmeric uptan.  
Ubtans: The superheroes of Clean Beauty Movement 
With the clean beauty movement finding support amongst conscious consumers, increasingly it's possible to find the beauty remedies you grew up with packed smartly and available off-the-shelves. Cruelty-free, paraben-free, sans silicones and fillers, 100% natural—these were not just words but a way of life in India till a generation ago. That's because Ayurveda, the traditional Indian wellness system, which literally translates to the science of life, advises you shouldn't put on your skin what you would not put inside your body. 
These Ayurvedic staples are fast emerging as super heroes of the clean beauty movement as they tick all the boxes of being result-oriented, environment-friendly (no chemicals or microbeads that kill marine life) and completely naturally derived. "These are soap-free or non-foaming cleansers, made in small batches to preserve their freshness and potency. The moment you open a Forest Essentials ubtan –whether it is Tejasvi or Soundarya or Narangi and Nagkesar – you can smell the herbs and the freshness of the ingredients. Pure, fresh, this is as good as food for skin," says Yadav.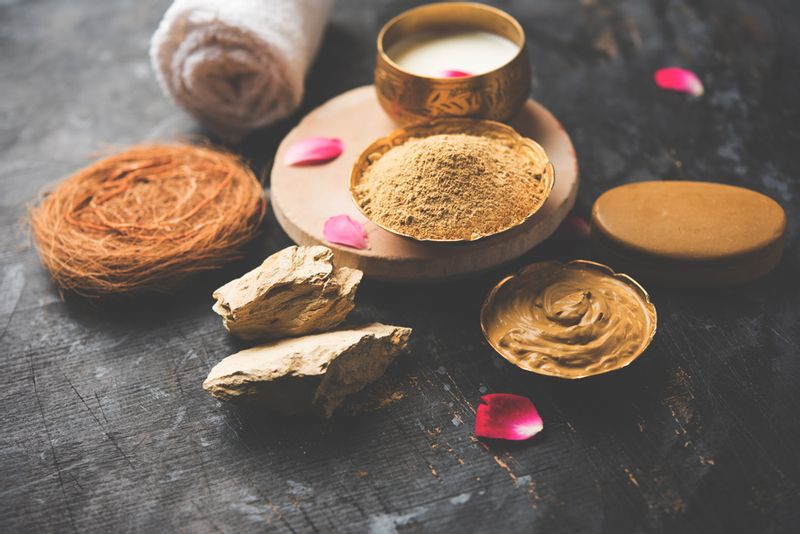 Earlier, while ubtans or powdered face masks were a part of the niche Ayurvedic-beauty segment, now they are becoming part of mainstream brands. Sample these: Innisfree 5 Minute Green Tea Leaf Powder promises to moisturise and cool the skin; Herbivore's botanicals Pink Clay Mask is a gentle exfoliator for all skin types; Origins Ritualitea Matcha Revitalising Powder Face Mask claims to cleanse in a jiffy. Yadav points out that when used dry, as in case of udvartana (an ayurvedic treatment with dry powders), it aids in reducing cellulite and overall toning of the body.  
Ubtans—the zero preservative solution
Unlike water-based beauty formulations that require preservatives, ubtans are powdered formulations with sun-dried and hand pounded ingredients. Hence no preservatives are required to stabilise the product. That these are 100 per cent natural is appealing to the new-age conscious beauty customer," elaborates Chopra, who believes that ubtans are the backbone of an Ayurvedic brand like his.  
This is not all. "In Ayurveda, powder is supposed to be the most potent of all beauty ingredients. When you remove water from herbs and leaves, only the active ingredients remain. When extracting active ingredients from a particular herb, you can only extract 10-25 percent, whereas its 100 percent in a powdered format," explains Prashanthy Gurugubelli, founder of Daughter Earth, an Ayurvedic beauty brand. Daughter Earth has come up with a single botanical powdered mask formula in seven variants, namely Jamun, Brahmi, Aloe vera, Amalaki, Neem, Lemon peel and Yastimadhu (licorice) as Gurugubelli wanted to preserve the potency and purity of the ingredients. "I wanted to give the choice to the customer to use the ingredients as they are or blend it as per their concerns." 
It's not just the classic recipes which are getting bottled, but also unique family beauty secrets, which were handed down from mother to daughter. Deepshikha Deshmukh, founder of the brand Love Organically, delved into potent superfoods, royal beauty diaries and dadima's kitchen secrets to curate a range of powder face masks to addresses skin concerns – from tanning and dehydration to acne and oily skin. A big advocate of traditional ubtans, she points out that these are not just skin-friendly but also planet-friendly. "Unlike single-use sheet masks that end up clogging the gutters, powder face masks are easily biodegradable," she says.  
Find your perfect Ubtan 
How do you know which one's for you? Check out the ingredients and match those to your skin concerns is Yadav's advice. Look for multitaskers. "For radiance or glow, look for saffron, rose, sandalwood, turmeric and orange peel. Neem, Multani Mitti and Nagkesar have a purifying effect and are good for acne-prone, oily skin types. Ubtans enriched with powder of nuts, such as almonds, walnuts and pistachio nourish from within, taking care of fine lines and first signs of ageing," advises Dr Yadav.  
In Ayurveda, skin is categorised as per three doshas – vata (dry), pitta (combination) and kapha (oily) and the same ubtan will give best results if paired with the right mixing medium. "For vata we recommend nourishing whole milk or cream, for pitta, rose water or aloe vera works very well, whereas for kapha, mixers need to be astringent in nature, such as orange or lemon juice, tomato juice and yogurt to balance the oiliness," adds Yadav.  
---
Photo: Shutterstock