Associated with auspiciousness, wealth, prosperity and understated sophistication, the flamboyance of gold is undeniable. The metal with a distinct timeless appeal has been a symbol of opulence and fortune since time immemorial. "As per Hindu mythology, gold is considered the soul of the world and its majestic countenance definitely creates an aura of eternal beauty and positivity. Its glowing warm energies and relaxing vibrations, besides adding grandeur to welcome festivities, resonate with the cheer and spirit of divine celebrations," says Vandana Khosla, Founder and Creative Director, Elvy. Its brilliant colour is known to dispel darkness and is often compared with the sun's radiance. A sacred colour, it is intrinsically associated with celebrations and festivities in India. With the festive season around the corner, this is the perfect time to give your house a "gold" upgrade. Incorporate gold accents in your space to give it the celebratory glow. Read on to find out more.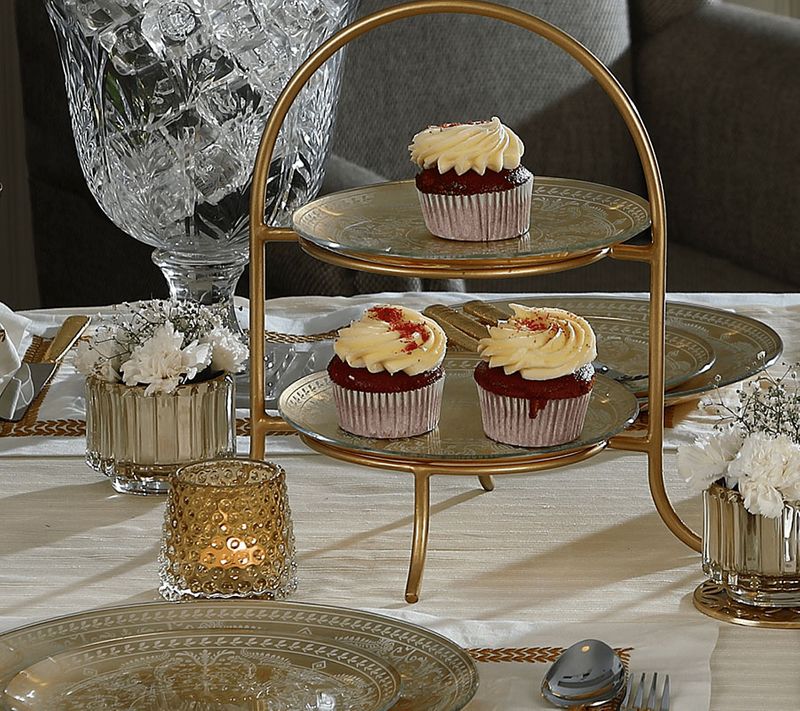 Warm and Rich Undertones for Every Space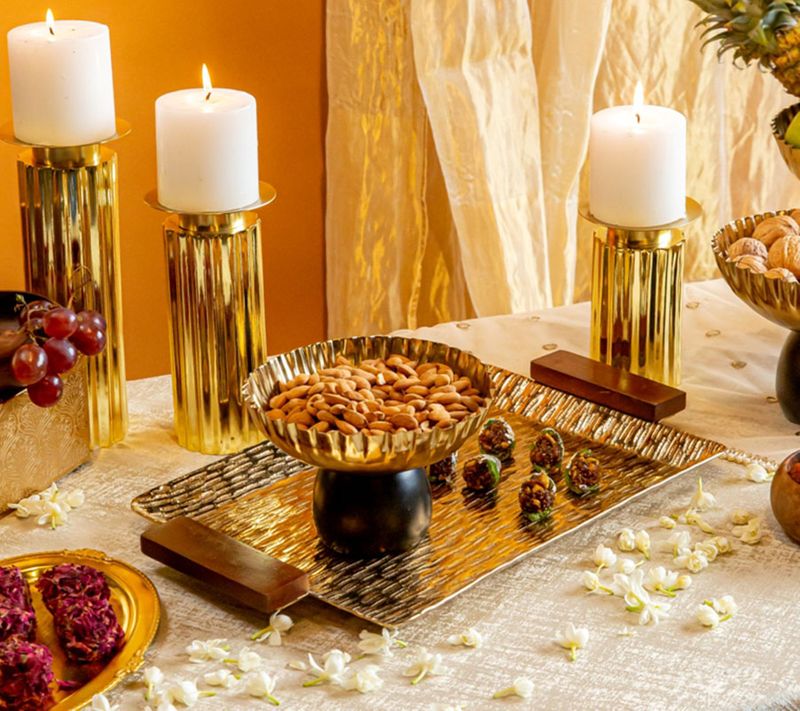 A complex colour with vibrant and rich undertones, a touch of gold can uplift and elevate the aesthetic quotient of any space almost effortlessly. "The glittering metal has the power to make a space instantly and infinitely more extravagant. No festive decor is complete without that hint of gold flicker and shimmer. The key is to not overdo it when it comes to incorporating gold accents. As they say, 'Less is More'," says Natasha N. Kochhar, Associate Partner and Principal Architect, LTDF. Right from the entryway to the living, dining and puja room, there are several ways to use gold in home interiors to incorporate radiance and sheen. "Wall accents or a mirror in gold tones at the entryway offer warmth and exude a welcoming energy at the threshold. Lamps, candles and tea light holders, side tables and planters with rushes of gold can change the dynamics and be the focal elements in your foyer and living space," says Chitvan Agarwal, Partner, Logam. Place a brass finish urn in the corners or at the entrance of your home. Decorate it with fresh flowers, water and floating candles to usher in the positive vibes. One can even opt for traditional pieces like brass lamps and statues to layer your spaces with grandiose.
"If you are willing to splurge a bit, tinges of gold in vinyl flooring details, stone inlays or even in wall panelling can bring a certain visual opulence to the space. Incorporating golden shades in furniture like the dining table, consoles, bar units and centre tables can turn them into statement pieces," says Rajesh Bhandari, Director, A-Class Marble. Alternatively, a simpler way to bring a festive vibe is to add a hint of gold in accessories and artefacts like table lamps, clocks, vases, artwork and other small artisanal decor pieces. "Do not forget to use gold or rose gold accessories along with silver in your mandir. Gold foiled votives, gold and crochet cushions and some dried flowers with hints of gold add to the festive mood with the softness of a contemporary look," adds Natasha.  
Entertain in Style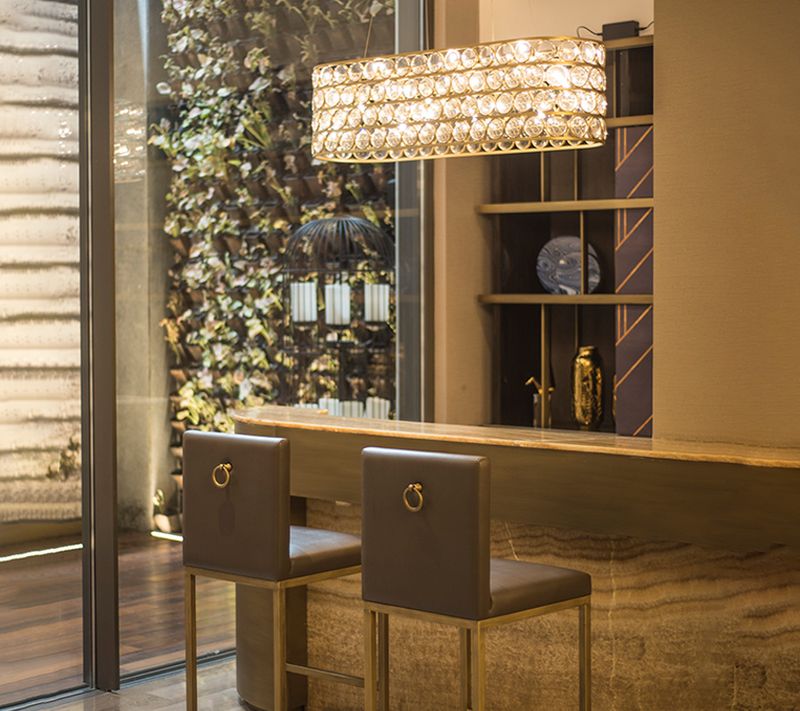 Festivals are all about family get togethers and parties with friends. Gold is the perfect catalyst to give your living and dining room a makeover. Playing around with diverse colours and materials along with a pop of gold adds drama and texture to your furnishings. "Add gold finish brocade and raw silk cushions on a sofa or chair to highlight it. Rich and vibrant hues teamed with gold can really elevate the style and festive quotient. Velvets, silks, brocade and jacquards work best with gold," says Paushika Gupta, Architect & Interior Designer, Founder, PDA+D. Frame your precious memories using dull or rose gold photo frames which again is an ideal way to give your walls a festive look.
Give some sheen to your dining table with serveware and tableware that has gold trims and details. It can be the perfect embellishment for the festive season. "A table with serveware that has royal elements and regal touches such as trays, platters, cutlery, dinner sets, bowls and barware is a personification of elegance. A chandelier in the living room that whispers a warm sunshine glow is distinct yet not imposing and can bring in an ethereal illumination in festive times," adds Vandana.
Style Cues and Tips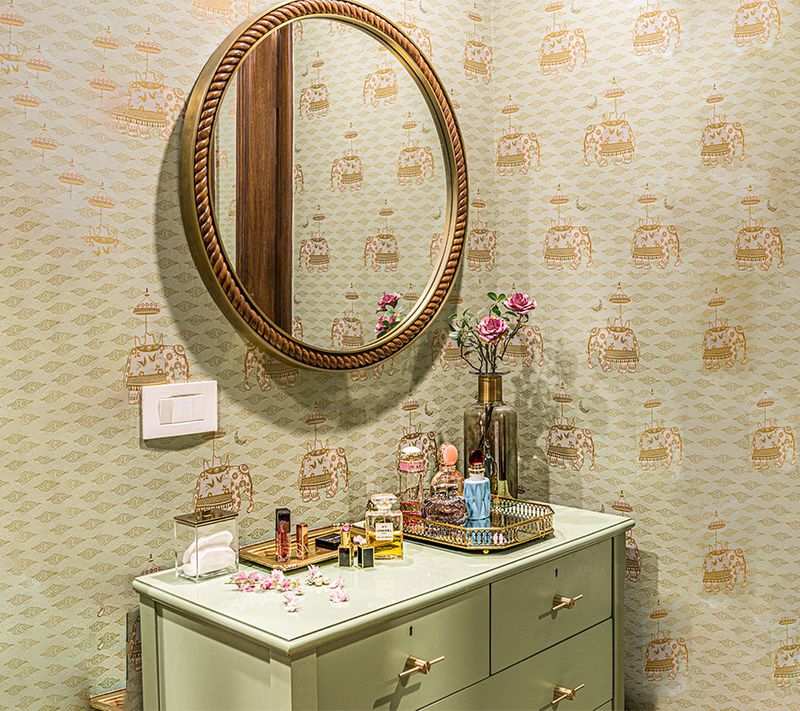 The key to making gold look elegant rather than over the top is balance. A big gold piece can look great but at times a small elegant accent can be a conversation starter. Pick things that complement one another and spread the colour evenly, rather than concentrating it in one place. Ensure it blends with your home's ambience and intrinsic décor style. Position the items strategically for that radiant and uplifting effect. Pairing lamps, lanterns and candles in a corner or on the centre table is always a good idea.  
"If you have a standalone statement piece in a room, then tone down the metallic bling. Similarly, if you use bright gold in your furnishings, opt for dull or antique hues of the same in the rest of the spaces," says Architect Anupriya Sahu, Founder and Design Head, Alankaram. Flowers never fail to add an inimitable charm. "Arranging a bouquet of flowers in hues of yellow and purple with some artificial golden decor sticks thrown in is a good idea. Yellow and gold go hand in hand. One can opt for sunflowers, chrysanthemums and roses in the tones of yellow," adds Paushika.
---
Photo: Shutterstock, A-Class Marble, Elvy, Logam, LTDF, Paushika Gupta