There is no denying the fact that upholstery is one of the most important aspects when it comes to home interiors. It plays a key role in making or breaking the visual interest of a space apart from adding texture, colour, pattern and print to the interiors. "The visual landscape of any interior is elucidated by the upholstery used in the area's furniture. You are smitten by an alluring sofa not just because of the shape and style but also the plush fabric it is upholstered with. An enticing colour, the tactile experience of the texture along with sheen, gloss and finish as well as the softness of the upholstery fillings used are all key factors that create an impact," says Avani Khurana, Creative Head and Co-Founder, Beyond Dreams.  
Redefines style and influences function
A fabric revamp at times is more appropriate than buying a new piece of furniture as it can breathe new life into your space. "The right upholstery elevates the style quotient and rejuvenates the room.  Fabric selection is the first stage and pivotal for the identity of any piece of furniture. Plan your upholstery to match your lifestyle since pieces that will face wear and tear need different fabrics as opposed to secluded and formal pieces. Blending and complementing the colour scheme and creating a textural synergy with other décor accents and furniture is vital too," says Neeta Kumar, Creative Head and Founder, Inhabit Design Studio.  
From florals in vibrant hues to clean geometrical prints, easy-to-pair checks, stripes or versatile solids coupled with myriad fabrics to choose from, the world of upholstery can be quite eclectic. But it is key to remember to focus on the comfort factor along with the aesthetics. The material of the fabric and the support system (including the frame, cushions, etc) should be ergonomic enough to offer a feeling of calm, warmth and relaxation. And given that the festive season is around the corner, the timing for an upholstery upgrade could not be more perfect. So, what are the latest upholstery trends to watch out for? Read on to find out more.
Key upholstery trends
Even though style, utility and comfort are indispensable, consumers are becoming more aware and concerned about the impact fabrics have on the environment. "We see consumers going for cosy comforts, playful manipulations in different styles and luxurious upgrades in fabrics and textures. Keeping minimalism or subdued maximalism at the core, earthy tones are seeping in with a resurgence of cooler pastels for the subliminal effect. Drama with geometric patterns and verdant visuals for the stand-apart look is hot and trending but in small doses. Biophilic designs are the hot favourites too. There is a paradigm shift in consumer choices now, with the primary influencing factor coming from within rather than external influences," says Neeta, who adds that textured fabrics and tones like warm brown, greys, milk chocolate or paper bag browns are considered chic. Perceived as feminine, romantic and millennial, the colour pink in muted and elegant tones is also making a comeback.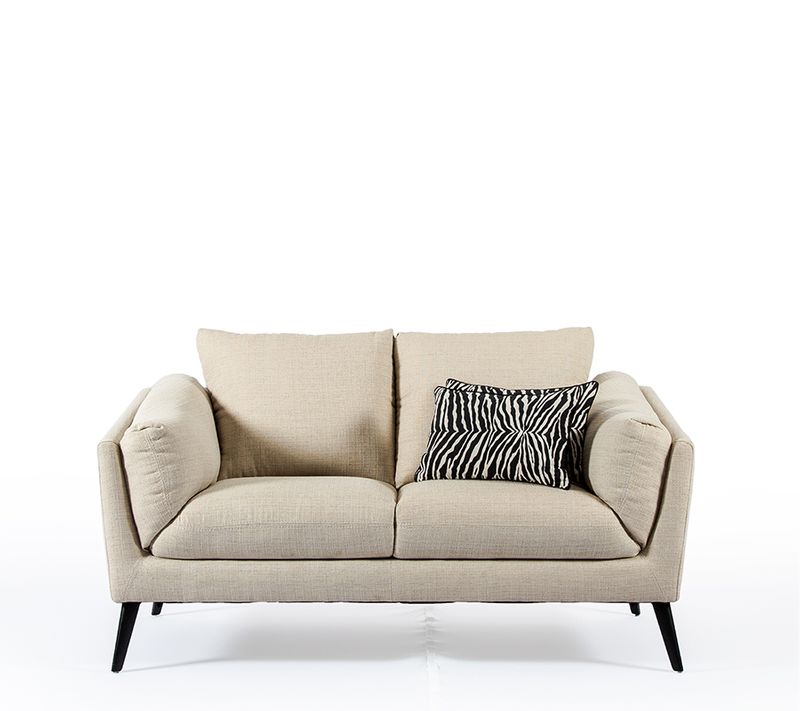 "We are seeing a huge uptick in neutral and naturally stitched fabrics as opposed to leather, velvet or velour. Neutral hues are what consumers are going for because it is easy and versatile when it comes to putting together a space. You can then include different elements that tie the space together," says Hussain Somjee, Managing Director of MIMI Homes, Bangalore.  
While linens and sustainable fabric are in for upholstery, go in for silk drapes in neutral tones for the drapery or curtains. Pair them with simple light sheers with a touch of gold or embroidery for a festive look. "We recommend simple stripes for curtains and monotones for sofas while not mixing too many colour shades. Throw in plenty of cushions, indoor plants and artwork for a pop of colour and warmth," suggests Shrestha Shah, Business Developer, Designers Resource. Shah adds that auburn and grey tones are hot favourites.  
An ethnic range with natural fibres can elevate the aesthetics and ring in festive celebrations.  Handwoven and hand-embroidered cushions in hues of indigo, rust, mustard and ivory are perfect to infuse those festive vibes. If you are a fan of patterns and prints, go in for printed floral upholstery for a single piece like a wingback chair or a single seater placed in a corner. Cross-stitched fabrics and twill also work well for statement pieces.  
Styling dos and don'ts
To keep your space chic and elegant, do not mix too many colours, prints and patterns. "When using patterned fabrics, consider the size of the room. Bold patterns can enhance a large room but smaller rooms need smaller designs to avoid a cluttered look. While choosing patterns, ensure that the geometry of the furniture does not break the symmetry of the pattern. Also, many a time, a beautiful fabric is not as comfortable as its appealing looks, so spread it out and sit on it to get a feel. A little due diligence will go a long way. The colour scheme should blend with the entire décor, from walls to curtains and flooring plus your personal décor style," says Avani.  
Before choosing the fabric, always bear in mind the utility of the space. Choose sturdy fabrics with high durability which are easy to clean and maintain for a space where there is a lot of movement like the foyer or if you have pets at home. Cotton fabrics with a higher thread count are an ideal choice. Ensure that your wall paint is of a muted or neutral hue so that it pairs well with all the upholstery. "Cushions with trims as well as French pleated curtains rather than eyelet curtains are great ideas to add a touch of grace and elegance," says Smita Joshi, VP Home Textiles & Design Expert, Nesterra.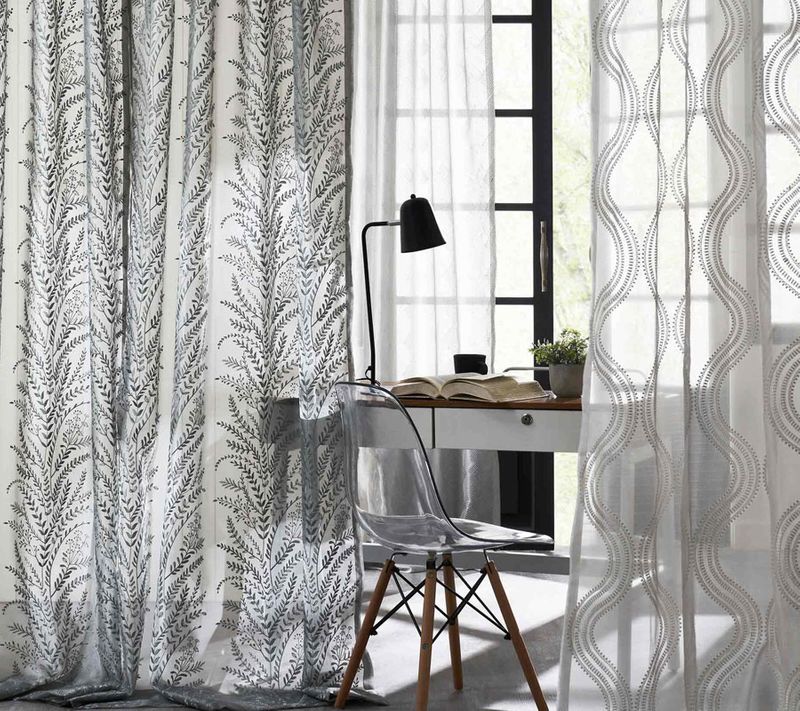 Best places to buy upholstery online
1. MnR Décor
If you are someone who loves hand block prints, unique designs and ingenious colour schemes, check out the gorgeous pure cotton drapes from MnR decor.  Their USP is not only their innovative prints and designs but the fact that they customise colour combinations and prints apart from size.   
2. Lemondecor
A one of its kind store, Lemondecor houses scores of products which are integrated with their proprietary colour/picture search technology so that customers can quickly find what they need.  The fabrics available include cotton, polyester, PVC, silk and a host of blended fabric.  You can filter products based on end use, fabric, colour, design and even pattern.  
3. D'décor
A highly popular brand, this one offers a wide range of prints, patterns and textures which includes florals, geometric and modern digital prints.  Their upholstery is available in materials like velvet, leather, suede as well as textured and woven jacquards and is categorized into specific design collections.  They have a whole range of ready-made curtains too.
4. Mimi Homes
Offers upholstery on sofas and armchairs and dining chairs, in a range of fabrics, including leather, velour, velvet and self-stitched fabrics. One of their significant USP's is the quality of the fabrics and more importantly the foam and cushioning that goes inside the piece. The brand offers customisation for commercial and retail projects on a minimum order quantity basis.
5. Beyond Dreams
This one offers chic upholstery in fabrics ranging from linen, and cotton to jacquards. A versatile brand that incorporates modern textures, classical and digital prints, they also have in-house designers to help you find what you need.  They do customization for commercial and residential projects.
6. Designers Resource
Manufacturers of exquisite upholstery fabric since 1942, they specialise in fabrics like silk, jacquard, embroidered, linen, polyester, cotton and velvet.  Their products are categorized by design collections too and are known for their impeccable quality.  
7. Nesterra
A premium décor brand that inherits a strong legacy of over 75 years Nesterra is known for its indulgent colour palettes, contemporary and transitional designs.  The brand's USP is their designs which is inspired by human experience, personalities and nature.  
8. iTokri
If you are a fan of handlooms and native craft, the curtains from iTokri are for you.  From Chanderi silks, Kutch block prints to Pochampally ikkat, they have a wide range of indigenous designs.  They believe in empowering local communities, supporting rural artisans and having exclusive designs like applique cutwork from Barmer, Rajasthan among others.
9. Amazon India
This is the perfect place if you are someone who wants to view products from multiple brands and sellers on a single platform.  The choice here is truly large and allows users to filter based on material, seller and price range among others.
10. Fab India
If classy prints and chic fabrics are your choice, there is a large range in cotton, linen, cotton silk and cotton blend to choose from. Their curtains are available in a plethora of colours and come in three sizes.
11. Wooden Street
A perfect combination of style and aesthetics, they offer fabric for a variety of furniture pieces in fabrics like cotton and velvet.  Trendy designs, high quality and affordable rates is their USP. 
---
Photo: Shutterstock, Nesterra, Designers Resource, MIMI homes, Beyond Dreams