One of my best sensory memories is the first time I had mulled wine in Nuremberg, Germany, at a festive Christmas market. Wrapping my mitten-covered fingers around the mug, the first taste of the Gluhwein (as it's called in Germany) with its citrus and warm spice notes from orange segments and cinnamon, cloves and star anise, was like a shot in the arm, as I stood shivering in the cold winter chill.
Mulled wine (also called spiced wine) is a taste of Christmas and one of the most popular holiday drinks, associated with winters, just like sangria is associated with summers. Most winter markets in Europe sell this warm wine, stored in large copper tureens with its intoxicating aroma, by the cup. Others, make a batch of mulled wine at home when entertaining friends and family in the holiday season. 
Origins of mulled wine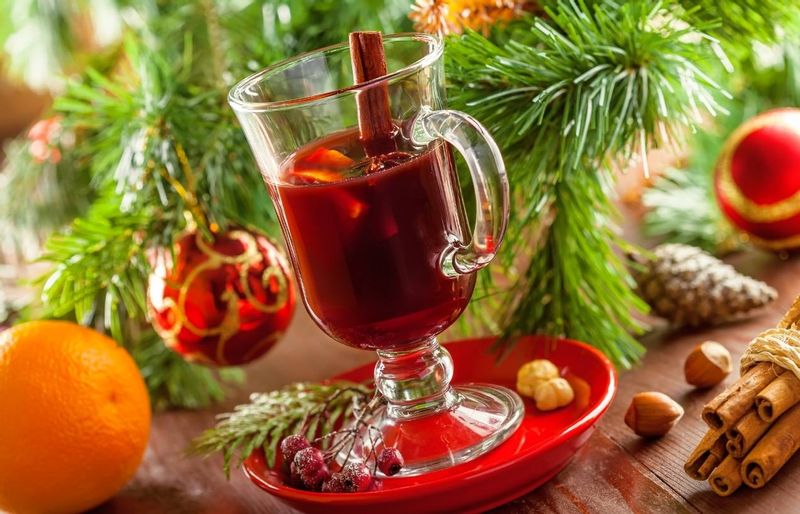 The warm spiced wine has many names, Gluhwine in Germany; in Norway, it's called glogg, spiked with the local liquor called aquavit and in Sweden, it comes with raisins and almonds. In France, it's called vin chaud, punched up by adding cognac to it. It's known as krasomelo in Greece.
Origins of mulled wine date back to the 2nd century, where ancient Greeks did not like to waste wine after a big harvest and to prevent wastage they would add spices to it and heat it up. They called it 'Hippocras' and used it as a health tonic. The Romans who spread the science of viticulture, also started heating their wine with spices to protect their soldiers against the cold winters. They can be thanked for spreading this love for mulled wine across the countries that they conquered. Centuries later, it became a staple in Britain during the Victorian era. The 1843 Charles Dicken classic 'A Christmas Carol' mentions mulled wine too.
Getting the basics of mulled wine right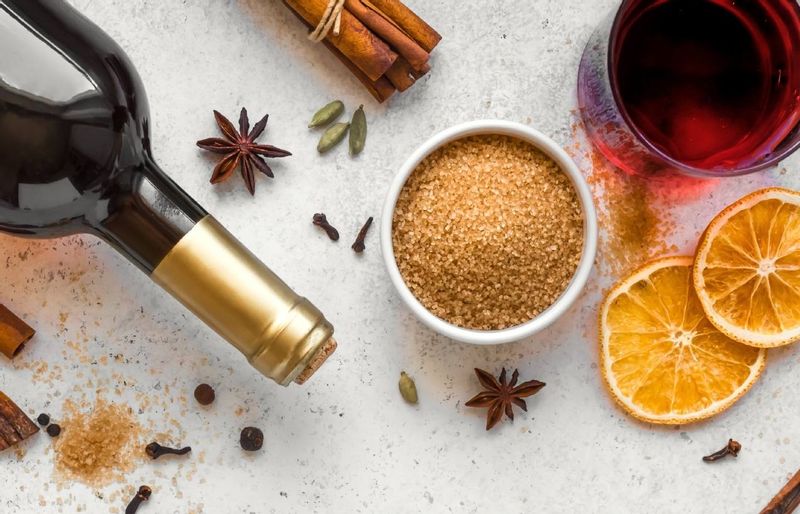 Most modern iterations of mulled wine use a full-bodied, fruity red wine with a bit of port wine or brandy and aromatic warm spices such as cinnamon, nutmeg, star anise along with orange or lemon zest and a little sugar syrup, which is gently simmered for some time. Sometimes raisins are also added. Typically, whole spices are added so that the wine doesn't become cloudy. Mulled wine is meant to be had only when the temperature drops. 
There are two ways to make mulled wine:
1. The traditional method is where all the ingredients are added to a pan and simmered, ensuring that the alcohol does not come to a boil. 
2. The other method involves making a sugar syrup with spices, and then adding the wine to it. Wine or spirits is always the last thing you add.
Mulled wine is always made with red wine, which is renowned to be rich in antioxidants. Merlot is a great choice of red wine for mulled wine but you can use other varietals as well. Spices like cinnamon and cloves are anti-inflammatory as well as good for controlling blood sugar levels. However, mulled wine can also be high in calories. British celebrity chef, Jamie Oliver's stellar mulled wine recipe has red wine with vanilla, nutmeg caster sugar, lemon, clementine, star anise, bay leaves, and cinnamon.
It's easy to customise the warmed spiced wine by adding your own special blend of spices and spirits. Supermarkets abroad also sell ready spice blends for mulled wine.  You can prepare it in advance and store it for about two days and reheat and serve it. If you leave it in contact with air for too long, the wine will oxidise and get sour. Serve your mulled wine with cold cuts, cheese, and spiced Christmas pastries. 
Mulled wine in India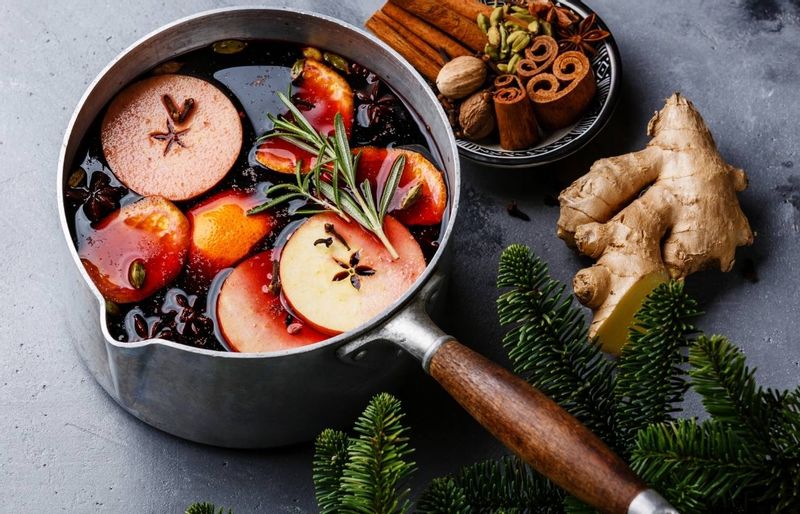 Pre-mulled wines in bottles are a substitute for those lazy drinkers,  who don't want to go through the trouble of making it at home. Grover Zampa Vineyards launched India's first bottled mulled wine in 2020. The One Tree Hill Mulled Wine inspired by kadha, India's own fortifying recipe of immunity, contains a blend of desi herbs and spices including black pepper, cinnamon, cloves, ginger, tulsi, cardamom, and lemon, star anise, parsley, fennel, cumin seeds, orange peels.
Chef Ashish Bhasin, Executive Chef at the Leela, Delhi also shares an original mulled wine recipe that uses a splash of Cointreau (an orange liqueur) added to red wine and simmered with cranberry juice, honey, star anise, cinnamon, orange zest, and pineapple pieces. He recommends serving the drink garnished with cinnamon sticks for those who are not red wine drinkers and don't like the taste of tannin which creates a drying sensation in your mouth.
"India is a land of spices and when it comes to making mulled wines, the option of playing around with sweet to warm spices is immense. Spices such as nutmeg, mace, star anise, etc, are great for a sharp and warm after taste while sweet spices like cardamom and bay leaf will add balance. You just need a great imagination- always use spices in very small quantities since these pack a punch," says mixologist Varun Sudhakar.
So are you going to give mulled wine a chance this winter?
---
Photo: Canva