Immunity is the newest buzzword with everyone trying to bolster their immune system to defend against the never-ending barrage of superbugs and protect the body from infections; COVID-19 has already shaken us to the core. In India, instead of pills and medicines, there are several traditional herbs and spices known for their medicinal properties, which have been used to make concoctions or immunity-boosting kadhas, especially as the seasons change.
Popularity of kadha on the rise
The onset of monsoon leads to seasonal colds and flu and digestive issues that have been treated with the tried and tested kadhas and kashayams. Ministry of AYUSH, along with Prime Minister Narendra Modi, has also pushed the benefits of kadha and its immunity-boosting abilities. As a result, kadha recipes or homemade concoctions are seeing a surge in popularity.
Several Ayurvedic companies such as Baidyanath and Dabur India also swiftly launched packaged ready-to-consume kadha in the market to keep up with the rising demand. "With the rise in environmental threats such as virus attacks, pollution and weather change, these warm and soothing drinks that combine common kitchen spices are the key to unlock a robust immunity," adds Parag Kaushik, Co-founder, Upakarma Ayurveda.
Even celebrities such as Malaika Arora have sung praises of this elixir. She shared a post about the homemade immunity-boosting drink on her Instagram page. She made it using fresh turmeric, Indian gooseberry, ginger and apple cider vinegar.
Such is the sudden interest in kadha that it was one of the highest searched terms in March 2020 on Google, as per the search engine's India trends report. And it shows no signs of abating—by June 2020 search for the phrase 'how to make kadha' tripled from its peak time of October-November year before, when parts of India brave the winter and seek homemade remedies.
Tapping into the interest in kadha chef Saransh Goila took to his social media handles to share his recipe using black peppercorn, fennel, star anise, garlic, cloves, cinnamon, cardamom and ginger.
What is Ayurvedic kadha?
Kashayams or kadhas have been part of home remedies in Indian homes from time immemorial. Even the ultimate treatise on Ayurveda, Charaka Samhita mentions kwathana or decoction, the earliest form of kadha. The term kadha is derived from a Sanskrit word 'Kwatha', which means decoction or liquid obtained from boiling herbs in water.
Dr Rohit Sane, MD, Madhavbaug, a chain of cardiac care clinic and hospitals specialising in modern diagnostics, Ayurveda, diet and physiotherapy explains, "Kadha is similar to an aqueous extract of herbs. The crucial part is in the selection of temperature and time employed for the extraction process so that selective phytochemicals from the herbs diffuse into water and unwanted phytochemical stays in the herb only."
Marina Balakrishnan, a Mumbai-based certified plant-based chef, who is also trained in the science of Ayurveda, reminisces about homemade immunity-boosting remedies that are predominantly used in her hometown Kerala, "There wasn't a day when my grandmother forgot to take her chukku kaapi (dry ginger powder kashayam) to stay healthy. It was a daily ritual for her. At the time, medicines were unheard of and it was only these herbal concoctions that were taken to boost your immunity."
The Ayurvedic principle of disease management believes in empowering the body to naturally overcome the disease. "Though the various herbs in kadhas have antimicrobial and antiviral properties, Ayurveda does not believe in killing germs for the treatment of a disease," says Dr Sane. Considering our environment is teeming with microorganisms, good and bad, eradicating them all is neither healthy nor possible. There will always be a new kind of germ causing some disease, making it a never-ending process. But it is possible for us to improve our own immune system and endurance.
Health benefits of kadha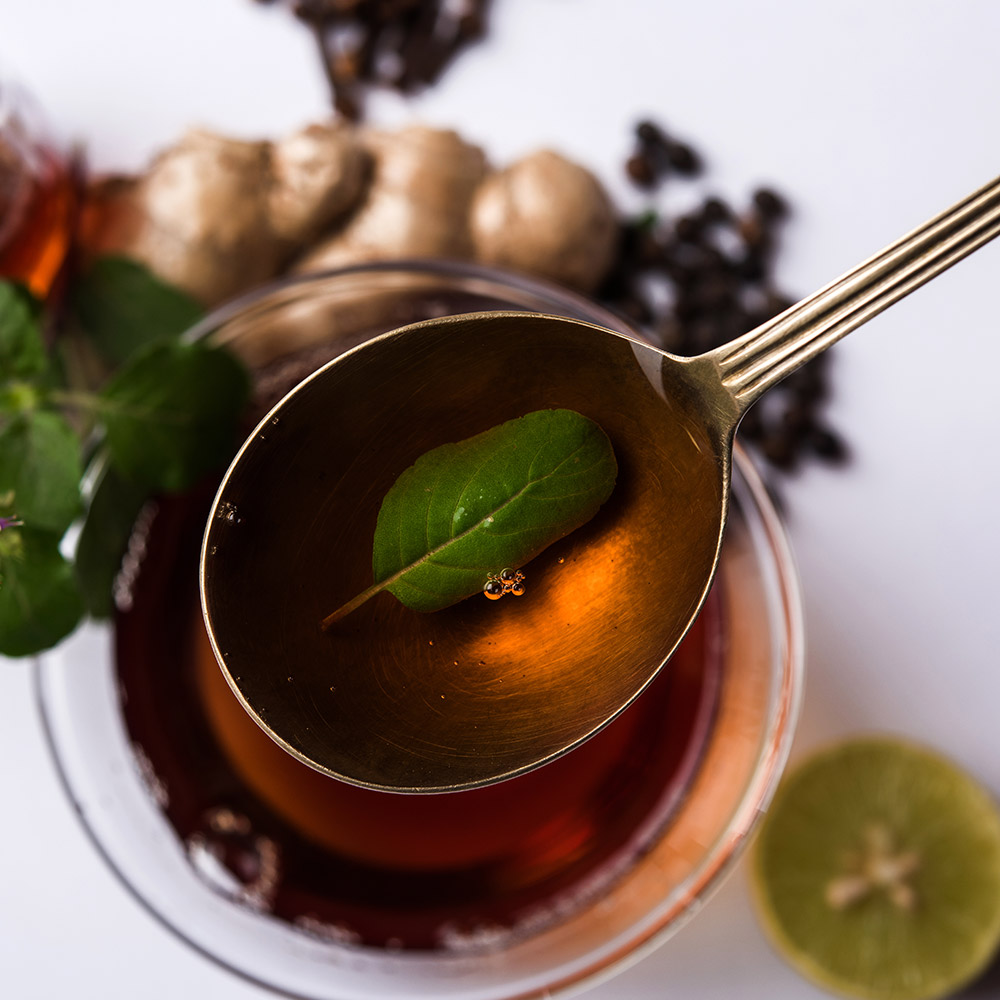 With the recent pandemic changing our mindsets, the focus has shifted on strengthening our immunity over finding a cure to the disease. "People have become more aware of strengthening their immune system with the fear and anxiety of the current global situation with COVID-19. This has been a wake-up call for most to take care of themselves," Balakrishnan explains.
Herbs and spices have unique health benefits and when mixed together to make a kadha, it helps our body in many ways. "Commonly, these warm Ayurvedic decoctions aid in boosting our immunity and keeping cough and cold at bay. However, the benefits of kadhas are not limited to just these," adds Kaushik. They also help us feel energised and revitalized throughout the day. Kadhas also aid in easing muscle pain, improving digestion, offering relief from nausea and erratic sleep patterns.
While the results of these kadhas are not seen overnight, Balakrishnan emphasizes that consistency and discipline is the key to reap the benefits of kadha in the long run.
Primary components of a kadha
The most commonly prepared kadha recipe is a decoction of tulsi leaves, ginger, black pepper, cinnamon and cloves. According to Kaushik, all these natural herbs and spices when boiled together in water (1 part herb and 16 parts water and then reduced to 1/8th) is the most common method to make kadha, used to fight common cough and cold.
"Add a few strands of saffron to make it the ultimate kadha. Saffron is the perfect stimulant to maintain a good amount of hydrochloric acid in our body which breaks down and helps in the digestion and absorption of nutrients such as protein. It also eliminates bacteria and viruses in the stomach."
How to make kadha at home
Chukku Kaapi Recipe 
Ingredients
1 tsp chukk or dry ginger powder

1 tsp cumin

½ tsp crushed black peppercorn

1 tsp coarsely ground jaggery

1 tsp coffee powder or tea

5-6 Tulsi leaves
Method
Bring two glasses of water to a boil. Add all ingredients except coffee powder and boil on medium heat for 10 to 15 minutes.

Add in coffee at this stage and bring to a boil again.

Strain into a cup and drink it hot.
Recipe by Marina Balakrishnan
Health in a cup
Kadha Recipe 
Ingredients
2 cloves, whole

4 black pepper, whole

1 tsp. of ginger, grated

5-6 leaves of holy basil

2 green cardamom pods

¼ tsp of fennel seeds

3-4 cups of water

½ tsp. of raw unpasteurised honey (optional)

3 strands of saffron

1 small cinnamon stick
Method
In a pot dry roast the whole spices – cloves, pepper, cardamom, fennel seeds, cinnamon for 2 minutes.

Pour water, add ginger and saffron. Boil the spices in water.

Add holy basil and simmer for 4-5 minutes.

Remove from the heat, strain and pour in a cup. Water should be reduced to half.
Recipe by Parag Kaushik
Ministry of AYUSH's kadha recipe
Ingredients
Tulsi leaves

Cinnamon

Black pepper

Dried ginger

Black raisins

Jaggery, as per taste

Lemon juice, as per taste
Method
Dr Rohit Sane suggests making a coarse powder of the herbs and storing it.

Mix half a teaspoon of the powder in a cup of hot water.

Honey/ jaggery or lemon juice may be added to a quantity of one teaspoon in one cup of herbal tea. "Never add honey to hot Kadha, let it cool first," he adds.
Now that you know how to make immunity-boosting kadhas, its time to gear up to fight anything that comes your way!
Photo: Shutterstock