Valentine's Day is just around the corner, and if you and your partner are planning to celebrate with an intimate meal or dinner at home—you don't have to stick to just the tried and tested. There are several fun and interactive options to choose from. We spoke to experts like home chefs, caterers, and more to get you the lowdown on how to pull off the perfect date night menu!
Pamper yourselves with a romantic meal involving wine, cheese, and chocolate
We can't think of anything more indulgent than a wine, chocolate or cheese-themed meal to spruce things up. Throw in a fancy grazing platter or charcuterie board and florals for decor—skip the cliched red roses and choose pastel-hued carnations, elegant lilies, or simple baby's breath instead for the perfect setting. 
According to Le Cordon Bleu London-trained chef Guntas Sethi Bhasin, who creates custom desserts and cheese platters (DM on Instagram @chefguntas or WhatsApp 0/97406-54123 for orders), it's important to have pairings that complement each other. For instance, fresh cheeses such as feta, goat cheese, mozzarella and burrata go well with light, white wines, while aged hard cheeses such as cheddar, parmesan, and stilton go well with heavy, intense red wines. "In general, a bold cheese needs a bold wine and vice versa, else you'll find that the cheese overpowers the wine completely," she says.  Some combinations that work well, for instance, are brie with champagne, camembert with Chardonnay, and fondue with Riesling, says Bhasin.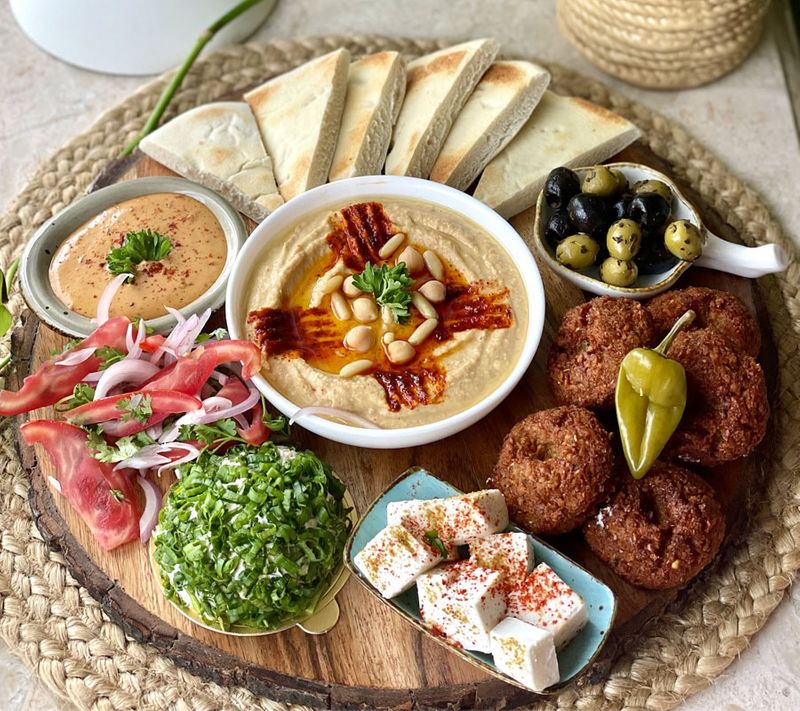 Your grazing board can be as assorted as you want it to be. Throw together a Lebanese mezze platter with an interesting twist, think chocolate hummus with desserts and savoury options—and make sure the flavours and textures are balanced. Her suggestion for an ideal grazing board includes figs, truffle honey, spiced nuts, crackers, poached pears, milk chocolate truffles, Madeira red wine, and goat cheese with pistachio along with pecorino or feta cheese for a varied spread.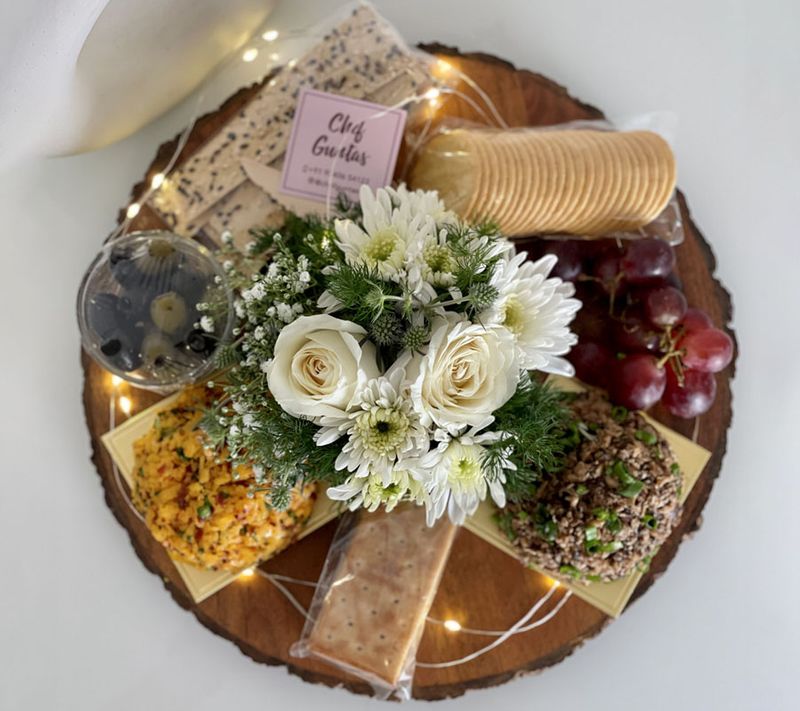 When it comes to a wine and chocolate pairing, make sure your wine and dessert are both not too sweet. For instance, pair your dessert wine with dark chocolate, while red wine can go with something like milk chocolate, she suggests. 
Order in a gourmet catered meal, with tablescapes, decor et al
Leave the cooking aside. For a truly special evening, get yourself and your partner a gourmet meal at home, with all the works. Sage & Saffron (Tel: 0/91360-12030), a boutique catering service by Aditi Dugar of Masque, Mumbai, is offering a five-course gourmet menu complete with table decor, florals, and candles, that's fit for the occasion. So, what can you expect? A silky, heritage pumpkin bisque with sherry cream and parmesan shortcrust cookies, smoked lobster or truffled oyster mushrooms with miso-tamarind glaze, confit duck ravioli, and a lush, white chocolate and strawberry torte to wrap up the meal.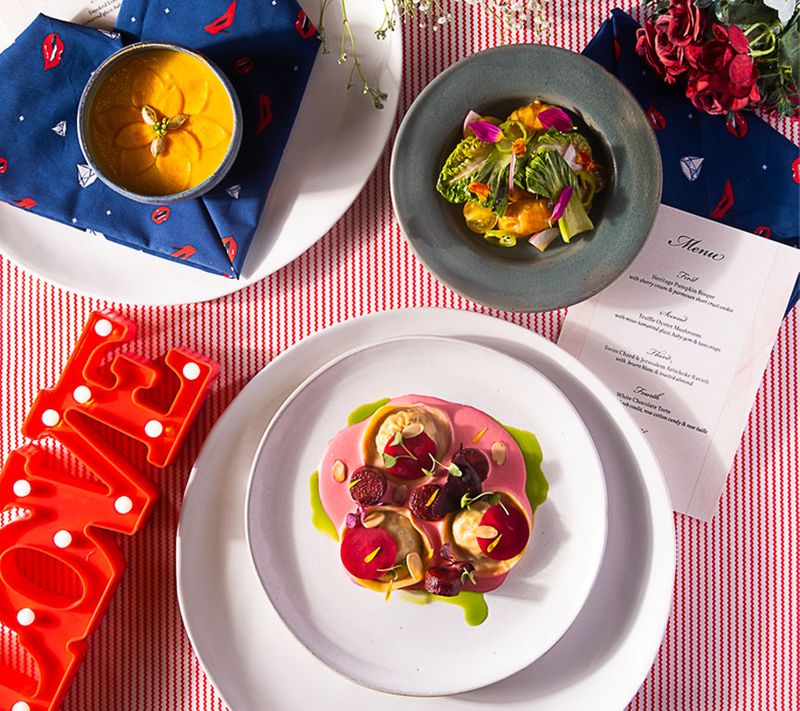 While their Valentine's menu has strong Italian and French influences, it can easily be customised keeping your dietary preferences in mind along with a range of cuisines, including Middle Eastern, Japanese, and Korean, etc.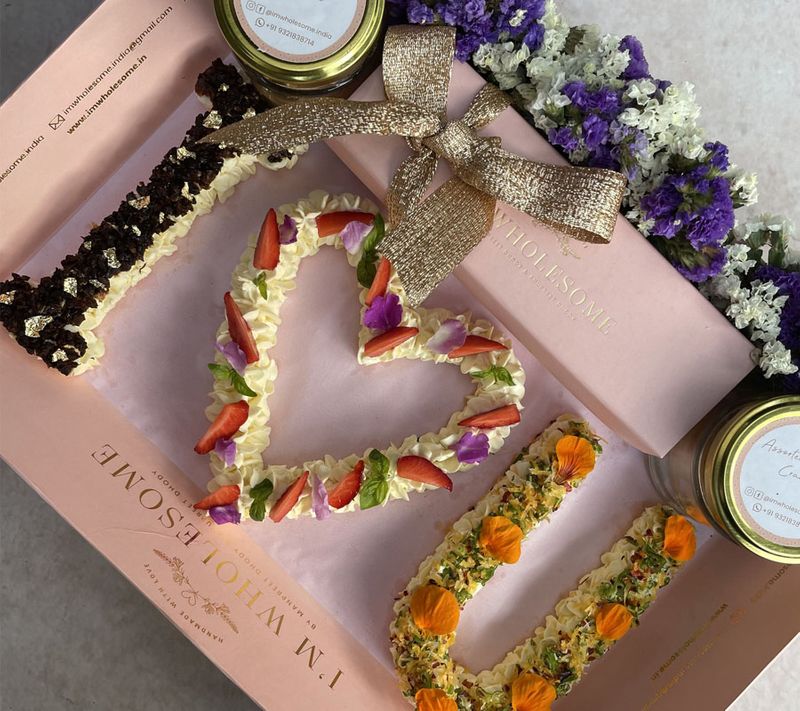 Similarly, I'm Wholesome (Tel: 0/93218-38714), run by sister duo, Manpreet and Anupreet Dhody, suggests taking things up a notch with customised meal platters or monogrammed cheese platters paired with flavoured honey. Choose from Asian platters with a piquant Khao suey and potstickers, sushi, or even a sushi cake for a heart-shaped spin on the classic. Or you can have Italian platters with bruschetta, salad, pasta, and a decadent tiramisu to finish up with. If it's a lazy breakfast you're after, opt for the breakfast in bed platter featuring dishes such as pancakes, potato rosti, avocado toast, and fresh juices. And what's Valentine's Day without dessert? The duo suggests that delicate macarons and roses do the trick. "And you really can't go wrong with chocolate-dipped strawberries."
Game night with a twist
Whether you're jumping on to the worldwide trend that is Wordle, playing a game of Pictionary, or simply unwinding with some of your favourite games—the food that you curate for the game night can be fun and interactive, without being stuffy or elaborate. Chef Karishma Sakhrani, Masterchef India finalist and food consultant, suggests keeping the menu minimal, fuss-free, and fun. "A big bowl of popcorn and a charcuterie board are a staple when it comes to game night for us at home," she says. Most importantly though, the food should not be messy or greasy. For instance, pre-plated salad cups are a great option. Try including appetisers that you can pick up with toothpicks, food that can be prepared in advance, and something that's more-ish because game nights can be a long affair, she suggests.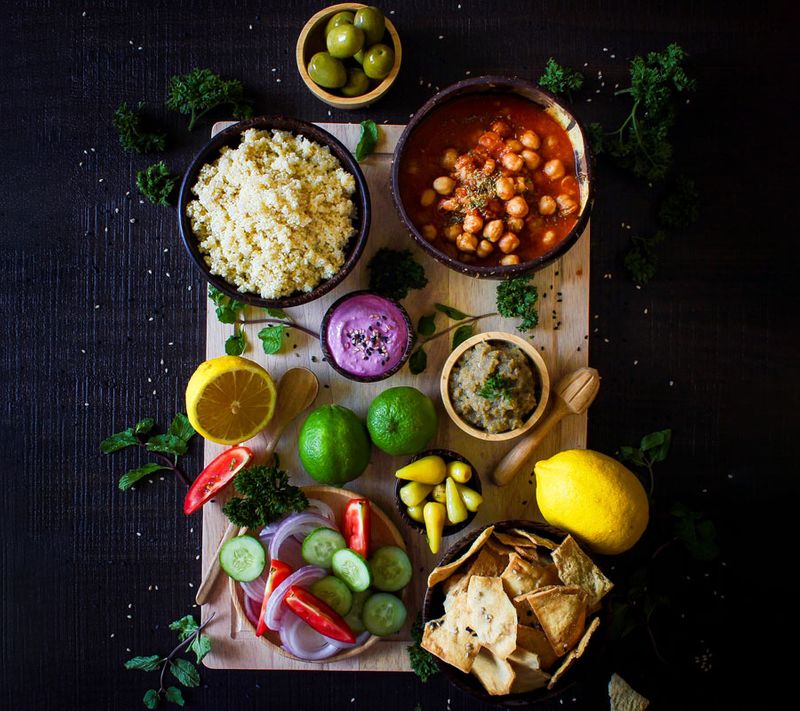 For beverage pairings, Sakhrani recommends options such as beer or wine, which is easy to pair with most foods. "Spiced hot chocolate would be a great way to end the evening or a chocolate fondue pot with strawberries and cake that you can dip in." As for the setting, comfortable seating is key, she notes. "You can create a low-seating set-up for a different vibe. Light lots of candles, play some soft music, and kick back in your PJs for a fun night!"
Try your hand at mixology or a cocktail class together
Who says a romantic date night at home has to follow a certain template? Taking a cocktail class with your significant other is a great way to spend an evening. Delhi-based, The Cocktail Story (Tel: 0/92893-43006), can set you up with a curated box of all the essentials you need to whip up your own cocktails at home, as well as recipe booklets with tips from pro-bartenders.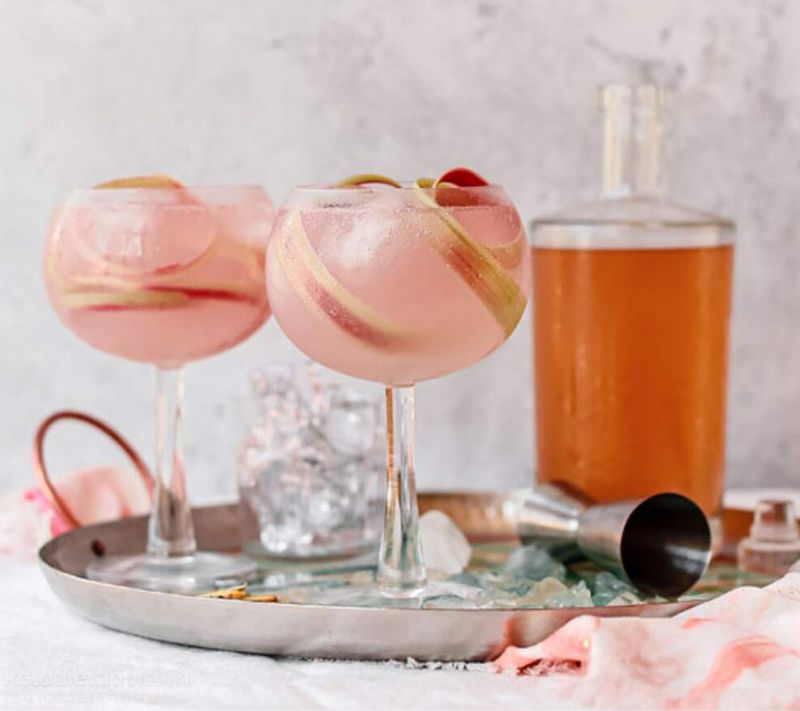 "Some interesting cocktails for Valentine's Day that you can experiment with are French martini, rhubarb gin fizz, or rose sangria—a contemporary take on popular classics," says Vidhi Puri, founder, The Cocktail Story. "To take it up a notch, you can focus on rose petal garnishes, strawberry rims, or perhaps even heart-shaped lime garnishes or your initials in edible glitter." Creating your own recipe and naming the drink based on your journey together can be a fun activity as well, she offers.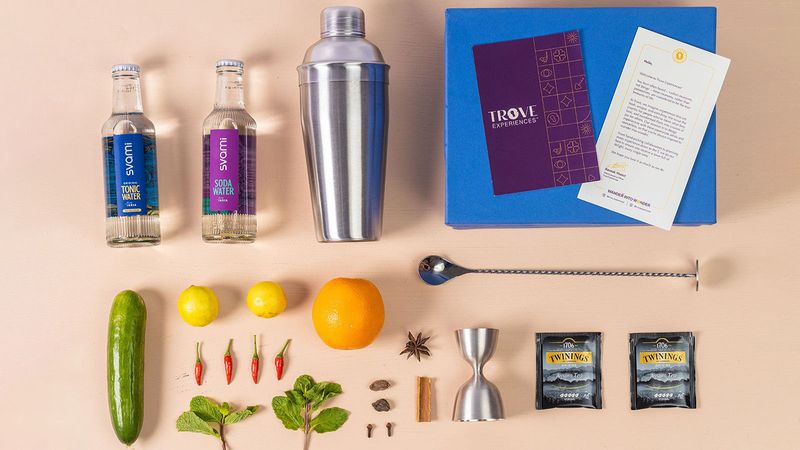 Trove Experiences (book online), which curates unique virtual events that you can enjoy at home, right from perfume making to mixology, will help you make themed cocktails with the help of their resident mixologist. All you need is the cocktail kit which is supplied by them and a few other ingredients. "We ditch fancy mixers and instead focus on fresh ingredients that can be easily found or sourced at home," says Raunak Munot, co-founder, Trove Experiences. "It is a very hands-on experience so participants need to be prepared to get their hands dirty, but that's also what makes it more immersive." 
All this is accompanied by interesting stories and anecdotes around cocktails and bar culture. "So, there are some activity cards that are sent to participants to solve during the experience. In addition, the narrative is full of questions and humour," Munot adds. 
Picnic for two 
There's something indulgent and whimsical about a picnic spread. Pop open a bottle of champagne, put out a wicker basket with your favourite things to eat, along with some music for company. If you're confused about the kind of spread you should opt for, we've gathered some brands that will curate it all for you. 
Olive Bar & Kitchen, Mumbai (Call or WhatsApp: 0/72084-78228), will set you up with a gourmet date night box that includes signatures such as baked brie and truffle, ricotta gnocchi, pizza, and desserts such as tiramisu or a dark chocolate hazelnut bar, accompanied by fresh dinner rolls, florals, and signature beverages. They are also offering Valentine's Day specials that you can choose from. Pair your meal with a bottle of their pre-mixed red sangria that goes well with cabernet sauvignon or make your own cocktail if you have tequila at hand, with their mix of red chillies, passion fruit, and apple juice.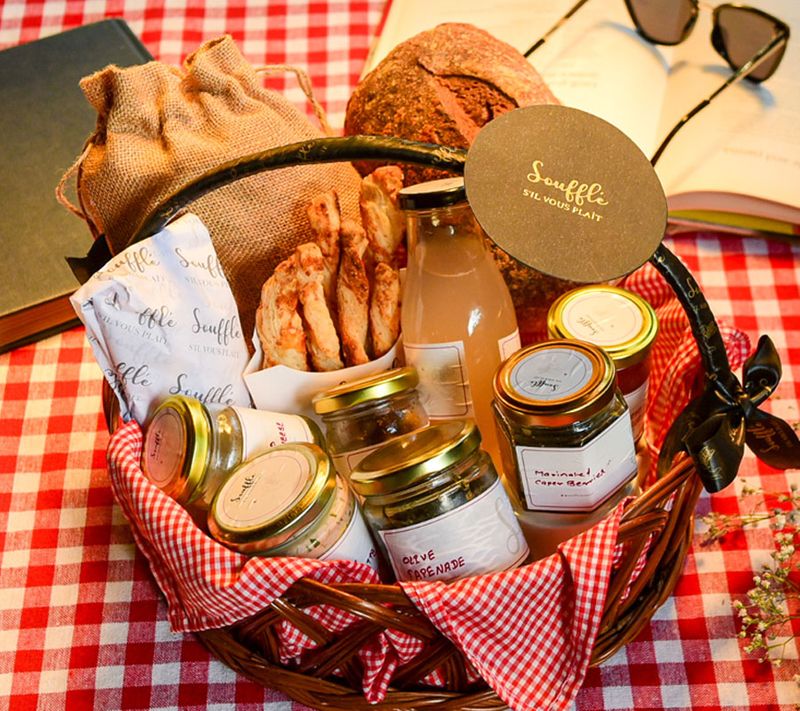 And if you're looking to transport yourself to Paris, French bistro, Soufflé S'il Vous Plaît (Tel: 0/86575-12648), will curate an indulgent picnic basket filled with French favourites, and then some. Order in a feast with options such as mushroom duxelles, olive tapenade, duck prosciutto, and other decadent eats such as mushroom and truffle soup with puff pastry croutons, a classic steak frites, gratin dauphinois, and sides such as truffle butter. No romantic meal is complete without dessert. You have the baba au rhum with pistachio buttercream and vanilla chantilly, or an indulgent chocolate mousse with hazelnuts. 
If cooking together is more up your alley, Sorrentina (Tel:0/91369-13747) has a range of easy and fuss-free DIY pizza kits that you can make at home, along with staples like dips and sauces, Italian bakes and flavoured burrata, for a rustic picnic-style meal. And to indulge that sweet tooth of yours, Marriott Bonvoy on Wheels (book online) is offering luxurious DIY kits and a dedicated dessert-themed menu called 'Seven Shades of Red', where you can indulge in an assortment of desserts such as ruby cheesecake, a classic red velvet cake, and delicate Ispahan among others. You also have DIY meal kits spanning Asian, European, and Indian fare. (Available at select Marriott properties across the country). 
---
Photo: Shutterstock and Featured Brands