Quick show of hands: How many times have you scanned Instagram, glimpsed a beautiful charcuterie board, and wondered how to make one? The good news is that whipping up an impressive (and delicious) looking charcuterie board for a home party is a lot easier than it looks.
Elements of a charcuterie board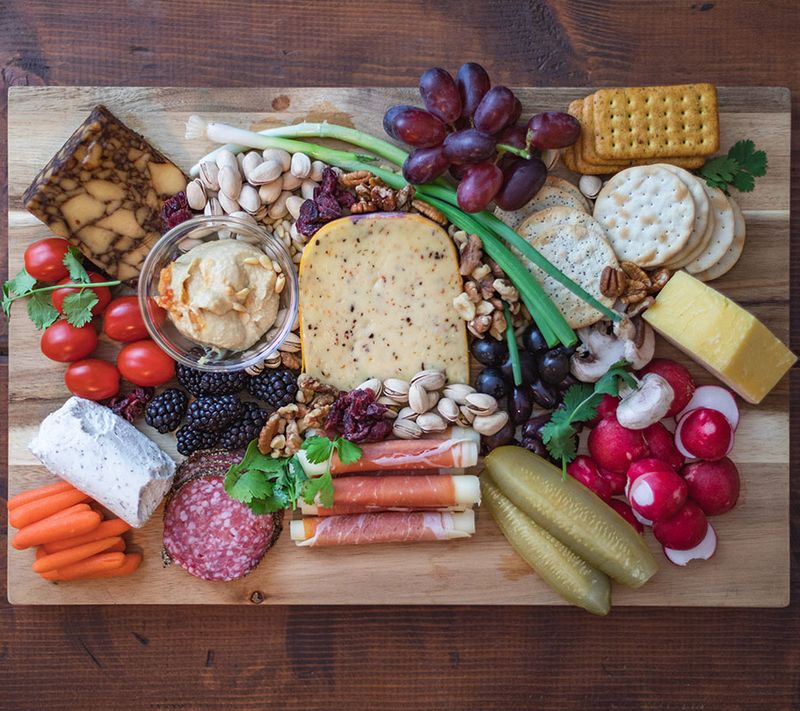 Charcuterie (pronounced shar-COO-tur-ree) originated in France and translates to "pork-butcher shop." While the original French translation refers to pork, modern charcuterie boards can include other types of meat such as chicken and duck. They are ably supported by a cast of cheeses, spreads, crackers, nuts, fruits, and dips.
"The wonderful thing about a charcuterie board is its versatility. You can mix and match flavours and textures. For instance, you could mix bread or crackers from a gluten-free board, or substitute meats and pâté for a vegetarian board. Or double-down on the cheese for a cheese-loving group," says Prateek Bakhtiani, executive chef, Perch Mumbai.
Choose a board to begin with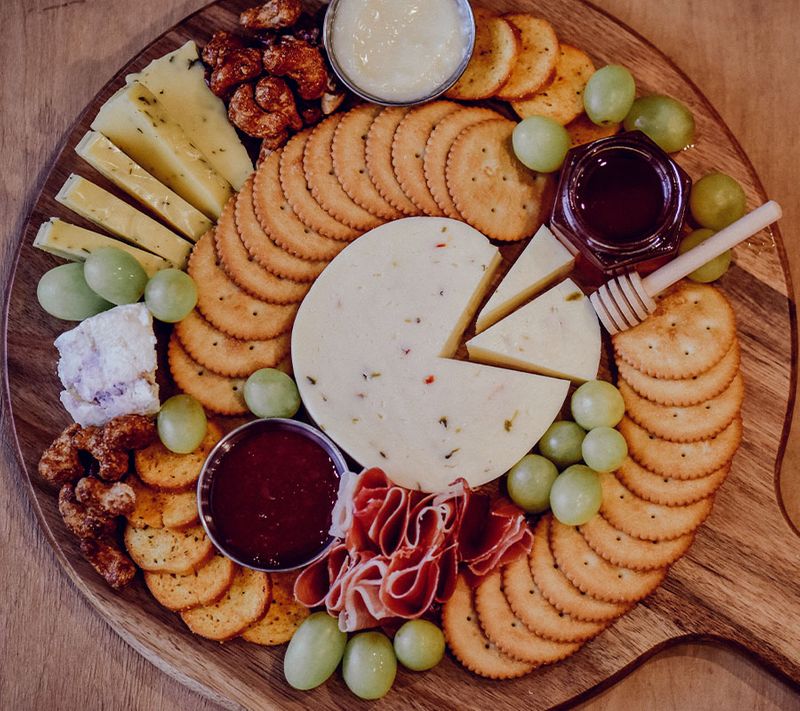 The first step to building a charcuterie board is selecting the base. It could be a wooden board, tray, or platter. Think out of the box with a pizza paddle, cast iron skillet, large chopping board, or a sheet pan of any size. In terms of material, wood and marble are popular choices as they are sturdy and beautiful. The shape is simply a matter of preference, though you should take the elements of your board into account when making your selections.
Raid your kitchen cabinet for quirky salt cellars, small dishes, and ramekins. These help to create structure on the board as well as hold loose items such as dips, nuts, and olives. Tip: you can also use old jam jars or mason jars for this.
What to put on a charcuterie board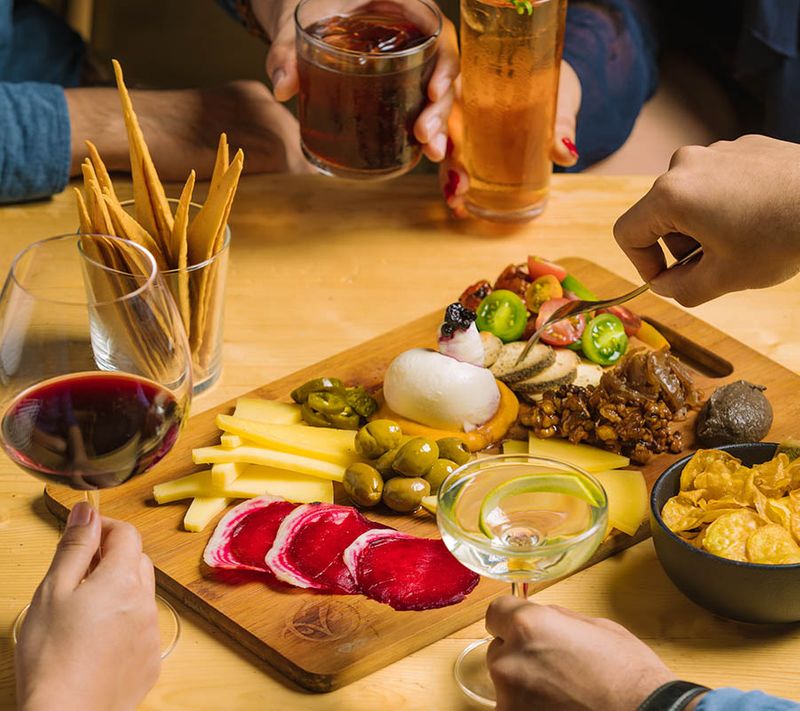 To make the best charcuterie board, focus on three things: variety, taste, and texture. Add items that are sweet, salty, crunchy, fatty, savoury, carb-rich, pickled, and brined.
Start with the meats. "Choose a variety of cuts, from spicy chorizo to milder bologna, or a complex Parma ham to a smoked Bavarian ham. Lightly pickled bratwursts/sausages are a simple but great addition. Sliced roast chicken is an often-overlooked but great addition," says Bakhtiani.
Next, come the cheeses. "Go for three to five varieties with a mix of soft and hard cheese. Choose at least one cheese that everyone is familiar with, so everyone feels comfortable tasting the board. Cheese like cheddar, brie, edam, and gruyere works well with meats," says Rollin Lasrado, city chef, Smoke House Deli. The star of the board is always Brie. It is mild in flavour, creamy, and pairs wonderfully with honey, walnuts or pecans, and crackers. Mozzarella balls, smoked gouda, blue cheese, Pecorino Romano, and a block of cream cheese are also great options. Contrasting flavours and textures diversify the board and give guests a broader range of options to sample.
Lasrado also suggests a mix of sweet and savoury accompaniments. "Savoury accompaniments like pickled olives, assorted nuts, fresh vegetables, dips like whole-grain mustard, flavoured butter, ranch, etc can be placed in small jam jars or finger bowls. Sweet accompaniments like fresh and dry fruit, like apricots, figs, fresh grapes, fresh apples, and berries, preserves like a good homemade orange marmalade or good local honey can help balance out the flavours of the meat and cheese. Even a good quality dark chocolate can be added to the mix," he explains.
Lastly don't forget a few starchy sidekicks. Crackers, lavash, breadsticks, and lightly-toasted slices of bread rubbed with oil and a cut clove of garlic are ideal to mop up the soft, spreadable cheeses, jams, and dips.
But most importantly, keep it simple! "Curate the board keeping in mind the people who will be eating it and fill it with ingredients they will enjoy. A couple of fancier items can be used to experiment with, but ensure that there is something that everything will like and enjoy, rather than something they may not care for," says Lasrado.
The art of assembly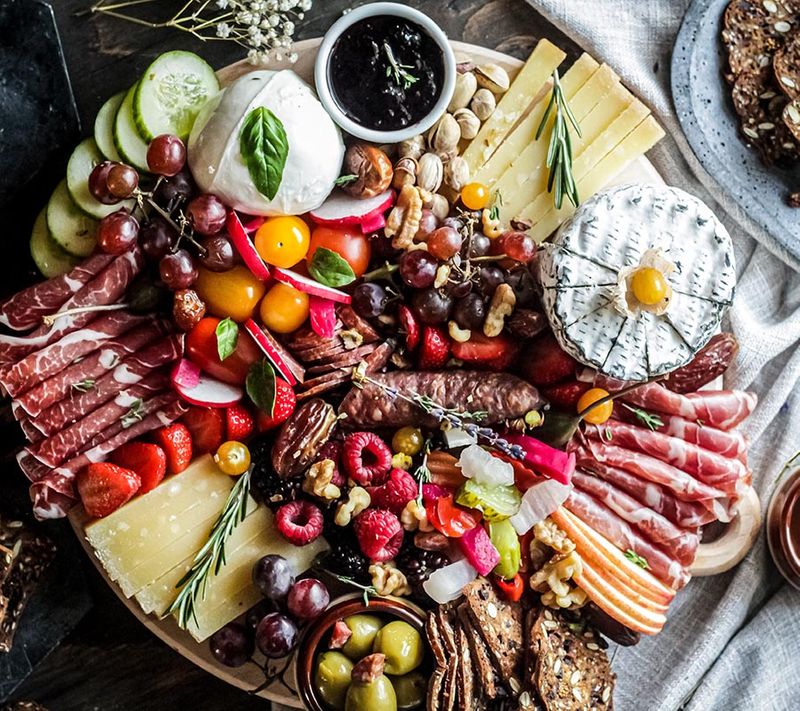 Start by arranging the bowls on the board and filing them up with dips, spreads, or pickled items.
Add meats and cheeses. Since these will be the bulk of your board, arrange sliced or rolled meats next on the board, along with sliced or soft cheeses. It's fun to roll or fold your meats, or layer sliced items in a line so they're fanned out nicely.
Then, begin filling in the board with various crackers and breads that pair well with the meats and cheeses. Next, add fruits and vegetables. Arrange them in small piles or rows, preferably next to foods that they will pair well with.
Finally, place small handfuls of nuts and seeds in piles to fill the rest of your board. When your board is finished, display it with a few cheese knives and toothpicks so guests can help themselves after they marvel at your masterpiece.
For that extra flair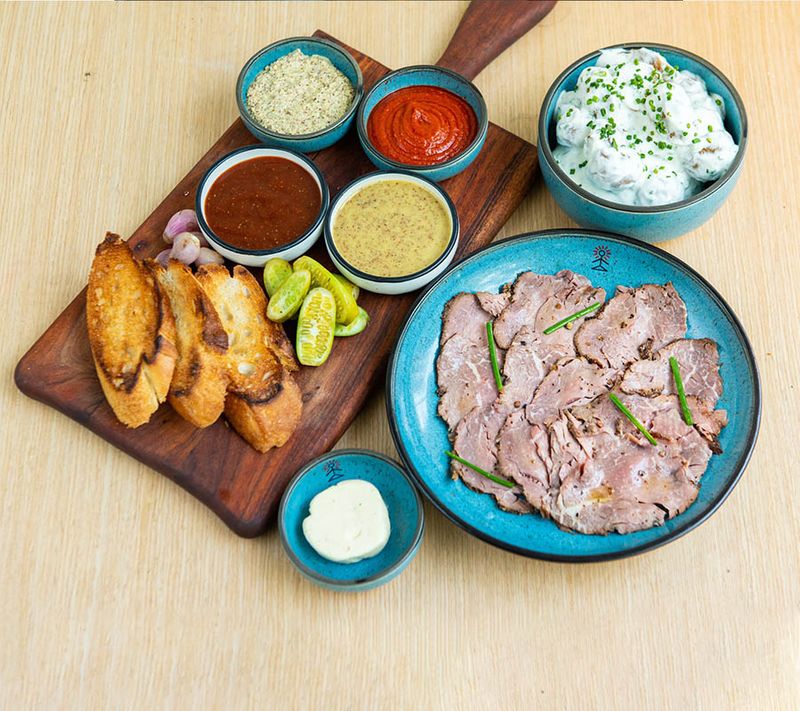 Give your board some pizzazz with a garnish of different herbs and edible flowers. Choose from sprigs of rosemary, a few stalks of mint, or microgreens."Small changes to accompaniments can make a big difference. Adding chilli flakes and basil to strawberry jam, roasting nuts, adding dill to pickled veggies, and lightly rubbing extra virgin olive oil on the cold cuts adds small but great touches which help elevate the board," says Bakhtiani.
Things to keep in mind
Make sure to keep the meats and cheeses at a slightly cooler temperature. "You don't want to eat cheese or cold cuts that have started sweating due to the humidity or warmth in the room. Consider keeping a small selection of "refill" items, like sliced meats and cheeses, in the refrigerator and refill smaller portions at regular intervals, rather than one big serving at a time," adds Lasrado.
Now, time to pop some bottles and truly enjoy the evening!
---
Photo: Shutterstock