House parties are no longer for the dull and tired. Given the circumstances with COVID-19, it has become the only safe, secure and fun way to entertain and get together with a few friends. These home gatherings have also seen an evolution over the years. Gone are the days of full-fledged meals, cooked with love and patience by the matriarch, served atop a dining table creaking under the weight of the silverware and china. Even caterers have adopted a more contemporary approach—instead of greasy homogenous Indian fare, it's all about small plates, regional Indian cuisines and modern serving styles.
Nibbles are the new main course
As portion size became bite-sized to enable conversations at the home dos to be more gregarious, more innovative ways of presenting these nibbles came about. They have become the centrepiece of a gathering, where guests mill around picking on edibles that catch their fancy in small bites. There may be many types—mezze, charcuterie, antipasti—but it's the grazing table/platter's time in the sun. Mumbai-based Graiz India's Nidhi Chandra says the concept of 'grazing' gained momentum in Australia and has swept the world off its feet but in India, we're still at the start of learning and adapting to the concept. "Food is a feast not just for your palate but also your eyes; it is one of the biggest reasons why millennials need food to be Instagram-worthy. Also, it's great to have multiple choices on a single platter," adds Preeti Rathod of Delhi-based The Theatric Platter.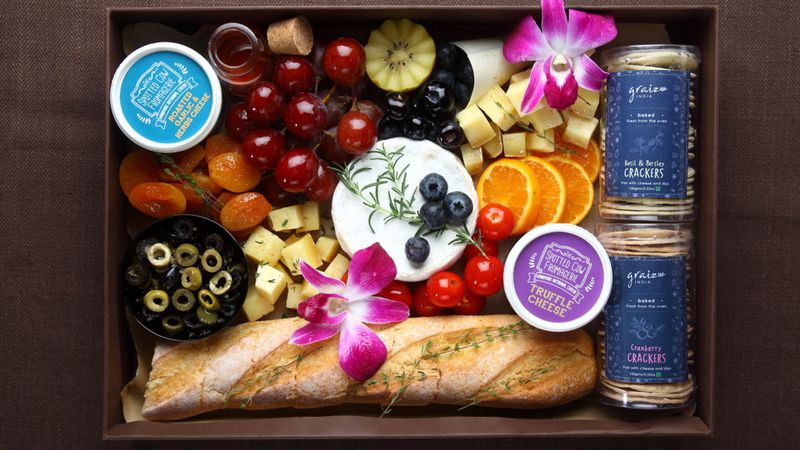 What works in favour of grazing tables and platters is the fact that a caterer doesn't have to send an army of service staff and cooks to manage the food. Even as the lockdown eased out, hosts had to do everything on their own since the odds were that their house help was still not available. "These were some of the biggest concerns when hosting a gathering at home," elaborates Bhakti Mehta, founder and chef at The Little Food Co. Grazing plates take care of all of that where you're able to impress every kind of guest with the amalgamation of a variety of tastes and textures coming together. "It requires no serving, chopping, cutting. Grazing is all about stress-free hosting.," says Chandra adding that the new-age idea of hosting aligns with an easy-going form of food experience at any small to a big event. "No one is doing intimate dinners anymore; it's all become so mass-y that we miss the details. It's great to have a table/platter laden with so many choices," concurs Rathod.  
How to make a grazing platter
Both Rathod and Chandra have extensive menus with grazing platters to choose from that can cater to an intimate experience of two to six. They can organise a lavish grazing spread for a larger gathering as well. Grazing platters offer a great opportunity to showcase a variety of local, niche and artisanal brands such as cheeses and bakery items. Graiz sources cheese from Mumbai-based Spotted Cow Fromagerie while TTP sources their cheeses from Chennai. Sage & Saffron, a bespoke catering unit helmed by Aditi Dugar, takes pride in making everything from scratch and customising as per her client's requests. Mehta's Little Food Co also curates grazing platters as per clients' requirements. 
At the same time, everyone unanimously agrees that there are no hard and fast rules on what can go on a grazing platter. Your platter can contain whatever catches your fancy as long as there is a theme to it. Our experts share pointers.
Staples include cheese, fruits, crackers, loaves of bread, and a sweets section. "But one can go above and beyond with the type of nibbles they wish to add," says Chandra.
"Make sure every ingredient stands out and yet complements the others," says Rathod adding that on a cheese platter add a mix of soft and hard cheese along with enough accompaniments to nibble on. Similarly, on a dessert platter create textural and visual diversity by including fruits with light Japanese cake and dark chocolate.
The choice of components should be such that can withstand being out in the open for a longer time. "When dips and other sauces are incorporated, they easily make other elements like crackers and bread become soggy; it is a huge challenge with grazing platters," says Mehta.
Checklist for the hosts
A diverse menu to ensure everyone has something they like and no one is left out.
A convenient corner where the food experience can be visited throughout, and the stress of heating/serving is put to rest.
The perfect ambience is a must—mood lighting with candles and an elegant floral arrangement is can be a mood-lifter for your guests. You can replace flowers with plants, which look equally stunning and are more cost-effective.
Most importantly, a fabulous playlist is crucial to get the party going.
Mehta also adds a fair warning, these platters don't travel well with the food losing its flavour in transit and moisture seeping through. A grazing table, which gets refreshed periodically is a much better option according to her.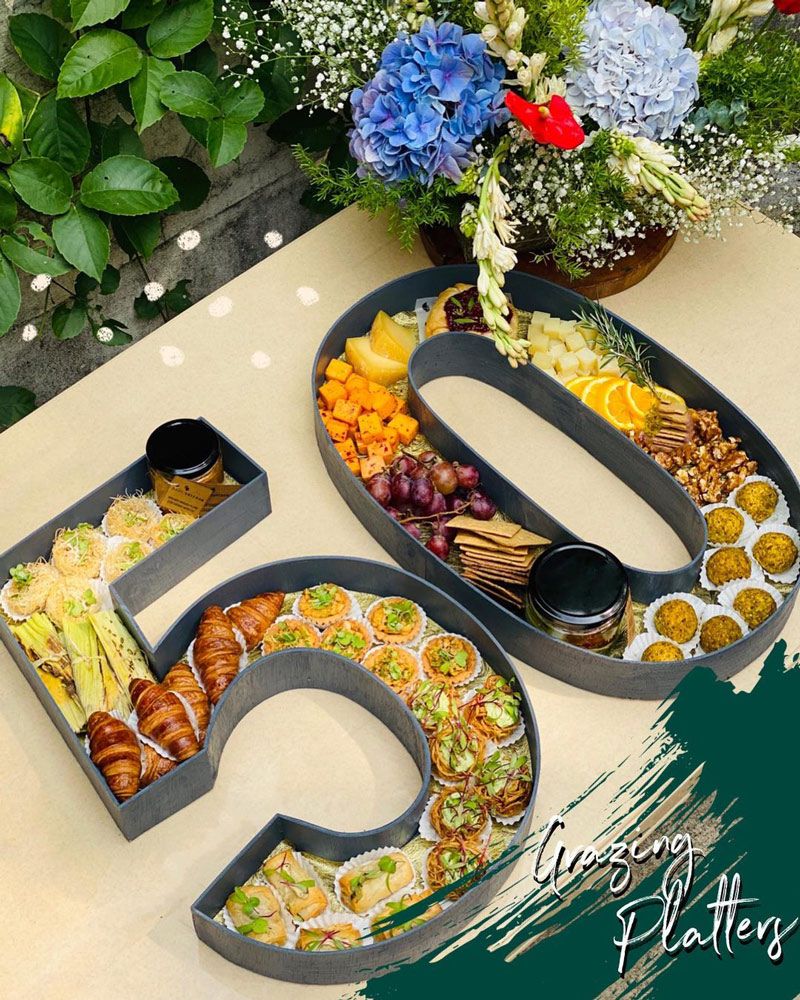 Alternatively, for home gatherings, she suggests DIY boxes, something both she and Dugar offer. These boxes are customised to the last detail, "We even send a centrepiece for the table," adds Dugar. The boxes are prepped and boxed; all you have to do is add the finishing touches. "They were a huge hit because they are interactive and allows your guests to do something fun. We found many people wanted to send these boxes as alternatives to Diwali dry fruit gifts because of the experience they offered," says Mehta. 
How to throw a safe house party
But at the end of the day, it is what interests you and your guests. And to make sure you have a safe party at home there are a few precautions to consider. 
Keeping a tight guest list is the way to go. It's better for the host and ensures mental satisfaction to people attending.
Safe foods and a sanitized server are a must.
Lastly, knowing where your food comes from is crucial. Food preparation with utmost safety is the biggest factor one must take into consideration.
Last but the most important thing is for the host to relax and enjoy their own party.
---
Photo: The Theatric Platter