What the hell is a babka? A while back, when the funny-sounding braided bread with roots in the Jewish diaspora, started flooding our Instagram feeds, we were asking the same question. Along with – not to mention – basque cheesecake. And whether you liked it or not, you were going to find out, thanks to the cache it had managed to muster among netizens.
I remember getting acquainted with the sweet bread sometime in 2018 when I spotted it on Indian American food writer, Priya Krishna's Instagram. It wasn't long before this treat, along with a host of other inviting tea-time bakes, made a huge comeback, piggybacking on the general love of baking that quarantine-induced Instagrammers were going to make popular. 
Making sense of it, one of India's top baker and co-founder of Le15 Patisserie, Pooja Dhingra says, "With lockdowns across the world, people took to their kitchens. There's something incredibly therapeutic about baking (which explains the global banana bread and sourdough outbreak at the start of quarantine). With people spending more time in the kitchen and on Instagram, trends spread faster. Bakes such as babka and basque cheesecake, are slightly more challenging and as homemakers got used to easy recipes, it was natural to want to graduate to these."
In fact, as we speak, our collective palate is undergoing a metamorphosis with increased exposure to different cuisines and cultures right at our homes through our screens. Assamese food blogger, Kashmiri Barkakati Nath, who is at the helm of her home-based food venture, KCOrders, echoes this, when she says, "Indians are stepping out of their comfort zone and exploring new flavours. The digital world is indeed having a huge influence, breaking down barriers and bringing home tastes and flavours from far away land." This is bound to have an impact on the way we consume desserts, too. 
This is why, scones, brownies and basic tea cakes can no longer make the cut. And so, here's a handy list of trendy new tea-time bakes to try your hand at, along with pro-tips from pro-bakers!
1. Babka
"'Babka', you will be surprised to know, literally means grandma in Ukrania. Mostly always baked in professional bakeries and laden with dry fruits and seeds like poppy, the original babka obsession can be traced all the way back to the 12th century. The people of Russia, Ukraine, and in fact the whole Baltic range, were the ones to bake the babka first. My take on it is a glorious chocolate and caramel babka that was the perfect companion to my evening espresso!" shares food writer, blogger and photographer, Swayampurna Mishra, better known as @lapetitchef on Instagram. Here's her recipe:
Ingredients:
½ cup water
½ cup hot milk
4 tsp fresh yeast or 2 tsp active dry yeast
3 whole eggs
½ cup sugar
1 tsp salt
1 tsp vanilla
4 ½ - 4 ¾ cup all-purpose flour
8 tbsp butter, softened to room temperature.
Chocolate ganache:
200 gm dark chocolate
200 ml fresh cream
2 tbsp butter
Others:
4 tbsp Dulce de leche. I used readymade ones by SprigGourmet
Finely chopped pistachios to sprinkle all over the babka
Orange syrup
1 cup water
1/2 cup sugar
2 tsp orange essence
Method:
For the chocolate ganache: Just pour the warm cream over the chocolate and butter. Whisk till smooth. Keep warm.
For the orange syrup: Boil everything till syrupy. keep warm.
To make the babka:
Combine the water and the yeast in a bowl and let stand until the yeast is activated or starts foaming at the top. Add the milk, eggs, yolk, sugar, salt, and vanilla extract, and whisk until the yolks are completely combined. Add 6 ¼ cups of flour and stir with a stiff spatula until a shaggy, floury dough is formed.
Using a dough hook on a stand mixer, knead on medium-low speed until the dough comes together and is no longer floury. This will take about 5 minutes. Or if you are doing it by hand, knead it till it comes together.
With the mixer still running, begin adding the butter in 1-tablespoon blobs. Mix until one blob is just barely incorporated before adding the next one.
When all the butter has been added, continue kneading for another 5 minutes until the dough is silky, elastic, and jiggly. This won't form a ball like regular dough—it should bunch around the dough hook and clear the sides of the dough hook but will still be attached in a sticky dough mass to the bottom of the bowl. Add the extra ¼ cup of flour as needed if the dough is sticking to the sides of the bowl.
Keep kneading till the dough is smooth. Then plonk it all into a large oiled bowl, cover it with clingfilm and put it in the refrigerator overnight.
The next morning, remove from refrigerator. Let it come to room temperature and rise in a warm place for 1½  hours.
Once it's doubled in size, remove the dough and gently knock it down. Roll it out on a lightly floured surface. Roll it till it's 10-12 inch long. Now spread the chocolate ganache all over the dough leaving a ½-inch border clean. Add the caramel on top of the chocolate. Sprinkle chopped pistachios all over it.
Now, start rolling it tightly from the side closest to you. Once you reach the end, lightly water the edge and pinch the dough to keep it tight.
Place on a baking tray and chill for 10 mins.
Next, use a very sharp knife and gently, but swiftly, slice the log down its entire length, creating two halves with lots of layers. To form the babka loaves, turn the halves so that the layers are facing up. Press the two halves together at the top, then twist the halves around each other, creating a spiral. Press the halves together again at the bottom.
Line a 9x5 baking pan with parchment paper. If the loaf is a little too long for the pan, just smoosh it a little on either end to make it fit — any gaps will be filled in by the rising dough.
Repeat with the other loaves. Cover the shaped loaves and let them rise on the counter until puffy and just starting to dome over the tops of the pans, 1 to 1½ hours.
Preheat the oven to 350F or 180C. Bake 45 to 55 minutes — cover the loaves with foil in the last 10 to 15 minutes if the edges look like they might be starting to burn. The loaves are done when deep glossy brown and a skewer inserted in the middle comes out clean. If you want to check the temperature, the loaves should be around 200°F in the middle.
Remove from oven. Immediately brush the orange syrup all over the babka.
Let cool for 20 mins in the pan. Then run a sharp knife around the edges and gently remove it from the pan. The slices will be quite sticky. Store unsliced loaves on the counter, covered, for up to a week. Loaves can also be wrapped tightly and frozen for up to three months.
2. Basque Cheesecake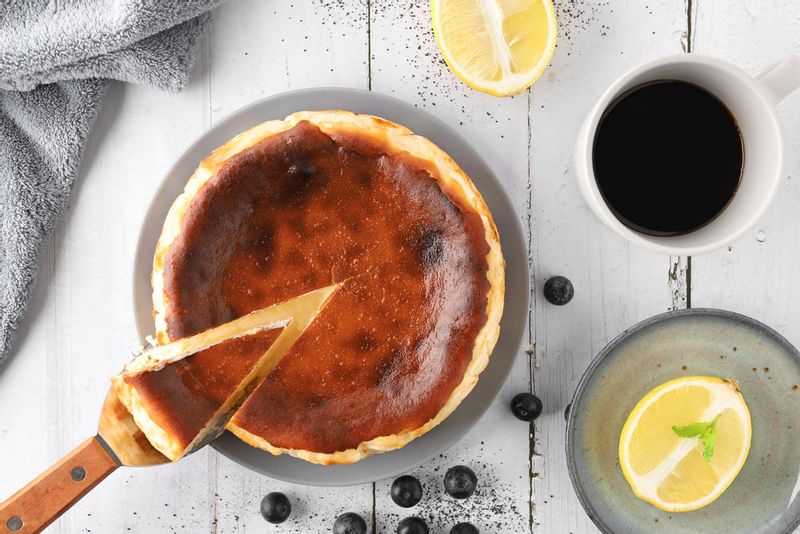 "This cheesecake is inspired by the famous La Vina, where it all began decades ago. Santiago Rivera, the owner of La Vina, in San Sebastian created this delectable dessert and now the whole world cannot have enough of this burnt, gooey cheesecake! The recipe calls of few ingredients and it is pretty simple to make," shares Kashmiri Nath. Check out her version below: 
Ingredients:
230 gm cream cheese
120 gm castor sugar
3 large eggs
270 gm cream
1 tbsp flour
1 tsp vanilla essence
Method:
Line a 6-inch loose-bottomed pan with parchment paper. Do not cut the paper to fit the tin, just layer it, letting it hang over the sides of the tin.
Beat the cream cheese and the sugar well using a whisk until smooth and creamy.
Add one egg at a time and beat the mixture at a medium speed, using a rubber spatula to scrape the sides to ensure even mixing.
Add the cream and flour and whisk into a smooth, creamy mixture. Now, add the vanilla. The mixture should appear runny at this point.
Pour the mixture into the lined tin and bake at 200 degrees in a pre-heated oven for 30 to 35 minutes.
When you take it out of the over, the centre will be gooey, but it is meant to be that way. Allow the cheesecake to cool down to room temperature. It may take 3 to 4 hours to cool and completely set.
You can also refrigerate this if you don't like the texture to be too gooey. Enjoy!
3. Japanese cheesecake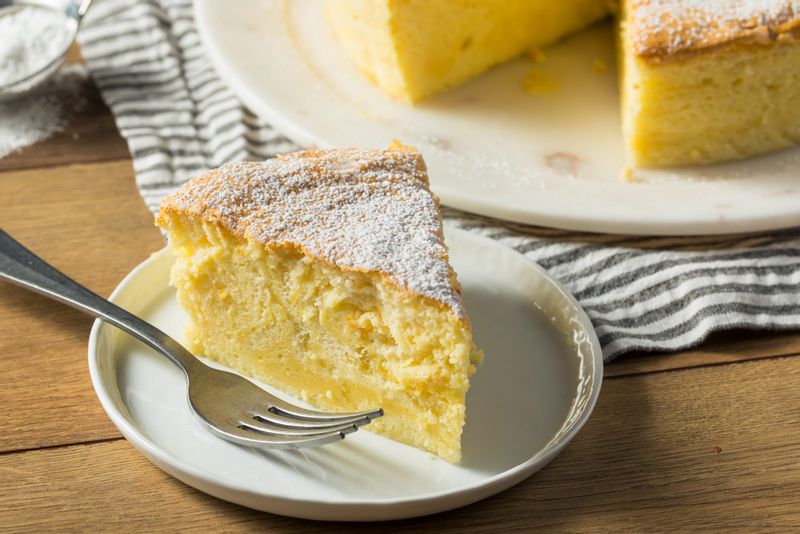 "A cross between a souffle and a chiffon cake, the Japanese cheesecake is believed to have become popular after World War II in Hakata, Fukuoka, Japan. The slang for it in Japanese is Fuwa Fuwa or light as air and is often referred to as a jiggly cheesecake in the USA on account of its fluffiness. American troops stationed in Japan introduced cream cheese to the Japanese who traditionally don't consume much dairy," reflects actor-turned-chef, Tara Deshpande, adding that this delightfully indulgent cheesecake is best enjoyed with espresso, green tea or a milk-free black tea. Make yours today!
Ingredients:
225 gm cream cheese at room temperature
4 tbsp soft but cold unsalted butter
7.5 tablespoons plain whole milk at room temperature
6 large cage-free organic eggs or 7 medium ones at room temperature, separated
1 ½ tbsp lime juice
2 tsp pure vanilla extract or lemon extract
175 gm castor sugar
100 gm bleached cake flour
3 tbsp corn starch
A pinch of salt
Method:
Preheat oven to 400 F and prepare lower rack. Butter then, line an 8-inch springform tin with parchment paper. Waterproof the outside of the pan with aluminium foil to prevent water from seeping during the baking process. You will need a deep baking tray that easily fits the springform tin. You will need to add warm water to this to create a Bain Marie for the cheesecake.
Whisk together the cream cheese, butter and milk then heat it in the microwave for roughly 1 minute. Whisk the mix and return to the microwave for another 30 seconds, then whisk till completely smooth. You can do this in a double boiler on the stove as well.
Whisk the egg yolks, and vanilla extract and half the castor sugar vigorously. Add to the cream cheese mix and whisk to incorporate.
Place a sieve over the bowl of cream cheese and sift in the cake flour, corn starch and salt into the cream cheese mix. Whisk in the dry ingredients quickly until there are no lumps. Do this manually and do not overbeat.
Add lime juice and mix lightly just to incorporate. Do not overbeat. Reserve mixture.
Using a stand mixer or hand mixer, whip the egg whites with the whisk attachment at medium speed. When the egg whites start to get foamy add the cream of tartar. The mixer gets thick and forms soft peaks slowly add the remaining castor sugar. Whip until meringue becomes shiny and very stiff.
Stir the cream cheese batter again to loosen it up. Now take ⅓ of meringue using a long spatula and fold it gently into the cream cheese batter. Move your spatula in the shape of the number 8 swiftly but gently to incorporate the egg whites. Try not to deflate them. Fold in the remaining meringue in 2 more batches until just blended.
Pour the cheesecake batter into the prepared cake pan. Place the cake pan in the prepared tray. Use a pitcher to pour hot water slowly into the tray until about halfway up the sides of the cake pan. Close the oven door slowly so as not to disturb the rise in the cheesecake. Do not open the door while it is baking.
Bake on the lower rack in a preheated 400 F (200 C) oven for 17-18 min, then lower temperature to 320 F for 12-13 mins until the top is just lightly golden brown. Overbaking will harden the cheesecake. Then turn off the oven. Gently open the door of the oven and leave slightly ajar for 35 minutes only. Then slowly remove from the oven and cool to room temp.
Open the pan and remove the cheesecake from the ring. Turn out the cheesecake from the pan onto a cake plate and serve. Keep refrigerated fridge in an airtight container for no more than 3 days.
4. Lazy Chocolate Cake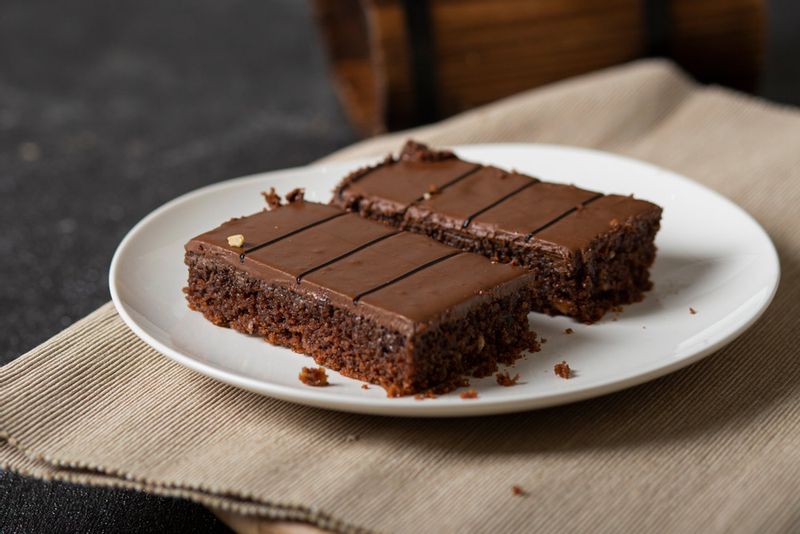 "I like to call this one my lazy chocolate cake recipe. Like everyone else in the world, I too was baking a lot from my home kitchen. Working with basic ingredients and minimal equipment was a very humbling experience. I put together this cake during one of my midnight baking sessions and was amazed by how delicious it was," shares Pooja Dhingra. This one, as promised, truly does require very little effort and pairs wonderfully with a cup of chai or coffee. 
Ingredients: 
1 cup flour
3 tbsp cocoa powder
1 tsp baking powder
½ tsp baking soda
½ cup oil
1 cup powdered sugar
1 cup milk
½ cup chocolate chunks
A pinch of salt
Method:
Put all the ingredients together in a blender.
Blend till combined well.
Pour in a 6-inch tin or ring
Bake in a pre-heated oven at 165C for 30-35 mins
5. Baked Yoghurt Pie 
"With an evolving market that is exposed to food shows and recipes from across the word on their phones, people are more open to trying food with international influences. While the classics will always remain evergreen, it's worth giving new things a shot, too," shares chef Aditi Goel, who after a stint at a pie-focussed QSR in Australia has opened a similar concept right here in Mumbai called Pie & Co. Her baked yogurt pie comes with the promise of comfort and is likely to go well with any beverage you like. Check it out. 
Ingredients:
100 gm flour
30 gm butter
10 ml chilled water
100 ml yoghurt (hung)
30 ml honey
30 ml full cream
A handful of chopped fresh cranberries
Method:
For the crust, knead the flour, butter and chilled water with your fingertips until the dough comes together.
Line in a pie or tart mould and blind bake for 8 mins at 180 degrees.
For the filling, mix the yoghurt, honey, cranberries and full cream together and pour it into the tart mould. Bake again at 200 degrees for 8 mins.
---
Don't want to bake? Order these baked treats home!
Babka
Brun & Babka, Mumbai
The Rolling Scones Bengaluru
Rosarte, Delhi
Babka Goa
Basque Cheesecake
Le 15 Patisserie, Mumbai
Lavonne, Bengaluru
Defence Bakery, Delhi
Japanese Cheesecake
Daniel Patissier, Mumbai
Sugarama, Delhi
Taiki, Bengaluru
---
---
Photo: Shutterstock