If there's one thing that was entirely unaffected by the Covid-19 pandemic, it's peoples' appetites. In simple words, it couldn't care less about shops being shut, or veggies not being available – the heart wants what it wants. And if you're anything like most of us, half the time, it's pining for something sweet. But let's be honest, a cookie here, a Jim Jam biscuit there, doesn't cut it or even come close to the joy one derives from tucking into a warm mawa cake or a crusty apple pie.
Be that as it may, not everyone is Julia Child, waiting to be discovered. For those of us, who don't even have an OTG or are simply lazy to prep for a baking sesh, we reached out to some of India's top pastry chefs to unearth easy-peasy, no-bake recipes and help add a touch of sweetness to your life.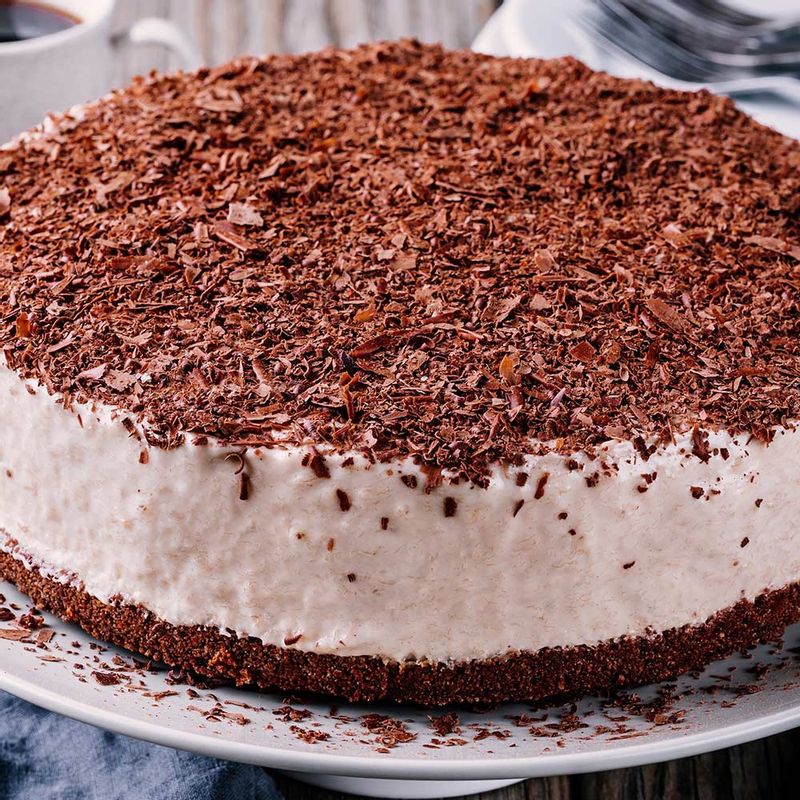 1. Almond Rocks
Clusters of nutty goodness blanketed in melted chocolate to form clusters of joy – Ah! What else does one need? These almond rocks are simple, delicious and most importantly, easy to store.
You can use anything that you have at home. For example, cornflakes, cashews, walnuts, or any dried fruits if you don't have almonds. "Just use whatever you have in your pantry," suggests one of India's top pastry chefs, Pooja Dhingra.
Almond Rocks recipe
Ingredients
160 gm dark chocolate

160 gm almonds, toasted and chopped
Method
Line a flat tray with foil.

Melt dark chocolate over a double boiler or in a microwave.

Pour out into a bowl and mix in the almonds. Make sure all the almonds are coated in chocolate.

Spoon the chocolate-coated almonds onto the lined tray.

Let the rocks set at room temperature. You can serve it immediately, or store it in the fridge.
2. Lemon meringue cheesecake
"I think the recipe is perfect for summer because it's light, tarty and best eaten cold. Also, you can whip it up in a few hours with minimal preparation," says pastry chef Husna Jumani. "Omit the meringue and curd and top it up with fresh mangoes for a quick fix! The basic cheesecake recipe can be customised to whatever flavours and topping you have at home," she recommends.
Lemon meringue cheesecake recipe
Ingredients
For the base
100 gm Digestive biscuits crushed

20 gm melted butter
For the filling
250 gm cream cheese

65 gm caster sugar

150 ml whipped cream

1 ½ tsp gelatin soaked in 1 tbsp water

5 gm vanilla essence
For the lemon curd
125 gm unsalted butter

90 gm sugar

4 parts lemon juice

2 lemon zest

2 gm soaked gelatine powder

¼ tsp salt

2 egg yolk
For the meringue
60 gm egg white

100 gm sugar
Method
For the crust, mix the melted butter and biscuits and press into the bottom of a 7-inch loose bottom tin. Freeze for 15 mins.

Start with the filling by beating the cream and set it aside.

In another bowl beat the cream cheese and sugar.

Microwave gelatine for 20 secs till it melts, add to cream cheese and mix thoroughly. Then, fold in the rich cream.

Pour into a crumbed mould and set in the refrigerator for 2 hours or freezer for 1 hour.

Now, for the lemon curd, in a saucepan mix butter, lemon juice, zest and salt.

Mix yolk and sugar in another bowl and whisk till it becomes pale.

Warm the butter mixture and pour half into the yolk mix and whisk thoroughly.

Add it back to the pan and whisk continuously on medium heat. Let it bubble gently and whisk for 6 minutes.

Take it off the heat and add gelatine, strain through a fine-mesh strainer. Let it cool to room temperature.

Spread on top of cheesecake while it's in the tin.

For the meringue. in a glass or metal bowl add sugar and egg white.

Place over a double boiler and whisk till it's hot to touch.

Beat with a hand beater till thick.

Put in a piping bag with a nozzle.

De-mould cheesecake on a cake board, pipe meringue on top and torch. Refrigerate till needed
3. Oreo & Cream Cheese Truffles
For Rachel Goenka, CEO and founder of The Chocolate Spoon Company, which owns Mumbai restaurants like, The Sassy Spoon and House of Mandarin, desserts are, quite literally, a cakewalk.
She whips up a delicious Oreo and cream cheese truffle about which she tells us, "This recipe is super easy, can be made in small quantities and you can use any cream-filled biscuit to make this." Try it, if you will.
Oreo & Cream Cheese Truffles recipe
Ingredients
100 gms Oreo Cookies that have been ground in a mixer

50 gms cream Cheese

100 gms melted dark Chocolate
Method
Add ground Oreos and cream cheese in a mixer and give a quick blitz, if there are little white bits it's fine.

Transfer this mixture into a bowl and mix well together.

Roll these into small balls and cool in the fridge for 30 mins to an hour.

Dip these cooled Oreo balls into the melted dark chocolate to coat completely.

Set them on parchment paper until chocolate hardens and enjoy!
4. Nutella and Oreo Cheesecake
"Unlike us, our sugar cravings are oblivious to the fact that we can't always get our hands on a delectable dessert. But what we can surely do is make use of the time and ingredients that are readily available in the pantry to whip up a quick dessert. This no-bake cheesecake is extremely easy and surely will satisfy your sweet tooth," says chef and founder of Mumbai-based bistro Plate and Pint, Monaz Irani.
Nutella and Oreo Cheesecake recipe
Ingredients
200 gm cream cheese (sub: Amul / Britannia Cream cheese spread)

60 to70 gm chocolate, melted (preferably milk chocolate)

5 biscuits, plus 2 for garnish (sub: any other biscuits that you may have available)

1 tbsp butter, melted

1 tbsp condensed milk (Milkmaid) (sub: 1 tbsp castor sugar)

2 tbsp Nutella (sub: any other flavour of your choice such as peanut butter or salted caram

el)
Method
Crush the biscuits till coarse.

Add in the melted butter and compress evenly at the base of a bowl or glass.

Chill in the refrigerator.

Whisk the cream cheese till smooth.

Add in the condensed milk/sugar and beat till mixed well.

Add in the melted chocolate and Nutella.

Spoon into the bowls.

Garnish with an Oreo biscuit if you like and refrigerate till set.
5. Peanut Butter Chocolate Cup
Well, this dessert sounds as easy, as it looks delicious. Executive chef at Taj Holiday Village Resort and Spa, Goa, Sahil Desai calls them the perfect treat for your family. "These peanut butter chocolate cups are super simple to make and the perfect indulgence," he adds. Follow this recipe to recreate it at home.
Peanut Butter Chocolate Cup recipe
Ingredients
3 tablespoons powdered sugar, sifted

½ cup or 120 gm creamy peanut butter

1 cup or 170 gm chocolate, melted
Method
Prepare a cupcake tin with 6 liners.

Stir peanut butter and powdered sugar together until smooth.

Spread 1 or 2 tablespoons of chocolate in the bottom of each cupcake liner.

Dollop 1 or 2 teaspoons of the peanut butter mixture on top of the chocolate.

Cover each dollop of peanut butter with more chocolate and smoothen out the top.

Refrigerate for 1 hour or until chocolate has hardened.

Remove peanut butter cups from the liners and treat yourself!
6. Fresh Berries and Fruit Rabri
"Here is an all-time easy way to make a delicious fresh fruit recipe. Keeping it simple, as simple food is the best food in the world," says Vikram Arora, chef and founder of ridiculously cute little Indian joint in Khar West, Mumbai, called, Tamak. While Arora's original recipe makes use of several fancy berries and fruits, he suggests you freewheel with that bit and use whatever fruits you have in your fridge.
Fresh Berries and Fruit Rabri recipe
Ingredients
For Rabri
600 ml toned milk

1/8 tsp green cardamom powder
For Assembling
6 pcs blueberry

3 pcs blackberry

3 pcs raspberry

1 red apple

1 green apple

1 orange

3 grapes

1 tbsp fresh pomegranate seeds

½ pc kiwi

6 nos quinoa cookies or plain cookies
Method
For the Rabri, in a heavy bottom pan, boil the milk and simmer to keep reducing on a low flame with constant stirring. Reduce the milk to almost half its original quantity.

Add green cardamom powder and stir well. Take off from the flame.

Allow it to cool to at room temperature and then refrigerate it.

Once chilled, cut the grapes in half, deseed and keep them aside.

Cut both the green and red apples into small cubes. Dip it in water till it is to be used.

Peel the orange and take out segments, peel off the skin and deseed. Cut into small pieces.

Peel kiwi and cut into small cubes.

Crush the cookies in a grinder to form a crumble.

In a glass dish, layer cookie the crumble, rabri and then, add the cut fruits and whole berries.
Serve chilled.
---
Photo: Shutterstock