Macaron Queen, Pastry Princess—think of a moniker in the world of desserts and Pooja Dhingra has already earned it. And with good reason. The pastry chef-entrepreneur, who began at the age of 23, has unceasingly been pushing the proverbial envelope of Mumbai's culinary space with her passionate baking endeavours.
Call of the pastry kitchen
Dhingra quit law and made her way to Switzerland to study hospitality management at Cesar-Ritz Hospitality Management School. Ask her if there was a light bulb moment about choosing the path towards pastries, she says, "I've always loved baking and I don't think there was a defining moment as such. When I moved to Switzerland, I was in the pastry kitchen for two months. Even after I completed the internship, I kept going back to the pastry kitchen. I loved it and that's how it ended up becoming a career option."
After this stint, she honed her skills as a pastry chef and baker with a Patisserie Diploma degree from Le Cordon Bleu, Paris. It was in Paris where she first discovered macarons—her first was a passion fruit macaron. It was this first memory of the macaron that drove Dhingra to set up her own patisserie, introducing the bright and colourful confectionary in delightful flavours such as sea salt, paan and chai. From birthdays and anniversaries to special dates and hump days, Le 15's Parisian desserts have added a sweet touch to several special memories and celebrations.
Takes more than passion
Her tale of donning the apron professionally is one of those that gives bright-eyed youngsters, reeling under the glossiness of cooking shows and celebrity chefs on television, who think the food business is all about passion, a lot of hope. Ask Dhingra and she will tell you it takes a lot more than just passion to stay in this business.
The hard work and ability to continuously create new and exciting flavours for macarons, cupcakes and cakes has also led to the #cakesoflef15, which has become an Instagram handle with 21.1k followers (at the time of publishing), that has received immense patronage and popularity from celebrities as well as customers who keep coming back for her baked goodies.
In vogue with the evolving palates and trends in the culinary world and what her customers desire has now become second nature to her. With her contemporary style of baking, Dhingra is not tied to the archaic mandates of how a professional kitchen is supposed to function. She is from a breed of young chefs who believe in the fact that open conversations and interactions amongst the chef community pave the way for the future of the profession.
A True Thought Leader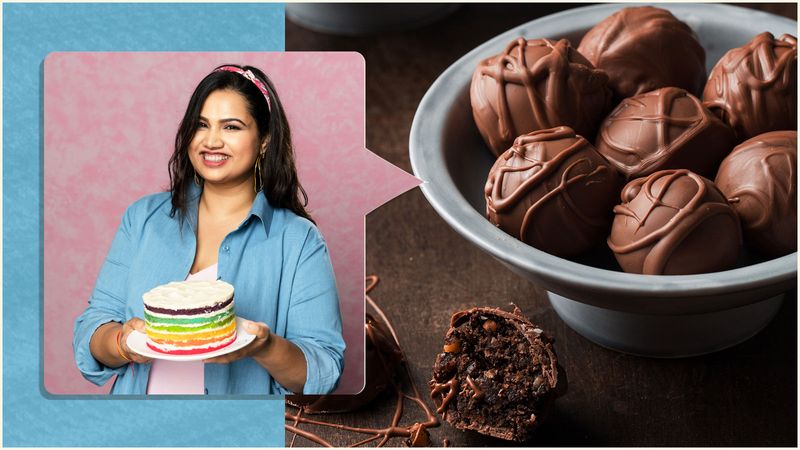 On effortlessly juggling the dual roles of being a creative pastry chef in the kitchen and an entrepreneur, Dhingra says, "I think they are two completely different roles that require different skill sets at different times. It is always about which hat to wear at what time," adding that this daily challenge of owning a business is what she enjoys the most.
With three very popular cookbooks, three successful patisseries, a kitchen studio, two cafés, a podcast and a nationwide delivery service, Dhingra continues to inspire a love for baking with her diverse feats. "It is a very selfish reason, I end up doing things that I really love and enjoy; I create products that I like to eat," she explains about her various ventures.
With her hand on the pulse on the dynamics of the current food scene, Dhingra does her best to envision how the trends will evolve and then goes on to add her personal sensibilities—so far, only to create successful businesses. "The podcast, for example, I am obsessed with podcasts; the podcast scene is just emerging in the country. To me, it is a very creative process of learning and so it came about from the phase of wanting to learn and grow. It is merging everything and at the end of the day it is all about passion," she adds.
In the first season of her podcast, No Sugar Coat, described as a 'no-holds-bar conversation that brings to light the stories behind restaurant walls and kitchen doors'. From Gary Mehigan to Thomas Zacharias, Dhingra speaks to the who's who of the culinary world discussing passions and aspirations.
Le 15 Patisserie celebrated its ninth birthday in 2019. It is impossible to imagine Mumbai's food landscape without the Parisian storefronts and chic pastel pink boxes of colourful macarons and cupcakes. "I think it's just been five minutes and not nine years! I always try to live in the present and look at what's coming up next, so I don't really have time to worry and think about whys and wherefores. For me, it is all about planning the future and focusing on today."
Going Eggless
Her cookbook, Can't Believe It's Eggless, is a compilation of recipes, which are obviously eggless. The book is a culmination of food-based restrictions in India, not just found in her home, but also in many Indian homes. She elaborates, "Growing up in Bombay, we had a lot of dietary restrictions at home—we couldn't eat eggs on certain days of the week. As a young passionate home baker, it was a challenge that I couldn't bake cookies on a Tuesday."
The situation continued once she was back from Paris—French recipes use eggs extensively, but she often got requests for eggless desserts. "As a French-trained baker, this meant taking away the main ingredients of baking. I took it up as a challenge to make eggless desserts and have them as close to the original as possible," says Dhingra.
Making modifications and finding alternatives for recipes and ingredients has been an integral part of Dhingra's job, not just for vegetarian requests, but also because, "nine years ago, the F&B industry was very different. A lot of ingredients weren't easily available, and it was prohibitive for people who wanted to experiment with something new," she recalls. No wonder it culminated in a cookbook with over 100 recipes.
Baking book with a no-bake section
The recipes in Can't Believe It's Eggless are very conducive for home baking, assures Dhingra. One of her realisations was that a lot of Indian homes do not have ovens so there is a 'No Bake' section in the book too. "These are recipes that you can refrigerate and they're actually very good for children," she beams.
While penning down her third cookbook on eggless treats, Dhingra challenged herself to go on a 'no sugar' diet. A pastry chef for whom sugar is her bread and butter, shunning it is extreme. Of the experience, Dhingra says, "I needed a lot of will power, the first 10 days were terrible, and I thought I was going to die. But once you've moved past the initial struggle and the roadblocks, it gets easier. Now I have a good balance."
---
Photo: Pooja Dhingra