Falafel is a staple Middle Eastern dish made of chickpeas as the main ingredient, either stuffed in pita bread or wrapped inside laffa bread; and consumed mainly with tahini sauce, with salad on the side. Known to be a delicacy in Israel, the delicious snack is however said to have originated in Egypt.
Various reports surrounding the history of falafels suggest countries such as Israel, Palestine, Lebanon, Yemen, time and again claiming the dish to be their own. However, it is said that the dish was first invented by the Coptic Christians as an alternative for meat, who made it from fava beans; but later the Jewish made their own version from chickpeas which is now called the Israeli falafel.
A good source of protein, vitamins and fiber, falafel has now made a place for itself in countries across the globe, including India, where many chefs have come up with their own versions of veg, non-veg and even vegan falafels.
Here, we have listed five recipes from renowned chefs across the country, that you can try at home this World Falafel Day. 
1. Perfect Falafels by MasterChef Neha Deepak Shah (Conosh)
Ingredients: 
Two cups of chickpeas washed and soaked overnight (discard the water in the morning)
One cup chopped fresh herbs (parsley + coriander + a little mint)
One small onion, roughly cut
Four to five cloves of garlic
One teaspoon each of black pepper, roasted cumin seeds, chili powder, baking powder
Two teaspoons roasted coriander seeds (semi crushed)
One by four teaspoon of baking soda
Two tablespoon sesame seeds
One green chili
Two teaspoons of sugar
Salt, to taste
Oil, for frying or baking
Method: 
Wash the chickpeas thoroughly and soak them with baking soda overnight or for at least eight hours.
Mix all the ingredients except sesame seeds, baking powder and salt in a bowl.
Start grinding it in a mixer jar. Pulse it and grind it. Make sure you do not make a paste as the mixture must be grainy and granular for the perfect texture.
You can store this mixture in the refrigerator without the salt and baking powder.
Whenever you're about to make the falafel, add baking powder and sesame seeds. Mix it well and you can either shape these using a small ice-cream scoop or a falafel shaper. You can also shape it using your hands. Compactly press the falafel mixture and make the patties.
Fry these in medium hot oil until it turns brown on top. Do not fry on high flame, as it will darken them on the outside and will leave them raw on the inside.
Drain these on a kitchen towel placed on a sieve / colander so that all the excess oil gets absorbed and dripped off.
Falafels taste best with hummus, tahini yoghurt sauce, harissa and salad, served with pita pockets.
You can also bake the falafel patties in a pre-heated oven for about 15 to 20 minutes at 180 degrees Celsius. Make sure to turn them over midway. Lightly brush with oil before baking, and also brush once more halfway through.
If you want to cook them in a paniyaram pan, put half teaspoon in each and once the oil heats up, add the mix, and cook on low flame. Cover it midway once evenly golden and keep turning it continuously to get a uniform colour.
2. Ragi millet wrap, falafel and low-fat Tzatziki by Chef Rajan Vasandi, JR. Sous Chef, JW Marriott Mumbai Sahar.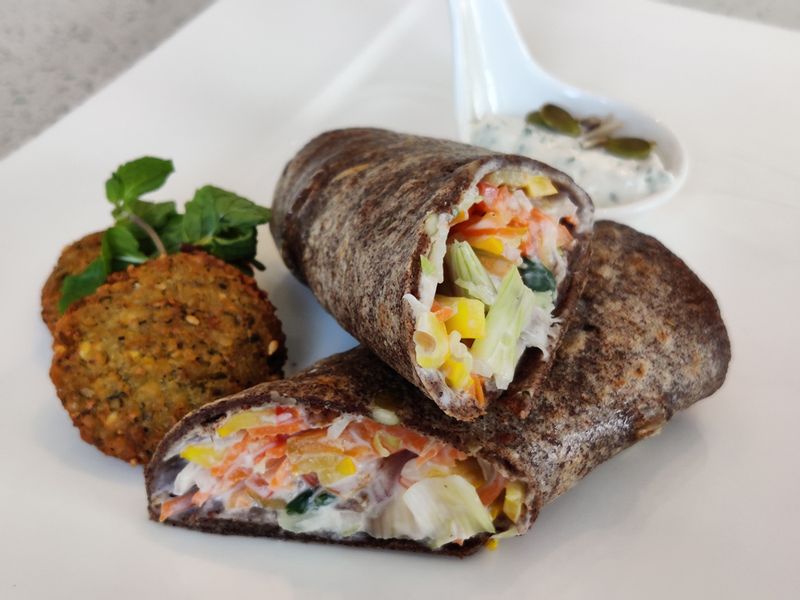 Ingredients:  
For Wrap 
100gm each of whole wheat and ragi flour
Half teaspoon each of flaxseed, sunflower seed, and pumpkin seed
200 ml water
One tablespoon olive oil
Salt to Taste
For Falafel 
100gm Bengal gram
50gm sprouts
20gm gram flour
10gm chopped mint
Salt to Taste
For Tzatziki
30gm low fat yogurt
20gm grated cucumber
Five grams dill
Salt to Taste
For Filling
20 gm each of finely chopped carrots, red cabbage, zucchini, and bell pepper.
10 gm each of chopped spring onion.
One teaspoon of garlic powder.
One tablespoon of low-fat Greek yogurt.
Salt to Taste.
Method:
Wrap 
Mix all ingredients together and add the required amount of water to make a dough.
Make 40gm rolls each and roll it into a big size chapati.
Cook it on both sides.
Falafel 
Mix all the ingredients together with seasoning.
Shape it and bake it in the oven at 150 degree Celsius for 12 minutes.
Tzatziki
Mix in a bowl together and serve along with the wrap.
Filling 
Sauté all the ingredients and add garlic powder and Greek Yogurt to make a filling.
Start assembling the wrap by adding the filling to the wrap and roll it.
Serve along with a side.
3. Falafel wraps by Chef Sanjyot Keer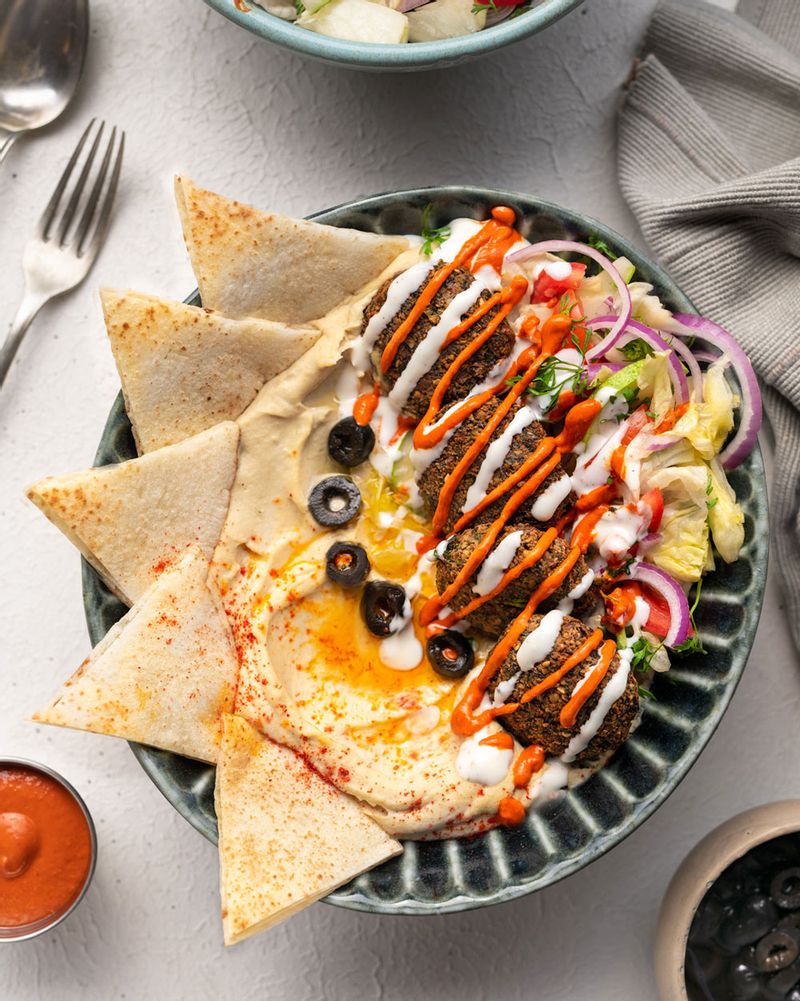 Ingredients:  
For Tahini
Two cups of white sesame seeds
One fourth cup of olive oil
Salt to taste
For Hummus
One cup of chickpeas soaked for seven to eight hours
Salt to taste
One or two ice cubes
Two to three garlic cloves
One by three cup of homemade tahini paste
One tablespoon of lemon juice
Two tablespoons of olive oil
For Falafel
One cup chickpeas (Kabuli chana)
Half a cup of diced onions
Six to seven garlic cloves
Two to three green chilies
One cup of packed parsley
Half a cup of packed fresh coriander
A few fresh mint sprigs
One third cup of spring onion greens
One tablespoon each of cumin, coriander and red chili powder
Salt to taste
A pinch of black pepper
One to two tablespoons each of olive oil and sesame seeds
Two to three tablespoon flour.
Oil for frying
For Salad 
Half a cup each of fresh lettuce, tomatoes, onions, cucumber
One-third cup of fresh coriander
Two teaspoons lemon juice
Salt to taste
A pinch of black pepper
One teaspoon of olive oil
For Wraps 
Pita bread
Hummus
Fried falafel
Salad
Garlic sauce
Hot sauce
For bowl 
Hummus
Fried falafel
Salad
Pita bread
Method:
Tahini
Set a pan on medium heat, add the white sesame seeds and toast them until they release their aroma and the colour changes slightly. Make sure not to over toast the seeds.
Immediately transfer the toasted sesame seeds in a blending jar and blend while the sesame seeds are warm. In the blending process, the sesame seeds will leave their own oil as they are warm and it will turn into thick paste.
Further add one by four cup olive oil gradually to make a semi thick fine paste.
Once the paste is made, season with salt and blend again.
Once the homemade Tahini is ready, cool down to room temperature and store in an airtight container. You can also refrigerate it as it stays good for about a month.
Hummus 
Wash the chickpea and soak for seven to eight hours or overnight. After soaking, drain the water.
Transfer the soaked chickpea in a pressure cooker, along with it, add salt to taste and fill water up to an inch above the chickpea surface.
Pressure cook the chickpea for three to four whistles on medium heat.
After the whistles, switch off the flame and let the cooker depressurise naturally to open the lid.
The chickpea should be completely cooked.
Strain the chickpea and reserve the water for later use and allow the cooked chickpea to cool down.
Further, transfer the cooked chickpea in a blending jar, and further add one cup of reserved chickpea water, ice cubes and garlic cloves, grind to a fine paste while adding an additional one to on and a half cup reserved chickpea water, add the water gradually while grinding.
Further, add homemade Tahini paste, salt to taste, lemon juice and olive oil, blend the mixture again until it's smooth in texture.
Hummus is ready, refrigerate until it's used.
Falafel
Wash the chickpea and soak for seven to eight hours hours or overnight. After soaking, drain the water and transfer in a food processor.
Further add the remaining ingredients (until sesame seeds) and blend using a pulse mode. Make sure to grind in intervals and not continuously.
Open the jar lid and scrap the sides to grind the mixture evenly into a coarse mixture.
Add olive oil gradually while blending.
Make sure the mixture should neither be too coarse nor too pasty.
If in case you do not have a food processor use a mixer grinder and blend the mixture, make sure to do it in batches to ease the work and make sure to keep the mixture coarse and not pasty.
Once the mixture is grinded coarsely add flour and sesame seeds, mix well and refrigerate for two to three hours. While it's resting you can make other components of the recipe.
After the rest in the refrigerator add, remove and add one teaspoon of baking soda and mix well.
Dip your fingers in cold water and take a spoonful of mixture and shape into a tikki.
Set a wok on medium heat and heat oil for frying, fry the tikki in hot oil on medium heat until it's crisp and golden brown. Fry all the tikkis in the same way.
Salad:  
Add all the ingredients in a mixing bowl and mix well, refrigerate until it's served.
Wraps
Spread a sufficient amount of hummus over the pita bread, place the fried falafel, salad and drizzle some garlic dip and hot dip. Roll and serve immediately.
Bowl
Spread a portion full of hummus in a bowl, place the salad, some fried falafel, drizzle some garlic dip and hot dip, place some pita bread aside, add some olive oil and olives and sprinkle some red chili powder over the hummus. Serve immediately. 
4. Dhaiya Falafel Scotch Eggs by MasterChef Akanksha Khatri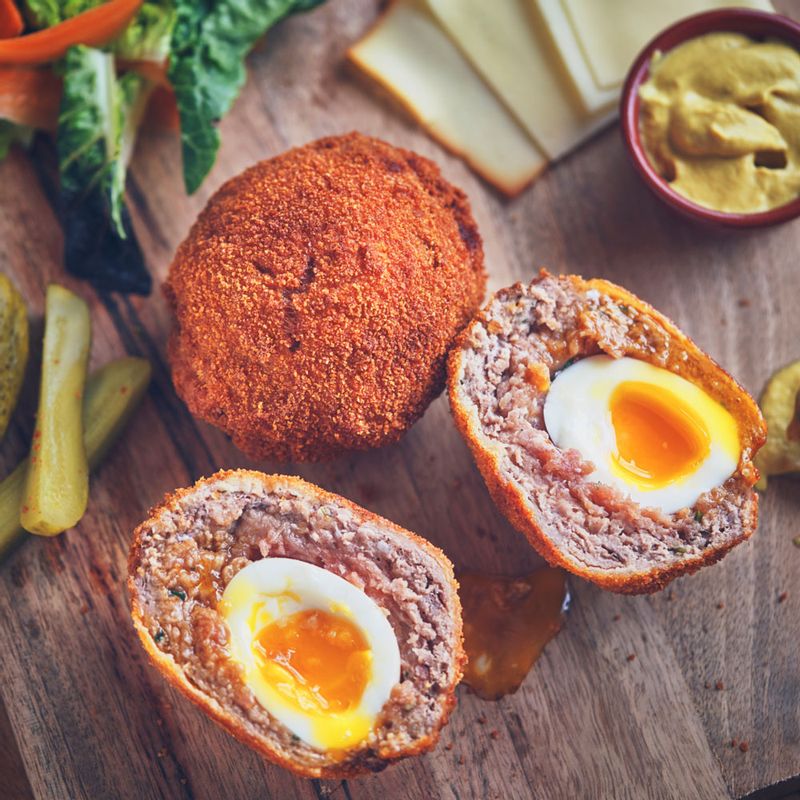 Ingredients:
For Scotch eggs 
Three by four cup dried chickpeas
Four medium onions, roughly chopped
Two garlic cloves, roughly chopped
Two tablespoons roughly chopped coriander leaves
One tablespoon each of olive oil, lemon juice and cumin powder
One teaspoon coriander powder
Salt to taste
Half a teaspoon baking powder
Six soft-boiled eggs, peeled
Oil, for frying
For the yogurt dipping sauce
One cup plain Greek yogurt
Two tablespoons coarsely chopped fresh coriander/ parsley leaves
One tablespoon lemon juice
Half teaspoon each of cumin powder, and salt
Black pepper
Half tablespoon tahini (optional)
Method 
Soak chickpeas overnight in water at room temperature, or for quick results you can also place the chickpeas and two cups water in a small saucepan, bring to boil over medium-high heat and cook for four minutes. Then remove the pan from the heat, cover, and set aside for two hours.
Place the drained chickpeas, onions, garlic, coriander leaves, olive oil, lemon juice, cumin powder, coriander powder, and salt to a food processor fitted with the blade attachment.
Pulse until the chickpeas are finely chopped.
Scrape down the sides of the bowl with a spatula.
Sprinkle the baking powder over the mixture, and pulse again.
Divide the falafel into even portions, roll each into a ball.
Line a work surface with plastic wrap/ cling film.
Place one falafel ball on the plastic wrap and then place an egg in the center of the falafel patty.
Gently pull the plastic wrap up to cover the egg in the falafel patty.
Use the plastic wrap to gently smooth out the surface and patch any holes, making sure the egg is completely and tightly encased in falafel.
Place in the refrigerator while the oil is heating.
In order to fry, pour oil in a pan, and heat on medium flame.
Once the oil is ready, add the eggs to fry, turning every minute or so until golden brown.
Do this for four to five minutes, then remove the eggs to the wire rack, and repeat the same with the remaining eggs.
Lastly, cut each egg in half with a serrated knife and serve with the dipping sauce, and some sliced green olive and pomegranate on the side.
5. Falafel Bowl (Low Cal and Vitamin E) By Chef Ninad from Flax Healthy Living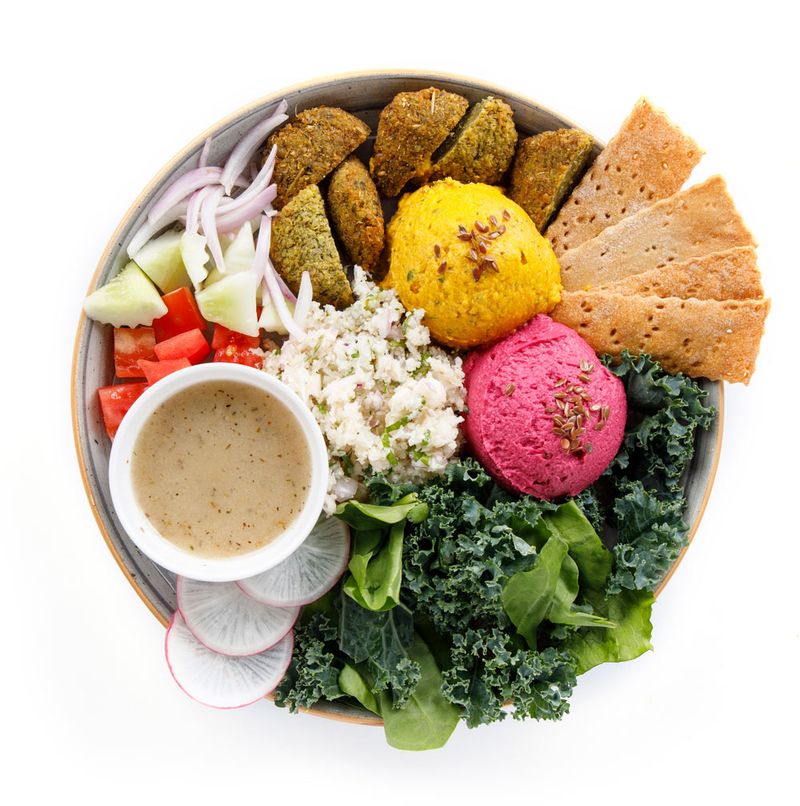 Ingredients: 
30 gm of couscous
15 gm lemon olive oil dressing
80 gm beetroot hummus
80 gm pumpkin moutabel
Two pieces of falafel patty
15 gm pita chips
30 gm lettuce
Four radish slices
Flaxseed and coriander as per taste
Method: 
Mix cauliflower couscous, pumpkin moutabel + lemon olive oil dressing + chopped coriander, salt to taste; and then place in a bowl.
Add two pieces of falafel cut in half, and place on the left side of the couscous mix.
Add lettuce, chickpeas, lemon olive oil and coriander on the right side.
Heat everything in microwave for a minute.
Add beetroot hummus in the center.
Four slices of radish and pita chips on the top.
Sprinkle some flax seeds and lemon olive oil dressing.
---
Photo: Shutterstock