The world has been baking for thousands of years. In fact, the first evidence of baking similar to how it is done today reportedly dates back to around 2600 BC, and goes even earlier to the times when there weren't any closed utensils. Baking bread, something which was once considered a part of home meals only, with time took a commercial turn with improvement in technology, and introduction of flavours. So much so, that eventually it became an occasion in itself, celebrated every year in May as World Baking Day.
This year, as the people of India celebrate this day from the comfort of their homes, we have compiled a list of recipes by four expert bakers across the country. So, you can try your hand at professional baking too. 
1. Eggless Mango cake by baker and author Shivesh Bhatia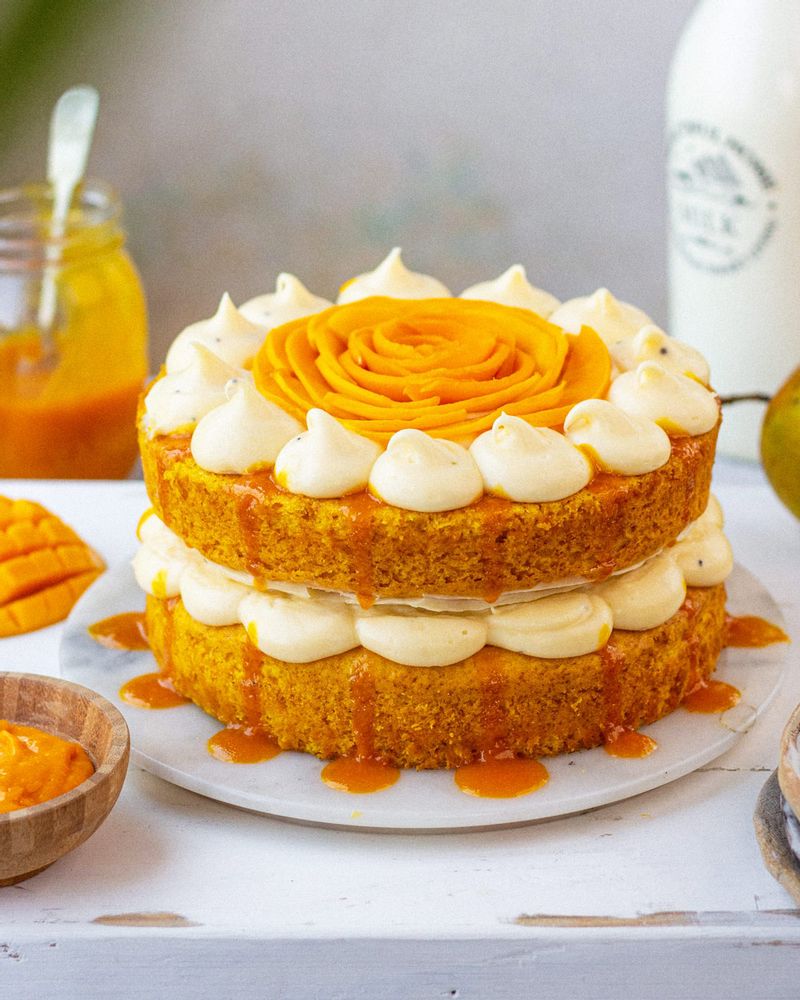 Ingredients:
For mango sponge 
Two cups (220 g) maida
Two tablespoon (eight g) baking powder
One and a half tablespoon (three g) baking soda
One and a half cup (120 ml) vegetable oil
One cup (225 g) caster sugar
One cup (265 ml) mango purée
One tablespoon (five ml) vanilla extract
One fourth (60 g) cup milk
For frosting 
One cup (120 g) cream cheese
Half cup (100 g) butter
One tablespoon (five ml) vanilla extract
One fourth tablespoon (one g) cardamom powder
One and a half cup icing sugar
For garnish 
Fresh mango slices
Method:
Pre -heat the oven to 180 degree-Celsius and line two eight-inch round cake pans with parchment paper.
In a bowl whisk together flour, baking powder and baking soda and set aside.
Whisk together castor sugar and oil in a separate bowl until pale and well combined.
In a blender, puree some chopped mangoes and add the mango puree to the sugar oil mixture.
Add the vanilla extract and milk.
Gently fold in the flour and mix until everything is well combined and there are no large flour pockets in the batter. Do not over mix at this stage.
Transfer the batter to the prepared cake pan.
Bake at 180 degree-Celsius for 30-35 minutes or only until a skewer inserted in the center comes out clean.
Meanwhile, prepare your frosting by beating cream cheese, butter, vanilla and cardamom together.
Add icing sugar slowly in batches and beat until well incorporated.
After the cakes have cooled, assemble your cake by frosting it and decorate with fresh mango slices.
2. Immunity Booster Ragi Pancakes by Chef Shantanu Gupte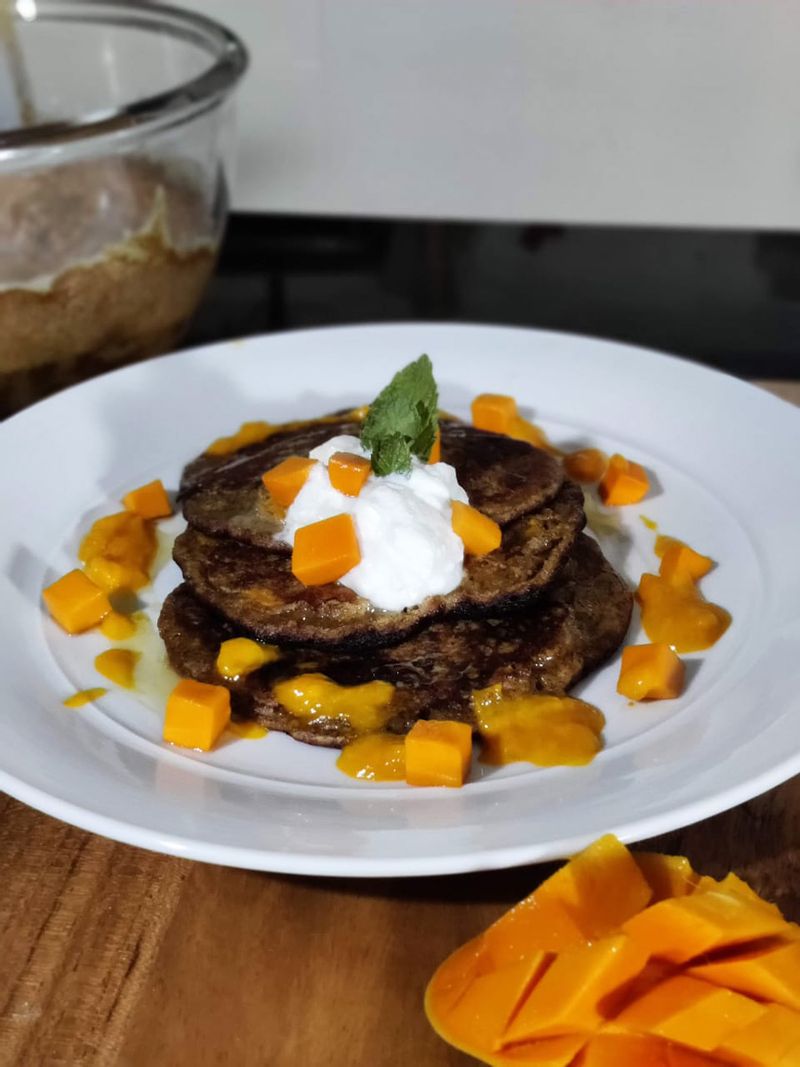 Ingredients: 
Three-fourth cup (125g) Ragi flour
Half cup (90g) blended oats
One medium egg
Half tablespoon baking powder
One tablespoon honey
One-piece ripe banana
One piece diced mango
Two tablespoon skimmed milk
One tablespoon yoghurt for garnish
One pinch (two g) baking powder
One tablespoon oil
Method:
In a bowl mash the ripe banana completely till soft.
Add ragi flour, oat flour, egg, honey and baking powder.
Add milk as required for the consistency of the batter.
Now lightly fold in half the diced mango.
Pour oil in a non-stick pan on medium heat.
Pour a ladle of the batter and cook on one side till bubbles start appearing and the sides are cooked.
Flip the pancake and cook the other side in the same way. The pancake should have a nice golden-brown colour on both sides.
Garnish with a dollop of yoghurt, mango and a sprig of mint.
You can drizzle more honey on the pancake if required.
3. No-bake eggless mango cheesecake by Chef Parth Bajaj
Ingredients: 
100 g Marie biscuits
40 g butter
100 g cream cheese
One-fourth cup powdered sugar
100 g mango pulp
One tablespoon vanilla
150 g whipped cream
Method: 
Grind the biscuits and mix butter in them.
Form the crust in a spring foam tin.
Let in cool in the refrigerator for 10 to 15 minutes.
Take the cream cheese at room temperature and add powdered sugar, mango pulp, and vanilla.
Fold in the whipped cream but don't mix it.
Add the filling to the crust and flatten the surface.
Refrigerate overnight.
Garnish with sliced mangoes.
4. Neopolitan Princesstårta by blogger Deeba Rajpal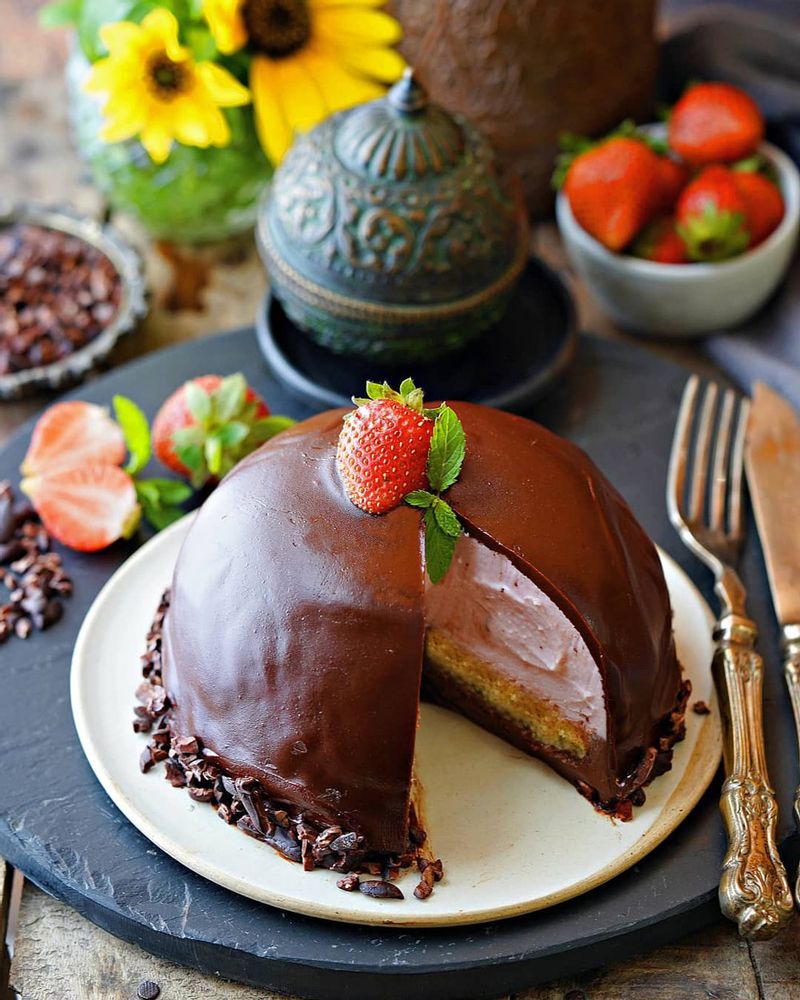 Vanilla Sponge:  
Ingredients:
30 g clarified butter/ghee
100 g buttermilk
60 g vanilla sugar
Half tablespoon apple cider vinegar
One-fourth tablespoon baking soda
Half tablespoon baking powder
A pinch of salt
20 g almond meal or plain flour
70 g plain flour
Method:
Preheat the oven to 180-degree Celsius and line 3 X 3" dessert rings with foil.
Whisk together all ingredients under wet mix in a large bowl until smooth. Wait for five minutes until slightly bubbly.
Whisk in the almond meal followed by the plain flour.
Divide batter between the three rings, approximately 95 g to 100 g in each.
Bake for 10-12 minutes, until tester comes out clean.
Cool completely.
Strawberry mousse layer
Ingredients: 
275 g cream
50 g frozen strawberries
Three-fourth tablespoon agar agar (gelatinous substance)
Four tablespoon vanilla sugar or plain sugar
One tablespoon corn flour in 25 ml milk
Beet juice to colour (optional)
Method: 
Simmer the cream, strawberries and sugar until the strawberries are soft.
Press against the side of the pan to release juices.
Strain and return to pan. Whisk in the agar agar and simmer for three minutes while stirring constantly.
Whisk in the corn flour and milk mix, and simmer for another two minutes while also stirring constantly.
Let it cool a little, whisk and pour into a deep four-inch bowl lined with clingwrap.
Freeze for about two hours until set, then top with a three-inch sponge.
Pour over chocolate layer.
Chocolate layer
Ingredients:
125 g cream
75 g chopped dark chocolate
Half tablespoon corn flour
Half tablespoon agar agar
30 g brown sugar
Method:
Whisk all ingredients in a saucepan and simmer, stirring constantly for three minutes.
Pour over the sponge, making sure you cover it on all sides.
Pour over with the glaze, garnish sides with cocoa nibs if desired and place a strawberry on top.
Refrigerate until set.
Freeze for another two hours until set.
Glaze by Allrecipes
Ingredients:
130 g dark chocolate
45 g unsalted butter
One tablespoon corn syrup
Method:  
Place all ingredients in a glass bowl and melt over double boiler.
Pour over chilled cake.
---
Photo: Shutterstock