If we've learned anything from Instagram in the past couple of years, it is that a smoothie bowl is one of the biggest food trends out there – and it will continue to hold that position for a very long time. And why wouldn't it? It can be whipped up within minutes, and its versatility is such that you can take pretty much any combination of ingredients – from fruits to veggies, cereals, seeds and nuts – and you'll end up with a satisfying smoothie bowl that's almost too pretty to eat. If you haven't got hooked on this trend, here are seven smoothie bowl recipes by chefs and nutrition experts to begin your binge right away!.
1. Mango, avocado and almond milk smoothie bowl 
By Michelin Plate Winner chef Dayashankar Sharma, Heritage Dulwich, London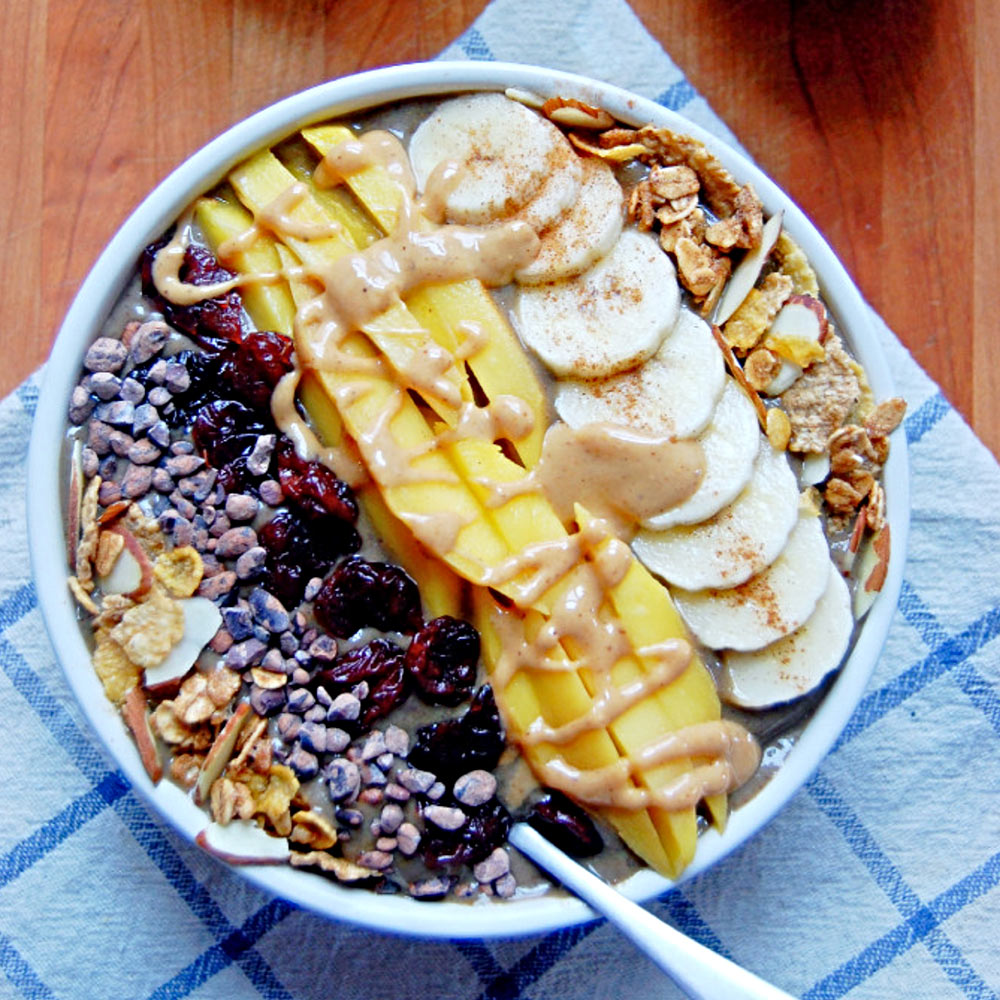 Chef Dayashankar loves smoothie bowls because they require minimum effort to whip up and keep you full and satisfied for longer. "The highlight of this particular smoothie bowl for me is the inclusion of the sweet and pleasantly sour mango, the king of fruits," he tells us.
Ingredients:
2 mangoes, peeled and cubed
200 ml almond milk
2 bananas
1 avocado
1 tbsp lemon juice
Toppings:
4 tbsp granola
1 banana
1 mango, sliced (or any other fruit you like)
Method:
In a blender take mango, banana, avocado, lemon juice and almond milk, and make a smooth paste.
Transfer this into a bowl and garnish with granola, mango slices and banana slices. 
Summer vacation smoothie
By chef Harish Kumar, Crowne Plaza New Delhi Okhla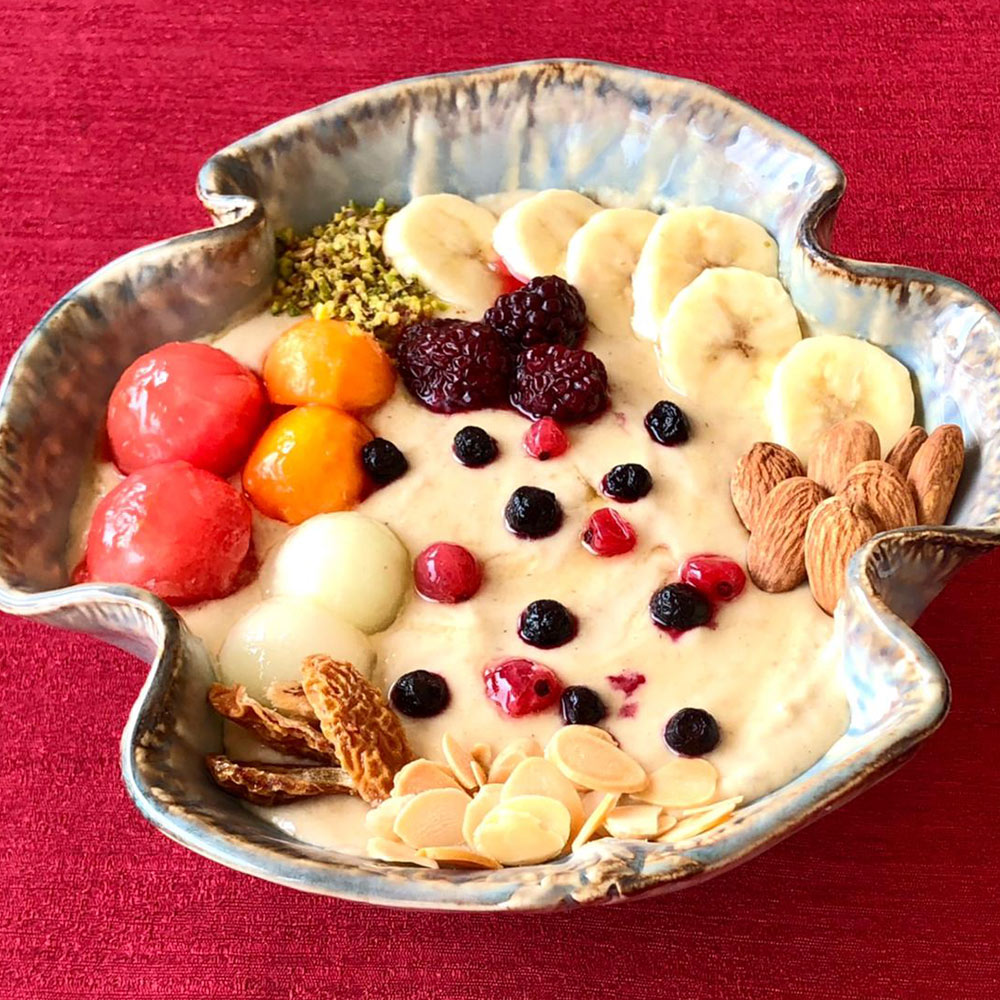 This smoothie bowl is chef Harish's ode to his grandmother and the summer vacations he spent at her home as a child. He shares with us, "I vividly remember two activities, which had become pretty much rituals during my stay – painting during the afternoons and relishing watermelon or muskmelon in the evening. I am trying to recreate those wonderful memories with this dish and here, the smoothie bowl is my canvas and I am 'painting' it with vibrant and delicious summer fruits."
Ingredients: 
2 bananas
400 ml yoghurt
2 tsp honey
1 cup of seasonal fruits, mixed (watermelon, blueberry, red currant, raspberry, musk melon, papaya and banana)
1 dry date, sliced
4-5 almond
1 tsp crushed pistachio
4-5 cashew
A pinch of cinnamon powder
Method: 
Peels two bananas and put them in a blender along with 400 ml of yoghurt.
Add 2 tsp of honey followed by oats and water.
Whisk the mixture and pour it into a wide bowl.
Top it up with your favourite seasonal fruits to add colours, nutrition and flavours to the smoothie bowl.
I love adding scooped watermelon, musk melon and papaya since these are my favourite fruits. I add extra banana slices on the side too.
Throw in some berries such as blueberry, red currant & raspberries for taste and colour pop.
Finish it off with chopped cashews, almonds, pista and dates for the perfect crunch.
Sprinkle cinnamon powder and your bowl of happiness is ready.
Blueberry and mango smoothie bowl
By Abhishek Dhyani, Executive Chef – Cidade De Goa – IHCL Seleqtions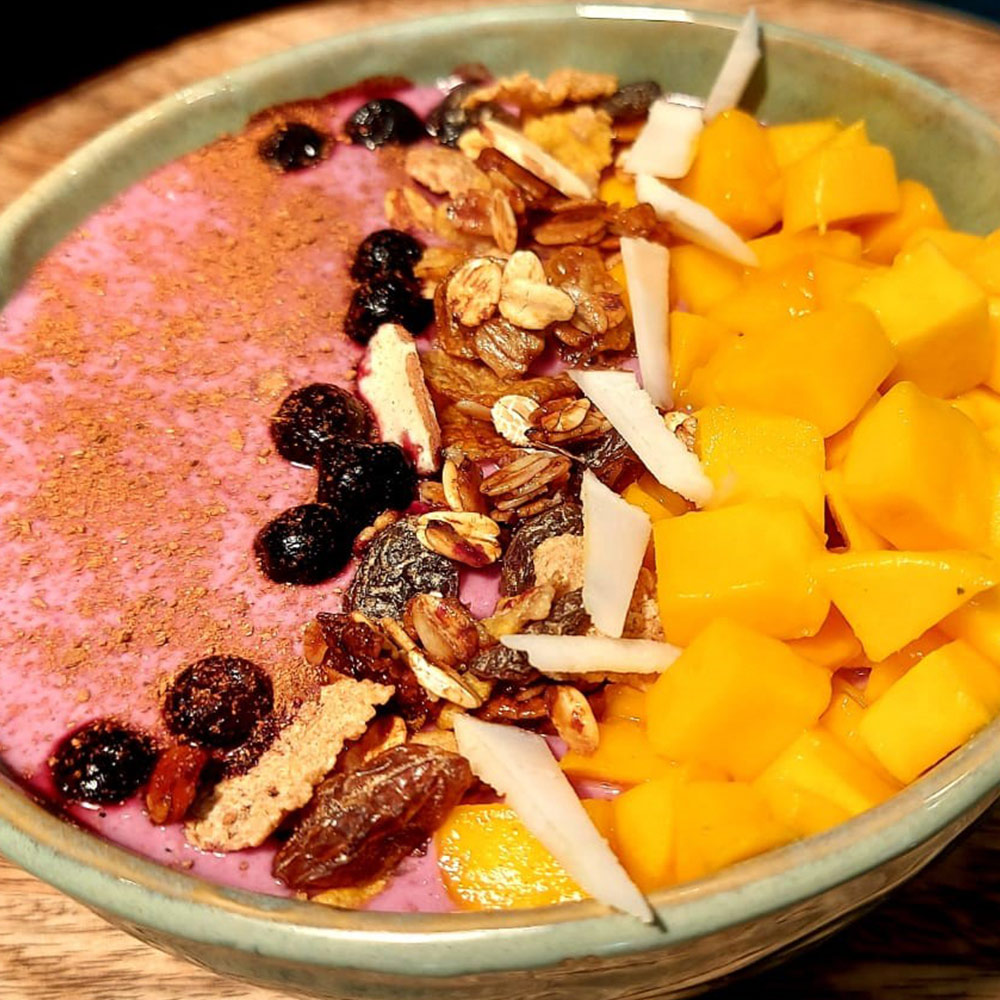 "We all need a bit of sunshine in our lives and this nutrient-rich smoothie does exactly that with its beautiful, refreshing colours and flavours," shares chef Abhishek. In this recipe, he combines equal parts blueberries, mangoes, vanilla Greek yoghurt and vanilla almond milk to create this vibrant smoothie bowl. 
Ingredients: 
3/4 cup fresh blueberries
3/4 cup fresh mango cubes
3/4 cup vanilla Greek yoghurt
3/4 cup vanilla almond milk (unsweetened)
Toppings: 
1 tsp cinnamon
1 tbsp chia seeds
2 tbsp granola
2 tbsp seasonal chopped fruit (blueberries, mango, bananas)
Method: 
Combine blueberries, mango, Greek yoghurt and almond milk in a blender. Blend for 1 minute or until smooth.
If smoothie does not fully blend, scrape down edges, add ¼ cup of almond milk and continue to blend.
Pour into a bowl. Top with any desired toppings. Please eat immediately.
Expert Tips:
If using fresh fruit, simply pop it into the freezer for an hour or two before making the smoothie.
Tastes best when served cold.
4. Probiotic nuts and black currant smoothie
By Sheetal Bhatt, founder of G.O.D (Goodness of Dairy) Cafe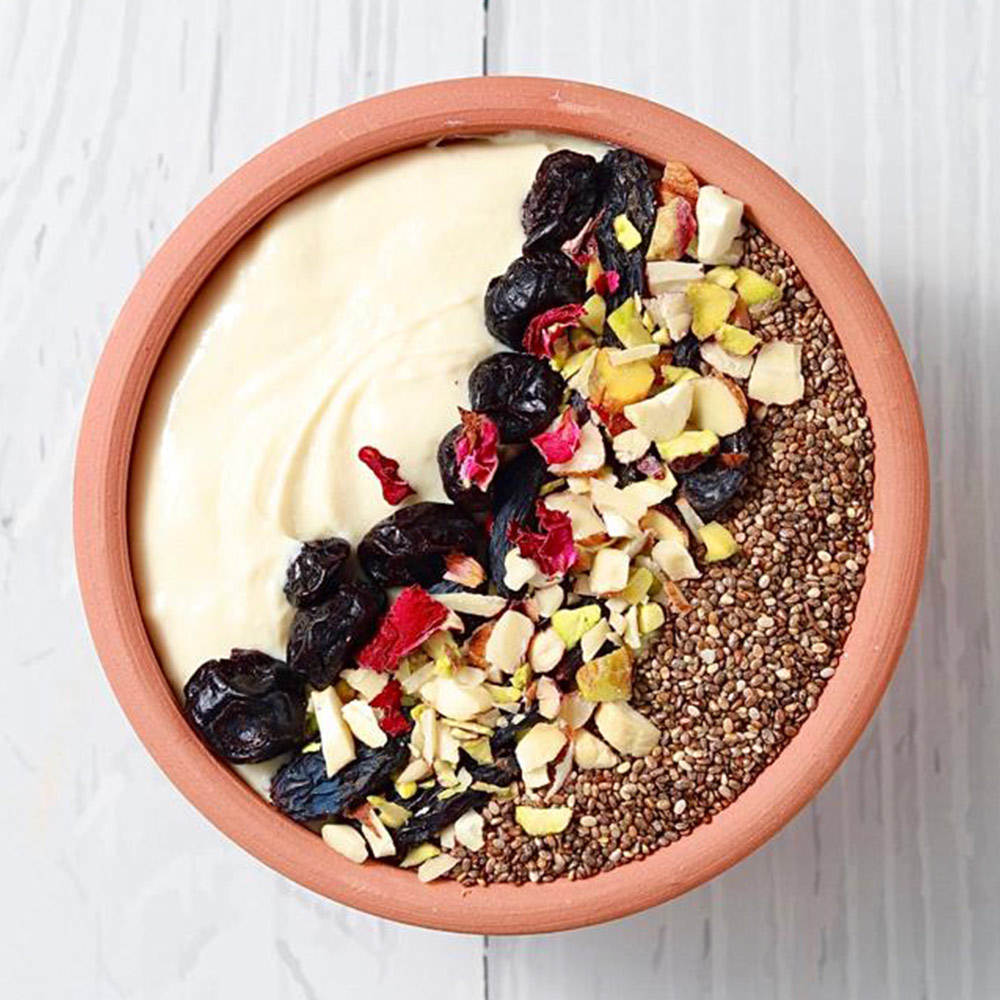 "We prefer to use A2 protein-packed curd that pacifies the tridosha (vata, pitta and kapha) that form the human body as per Ayurveda, and aids digestion," shares Bhatt, while talking about her recipe. She adds black currants instead of any artificial sweetener in the smoothie bowl so it helps people meet their health goals without compromising on taste and flavour. 
Ingredients: 
1 cup A2 hung curd (made using a variety of cows' milk)
2 tbsp or 25 gm mixed seeds (watermelon, pumpkin, sunflower, flax seeds and chia seeds)
¼ cup black currant 
2 tbsp or 25 gm mixed dry fruits (pistachios, almond and walnuts)
2 tbsp or 20 gm date palm jaggery
Method: 
Add the hung curd, date palm jaggery and black currants to the blender.
Blend until it turns into a smooth mixture.
Transfer the mixture into a bowl, garnish and top it with mixed seeds, dry fruits, and black currant. Enjoy!
Summer peach smoothie bowl
By Aakanksha Patel, health expert and founder of Kefir Culture
Packed with sweet, slightly acidic taste, and crunchy-creamy textures, this gluten-free and lactose-free smoothie bowl is a bomb of a recipe. Its base is kefir culture, which is known to help improve digestion, support immune function and diversify the gut microbiome.  
Ingredients:
1 ½ cups frozen peaches
1 cup kefir culture
1 tablespoon almond butter
1 tablespoon honey
1/2 teaspoon cinnamon
1/2 teaspoon vanilla extract
A pinch of nutmeg
Toppings:
Fresh peach, sliced
Granola
Toasted almonds, sliced
Method:
In a blender – add all of the 'bowl' ingredients and blend until smooth
Pour into a deep bowl and top with the fresh peach slices, granola and toasted almond slices
Enjoy chilled.
Refuel bowl
By Neha Ranglani, a Mumbai-based nutritionist
Energy is all you that you need to get through your day, and this bowl ensures just that with the help of its natural sugars. "It amps up your iron, calcium, and magnesium – all of which help you maintain perfect blood and bone health. Also, it's a great replacement for your conventional cereal breakfast," mentions nutritionist Neha Ranglani in her latest book Beverage Reboot. 
Ingredients: 
2 medium bananas
2 fresh figs or 4 dried figs (soaked)
½ apple
3-4 soft pitted dates
A pinch of cinnamon powder
¼ cup water
Garnish: 
Black raisins
Dried figs
Cacao nibs
Method: 
Blend all ingredients.
Transfer into a bowl and garnish with dried figs, cacao nibs and raisins.
Fermented pearl millet and rice smoothie
By Preshnev R, sous chef at Vivanta Goa, Panaji
For those who prefer a savoury breakfast, we haven't forgotten you. Chef Preshney R shares a fermented pearl millet and rice smoothie bowl that is not just loaded with flavours but also nutrients. "It helps in producing good bacteria in our body and aids with stomach ailments if eaten in the morning. Plus, since this smoothie bowl is rich in fibre it makes you feel fresh and energised throughout the day," he informs us.
Ingredients: 
1 cup pearl millet
1/2 cup rice
2 cup curd
30 gm coriander
20 gm raw mango (optional)
20 gm shallots, chopped
fresh coriander, for garnish
Salt to taste
Method: 
Wash the millet and rice, soak them for 20 minutes. Boil and keep aside to cool.
Once chilled, pour the water and soak it overnight for fermentation.
The next morning, add the millet and rice to a food processor. Add curd, fresh coriander and raw mango.
Blend well and pour into a wide bowl.
Season the smoothie with salt, and garnish with finely chopped shallots.
Expert Tip:
For a sweet and rich version of this smoothie bowl, add honey, chopped nuts or fresh seasonal fruits.
Photo: Shutterstock and featured experts