One of the summer season's best gifts to us is the amazing variety of mango. Think alphonso, kesar, dasheri, totapuri, raspuri, mancurad, and so on. Its bright, orange-yellow; and soft, smooth texture with juicy pulp, makes many want to go 'rasiya, aaja' like Katrina Kaif in the popular mango drink TV advertisement. Sure, a mango is delish simply sliced up – but it's even better in a chilled drink. Here, we bring to you eight fun and refreshing mango cooler recipes by chefs and influencers. 
1. Virgin Mango Basil Fizz
Ask Srinivas Reddy, Director of Food & Beverage - Taj Resort & Convention Centre, Goadescribes this drink as a "mango mocktail with a bit of pizzazz". In this recipe, he uses basil not just for its distinct flavour and aroma but also to tone down the sweetness of the mango.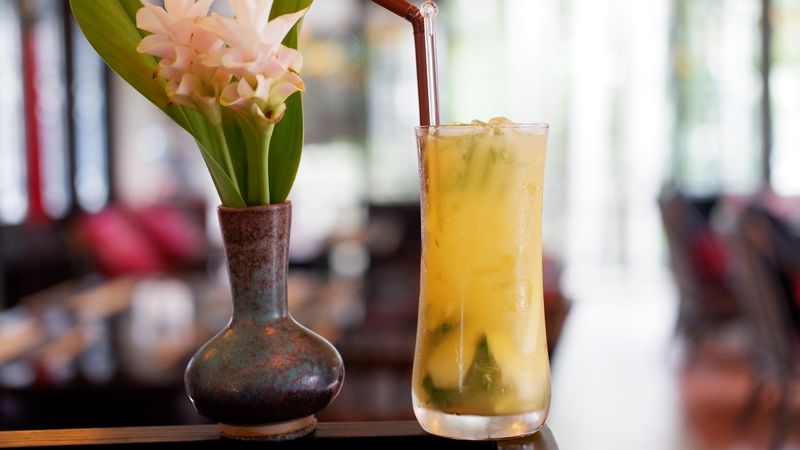 Ingredients:
30 ml basil simple syrup
Dash of Salt
45 ml mango juice
Sparkling water
Ice
Basil leaves for garnish
Method:
In a Collins glass, combine mango juice, basil syrup and a dash of salt, stir to blend.
Add ice top with sparkling water.
Garnish with basil leaves.
2. Mango Breeze
Even though one of the highlights of summer's bounty, some people avoid mango due to the heat it creates in the body. Dedicated to figure out a solution, Nitin Kumar, Assistant Food and Beverage Manager, Aloft Bengaluru Cessna Business Park has created the mango breeze, a mango cooler with mint, lime and lemon. "The trio [mint, lime and lemon] help negate the heating effect of the mango, thereby, creating a refreshing cold drink."
Ingredients:
30 ml lemon juice, freshly squeezed
30 ml lime juice, freshly squeezed
120 ml mango juice
60 ml soda
Mint leaves for garnish
Lemon slice for garnish
Method:
Combine the lemon, lime and mango juice in a cocktail shaker and shake well to combine.
Fill the tumbler with the desired amount of ice.
Pour the mocktail into the glass. Pour the soda into the glass and stir.
Garnish with mint and lemon slice and serve cold.
3. Mango Mint Cooler
Rustle up this mango yoghurt drink recipe for a cooling treat on a hot summer's day. A recipe by Akhilesh Sheoran, Bar Manager, SAGA, Gurgaon, think of this as a fancy lassi laden with the goodness of fresh mint, orange and juicy mangoes. What takes the drink to the next level are the flavours lent by honey and cardamom powder.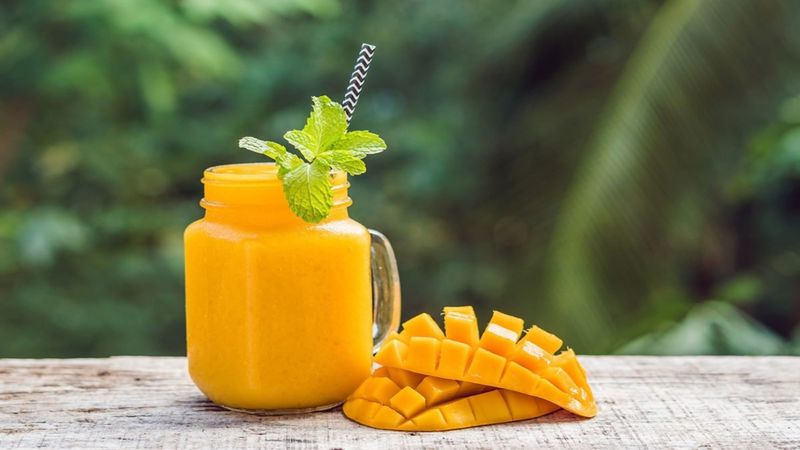 Ingredients:
1/2 cup fresh mango
4-5 mint leaves
1/2 orange
1 cup yoghurt
Honey to taste
A pinch of cardamom powder
Method:
Blend everything in a blender with few cubes of ice, Lactose intolerant can also use Greek yoghurt. Garnish with grated nutmeg & mint.
You can also freeze your fruits before blending and skip the ice completely.
4. Tropical Mango cooler
Inspired by his love for juicy tropical fruits, this mango cooler is Chef Karma Tenpa's go-to drink for when he wants some respite from the scorching summer heat. He combines mango pulp with pineapple juice in this recipe to give it a new dimension of flavour and a surprise element. "An important tip while making the mango pulp is to strain it over a sieve to give it a smooth texture which helps while mixing the ingredients," shares the chef at Yazu-Pan Asian Supper Club.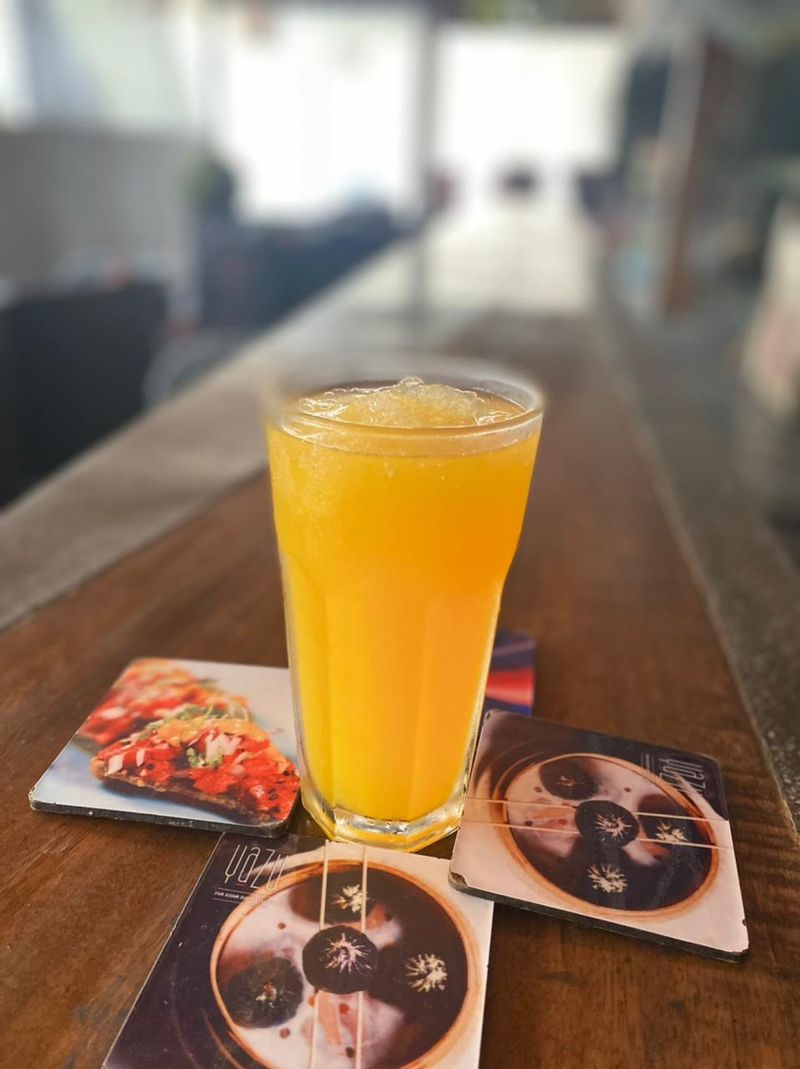 Ingredients:
275ml- mango pulp
250ml - pineapple juice
3 lime - (squeeze )
250ml lemonade
Method:
Mix the mango pulp, pineapple juice, lime juice and lemonade in a large jug.
Pour into ice-filled half-pint tumblers and garnish with lime zest.
If possible crush the ice to make a slushie out of it.
5. Aam Panna
Ask Ajay Kumar, restaurant manager, The Lodhi - New Delhi for a mango cooler and the word instantly makes him reminisce memories of his grandma's kitchen and the roasted raw mango pickle loaded with spices she used to make. "My version of aam panna is a tribute to my grandmother and is inspired by the time I spent with her in the kitchen. I roast the mangoes for an enhanced flavour and combine them with a mix of handpicked spices to create the mango cooler. And I serve it in a glass whose rim is coated with chilli flakes and black salt.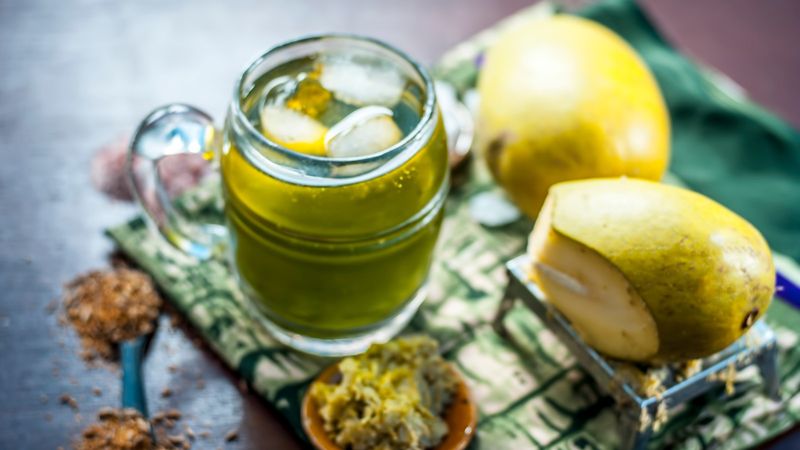 Ingredients:
½ slightly ripe mango
1/3 tbsp cumin powder
Black salt to taste
4-5 mint leaves
10-15 ml lemon juice
15-20 ml sugar syrup
Soda or water top-up
Ice cubes
Garnish
Red chilli flakes
Black salt
1 slice roasted raw mango
Glassware - old fashioned
Method:
Roast the mango, take out the pulp and put it in a blender.
Mix all the ingredients and blend until smooth.
Rim the glass with half side chilli flakes and half side black salt.
Fill the glass with 4 ice cubes and pour the mixture over it.
Top up with soda and garnish with roasted mango pulp.
6. Mango Strawberry Martini
Now here's a virgin martini you would want to drink all day, every day. From the kitchen of Meghna's Food Magic by Meghna Kamdar, this mango strawberry martini combines the best of the bounty of two seasons – winter and summer. To whip up this mango cooler, all you need are five ingredients and 10 minutes. 
Ingredients:
3/4 cup mango pulp
Ice cubes
Some mint leaves
Sprite (or any lime drink)
Some finely chopped strawberries
Garnish
Salt
red chilli powder
lime wedges
1 cut strawberry
a mint leaf
Method:
In a shaker, add 3/4 cup mango pulp, ice cubes, mint leaves, and sprite (or any lime drink or vodka or rum) and shake it well.
To decorate glass, place some salt on a plate, add some red chilli powder and mix it.
Take 2 martini glasses, moisten the rims with lime wedges. Coat the rim of the glasses with the salt mixture.
Add some finely chopped strawberries to the glass (add sugar if you wish to).
Pour mango martini drink and place a piece of strawberry and mint leave on the side of both glasses. Your drink is ready. 
7. Mango and Mint Mocktail
To beat the summer heat, you have to constantly be on the lookout for something cooling. This mango mocktail recipe by Reezwanah Seedat, which comes infused with mint and lemon or passion cordial will make you say sayonara to your usual cold drink.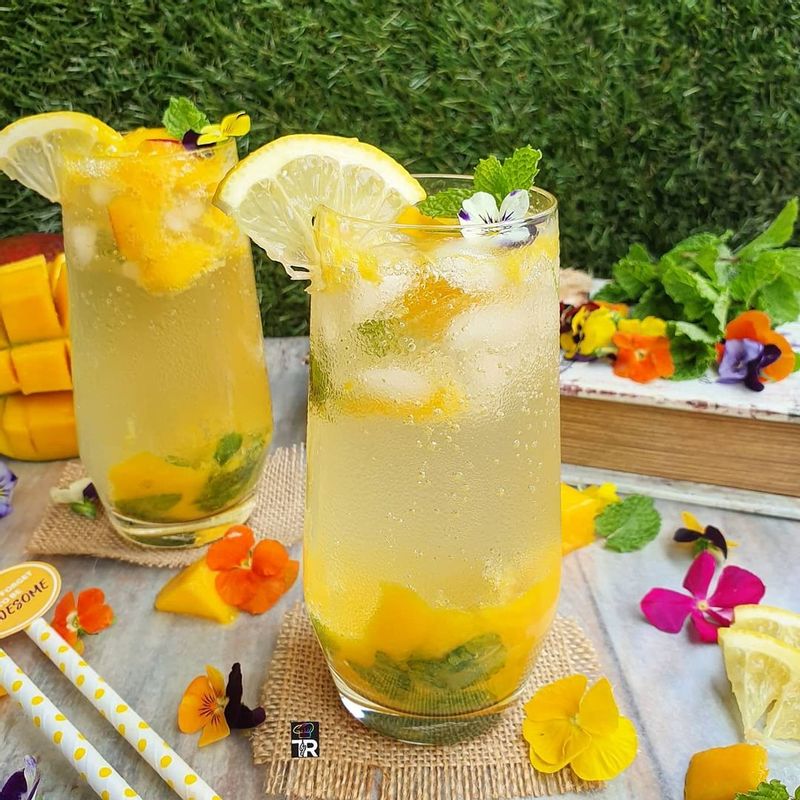 Ingredients:
1 large mango cubed
Handful of mint
1 full cup ice
few slices lemon
lemon or passion cordial (optional)
500 ml sprite
Method:
Add a few mango cubes, a slice of lemon and a sprig of mint to ur class
Muddle using the back of a spoon until the juices are released
Add a few ice cubes and a splash of cordial.
Top with Sprite and mango cubes.
8. Spicy Mango Cooler
This a mango drink inspired by the mango daiquiri cocktail this Ahmedabad-based food consultant Dr Harsha Hirdyani, tried at a Mexican restaurant in Kuala Lumpur. In her version of this spicy mango cooler, she adds a hint of chilli, lime and a few herbs. "You may or may not add alcohol, totally depends on you, both the versions taste amazing," she adds.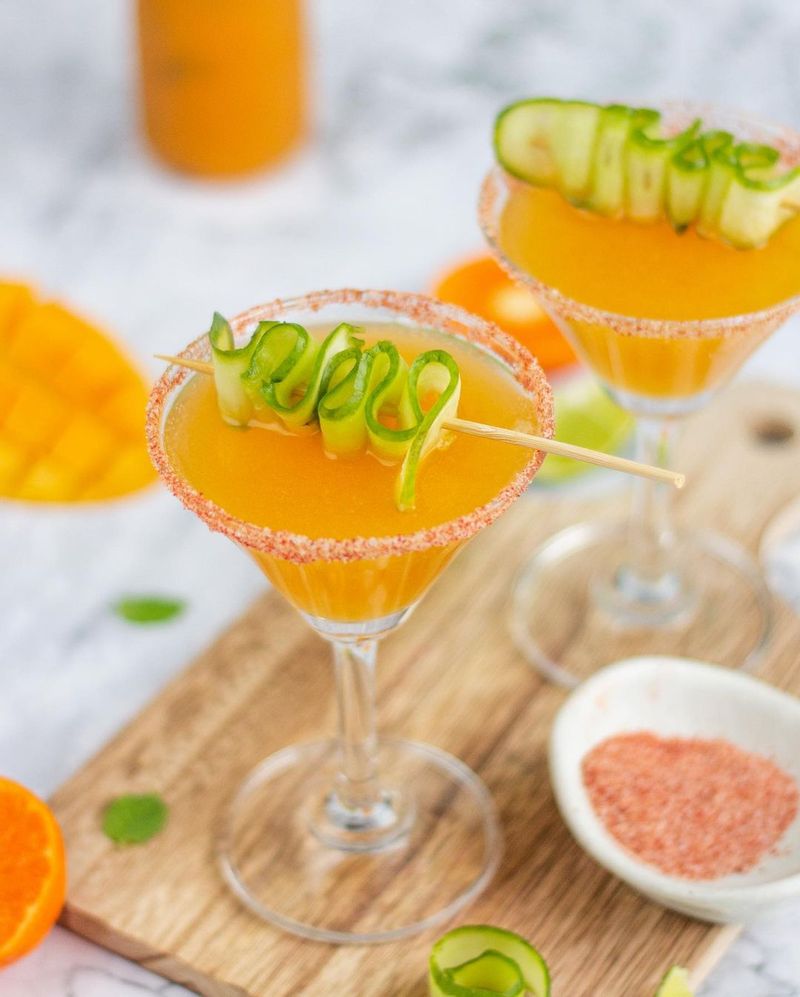 Ingredients:
1 cup ripe mango, chopped
1/2 cup fresh or packed orange juice
2 tsp grated ginger
1/4 cup Mint Leaves
1 green chilli2 tbsp lemon juice
200 ml soda water/ tonic water
1/2 tsp black salt
2 tbsp fine sugar/ sugar syrup (optional, use according to your sweet preference)
6 tbsp white rum/ vodka/ gin (Optional)
Garnish
Mint leaves
Cucumber slices
Black salt and red chilli mixed
Wedges of half lemon
Method:
In a jug muddle together mint leaves, green chilli, lemon juice, sugar (if using) and ginger and keep aside.
Puree the mangoes and add to the muddled mixture. Add orange juice, black salt, and 1/2 tsp cumin powder (if not using alcohol).
Mix and refrigerate for at least 1 hour so the flavours infuse together.
Before serving, gently rub the wedge of lemon on the rim/ edges of your serving glasses, dip in the black salt and red chilli mix, to coat the rim.
To serve, sieve the prepared mango cooler, add rum (if using) and soda water/tonic water, stir it and serve immediately.
9. Frozen Mango Slushy 
Created by chef Suvir Saran and his sous chef chef Vardaan Marwah, this is a fragrant and flavourful mango slushy. "You can freeze the slush for up to 2 weeks and use to make batches in the blender for a large party. Not that we suggest big parties at this time, but that means you can make a big batch and make a couple of cocktails whenever you're craving a mango cooler," shares chef Suvir.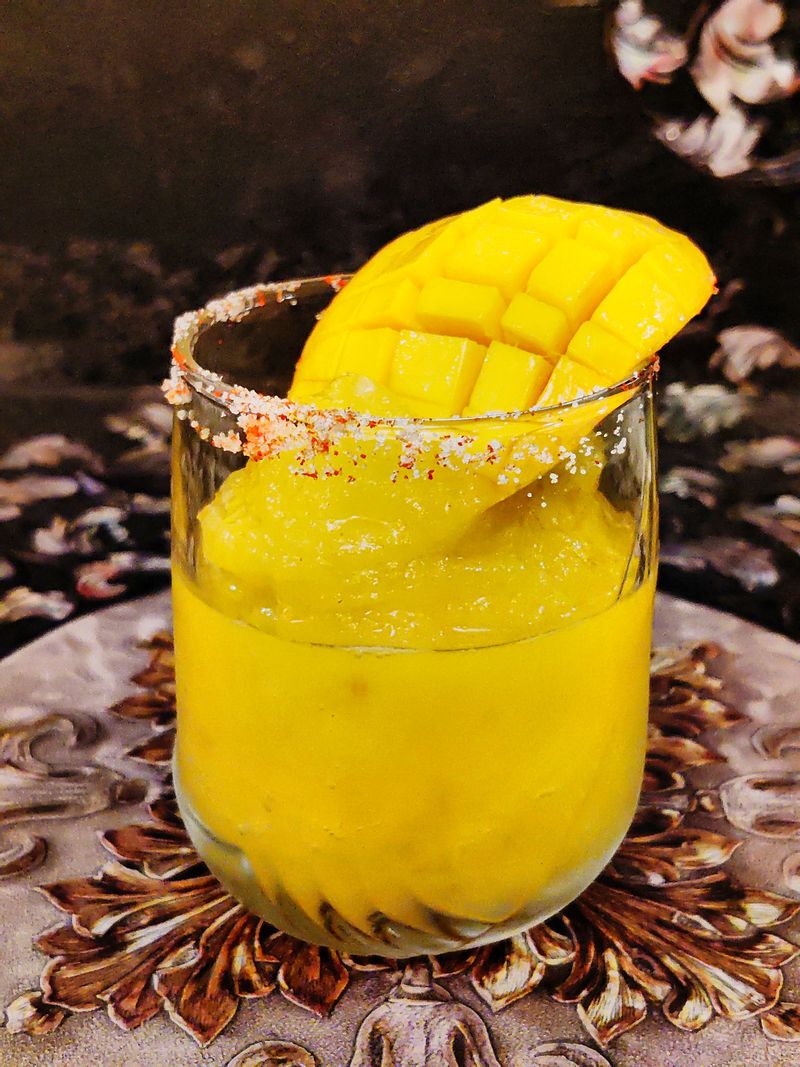 Ingredients: 
1 mango, pureed  
60ml orange juice
45ml lemon juice
30ml sugar syrup
2-3 mint leaves
Slice of mango for garnish
Method: 
In a bowl mix all the ingredients and place them in the freezer until frozen. 
Add 10 ice cubes and the frozen mango mix to a blender and blend until slushy. 
Prep your glass by riming it with salt and red chili powder, pour in the slush and garnish it with a slice of mango.
---
Photo: Shutterstock and featured chefs