Once the mango seasons arrives in India, while Mumbaikars wipe up bowls of aamras (pulp of Haapus or Alphonso mangoes), Kolkatans wait to devour the season's best Langda. But this is not as Alphonso versus Langda debate.
Mangoes arrive fairly late in Bengal. But that does not deter a Bong mom (like mine) to rustle up a fish curry or daal with raw mango in the hot summer months of May and June. A simple everyday tempering elevates these dishes. A combination of tok (sour), jhaal (spicy) and mishti (sweet) items complete the meal, which in turn provides the perfect excuse for an afternoon siesta.
5 favourites for the perfect Bengali summer:
Aam Pora Shorbot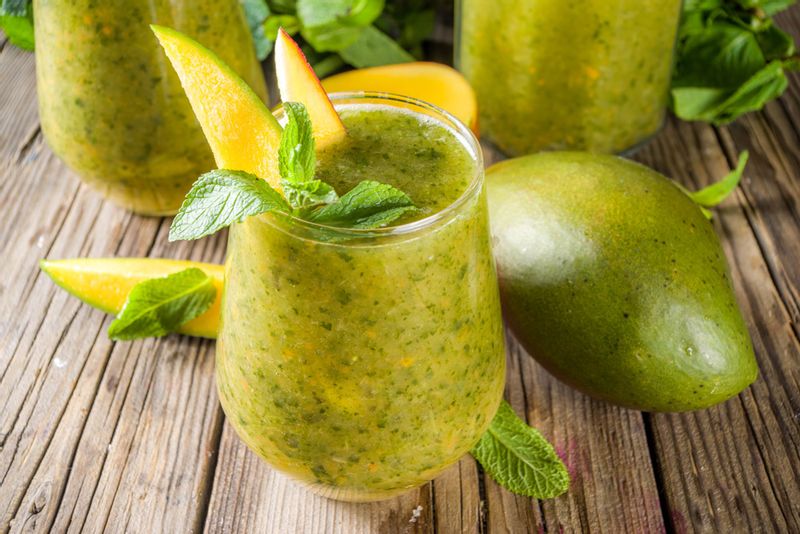 If Maharashtrians have aam panna, Bengalis have aam porar shorbot. However, the recipe is vastly different. In the Bengali recipe, mangoes are first roasted on a gas stove, just like baingan bharta until the peel gets a good char. It is then removed, and the pulp is blended in a mixer with sugar, salt and bhaja moshla or a toasted spice blend. A sugary and sour flavour of the drink acts as a perfect thirst quencher on hot days.
Ingredients
1 medium-size raw mango (whatever is available in your city)
1/2 cup sugar (depends on how sugary you want it)
1/2 tsp salt
1 tsp bhaja moshla (toasted cumin and dried red chillies ground into powder)
Method
Roast the mango on a gas stove until the peel is charred.
Remove the peel and put it in a blender. If it is tough, pressure cook for one whistle.
Add sugar, salt and bhaja moshla to the mango puree. Blend into a puree.
Serve in a glass by adding some water as per the consistency you like.
Aamer Tok Dal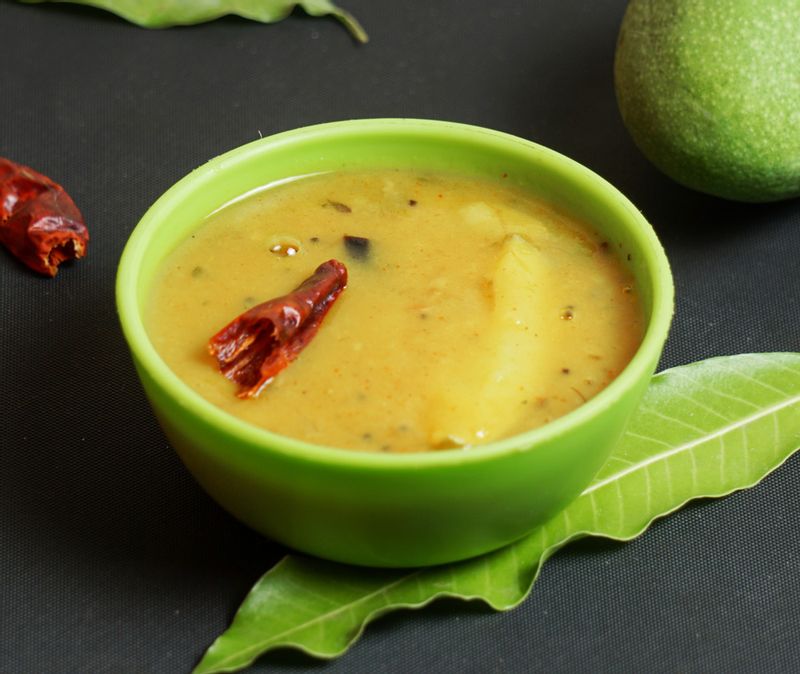 As a hungry kid who hated her shuktos and torkaris, I remember waiting for summers to arrive simply because of the variety of dishes that mum would cook up using mangoes. In this, masoor dal or red lentils is prepared with sliced raw mangoes and a five-spice or paanch phoron tempering. A Bengali tok dal has a distinct sweet and sour flavour and pairs best with hot rice with a side of alu bhaaja or potato fry.
Ingredients
1 bowl masoor dal
2-3 slices of raw mango
1/2 tsp turmeric powder
1 tsp sugar
1 dried red chilli
1 tsp paanch phoron
1 tbsp oil
Salt as per taste
Method
Pressure cook the dal for one whistle. Let the consistency remain thick.
In a wok, heat some oil and put the paanch phoron followed by the dried red chilli. Let them crackle.
Add the mango slices and fry for a minute.
Put salt, sugar and turmeric powder.
Add the boiled dal and let it simmer for 3-4 minutes.
Serve with rice.
Tok Maacher Jhol
This tok maacher jhol is testimony that Bengalis love mangoes as much as their fish curries. The curry is typically prepared with catla or rohu, however, some recipes also call for smaller varieties like morola (Indian carplet) and punti (pool barb). The subtle tanginess from the raw mangoes gives the curry a characteristic flavour to an otherwise frugal preparation best enjoyed with hot rice.
Ingredients
1 medium-sized rohu or catla (or any freshwater fish that you prefer)
1 big onion, ground to a paste
4-5 thin slices of raw mango
1/2 tsp red chilli powder
1/2 tsp turmeric powder
1/2 tsp cumin seeds
1 1/2 tbsp oil
Salt as per taste
Method
Coat the fish with turmeric and salt, and leave to marinate for 10-15 minutes.
Heat oil in a wok and lightly sear the fish. Remove.
In the same oil, put the cumin seeds, followed by the onion paste.
Fry the onions well. Add salt, red chilli powder and green chilli.
Now add the mango slices and cook for a few minutes.
Add water and make gravy.
Add the fried fish and simmer for a couple of minutes.
Kaancha Aamer Chaatni
Although Bengalis love their tomato and date chutney, they like to savour a sugary raw mango chaatni every summer. Mangoes are cut lengthwise for this and then cooked in a tempering of mustard seeds, dried red chillies and a copious amount of sugar. The chutney is then seasoned with bhaja moshla. It's a personal favourite because I have not eaten a chutney as unique as this, and also because it was the one thing that mum managed to lure me with on days when the meal didn't seem exciting.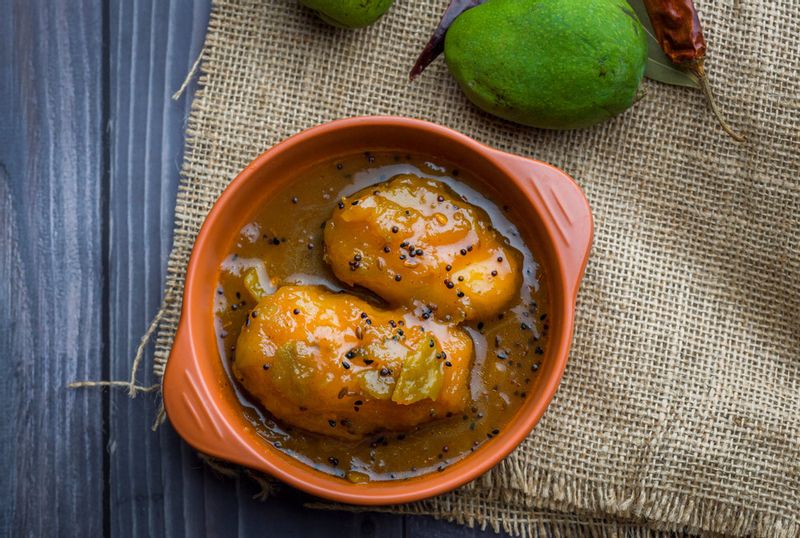 Ingredients
1 medium raw mango, sliced in chunks
1/2 tsp mustard seeds
1/2 tsp turmeric powder
1 dried red chilli
1/2 cup sugar (depends on how sugary you want)
1/2 tsp bhaja moshla
1/2 tsp salt
1 tbsp oil
Method
Heat some oil in a wok.
Put the mustard seeds and red chilli and let them crackle.
Add the mangoes and cook for a few minutes.
Put salt and turmeric powder.
Add some water followed by the sugar.
Cover with a lid and let it simmer until mangoes are tender.
Garnish with bhaja moshla.
Aamshotto
Aamshotto is a childhood favourite as eating sweet-somethings one layer at a time seemed fun. Aam papad for the rest of the country, aamshotto is prepared similarly by layering ripe mango pulp on a thin plate or tray and leaving it in the sun to dry for days.
Considering the time-consuming process involved, women in small towns and villages still follow the practice when summer is at its peak. Like pickles, aamshotto is a way to preserve mangoes and make the Bengali favourite Tomato Khejur Aamshottor Chutney throughout the year.
Ingredients
Three large ripe mangoes, make sure they are sweet enough so that you don't have to add any sugar
Method
Make a puree of the mangoes in a blender.
Strain the pulp for any fibre.
Take a baking sheet with parchment paper and spread the puree in a thin layer.
Bake in a pre-heated oven at the lowest temperature possible for 5 to 6 hours or until it is completely dry.
Cut it into strips and roll up and store.
Alternatively, if you are lucky to live in a house with ample sunshine, you can dry the same under direct sunlight until it is dry.
---
Photo: Shutterstock