When the famous duo of Rahul Dua and Kainaz Contractor opened the chaat delivery brand Bhawan in 2020, most of Delhi went weak in its knees. The experimental chaat and mithai kitchen, however, was just a precursor to a restaurant that was on the cards for some years but was pushed due to pandemic. Bhawan, now open in Gurgoan's hip 32nd Avenue, has had its patrons waiting for two years to dine in; now that the doors have finally opened, the city cannot have enough of it.
Chic, artsy, and Instagrammable
Given the place aims to bring desi flavours to its patrons, it was easy for Bhawan to fall into the typical Indian restaurant aesthetics but the space is modern, smart, and chic. Pale greens, neutral beiges, and soothing greys dominate the colour scheme and pops of brightness appear in form of mithai boxes, sherbet bottles, and wooden TV sets that play retro songs in loop. A quirky hand-painted signboard by the bar, a mithai counter on the side, and hand illustrated wallpaper representing the streets of India add pizzazz; bright sunlight streaming in through large windows, live plants in ceramic planters, and quirky retro lamps complete the picture.
"A lot of people say the place reminds them of Parsi cafes in Bombay," chuckles Kainaz Contractor, one half of the team behind the place. The classic rattan chairs, government office-style tables, and the hand lettering in Hinglish may have something to do with the observation because even I can feel the Bombay vibe in the space. "Everything here is actually from the restaurant in Delhi that was ready to be launched when the lockdown was declared," Kainaz informs me. "Every element that you see was designed, made, even assembled and then had to be dismantled and kept in storage for two years," she recalls. If the years have done anything, they have only added to the charm of the elements which create a comfortable and easy space for its guests.
An ode to the streets of India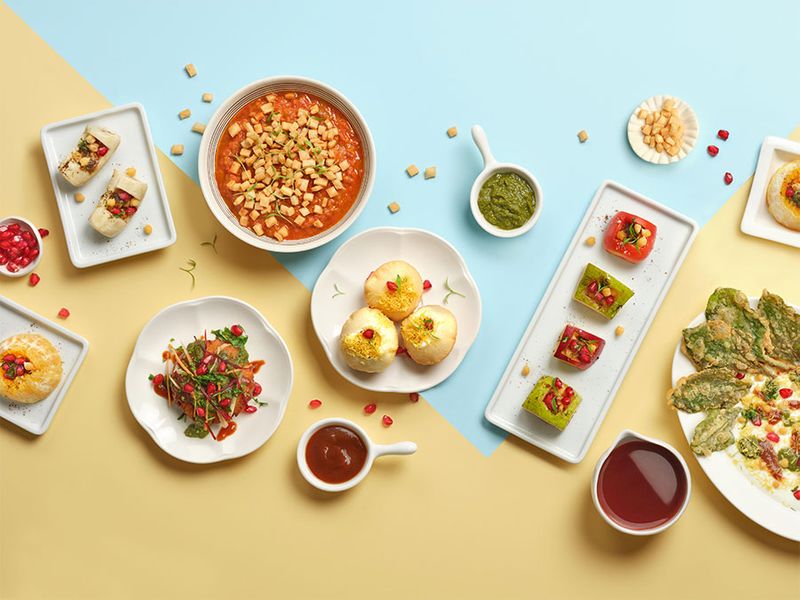 Bhawan was conceptualised when Rahul Dua and Kainaz Contractor, the duo behind Delhi's iconic Parsi restaurant Rustom's and the chic Café Dori, decided to venture into a chat-mithai-street food space. While Rahul is credited with setting up Delhi's first regional food space, Café Lota at the Craft Museum, Kainaz had especially relocated to Delhi to set up an independent self-funded restaurant that brought regional street flavours under one roof. "We had done home style food, we had done regional food, and now we wanted to bring street food—which is our favourite food—to Delhi," says Rahul. The research included trips to cities across India that helped them identify flavours, textures, techniques, and recipes that were further enhanced to suit the urban palate and a contemporary setting. It was this research that came in handy when the lockdown happened and the dream project had to be stalled. Rahul and Kainaz concentrated all their energies on a delivery kitchen that offered premium street food and mithai, two things people craved the most at the time. The kitchen was an instant hit and not only helped them create a brand but also gave an insight into people's preferences.
Two years later, the menu at Bhawan's brick-and-mortar restaurant is as street food-driven as it could be. There is an extensive chaat section with chaats from all over the country, and a wide offering of snacks, kebabs, and mains—also representing various regional specials from across India. The tagline 'we put street back into food' seems apt given almost everything on the menu is inspired by street food.
Desi flavours with a contemporary touch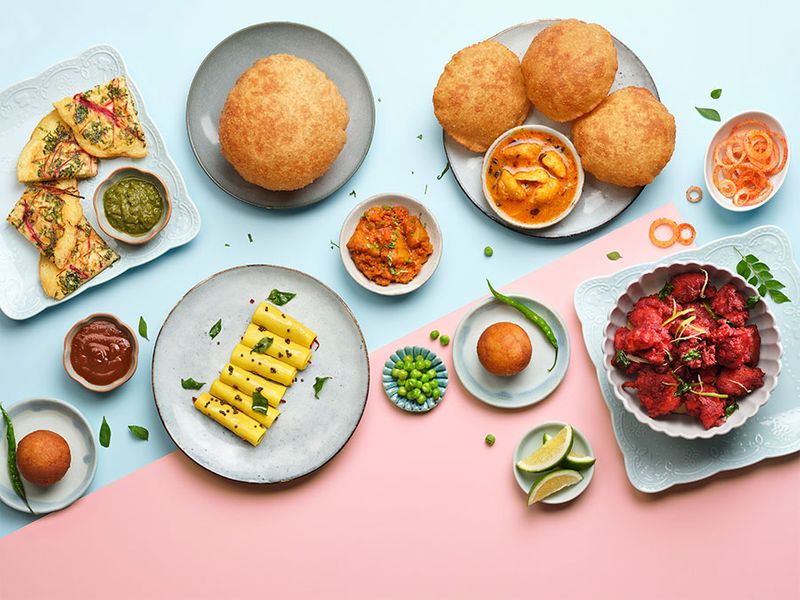 We start with golgappa. The platter comes with three kinds of pani and three kinds of puri, batasha, or golgappa, whatever you may choose to call it. The stuffing differs in each—the atta puchka has spicy puchka aloo, reminiscent of Calcutta; the sooji golgappa has aloo and pindi chana like Delhi; and the ragi puris have boondi, sprouts, and boiled potatoes. "We encourage our guests to try all three because they are all different," Kainaz tells me when I ask her which one I should try first. And so I taste all. The mango-mint and tamarind-green chilli waters are spicy and tangy and remind me of streets of Lucknow and Kanpur where I've grown up, while the pomegranate and cumin one is slightly sweet, yet not overpowering, and lends a nice touch. The golgappas meanwhile are crisp and soft, or as we say nicely khasta—the result of being made fresh every morning.
The chaat comes next. I taste Kanpur's popular street food gadbad, a mix of aloo-tikki, papdi, matar, and chutneys; Benaras's tamatar ki chaat, served with makhana and homemade nimki; and the one thing I never imagined seeing in a Delhi restaurant, Cuttack's dahi bada-aloo dum. While the gadbad could do with some more chutney and curd, the tamatar ki chaat is perfect and the dahi bada-aloo dum brings the true flavours of Odisha, not a mean feat in far off Delhi. The snacks—I try small portions of Prawn Papad, Varqi Lukhmi, Maas ke Soole, and Kasundhi Malai Broccoli—are satisfying and evoke memories of some of the best food I've eaten on my travels across the country.
While it is the chaat and snacks that may attract your attention on the menu, the mains are equally interesting and varied. "We wanted to have something for everything," Rahul tells me as we chat about the menu, "so we have a small mains section that caters to the need for a comforting dal or mutton curry, but there are also dishes from across regions here." After the chaat and snacks, I am in a happy space but Kainaz insists I try 'one spoon at least' of some mains. The smoky and indulgent White Butter Chicken, made with smoked butter and the most succulent chicken I've ever eaten is addictive; the Calcuttan Bengali Chicken Bharta, made with shredded chicken and egg takes me to Calcutta; the truffle laced mushroom haleem is Umami bomb, and the overnight cooked daal is delicious. What, however, is worth mentioning is that every dish is distinctly different from one another.
Fun desserts, quirky drinks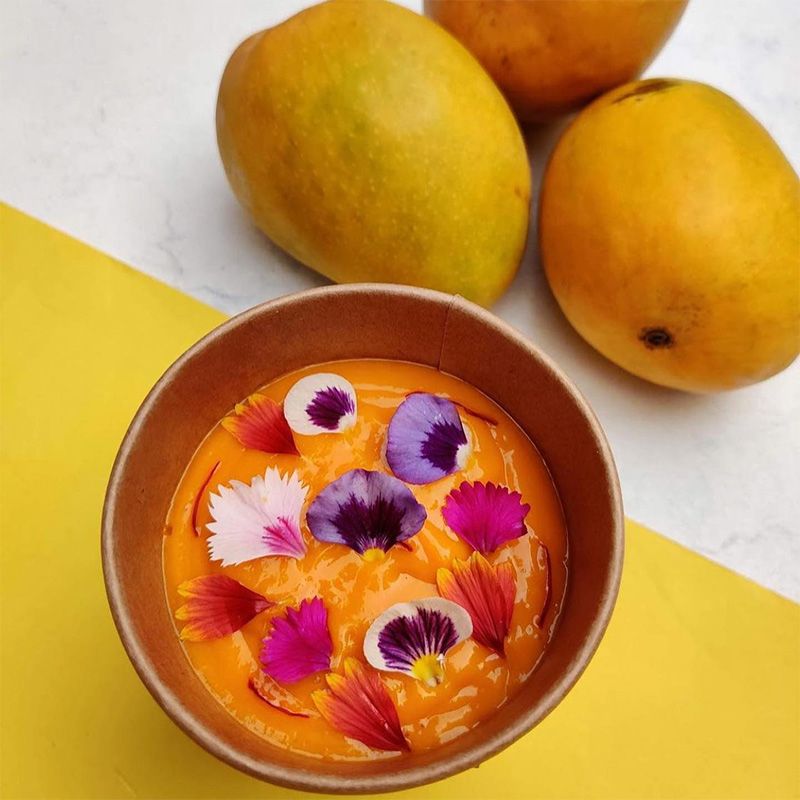 The bar licence is due in July, but Bhawan has a cool list of beverages, most of which are made with natural ingredients and desi flavours. The kachha aam ginger ale I try is outstanding and comes with grated raw mango added to fizzy ginger ale, served with a side of aam papad—another recipe that evokes nostalgia and joy in equal measure. The desserts like Tiramisu Rasmalai and Mawa jalebis sound fun but eating one is impossible (remember this when you go there!), so I agree to taste one piece of aamras puri. In my head, it is a puri served with aamras on the side but what I am served is a beautiful golgappa filled with Alphonso pulp and covered in icing sugar. As I pop it in my mouth I know why Rahul and Kainaz are known as mavericks — they know how to create magic. 
---
Photo: Bhawan