With sun, sea, and seafood aplenty—the tiny emerald land of Goa might be India's smallest state—but people love revelling in Goa's carefree susegad way of life.
The sunshine state is blessed with a rich culinary treasure that draws foodies with its perky flavours. Think Goa and you are at once filled with the local aromatic spices and the zesty flavours of vinegar and kokum that are hard to resist.
The popular notion of Goan cuisine with its amalgamation of Indian and Portuguese influences is usually fish curry, rice and feni. If you crave some authentic Goan fish dishes, apart from Sorpotel, Vindaloo and Xacuti, most of the popular seafood preparations involve using a rich masala paste.
The secret to Goan flavours
Recheado in Portuguese translates to 'stuffed' masala. It is the go-to paste for most seafood preparations in any Goan kitchen. It is traditionally prepared by grounding whole spices at home using a sil batta.
The fiery combination of Kashmiri chilies, ginger, garlic, pepper, cloves, cardamom and tamarind packs a punch of flavour to everything—from prawns, to mackerel to Indian salmon and many more.
The fine balance of spicy, tangy and slight sweetness is what makes this a go-to masala for all Goan recipes. If you don't have a sil batta at home, you can make this masala using a blender.
Here is an easy recipe of homemade recheado paste from scratch that you can use to dish up some mouth-watering prawns recheado masala.
Recheado masala recipe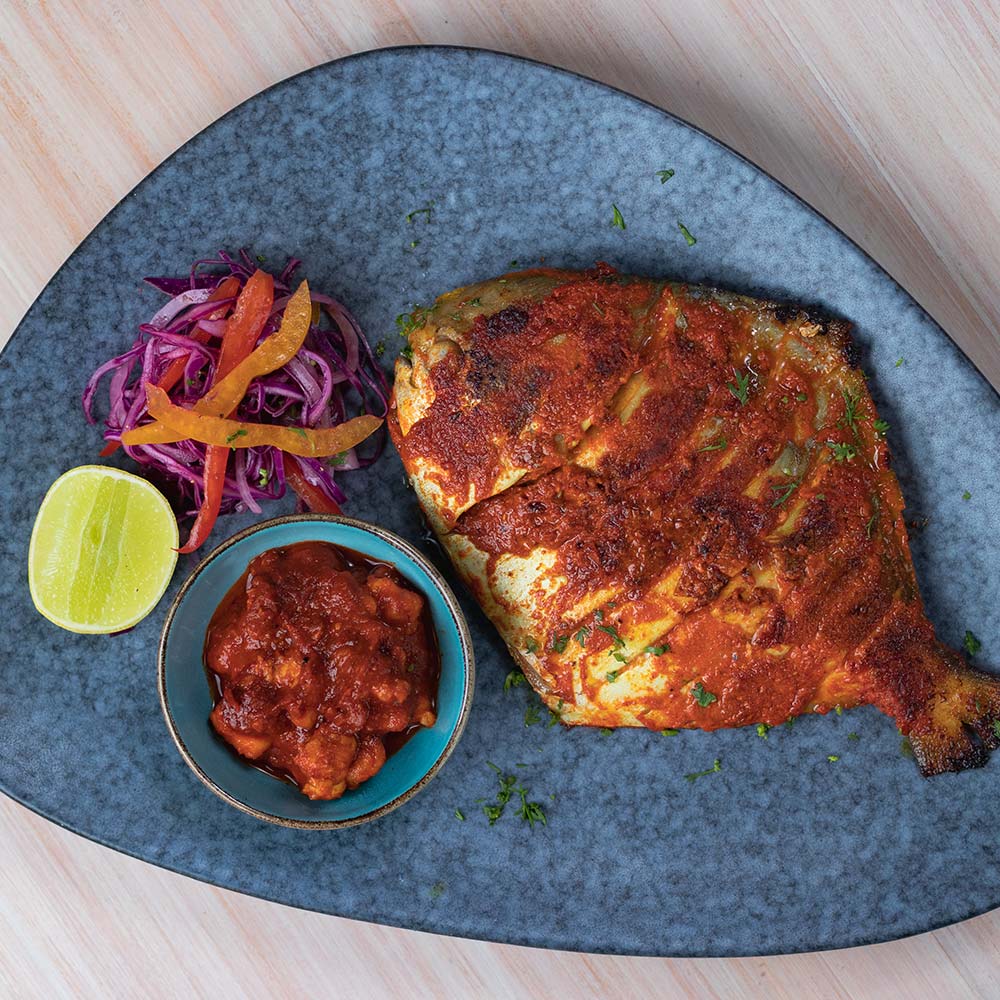 Ingredients
17-18 dry red Kashmiri chillies
1-inch ginger chopped
7-8 garlic cloves
1.5 tsp peppercorn
1 tsp cumin seed
½ tsp turmeric powder
4-5 cloves
2 green cardamom
1 tbsp sugar
2 marble sized tamarind ball without seed or basic tamarind pulp
2.5 tbsp coconut vinegar or white vinegar
Salt as required
Method
Soak all the spices – ginger, garlic, tamarind pulp, pepper, cumin seed, cardamom, Kashmiri chillies in vinegar.
Combine everything and leave it for about 40 minutes.
Add sugar, salt and turmeric powder to it and then grind the mixture to make a smooth paste, add more vinegar to the paste to get a perfect consistency. It should not be too runny, nor too thick. If it is too runny, it will not stick to the meat pieces during marination.
Once your recheado paste is ready, you can use it to marinate the fish or meat. You can use this rich and tangy masala to stuff mackerel, prawns and even okra.
Store the rest of the masala in the refrigerator.
Prawns in recheado masala recipe
Ingredients
250-300 gms of fresh prawns,  peeled and de-veined
5 tbsp recheado masala
½ cup semolina
2 tbsp rice flour
Oil
Method:
After thoroughly cleaning the prawns, coat the recheado masala liberally on them and leave it for about 30 minutes.
Mix the semolina and rice flour together on a plate.
Heat enough oil in a pan to shallow fry the prawns.
Once the oil is warm enough, coat the marinated prawns with the above-mentioned dry mix of semolina and rice flour and place them gently on the pan.
Fry them until they turn golden brown on both sides.
Remember not to cluster too many while frying. Repeat the same process with the rest of the prawns.
Once done, you can serve prawns recheado hot as a side dish or with salad, lime wedges, rice and curry.
With inputs from chef Rohit Pushpavanam, Executive Chef, Alila Diwa Goa
Photo: Shutterstock