From mom's spicy version to the less spicy one made by grandma, samarachi kodi is a mood lifter of sorts. A typical Goan curry made with both fresh and dried prawns, it isn't your average curry–this dish calls for a number of spices and requires some serious skill and a lot of patience.
The making of Goan samarachi kodi
The spices are dry roasted till they fill your kitchen with an exotic aroma. The dish is typically made with spices such as pepper, cloves, mustard, dry coriander seeds, fenugreek seeds, cumin, cinnamon and star anise which is ground with tamarind, coconut and a combination of dried red chillies to make a paste. 
What you get is a sweet-sour curry, and also a fun play of textures between the soft ladyfingers and fresh prawns and not forgetting the crunchiness of the dried prawns. No wonder hearty meals at Grandma's, albeit on special occasions, featured this spicy, tangy fish curry.
A wedding tradition
Traditionally, samarachi kodi was only reserved for a very Goan-Catholic wedding tradition called the 'bhikareanchem jevonn', which literally translates to 'feast for the beggars'. Before the wedding, the bride's family would come together to prepare this hero dish, one among the many others, and lay a feast for the underprivileged, to seek their blessings for the couple.
With time, this curry made with everyday spices, yet oh-so-extraordinary, began to find a way for itself into daily cooking. While today the market is replete with ready-to-use Goan curry powders and the measuring, roasting and grinding of the spices is, in fact, quite a task. But grandma still prefers to do everything from scratch. And ever since she passed down her secret recipe to us, the heartwarming flavours takes me back to my childhood.
Goan Samarachi Kodi Recipe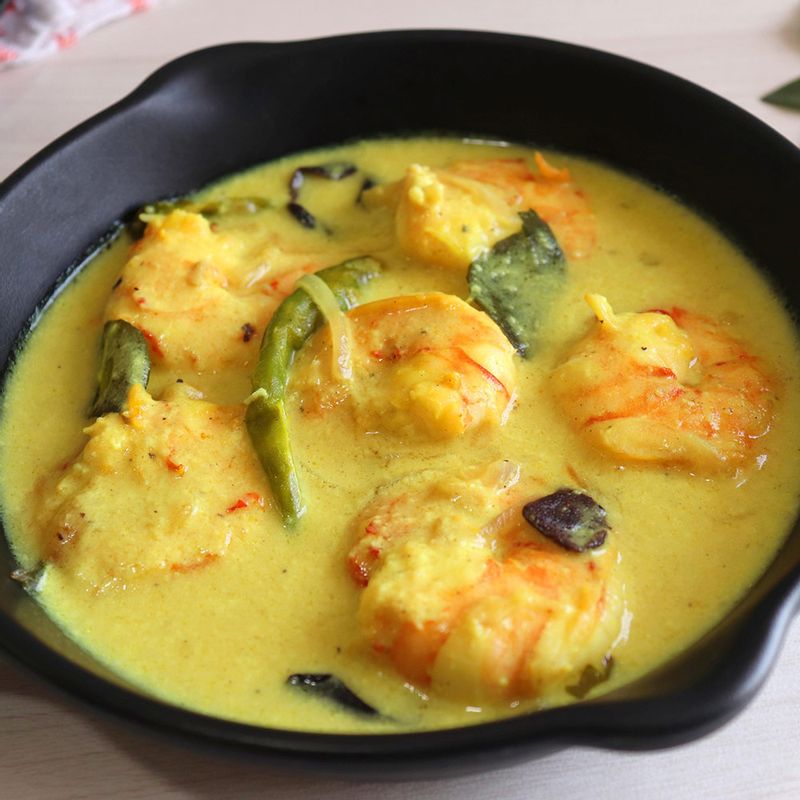 Ingredients
2 cups dried prawns, cleaned
2 cups fresh prawns, cleaned, deveined and cut
1 medium-size onion, finely chopped
1 bowl ladyfingers, cut
3-4 dry mango skins (ambiachi solam)
3-4 raw mango, cut into 1-inch pieces
Salt, to taste
Oil, for frying
For the masala
1 onion, finely chopped
8-10 dry red chillies
2 cups freshly grated coconut
one pinch or 1/2 tsp turmeric powder
2 to 3 pinches or 1 tsp cumin seeds
8-10 peppercorns
2 tbsp coriander seeds
1-inch cinnamon stick
5-6 cloves
½ star anise
1-2 pieces mace
¼ nutmeg, grated
4 garlic flakes
1-inch ginger
½ tsp methi seeds
coin-size tamarind ball
Top tip: Since this recipe calls for a long list of ingredients, it's best to keep everything by your side as you wouldn't want to miss out on any spice. Besides, grandma says that prepping your ingredients and spices before you begin, can help you save on time as you wouldn't have to ramble through kitchen shelves looking for the right spices.
Method
Start with salting the raw mango pieces.
Next, soak the tamarind and mango skins in a separate bowl filled with hot water and set aside them for later use.
In a hot pan, dry roast all the whole spices one at a time. Grandma has eyes like a hawk, so she makes sure that the spices are roasted just right–they shouldn't darken or burn as it will make your curry bitter. Leaving the side of your pan is a big no-no, she says.
Next, in a pan add some oil and roast the chopped onions, ginger and garlic, grated coconut and dried prawns. Don't forget to toss the pan from time to time to prevent the ingredients from sticking to the pan. Toss into a bowl, and keep aside.
In the same heated pan, add in a little oil and then add in the fresh prawns and ladyfingers. Cook on a low flame until everything's partially cooked. Transfer into a bowl and save for later use.
In a mixer or food processor, throw in both dry and wet masala ingredients and blend them into a thick wet paste. You could use the tamarind and mango skin water to help get the right consistency.
In a handi, heat a little oil and sauté the finely chopped onions. When the onion appears to turn translucent and the aroma fills your kitchen, this is when grandma adds the mango pieces to the pot. Give everything a good stir, and then let cook on a low flame for a few more minutes
Next, add the masala paste to the handi, little at a time, while stirring continuously.
Once the masala starts to sputter and oil begins to leave the sides, add a cup or two of the tamarind and/or mango water and bring it to a rolling boil.
Throw in the dried mango skins and give the curry a good stir.
Let it cook for a few minutes before adding the half-cooked prawns and ladyfingers.
Cover with a lid and let boil for a while.
If the curry reduces, you might want to add more water. Grandma suggests maintaining a slightly watery consistency at this point as the curry will gradually thicken.
Add in the dried prawns' mix to the curry, while stirring continuously.
Let the curry cook for another 5-10 minutes, allowing your recent additions to soak in all the flavours.
Sprinkle some salt according to taste and then take the handi off the heat.
Grandma says it's best to let the curry mature overnight as the flavours tend to intensify only the next day.
When ready to serve, heat the handi on low heat and allow it to boil for a few minutes.
Spoon a ladleful of this curry on a bed of plain Goan steamed rice or simply mop with Goan poi. Either way, it's sure to transport you to the magical land of Goa.
---
Photo: Shutterstock