Unlike the rest of coastal India, the monsoon does not deter Bengalis from catching and cooking fish. Although the coveted Hilsa enters the kitchen, the flavoursome Rohu, Catla or juicy prawns (chingri in Bengali) are cooked with equal vigour. Prawns, for instance, are cooked with locally-available produce such as banana stem, pointed gourd and tender coconut to create unique delicacies. For new ways to cook your favourite seafood, try these unique and rare family Bengali recipes with prawns or chingri.
Chingri Maach Diye Thor Chechki (Prawns Cooked With Banana Stem)
Ingredients
1 cup small prawns, cleaned and de-veined
1 banana stem (thor), chopped and soaked in water
Salt to taste
½ teaspoon sugar
1 teaspoon turmeric powder
2 tablespoons mustard oil
1 teaspoon nigella seeds
1 bay leaf
1 dried red chilli
1 medium potato, cubed (optional)
2 teaspoons ginger paste
½ teaspoon green chilli paste
½ teaspoon cumin powder
½ teaspoon coriander powder
Method
Boil banana stem with a little salt and turmeric. Drain and reserve the stock.
Heat a pan. Add prawns, salt and turmeric powder and sauté in 1 tbsp oil. Keep aside.
Heat 2 tbsp oil in another pan, add nigella seeds and sauté till fragrant.
Add bay leaf and red chilli and continue to sauté.
Add potato cubes, a little salt and turmeric powder and mix well. Cook covered over medium heat till potatoes turn golden.
Mix ginger paste, chilli paste, cumin powder, coriander powder, a pinch of turmeric powder, little salt and sugar with 2-3 tbsp of water in a small bowl.
Add this spice mix to the potatoes. Sauté and cook over medium heat until the oil starts separating.
Add the boiled banana stem pieces and ½ cup of reserved stock. Cook for 2-3 minutes over high heat. Simmer covered until done. Add prawns and mix well.
Serve it hot with steamed rice.
Note: You can make a vegetarian version of this with banana stem by replacing prawns with boiled split Bengal gram.
Recipe By: Ananya Banerjee, home chef and author
Daab Chingri (Prawns Cooked in Green Coconut Shell)
Ingredients
1 kg prawns
250 gms onions
6-12 green chillies
1 grated coconut
2 tbsp mustard seed
1 tsp powdered turmeric
1½ tsp salt
4-6 tbsp mustard oil
1 daab or tender coconut, cut half-inch from the top, horizontally and water removed
Method
Shell, clean and remove heads from fresh prawns. Chop into small pieces.
Slice the onions in half and then slice lengthwise very fine. Slit green chillies.
Grind mustard seed to a very fine paste with a little water.
In a bowl mix all the ingredients, finally adding oil and then mix thoroughly.
Stuff the daab with this mixture and use the top half-inch slice as a lid. Seal with a piece of foil to cover the top of the daab.
Bake in a 180 degree C oven for approx. one hour in which time the prawns should be cooked and the mustard oil should have risen to the top of the shell.
This dish is best when served in the daab shell and makes a glamorous addition to a buffet table.
Recipe by: Minakshie Dasgupta, author, Bangla Ranna: The Bengali Cookbook
Dom Chingri Potol (Stuffed Pointed Gourd with Shrimps)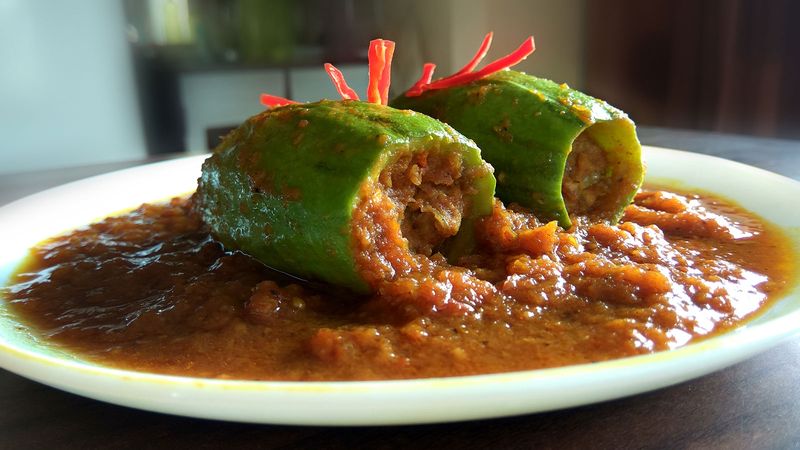 Ingredients
250 gm Shrimp/kucho chingri, finely chopped
8 Potol/Pointed Gourds
2 Onions, ground to a paste
2 tsp Ginger paste
¼ tsp Red Chilli powder
½ tsp Turmeric
½ tsp Garam masala powder
1 tsp chopped Green chilly
1 tbsp Poppy seeds
1 tbsp Almond
1 tbsp Raisin
1 tsp Mustard seeds
Whole garam masala - 2 each (cardamom, cinnamon, cloves, black pepper)
4 tbsp Curd
Mustard Oil for frying
Salt to taste
Sugar to taste
Method
Cut the top of each potol with a sharp knife or spoon and scoop out its pulp. Once you get the potol clear of their pulps then wash and keep them aside.
Grind the poppy seeds, almond, green chillies and mustard seeds to a paste and add salt.
Heat 2 tbsp mustard oil and add the chopped shrimp, cook and add the prepared paste and cook well. Remove from heat and let it cool and add the raisins.
Once the prawn stuffing is cooled, stuff this mix in each potol properly.
After all of them are stuffed, heat mustard oil in a heavy-bottomed pan and shallow fry the potol till golden brown. Remove from heat and keep aside.
Heat 1 tsp mustard oil and add whole garam masala, add chopped green chilli, ginger paste, onion paste and chilli powder. Now add the curd to it and mix well.
To this add the fried potol. Seal the handi with atta dough and set it on a low heat charcoal fire.
Put some live charcoal on top of the lid of the handi. Cook for 7 to 8 minutes.
Remove from heat and let it rest. Open the lid and sprinkle with a hint of garam masala powder and serve with ghee rice.
Recipe by: Chef Anirudhya Roy, Executive Chef, Taj Lands End, Mumbai
---
Photo: Shutterstock