Caldine or Caldinho as known to the purists, is a popular Portuguese-inspired Goan-style coconut-turmeric curry, that flavoured my childhood. It was different, without being particularly spicy. 
Unlike the other fiery Goan curries served on grandma's table, this mild and mellow gravy was and always will be a foolproof dish. The mildly flavoured caldine fish curry when poured on a mound of hot plain steamed rice is as beloved as a hug from grandma herself.
Goans that we are, xitt-koddi-nustem (rice, fish caldine curry and fish) would always be a staple at grandma's dining table. Her caldine curry featured coconut, tamarind, coriander, cumin and poppy seeds, onions and red chillies creating a nice fragrant golden-yellow gravy bath for the cauliflower and prawns. She would make her own masala paste from scratch, and there's no denying, it always made her kitchen smell delectable. A fabulous cook, my grandma passed her cooking tips down to my mom, who has done her best to share them with me. 
Unlike grandma, mom usually made fish caldine to use up leftover veggies. From ladyfingers to batatas (potatoes), pomfrets to surmai (Indian Mackerel), her rule was simple–anything goes. However, on certain occasions, she would skip on the veggies and let the curry simply be a 'fishy' affair.
Till some time back, grandma used to scrape the coconut herself to procure fresh coconut milk but she too has switched to store-bought coconut milk. What hasn't changed is the perfectly smooth and velvety texture of grandma's fish caldine curry with a blend of spices and coconut milk soured ever so slightly with tamarind.
Here's my grandma's good-to-the-last-bite recipe for fish caldine. The best part: This fish caldine will be on your table in less than 45 minutes.
Goan fish caldine recipe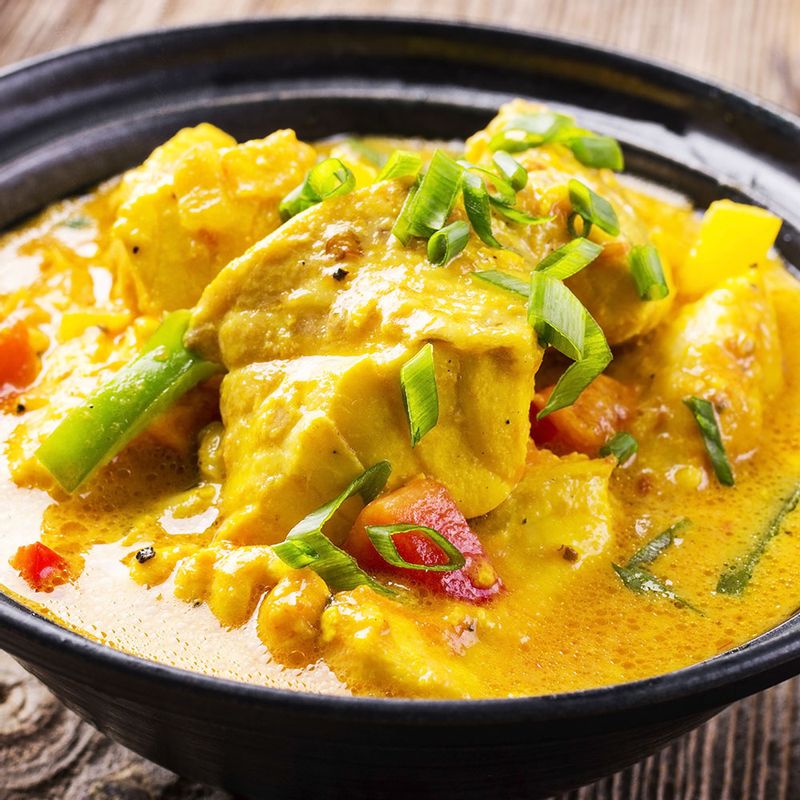 Ingredients
1 medium-size onion, finely chopped
Oil, for frying
Prawns or any fish of your choice
2 fresh green chillies, slit with seeds in
Salt, to taste
3-4 tbsp vinegar
Two-three pinches, which would make for about 1 or 1 1/2 tsp turmeric powder
Around 2 pinches of cumin seeds, around 1 tsp
2-3 garlic flakes
About half-an-inch ginger
Around 2 cups shredded coconut or coconut milk
Some warm water, about 1 or 1½cups
Method
Chop off the heads and tails from the prawns. De-vein, wash and keep aside. Grandma always opts for fresh prawns so avoid the frozen ones. If you are using frozen prawns, make sure to thaw them first before moving ahead. If you are using veggies, peel, chop and keep them aside for later use.
To make the curry paste, simply throw in shredded coconut, ginger, cumin seeds, turmeric, garlic and vinegar into a food processor and blend into a thick but fine paste. Make sure you add in the vinegar little by little, tasting the masala paste as you progress. You could always add a dash during the final stage, to improve the flavour of your caldine curry.
In a heavy-bottomed pan, heat some oil over medium heat and sauté the chopped onions until they turn soft and translucent.
In that, add your curry paste, some warm water gradually, and give it a nice stir.
On low heat, let the curry simmer for 10 minutes. If needed, pour in some water or coconut milk to adjust the consistency.
Next, if you're also including veggies add them at this time. Once they've cooked half-way, add the fish and split chillies, give it all a good stir.
On low heat, cook for another five to six minutes, or until everything has cooked through.
Season with salt. It is at this stage that grandma takes a call on the use of additional vinegar.
In case you're adding some more vinegar, cook your curry over low heat for another two to three minutes without letting it boil.
If needed, you could top with some fresh coriander leaves before serving with rice.
We always eat fish caldine with Goan steamed white rice to soak up all the delicious broth. In case you have leftovers, you could use them up for breakfast the next morning. Something that we Goans call Kaalchi Kodi, caldine curry when heated the next day tastes even better.
Or you could try this trick that grandma taught me to upcycle the caldine curry: In a pan, throw in some roughly chopped onions and tomatoes, and cook until soft. Then, pour in the curry, and crack open two or three eggs into the new dish. Cover with lid and let it simmer until the gravy thickens and eggs are done. Garnish with some coriander leaves, red chilli powder, black pepper powder and mop with crusty bread.
---
Photo: Shutterstock