If you're in Delhi-NCR, it's always hard deciding on that one place to eat. The reason probably is that there is a string of both fine high-street and luxury restaurants opening every now and then. While few of these restaurants definitely felt the brunt of the pandemic, the others have managed to stay on the map and in the hearts of their patrons. 
During the first half of 2021—sometime before the city was jolted with the second virus wave—Gurugram saw the launch of 'Saga: Cuisines of India'. Saga is a tall, classy-looking restaurant started by Indian restaurateur and entrepreneur, Vishal Anand, who wanted to redefine luxury experiential dining in the capital. But, can luxury dining happen without a standout hallmark? No! Curated in partnership, the opening of Saga saw the mega return of eminent two-time Michelin Star Chef Atul Kochhar who has created the immersive menu of the place.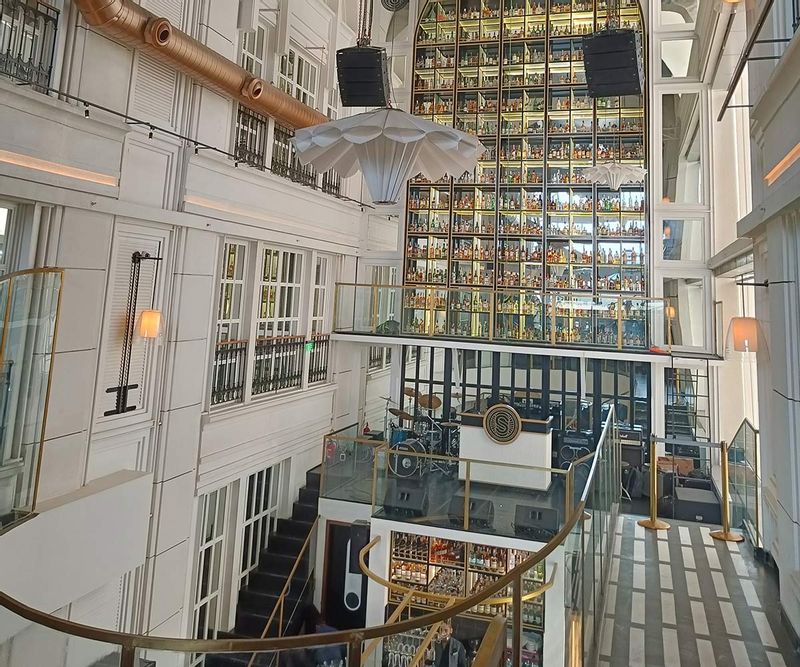 Over the years, Kochhar has come to be known as one of the high priests of progressive, edgy Indian cuisine with a signature touch. The first time I heard this star chef talk was last November at an event in Saga."To be honest, Indian cuisine mainly revolves around either Punjabi or South-Indian food. We do not find a wide variety of restaurants here that prepare more than the standard Indian cuisines. And I think that it's time we recognise and try to bring in variation. That doesn't mean we need to necessarily keep opening segregated or regional restaurants every now and then. No doubt, those places are good but there could be more fantastic eateries like Saga, which celebrates the rich cultures and cuisines of India while bringing in variations. And exactly, that was the whole thought behind it," Kochhar shares. 
Of course, he has many laurels to his credit—chief among them being that he was the first Indian chef to win a Michelin star way back in 2001 for Tamarind, a restaurant in London. At Benaras, at Mayfair, London, Kochhar secured his second Michelin star. His secret? "A lot of research takes place when we prepare the food and recipes. People have eaten most of these dishes from time immemorial. Our signature style is to recreate most of these home recipes bringing in fresh renditions with new ingredients. But, sometimes, we also like to keep them in their own natural incarnation—for example, we serve Dal Moradabadi in the same classical manner. However, to add to the experience when you're in such a fine dining establishment, you need a little bit of drama and some panache for people to exclaim in utter joy!" Kochhar explains. 
With Chef Atul Kochhar helming the ship at Saga currently, I got to experience his special winter menu which is curated in such a way that the local ingredients and traditions of India are retained, despite an offering of global flavours. Standing tall even in the middle of a pandemic, we can sense that Saga is a bang-on entrant to look forward to in the capital.
The special winter menu edit at Saga
When you know that a star chef like Atul Kochhar has handpicked an entire menu and dining affair, you expect a few 'larger than life' dishes. I started my culinary experience with a passionfruit mocktail that had a simple, tropical flavour. The dried-orange garnish made it feel more like a cocktail. 
The first meal to greet me was a platter with revamped dishes made with cauliflower. There was cauliflower samosa—with a crunchy shell and a melt-in-the-mouth texture on the inside—that came with roasted cauliflower florets with a hint of spice. Chef Kocchar opens up about the dish: "When I was a kid, my mother used to cook a simple cauliflower dish with ginger and potatoes. Since this whole menu revolves around nostalgia and memories, I recreated that same recipe and then pureed it with a little bit of yoghurt. We used that as a base sauce that opened up to an underlying flavour. The tandoori cauliflower played as the perfect element, oozing a beautiful smoky flavour." This was the perfect appetiser for starting the party; after all, who can say no to a samosa?
Next was a baked beetroot steak with rich gravy—delicious, flavourful, and a visual delight. How can we forget the steamed veggies, which made for a perfect dig-in dish bustling with greens. A special mention goes out to the slow-cooked, aromatic red rice khichdi which was served alongside the steak. The lip-smacking khichdi with a generous amount of ghee was surprisingly light on the stomach but strong on flavours.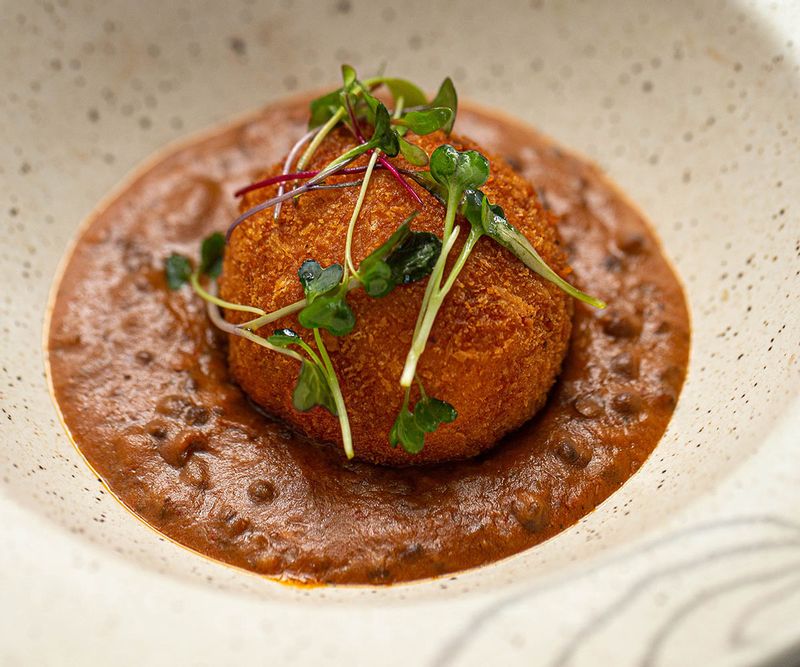 Since Saga promises to be a culinary disruptor in the city, their butter paneer ball served in dal makhani gravy definitely raised the bar as far as refashioning classic Indian dish is concerned. The most dominating aroma and the flavour were that of the dal makhani, which added zing to the butter paneer ball. For a minute I just stared at my plate before I gingerly cut open the ball to reveal a delicious surprise. "For Indians, there's a nostalgia involved with certain dishes that they cannot get over—like butter chicken and butter paneer. So, I thought let's not follow the usual way of serving just a bowl of butter paneer. And we went ahead to create a quirky dish out of the original where instead of the paneer cubes being in the sauce, we let the sauce be inside the paneer. This dish was a quite crazy thought, but we were happy that we managed to pull it off right," shares Kochhar. This one completely made me understand why the chef is known as the king of revamping Indian dishes.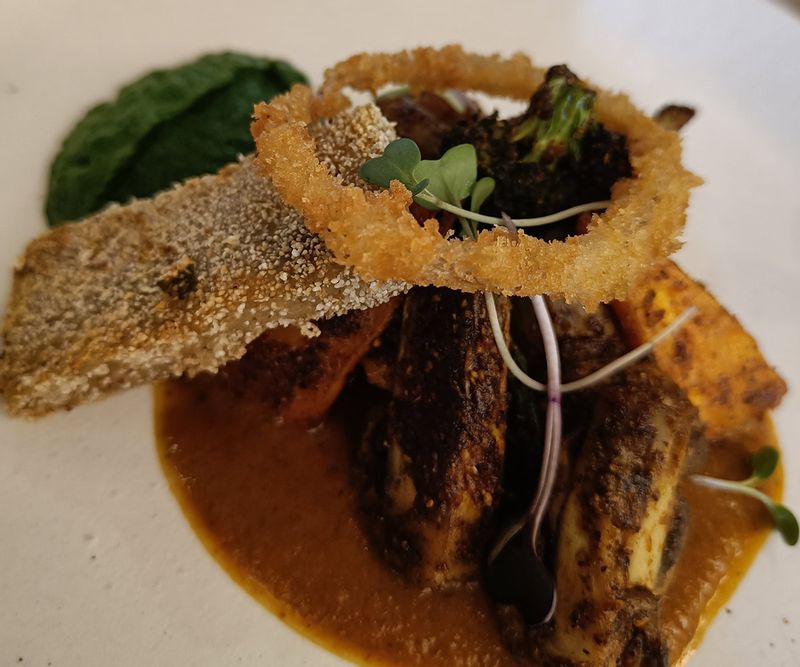 A plate of roasted winter vegetables like cauliflower, capsicum with turnip masala followed next—acting as the exquisite final dish to end the culinary saga. The first three dishes let a concoction of unique rich flavours travel your mouth whereas this one indicated that it was indeed time to draw the curtains on this special winter menu. The lunch ended with a gracious dessert—chocolate ras malai. Although you might have had this fusion dessert at many places before, chef Kochhar's version ensures you're in for another surprise. The juicy rasmalai is served with a chocolate disk on top accented with chocolate chips and edible gold. However, both the flavours of the milky sweet desi mithai and the chocolate settle distinctly.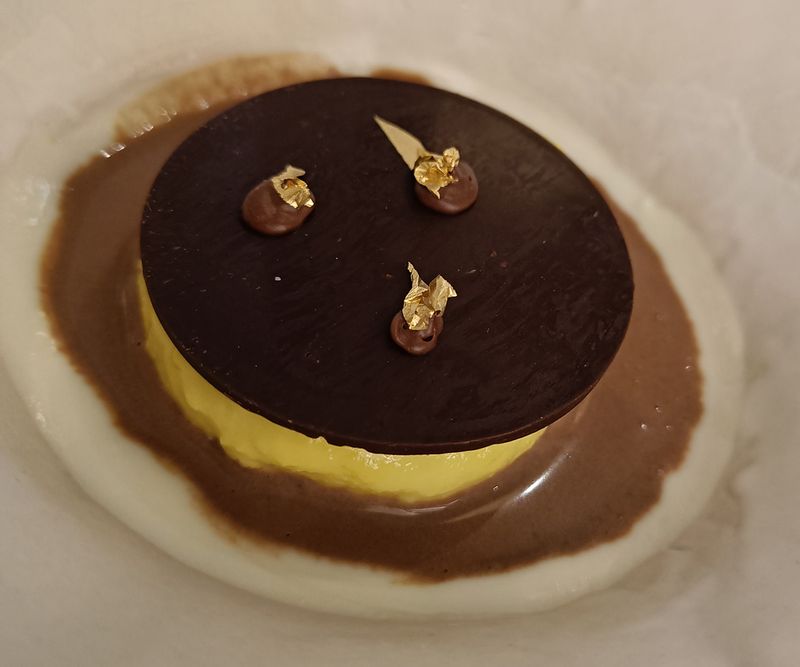 The space around
Saga, which is located on Golf Course Road in Gurugram, is a 200-seater restaurant spread over two levels and a breezy alfresco. The seating area, whether it is on the ground floor, upper-level, or the alfresco section, has been cleverly planned to offer the finest view of the interiors while enjoying the outdoors. An immersive experience, the luxury restaurant has well-placed concert speakers within the interiors for a touch of spellbinding music. 
When you enter Saga, you get a chance to experience opulence with a blend of comfort. Your eyes immediately soak in the hard-to-miss 40-feet-high bar display that is home to one of the world's tallest bar displays. The rest of the space is done in tones of beige and white will remind you of a Parisian museum.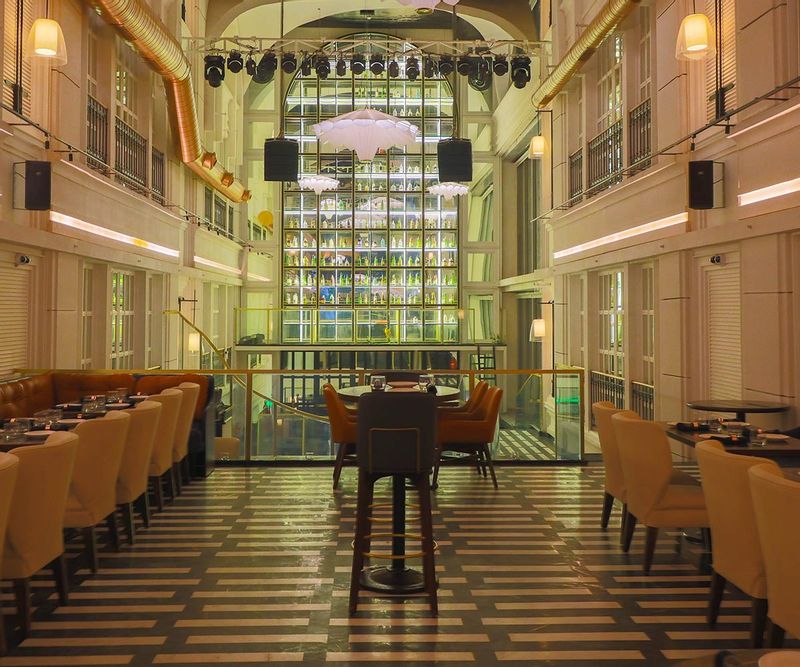 The basis of the winter special menu is essentially Indian food. The food along with the elegant interiors of Saga promise to really shine through in the experience you're likely to have here. The dishes may look and taste familiar—but there's a turn-up of unusual flavours that evoke a pleasant surprise and keep you guessing. Nothing over the top, nothing forced, just a mesmerising subtle variation on the palate that will keep you wanting more. 
Address: Ground Floor, Vatika Atrium, Sector 53, Gurugram, Haryana 122002
---
Photo: Saga, Gurugram; Tejashee Kashyap