Going by the enthusiasm and turnout at Gurgaon's popular eating destinations, the city is in a hurry to get past the pandemic. So, struggling to grab a parking spot for the swanky new restaurant with a display bar that at 40 feet in height, is being touted as "one of the world's tallest bar displays" with modern Indian food curated by a Michelin star chef, is a bit of a buzzkill. 
That's pretty much where I'm at when I enter SAGA: Cuisines of India, Gurugram's newest gourmet destination. The classic interiors at Saga are designed to instantly put you at ease. And a refreshing fennel infused gin with apricot and citrus tones that I pick from the bar menu, does the rest. Gin infused with cooling flavours on summer afternoons that are getting warmer every day, will subdue your climate change worries, at least, for the time being. 
How the SAGA unfolds 
SAGA weaves an edible story of the cuisines of India—going beyond Indian borders to regions where the ancient Indians exerted their influence, especially in south east Asia, Afghanistan, Nepal, Sri Lanka and Tibet. This intermingling of cultures brought flavours and ingredients back to the mainland and left a mark on the cuisines of those regions.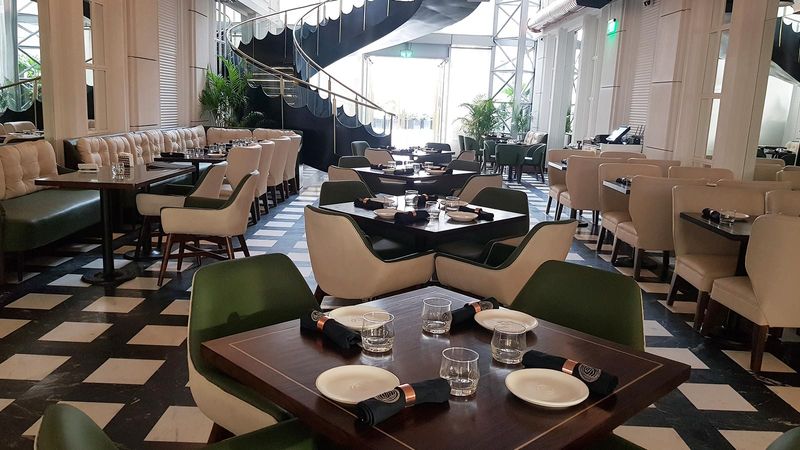 Saga has a grand feel to it. The bar is tall no doubt, somewhat like the apse of a cathedral. Nesting under it, as if suspended midway, is a space for live music performances. On the ground floor, it opens into the front bar. The restaurant is spread over two levels and an alfresco. I choose a seat on the mezzanine, it offers a stunning view of the tall bar wall highlighted with warm backlights.  
If the menu is a story, the servers are the storytellers. They are dressed in uniforms designed by Rajesh Pratap Singh, which is not extraordinary but fits in with the fine-dine vibe the restaurant carefully curates. There's a bit of a retro feel to the ambience, the promise of a comfortable meal around the table. It's the kind of space you want to sink into, gather your friends around, have a conversation on food, share travel stories and, you know, savour the flavours from different corners of the country that the menu throws up! 
Serving India on a plate  
The chefs tasting menu has quite a few highlights, but one unassuming dish stood out for me. The Vegetable Vepudu is an Andhra-style ivy gourd dish cooked across south India. It's not a rare find or lost recipe. But for me, it evoked a Ratatouille moment, nostalgia for my grandma's kitchen stirred by the humble kundru, or tendli, stir-fried with a seasoning of mustard seeds and curry leaves, garnished with fresh coconut, topped with gunpowder chutney and served with Malabari parota. 
I share that tidbit with SAGA's chef partner Atul Kochhar, and he laughs softly. "When we were planning the menu, I told my team to go back to their moms and grandmoms kitchens and bring back stories," Kochhar says, explaining the curious mix of recipes on the menu. He refuses to name a favourite but the Dal Muradabadi, he says, has become a regular in his home kitchen, with his teenagers. The delicious one pot meal was apparently a favourite of Mughal prince Murad—his royal bawarchis slow cooked moong dal to a soft creamy consistency and the dal is today served like a chat, with sweet and sour garnishing. 
For Gurugram food aficionados, items like the Ghee roast prawns, a recipe that is known to have originated in the 'lunch homes' of Karnataka's karavalli, are rather new. 
The Curries of India section curates hero dishes from the cuisine of the Parsis (Salli Boti) and Syrian Christians (Meen Ularthiyathu which is pan roasted seer fish with curry leaves and coastal spices) among Indian communities. Travelling beyond the borders, it rustles up Nepali Choila Boti, charred roast chicken salad with the zingy flavours of timur pepper and a multi-grain Birbal ki Khichdi—the historic pot of slow-cooked Khichdi we all read about in stories of Akbar and Birbal. Delving into India's rich food history, the menu also includes Naan Qalia— mutton qualia, invented by the khansamas of Mohammed Bin Tuqlaq after they ran out of rations on the journey from Delhi to Daulatabad, a dish that has been reinvented by regional kitchens across India.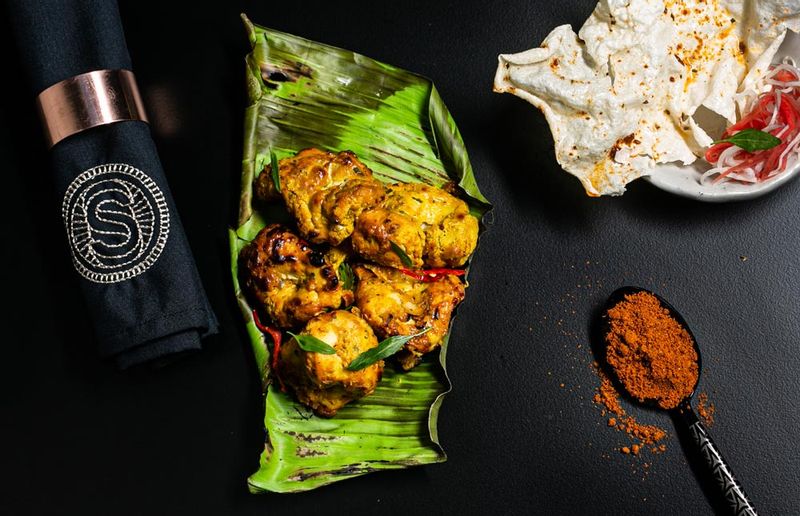 The menu meanders from the "satvik" dham food with the Himachali Sepu Vadi cooked by the Boti brahmins of the hill state— the chef, we are told, has a special love for Himalayan-style of cooking—to Ayam tikka, chunks of meat infused with south-east Asian spices, countries that Indian traders and Monks travelled and left a culinary impression on. 
Not another Michelin star restaurant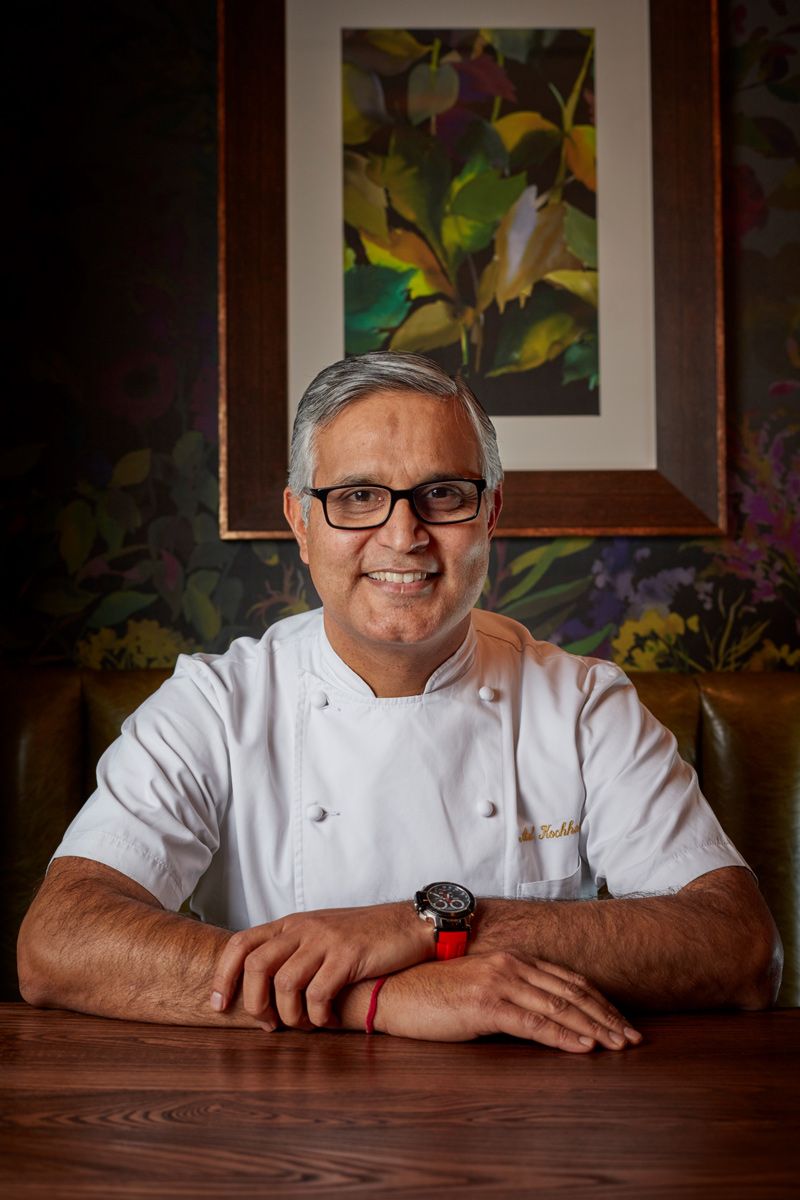 Kochhar wanted to be "loud and quirky" with SAGA, and not create "just another Michelin star restaurant." I do a double-take at 'just another Michelin-starred restaurant!!'. For the uninitiated, India has no Michelin Guide, and hence no Michelin-starred restaurants, but a handful of Indian chefs and some restaurants serving Indian food outside India, have received the stars. In 2001, Kochhar was one of the first two Indian chefs to receive the star at Tamarind, a traditional and innovative Indian restaurant in London. He later received the star again for his restaurant Benaras, in the same city. 
What he is hinting at is his attempt to "challenge the norm", and create something that would excite young people, like his own teenagers, about Indian food. "This is not a vanity project but a massive research project for us," he says. Would he take the brand to Mumbai? "I would, but with a different menu, it's not a one-size-fits-all menu," says the chef.  
The pandemic seems to have influenced chef Kochhar's attempt to serve India on a plate— he is nostalgic for the India he grew up in and missed dearly as a global virus turned our lives upside-down. "I've always looked to the motherland for inspiration and will definitely be heading back home more now," he says. 
The saga he wants to weave does not end with the food on your plate. The restaurant, says Kochhar, becomes a platform to showcase the diversity of Indian cuisine, but the India story is not narrated exclusively by the chefs. "The farmers, growers, makers of artisanal pickles and preserves, custodians of old recipes— everyone involved in the food chain, scripts the story," he says. Kochhar wants to invite these stakeholders to set up kiosks, so the experience at SAGA is wholesome and guests can trace the ingredients and products back to their source. Now that makes an interesting story, don't you agree? 
---
Photo: Team Saga