If there's one thing we have championed in the pandemic it is—our love for Food. Of the many different stories that were scripted, food played a central role in almost every tale. It gave Parle G biscuits its biggest sale in 80 years—the iconic biscuit was widely distributed to millions of migrants who walked home after the lockdown. It brought Indians together, contributing and cooking for our fellow citizens. It made heroes out of home chefs. And it forced top chefs to take the restaurant to the people. 
Who would have thought that there would come a day when we would bring home the fine dining experience and feast on a gourmet menu curated by India's top chefs, in the comfort of our homes! 
Enter The Dinner Box
The pandemic has redefined our idea of luxury. Today, it is a culinary experience featuring signature and inventive dishes by India's top chefs meant to be enjoyed at home with your family. So, here we were, laying out Peruvian chicken anticuchos with panca chillies and slow cooked Martaban meat on our dining mats for a Sunday lunch with family that has wisely stayed home, as one should!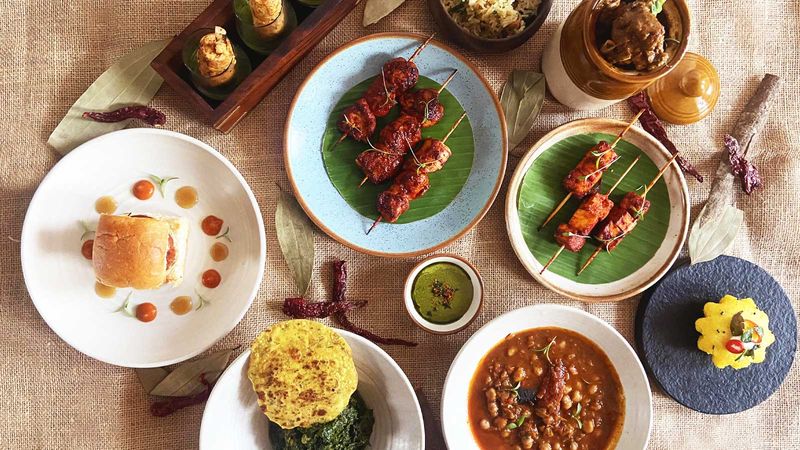 The Dinner Box arrived warm, just in time for lunch, ready to be served instantly. The pop-up gourmet delivery service in collaboration with Rooh Delhi aims to bring top Indian chefs in Delhi-NCR to your home—currently it has special meals curated by chef Hemant Oberoi and chef Sujan Sarkar. 
Chef Oberoi's menu—The Journey of the Martaban—lists dishes that are popular at his Abu Dhabi restaurant Martaban, and some from his eponymous restaurant Hemant Oberoi in Mumbai, making it a first for food connoisseurs in Delhi, in a sense. Though we must add here that chef Oberoi gave the celebrated Indian restaurant Varq, at Delhi's Taj Mahal Hotel, several iconic dishes. 
The Menu
Martaban meat is the highlight of The Dinner Box, without a doubt. These ceramic jars that trace their provenance to a Burmese port, are believed to have come to India via central Asia in the 17th century and are a much-loved traditional kitchen accessory in India. Oberoi devised a way of cooking in them— the martabans for his meat are custom-made in Khurja near Agra, designed to withstand temperatures as high as 600-800 degree celsius, he tells us. The soft pieces of meat are infused with the mellow, slow cooked gravy. Vegetarians get the option of Martaban ke chhole, similarly cooked in the ceramic pot. I liked the mutton paired with Andhra pulao, a wholesome melding of Indian flavours that's not overpowering, pungent or spicy, but something that the elderly and the children at home will equally enjoy. Chef recommends pairing the Martaban meat (or chhole) with the truffle and cheese kulchas, which are delicious as is, and if you, like me, have kids at home, the kulchas will be promptly gobbled up!
The other interesting item that promises to be popular with the kids at home is the Ganderi kebab—a delicate seekh on a sugarcane stick. Chasing the kebab flavours with sugarcane juice from the sticks you can chew on, puts up an interesting act. Chef Oberoi tells us that the Ganderi was his innovation at Varq, Delhi. The anticuchos remind me of vindaloo on a stick but carry a milder flavour. They make a pretty and popular starter with the Aji verde.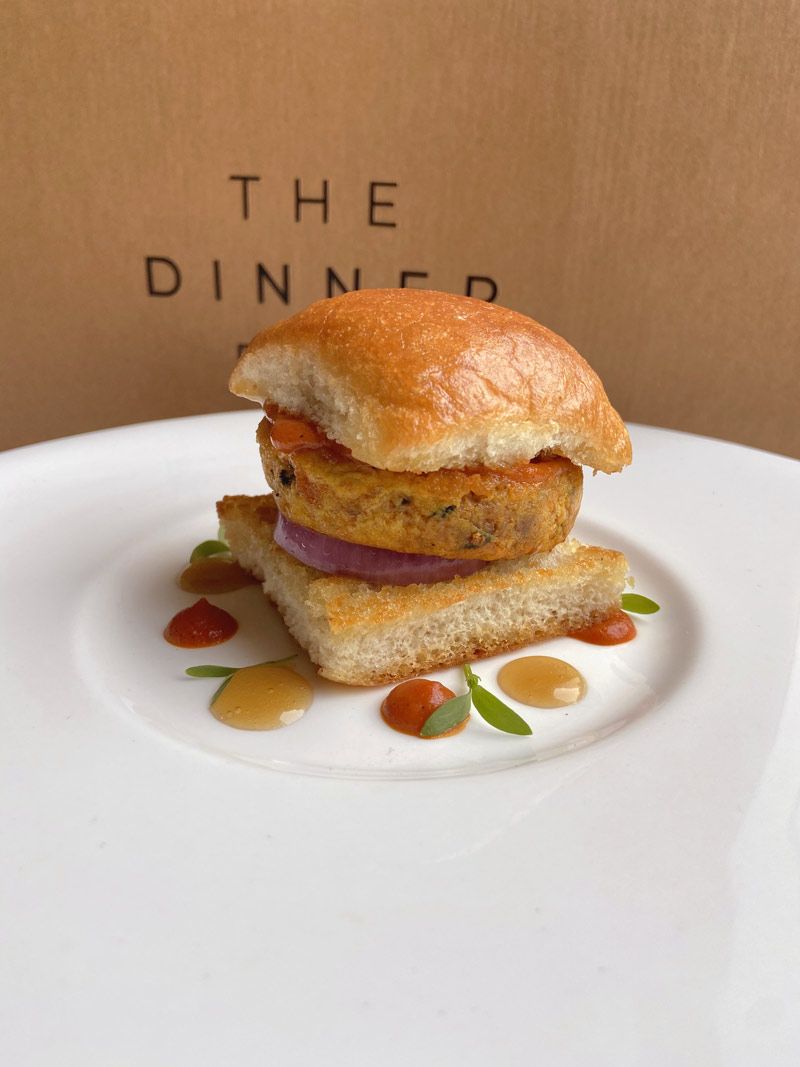 For Delhiites, the Bohri lamb kebabs sandwiched in pao, and paired with a piquant chutney, is reminiscent of Mumbai's popular street food Vada-pav—in a meaty version that appeals to the north Indian palate. Oberoi says that it is an ode to the small but significant Bohri community of Mumbai, and an attempt to bring greater representation to its unique cuisine. 
Vegetarian delights
Bringing in flavors of Mumbai's favourite dhokla to Delhi, chef Oberoi has created dhokla cupcakes that could very well be a palate cleanser. Topped with a spot of sour cream, he says this an "accidental innovation," created for a Gujarati-Marwari crowd.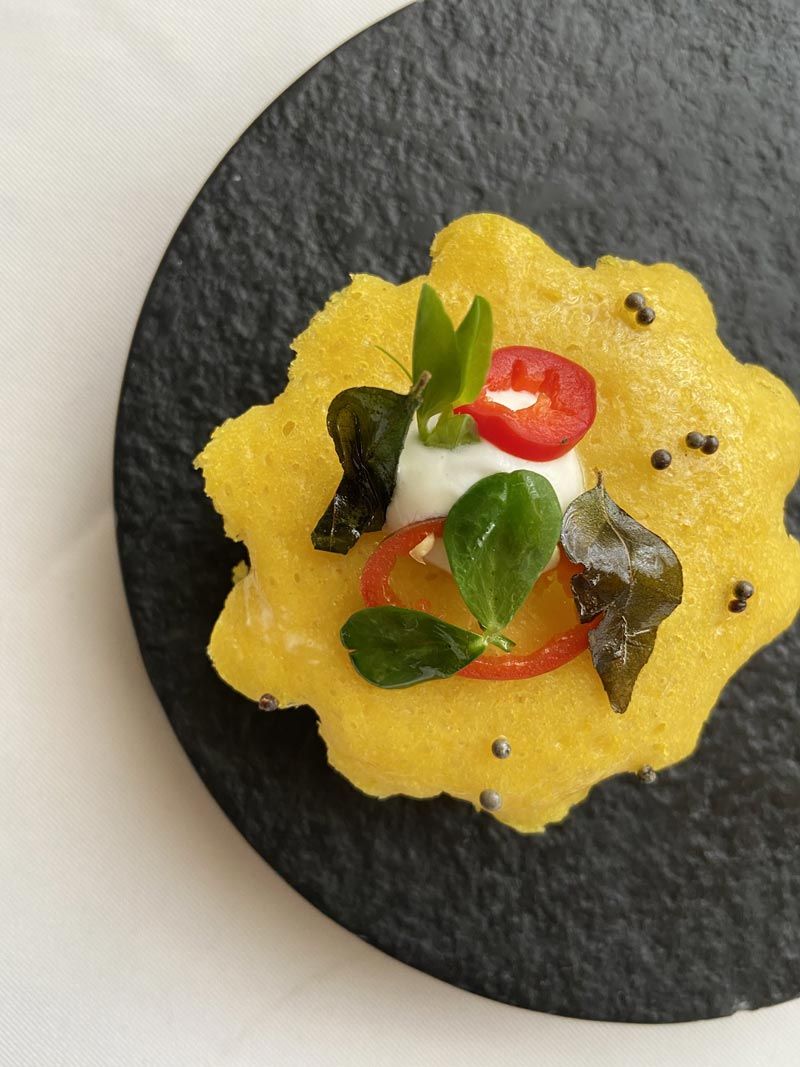 In an interesting twist to saag, there's Palak edamame with sago crisps. Edamame is a delicious departure from paneer or mushroom that make the most popular palak accomplice. As an ode to the summer season and one of the biggest food trends since 2020, chef Oberoi dishes out Kathal and Kumbh kebab. Kathal, he says, is one of his favorite ingredients and he has fond memories of his grandmother cooking it like bhuna mutton.
On a sweet note
The dessert comes in a glass jar—gulab jamun slices in Tiramisu left me wanting more gulab jamun though! The meal for two is good enough for a family of three, and for Rs 2800 (for two, non-veg) is value for money! Most of the packaging is recyclable, which is a big relief. Some of the moist foods come in a box made of "cornstarch". 
The Dinner Box will travel to other cities but Oberoi plans on creating a different menu for Mumbai. Our guess is that a few peculiar items from Delhi will appear there. Keep watching this space!  
You can order Hemant Oberoi's The Dinner Box until April 30. 
---
Photo: The Dinner Box and Priyamvada Kowshik