With dine-ins shut in Mumbai to control the second wave of COVID-19 cases, the delivery model is the only way many fine-dining restaurants will keep the cash register ringing. The Bombay Canteen, one of Mumbai's top fine-dine restaurants, has quickly pivoted its focus to an all-new delivery menu to soothe the soul in the wake of the new lockdown rules. So, go ahead, and bring your ol' and new favourites home to kick off the weekend party. 
The all-new Munchies Edit is a smorgasbord of 15 familiar and exciting flavours with a twist that is sure to take you on an exotic food trail. Bringing a mean pastrami sandwich right to your doorstep is one of the key highlights of the menu since you just can't travel to New York yet!  But the menu puts India on a platter by bringing the flavours of Kerala in the chicken kottu paratha or the intoxicating aroma of Goa in their chorizo and bacon tawa pulao, and even the all-time favourite chaat flavours in aloo tikki chaat and the must-try Chef Floyd's chicken tikka. These dishes have been inspired by the TBC team's travels; dishes they find comfort in and would love to eat. "Our aim was to create a menu that did three things: comforted one's soul, evoked a sense of nostalgia and brought happiness to the person eating it," informs Chef Hussain Shahzad, executive chef, Hunger Inc.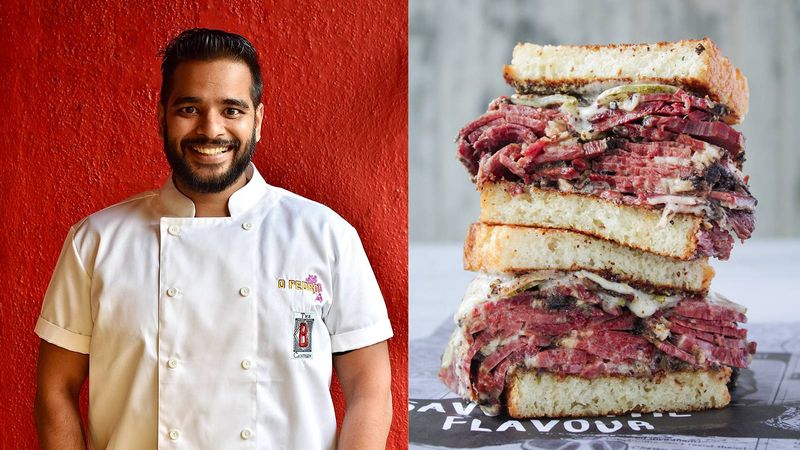 Don't miss the quarter pounder roast buff sandwich, says the chef. It's his take on the pastrami sandwich he used to eat at the iconic Katz Deli in New York during his days as a line cook in 2014-15. Succulent slices of 12-hour cooked buff brisket that's crusted with an Anglo-Indian inspired spice rub and smoked over coconut husk; layered with kasundi is stacked between two slices of house-made soft brioche. This sandwich was five years in the making reveals Chef Shahzad. "For years, I debated how we can make a rendition of it [Katz's pastrami sandwich] that could serve India. Every time we tried it, there was something or the other that didn't work out for us. But this lockdown, gave us enough time to test and try, and the result is this sandwich on the Munchies Edit," he shares. 
Each dish on TBC's new delivery menu is prepared using indigenous ingredients, in keeping with the restaurant's philosophy. The meat and seafood is sourced locally, while the sauces and chutneys like thecha, garlic chutney, kasundi and Naga hot honey aioli are made in-house. "We are using ingredients that are native to us, but giving them a fun and quirky twist, so make them less intimidating," chef Shahzad points out. 
The Bombay Canteen is open for deliveries amid the extended lockdown period. You can order via their official website or food delivery platforms, Swiggy and Zomato. 
---
Photo: The Bombay Canteen