'MasterChef Australia' fast tracked the career of Adelaide-based chef Sashi Cheliah and he has no qualms in accepting that. What a professional chef would have achieved in 10 or 15 years, the Season 10 winner was able to do it in a year. After wowing the judges with his unique amalgamation of Indian, Malay and Chinese flavours, the first Indian-origin contestant to win the 'MasterChef Australia' title, opened his own restaurant Gaja by Sashi in Melbourne, which has now shifted to Adelaide. This year, he also returned on 'Masterchef Australia: Fans vs Favourites', however, his early eviction from the show was something nobody saw coming. But did the burnt fish curry that led to his eviction, deter him? Not at all.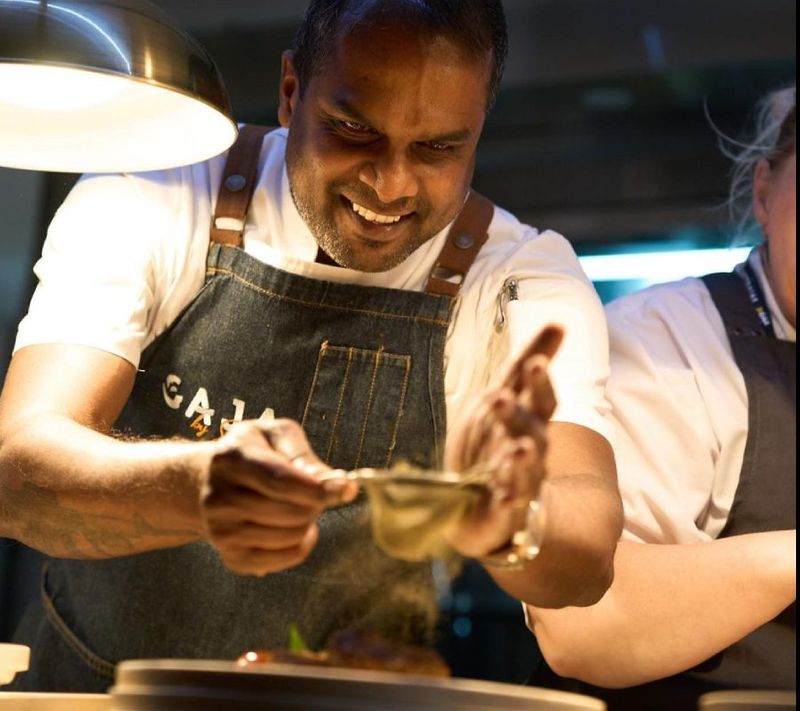 With 'World On A Plate', Sashi is touring the world, taking his experiential pop-ups and events to indulge fans and foodies in a six-course degustation menu inspired by Malaysian and Singaporean flavours. Recently, the chef was at The Westin Mumbai Powai Lake, where he curated an intimate dining experience which included his signature dishes such as sambal salmon croquettes, gaja fried chicken and smoked cauliflower, to name a few. In an exclusive chat with Zee Zest, the chef talked about the Chennai restaurant Pandan Club, his first venture outside Australia, and the trademark recipes that are on the menu.
Excerpts of the interview:
1. Why did you choose Chennai for your first restaurant in India?
Two simple reasons, one is that my business partners are mostly from Chennai and I need somebody to take care of the restaurant in my absence so obviously Chennai was my first preference since it was a pilot project. Secondly, Chennai has a very good authentic food scene when it comes to dosas, idlis and biryani, it's amazing. But when it comes to a little bit more of experimental cuisine, I felt Chennai needs more and I would love to introduce something new to Chennai.
2. Take us through some of the dishes that are going to be on the menu.
For Pandan Club, I am not doing any Indian flavours, I am focusing purely on one cuisine - Peranakan cuisine. The menu will see a mix of Malaysian and Chinese dishes. We have pastry cups with savoury ingredients, Umami fried chicken, black curries, they are unconventional, fancy, and interesting dishes that India has not seen, and I am very happy to introduce that first to India. It also includes some of the dishes from my MasterChef stint, such as roti jala, which is a Peranakan dish, ilaichi duck, that I have changed to ilaichi chicken and is a part of the ala carte menu. Duck will be a part of the special menu. 
3. When it comes to Indian cuisines, it's mostly the butter chicken, dal and chicken tikka masala that gets a mention, while there's so much more to Indian food. Your thoughts?
It's sad to see being streamlined just for butter chicken and lentils. Our cuisine is so much wider and bigger. The moment you come to India, every 50 km you travel, you see a different cuisine, different ingredients, different cooking methods. There's so much to learn from every cuisine. Our cuisine is designed in a way of medicine, food is medicine for us Indians, but no one sees us in that manner. Everyone sees butter chicken or tikka masala, but there's so much more. However, in the recent five years or so, there's been a lot of exposure, people have started noticing Indian cuisine, a lot of young chefs have gone global and introduced our cuisine to the world.
4. Was it a conscious decision to represent Indian food in 'MasterChef'?
It wasn't a conscious decision. To be safe, back then I only knew how to cook those dishes. I was comfortable cooking Indian and Malaysian food because I grew up eating and enjoying those dishes. And I wanted the judges to enjoy what I enjoyed as a kid. But moving forward in the competition I learned other cuisine, I learned desserts. And now I am being very experimental with pretty much all cuisines.
5. Recently, basic and everyday Indian food such as paratha, aloo bonda, and panta bhaat made it to fine dine levels at 'MasterChef'. What's your take on progressive Indian cuisine?
There's a misconception that fine-dining means everything needs to be refined. Nowadays, flavour is the most important thing. People have started appreciating that. Even an aloo paratha can be plated and given in a very refined manner. People are going to enjoy the flavour regardless of how it looks on the plate, everyone enjoys a good flavourful food.
6. Your favourite restaurants in Australia?
In Sydney, chef Peter Gilmore's restaurant Quay is one of my most favourite restaurants. It's a very unique place in terms of how the chef grows his own vegetables and proteins and keeps changing the menu. In Melbourne, I like Chin Chin, it's known for its southeast Asian food. And lastly, one of my favourite places in Adelaide is my own restaurant, Gaja. We are doing very interesting flavours which are a mix of Indian and Malaysian flavours. Nothing on the plate is based on one cuisine so you will get to experience a gamut of flavours. 
7. Your favourite ingredient?
My favourite ingredient in both savoury and desserts, is lemongrass. It's such a versatile ingredient full of aroma and flavours that works very well with savoury and desserts.
8. Lastly, are you prepared for the competition on home turf?
India is an interesting market so I am preparing myself for all the obstacles and challenges that will be thrown at us. Definitely, there's massive expectation since I am coming from MasterChef, running a restaurant in Australia and now coming to India. It's not that I am going to build a brand. There's a brand, so people will come in with a lot of expectations. Keeping up with the expectations is going to be the biggest challenge but I am up for it. 
---
Photo: Instagram/Sashi Cheliah