Being Bengali, my earliest exposure to sweets was the payesh, a traditional version of the kheer, that my mother made diligently every year on birthdays. While chocolates and cakes were more my thing, I took to desi sweets much later in life.
I grew up in a Mumbai neighbourhood called Chembur, home to a bunch of popular Sindhi eateries, owing to the fact that post-Independence, camps were set up here to settle refugees from Sind in Pakistan. The festive season always promised a visit to our favourite shop, Jhama Sweets. "The store was started by my family in 1947 after they settled here, post-partition. We made four items, including the sev barfi and pedas. Today, we make over 100 items including chaat, farsan and sweets," the owner Govind Jhamamal Lulla told me. Their melt-in-mouth gulab jamuns and the popular Sindhi delicacy singhar jhi mithai (sev barfi, made from unsweetened, sev which are deep-fried crunchy strands of gram flour, mawa, milk, sugar and nuts) are beyond comparison. There was also the ukadiche modak, a Maharashtrian-style steamed dumpling topped with ghee, that we bought from Modakam near the Siddhivinayak temple in Prabhadevi, during Ganeshotsav. Mithai for me has always been about festivity, sweet memories and nostalgia.
Over the years while traditional mithai shops like Jhama, Haldiram's, Jaipur's LMB (Laxmi Mishtan Bhandar) Kolkata-based Sweet Bengal and Chennai's Shree Krishna Sweets have opened branches across the country, a bunch of new brands making contemporary versions of the desi mithai have sprung up in the last couple of years. Some of the innovations are unique and decadent. Are these shops a reflection of the dynamic palette of today's patrons and do they reflect the changing trends of gifting during our festive season? While there are no simple answers, we attempted to find out.
The contemporary makeover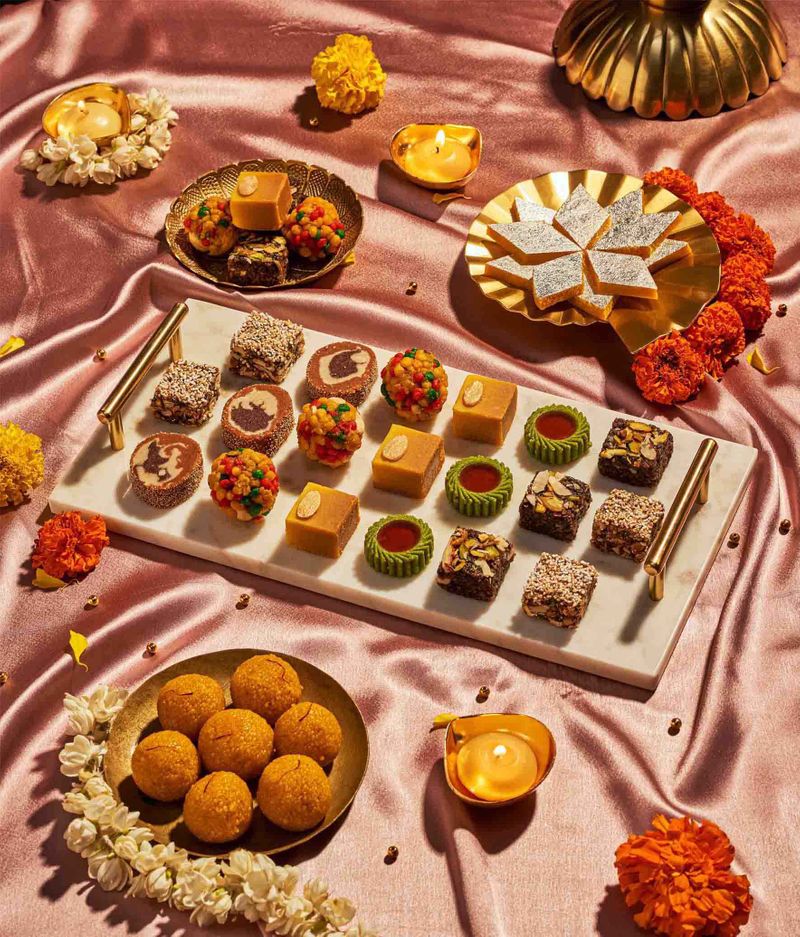 One of the most popular brands in the contemporary sweets segment is the Bombay Sweet Shop, which launched in March 2020. Buying a jar of French mustard and a box of Turkish delights bought at duty-free while in transit at Paris and Istanbul airports respectively, sparked the idea of Bombay Sweet Shop. "Why are we not celebrating Indian sweets and thinking of carrying mithai for a loved one as a gift? In the last 10 years, cupcakes and macarons have become the mainstay of Indian festival days, over the traditional Indian mithai like kaju katli,"  says Sameer Seth, founder and CEO at Hunger Inc Hospitality that owns Bombay Sweet Shop, The Bombay Canteen and O Pedro. Pune-based Bharat Bhavan started their contemporary mithai brand with the same thought. "The contemporary take on desi mithai was our way of celebrating the local and regional favourites and bringing them at par with the western counterparts - chocolates. At the end of the day all that our mithai lacked was a bit of glamour," says Sangram Shirole, partner at Bharat Bhavan.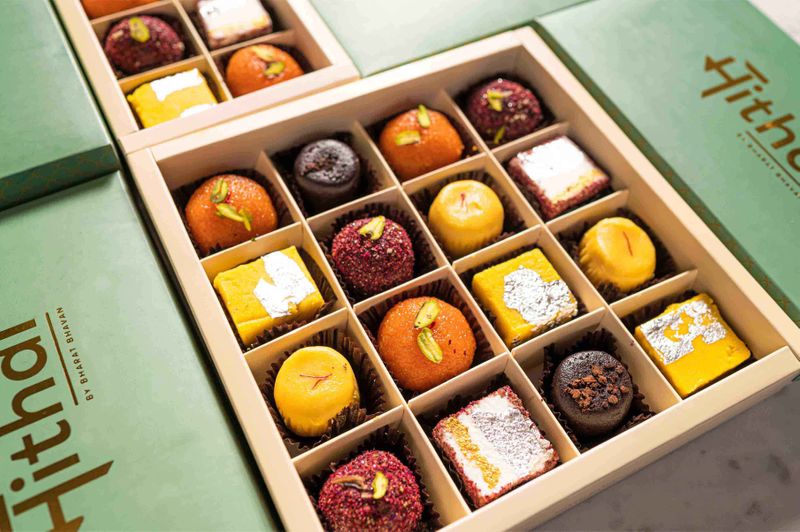 Shweta Agarwal, founder of Genda Phool, had a different reason. It was her disappointment in the available options that led her to start her own brand of sweets. "Though we launched only in July 2022, it all started in October 2020, when I was due to get married. We were looking at options for our wedding favours and my parents were keen on doing mithai. I couldn't find a single option that I would happily add to our wedding -- either the flavour, personality, or packaging was amiss. That's how Genda Phool was born. I strongly feel that mithai demands finesse and importance as most other sweets inspired by the West."
On a nostalgic note
The contemporary brands however still feel the need to work with nostalgia and familiarity with the flavours of traditional sweets. While Bombay Sweet Shop does a Ferrero Rocker besan laddoo, a take on the original laddu rolled in hazelnuts and 'Kaapi Paak' - Mysore pak flavoured with coffee, they recently introduced the Indie Bar, made with layers of coconut fluff (think coconut halwa), pepper caramel, patissa (a crisp and flaky mithai similar to soan papdi) wrapped in dark chocolate, they also make a Parle G Fudge, a 55 per cent dark chocolate ganache with chunks of Parle-G biscuit and almond-hazelnut praline.
Genda Phool does a chai rusk, an ode to the Indian tea-time favourite. Pishori pistachios are a Marwari delight. "We also do a gooseberry square, made with pistachios and gooseberries. As a kid, my maternal grandmother (Nani) always found innovative ways to make us consume gooseberry for its nutritious properties. She would make salty mouth freshener, pickle, chutney, and even sabzi with it. That stayed with me and inspired me to create gooseberry square," says Agarwal. Bharat Bhavan does a Mishri Jamun - a gulab jamun at its heart surrounded by air-dried rose petals and rock sugar.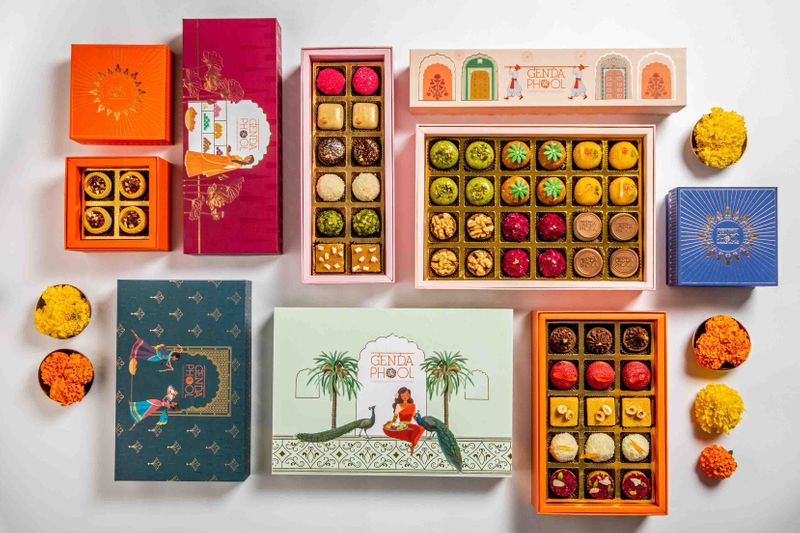 Shirole believes that it is their quality of ingredients, and the fact that they don't mass produce, that works in their favour. "We make small batches using the best ingredients available. When you make large quantities, to keep the prices in check, sweet makers often tend to use substitute ingredients. If you use milk powder instead of milk, for instance, the way the sweet breaks, its texture and mouth feel all change. The same goes for when you substitute pistachios for another variety of nuts."
Popular foodie Kunal Vijaykar believes that the high pricing of contemporary sweets ensures a market for traditional sweet shops too. "The contemporary sweets are in a slightly elite bracket with their pricing. From the price point of view, there will always be a market for the traditional halwai. The advantage that they have over the traditional halwai though is the hygiene factor, the finish and the presentation. Some of these brands make healthier versions of the mithai too."
It is today's conscious patrons that brands like his cater to, Seth tells us. "Our attempt at the Bombay Sweet Shop is not to compete with traditional mithai. Our efforts are towards making mithai relevant for the newer generation. Instead of choosing Indian sweets that are excessively greasy, syrupy, artificially flavoured and coloured confections, patrons with evolved palates want mithai that is contemporary and conscientiously made for a daily indulgence."
Healthy twist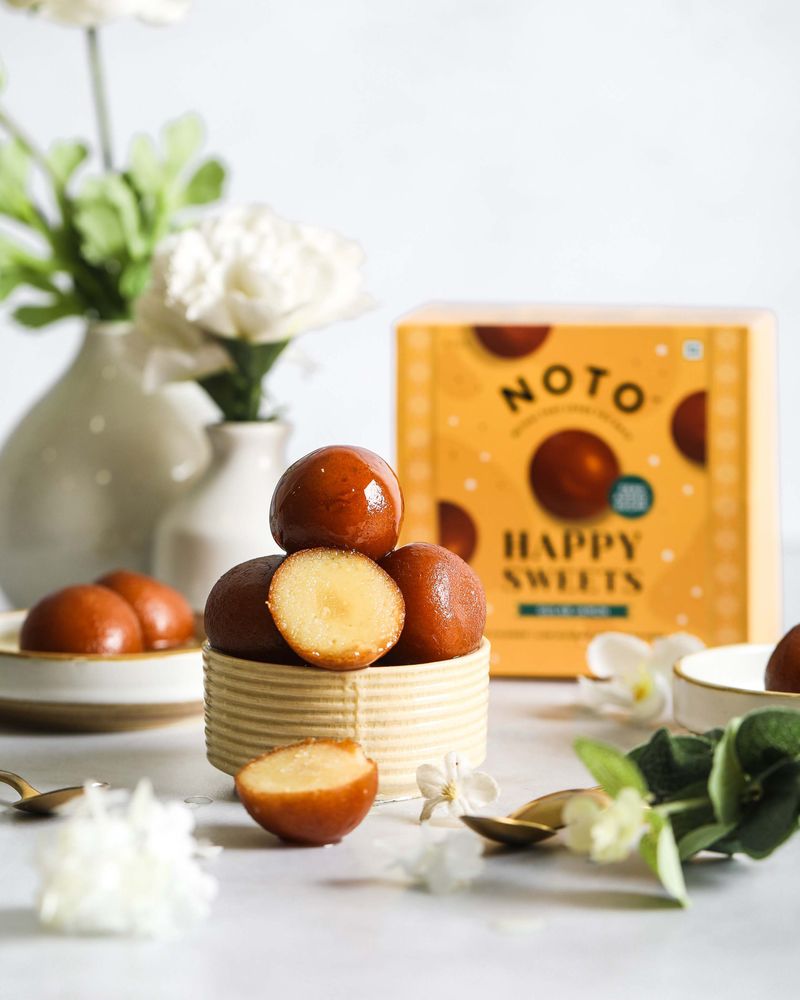 Founded by Varun Sheth and Ashni Shah in 2019, NOTO has an entire category of healthy mithai with zero added sugar. "During a friend's home party, we were served Indian mithai which sparked our interest in this research early this year. A guest at the party, who was diabetic, could not eat the mithai as he was restricted to the low sugar content," says Shah. "Unlike other traditional mithai, ours have no added sugar, which is one of our USPs. They are low in calories, made with high-quality ingredients, and do not leave a bitter aftertaste," she says.
Staying relevant
Traditional sweet houses have been keeping themselves abreast of the evolving tastes of their patrons and the increasing competition in the market too. "Everyone in the mithai business in India is actually in the gifting business. The mithai market has evolved over the years," says Manish Bajaj who is a fourth generation owner of Ghasitaram Sweets, established in 1916. "My family had a sweet shop in Karachi and we relocated to Mumbai after the partition of India. While our grandfather knew how to make sweets and taught us too, over the years members of the family went to catering colleges and also took an interest in baking and confectionery. So, we make contemporary sweets too. We also make healthy, sugar-free sweets with dry fruits like anjeer and khajur. In India you'll not offer chocolates or contemporary sweets in temples, right?" says Bajaj.
The verdict 
Vijayakar believes that there is a place for both traditional and contemporary sweets in the Indian market. "While innovation is great, the experimenting in contemporary sweets is based on traditional recipes. I love contemporary sweets, especially the Parle G Fudge by Bombay Sweet Shop, but a good kalakand or a kaju katli from a good mithai shop has its own place. I love sweets from Adarsh Mithai at Gwalior Tank and Brijwasi. Apart from traditional halwai, there are also shops like Chedda and Gangar Stores that sell mithai, these days. "
Well, if you ask us, the more the merrier. Bring on the festivities.
---
Photo: Bombay Sweet Shop