With the Ganeshotsav 2021 celebrations in full swing, the devout in Maharashtra and beyond, are busy gorging on Lord Ganesha's favourite treat – ukadiche modak (in Marathi) aka modakam or kudumu (in Telugu), kadubu (in Kannada) and kozhukattai (in Tamil) and kozhokatta (in Malayalam). But did you know how or when this flavour bomb of a sweet, of all other sweets, became the elephant-headed god's absolute favourite? Well, we've found many legends associated. Grab a few modaks and gear up to read a few of the most popular ones that trace Lord Ganesha's love at first sight with modaks.
Later in the article, you also get to learn how to make ukadiche modak at home with Taj Holiday Village Resort & Spa, Goa's chef Awanish Goswami (sous chef) and chef Ram Kripal (halwai chef). 
Legend has it…
According to the Padma Purana, once demi-gods visited Lord Shiva and Goddess Parvati, Lord Ganesha's parents, and offered them a divine modak. This sweet came with a condition though – only the wisest and most knowledgeable person would get to eat the modak. While goddess Parvati wanted to divide it between her two sons, Kartikeya and Ganesha, the sibling duo was unwilling to share. That's when their parents put Kartikeya and Ganesha to a test - whoever finished first would get to relish the modak. The task was to take three rounds of the world. Soon, Kartikeya set off on the mission with his peacock. Ganesha, however, stayed back and simply circled his parents. He explained that they meant the world to him – a response that won Ganesha the modak. From that day on, the modak and Ganesha have been inseparable.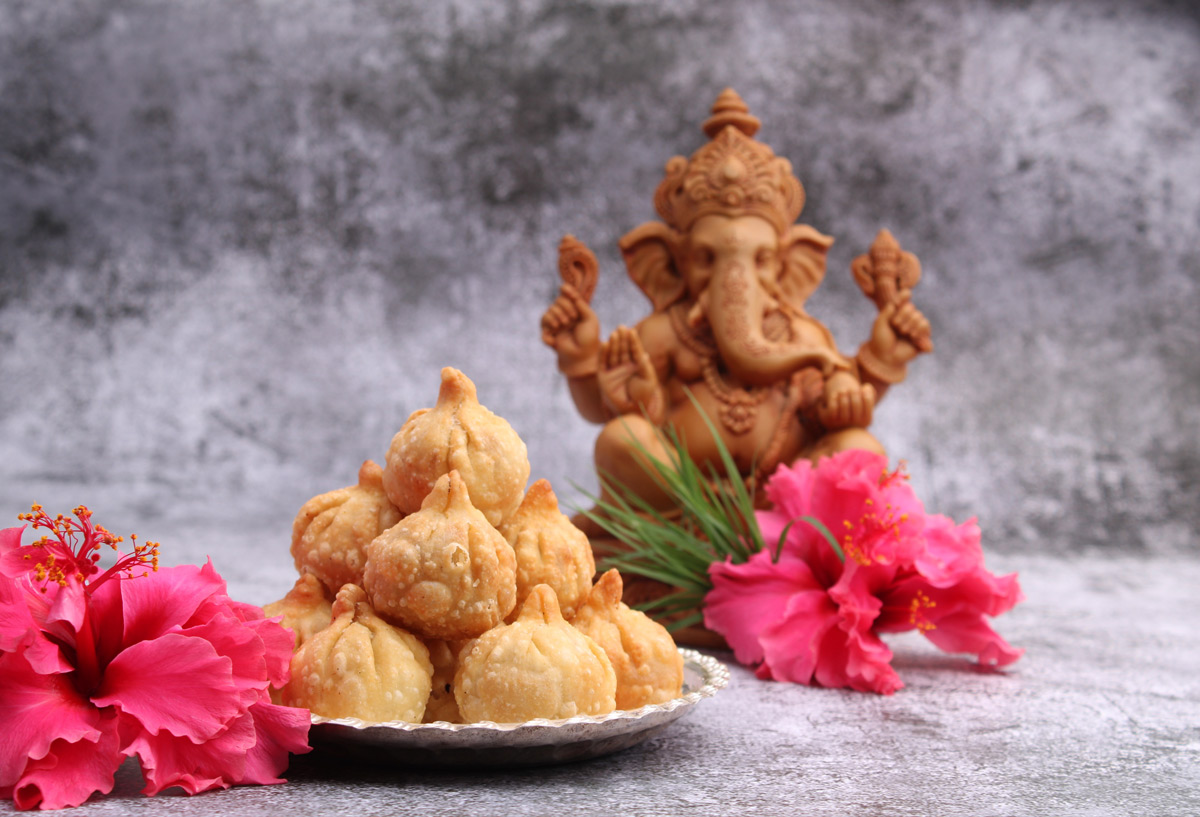 The next legend is associated with a meal invite at sage Atri's house. When Ganesha and his parents reached the sage's house, his wife Anusuya, elated upon the arrival of Bal Ganesha (the younger version of the Lord), told Lord Shiva she will serve him only after Ganesha is done eating. After several courses and multiple helpings of each dish, Anusuya noticed that nothing was able to end Ganesha's hunger. That's when Lord Shiva suggested Anusuya serve him a modak. The minute he relished the modak, Ganesha burped not once but 21 times and indicated that he was finally full. 
It is said after this incident began the ritual of offering 21 modaks to Ganesha on his birthday, which is Ganesh Chaturthi. Today, the traditional ukadiche modaks are prepared on not only Ganesh Chaturthi, but also on other special days dedicated to Lord Ganesha in the Hindu calendar such as Angariki Chaturthi and Sankasti. This modak is rice flour dough stuffed with a mixture of jaggery, coconut and, occasionally, poppy seeds; shaped like an onion bulb using fingers and steamed or fried. It is served hot with a dollop (or more) of desi ghee, sometimes, freshly made for modaks.
One modak, many variations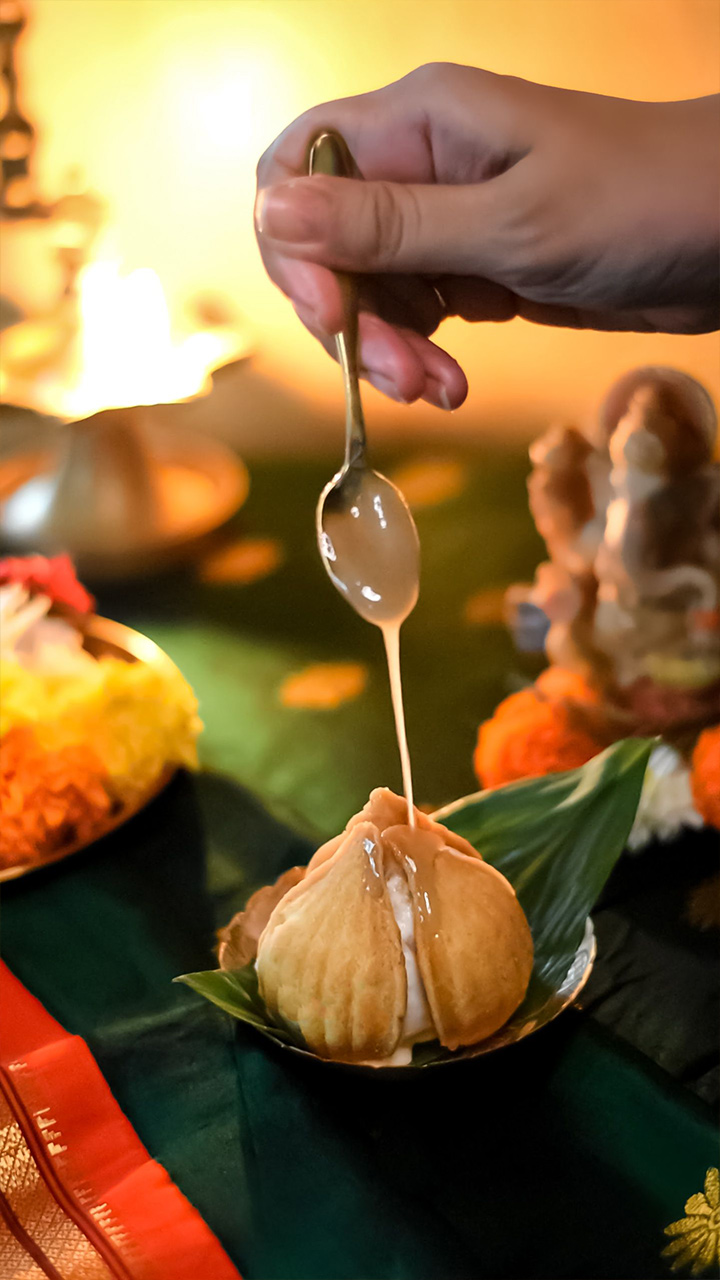 Over the years, experimental halwais and contemporary cooks have introduced many versions of modak– from mawa to coconut, barfi, chocolate and even marzipan. Recently, Trayog, an ice cream brand from Mumbai, launched a cookie and ice cream version of ukadiche modak, which had modak ice cream encased in a modak petal cookie and finished off with a delicious coconut-jaggery sauce. Meanwhile, Ether Atelier launched two cakes inspired by the steamed rice modak for Ganeshotsav 2021.
How to make ukadiche modak at home
Preparing the perfectly shaped, delicious ukadiche modak is a labour of love and art. You can opt for a ready-made mould to ease the process a little, but traditionalists may roll their eyes at it.
If all this modak talk has got you craving for some, here's the recipe to an authentic ukadiche modak.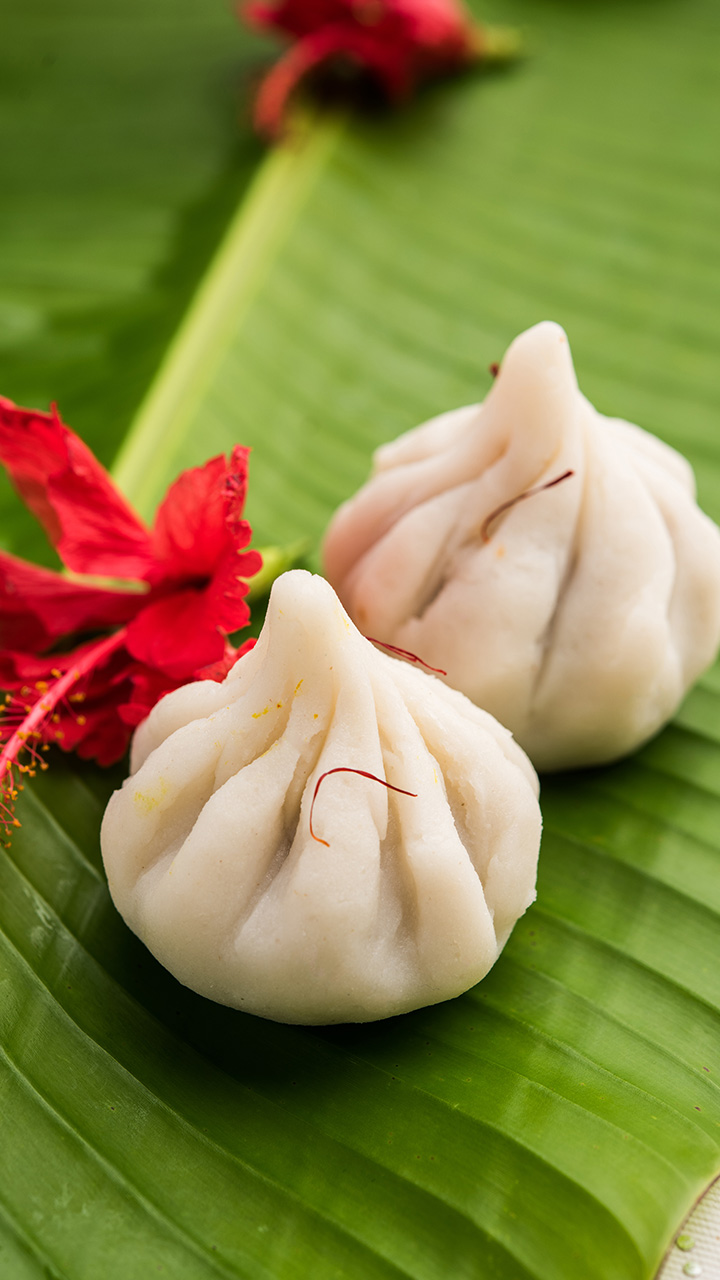 Ingredients: 
For the stuffing
200 gm coconut, freshly grated

100 gm jaggery

1 tbsp poppy seeds

1 tbsp broken cashew nuts

1 tbsp pistachio, chopped

1 tbsp raisins

1 tsp cardamom powder
For the cover
200 gm rice flour

Salt to taste

200 ml water

1 tbsp ghee
Method: 
Keep a pan on medium heat and cook grated coconut and jaggery for five to eight minutes or until it the jaggery melts and mixed with coconut. 

Add poppy seeds, dry fruits and cardamom powder and mix well. 

Cook for another minute and turn off the flame.

Transfer the stuffing onto a plate and let it cool. 

In another pan, bring water to a boil and add ghee and salt. 

Add rice flour and stir continuously to avoid lumps. 

Allow it to cool and then knead it into a soft dough by applying some water on your palms. 

Now, make small balls of the rice flour dough and mould it in the shape of a modak using your fingers (watch video for step-by-step guide), add the filling and close the top end. 

Or else, you can take a modak mould and grease it with ghee. Now, keep a small ball of dough in the mould and spread evenly inside it. 

Add the stuffing and lightly press it to seal. Now, seal the open bottom with some more dough. 

Gently open the mould and place the modak on a plate. Mould the entire batch and then get ready to steam. 

Add water to a steamer and let the water come to a boil. 

Brush all the modaks using water or ghee and grease the perforated plates of the steamer with ghee too. 

Place the modaks on the steamer plates. Ensure you don't keep them too close to each other or they'll stick. 

Steam for 12-15 minutes on medium heat and allow to cool. 

Drizzle some ghee or saffron-infused milk over the ukadiche modak, and your sweet treat is ready to eat. 
Photo: Creative by Jaydev Vaghela, Shutterstock and Trayog