With Ganesh Chaturthi celebrations and the following 10-day long festivities starting soon, sweet cravings are going to be on an all-time high. After putting together the ultimate modak trail – traditional varieties – for you, we're here with a list of brands and sweet shops serving innovative modak flavours and versions, for those who aren't into the classic mawa and ukadiche modak. Expect modak made with ice cream, chocolate, fruits, dry fruits, and much more. 
1. Trayog 
An ice cream brand known to take its customers on a culinary tour of the subcontinent, one scoop at a time, Trayog was started in 2016 by entrepreneur duo Parag Chaphekar and Sanmish Marathe. The puran poli ice cream that Aaswad in Dadar is so famous for, is a creation of Trayog. After the success of the puran poli ice cream, they introduced a variety of ice creams inspired by Indian mithai and foods – from aale paak (candied ginger) to narali bhaat (sweet coconut rice). For Ganpati Festival 2021, they have introduced a unique take on the popular ukadiche modak – modak ice cream encased in a modak petal cookie and finished off with a delicious coconut-jaggery sauce. This creative modak comes in a deconstructed form and one needs to assemble it at home. 
How to order: Call on 9324590822 or message on Instagram/Trayog_CelebrateTradition
2. Yogisattva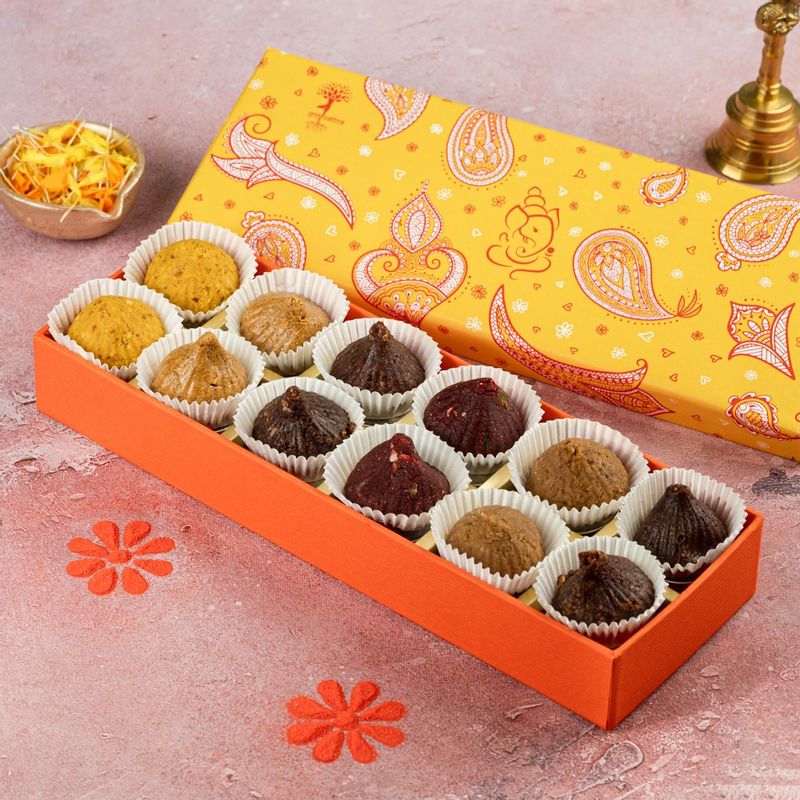 The brainchild of plant-based chef Raveena Taurani, Yogisattva has introduced a limited-edition vegan, gluten-free and refined sugar-free modak menu for Ganpati festivities. The menu comprises vegan modak flavours such as coconut mango, rose besan, chocolate walnut, chocolate orange and coconut modak. Sweet treat lovers can order their box of assorted modaks to try them all. 
How to order: Shop.yogisattva.com or call on 9867455009
3. Ornamental Mithai, Mulund
If you're someone who isn't impressed by the usual kesar malai or kaju modak, then make way for Mumbai-based luxury mithai brand Ornamental Mithai, which has an array of unusual flavours on offer. From candied orange to coconut cranberry, honey nut crunch, and preserved rose and almonds (vegan), there are a bunch of exciting and creative flavours to choose from. The brand also offers sugar-free options like fig and amaranth modak and date and nut modak. 
How to order: Message on Instagram/OrnamentalMithai
4. Entisi Chocolatier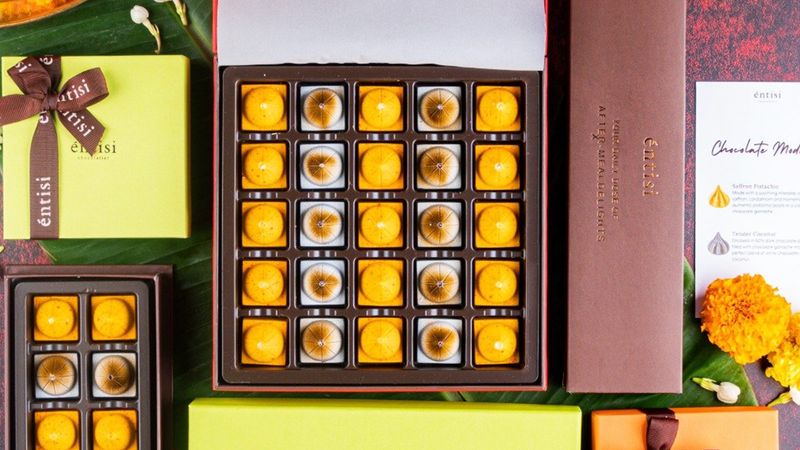 Santacruz-based Entisi Chocolatier, which has been recognised among the world's 150 best chocolate destinations by the Lonely Planet Chocolate Guide, has been preparing two delish modak types for Ganesh Chaturthi for the past couple of years - saffron pistachio and tender coconut chocolate modaks. These modaks come in boxes of seven, 12 and 25. 
How to order: entisi.com 
5. JW Marriott Mumbai Sahar, Andheri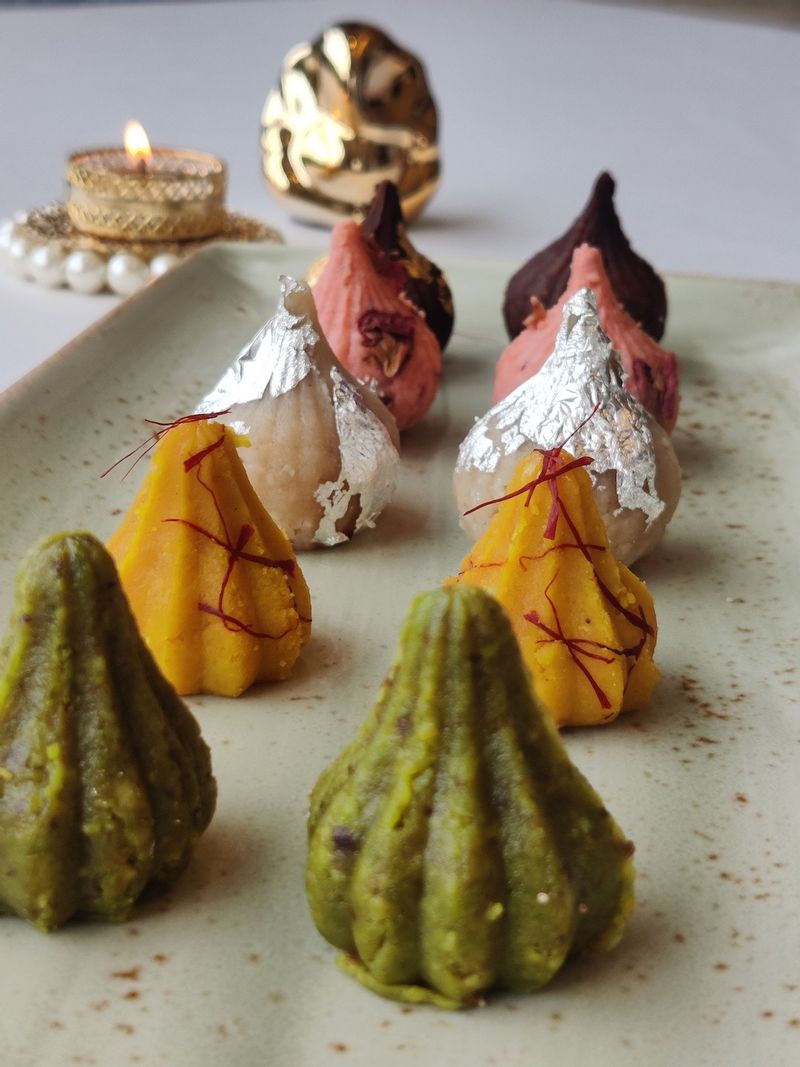 Savour artisanal modaks this Ganesh Chaturthi with JW Marriott Mumbai Sahar. Chef Santosh Rawat and his team will be curating boxes of handcrafted modaks that promise loads of flavours and nostalgia. Kesar mawa, rose kalakand, dark chocolate, dry fruit anjeer, roasted almond and sliced pistachio are the six enticing flavours of modaks available to make your Ganpati celebrations extra special. 
How to order: Marriott Bonvoy on Wheels  
6. Bombay Sweet Shop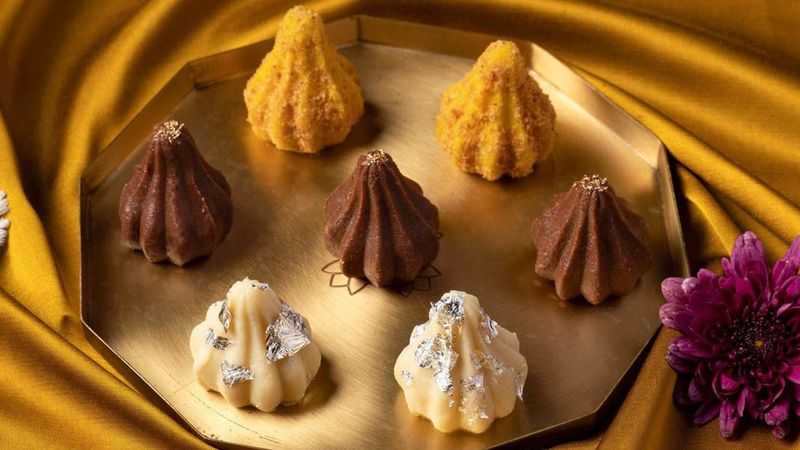 Bombay Sweet Shop's Ganpati Collection for Ganesh Chaturthi 2021 is all about nostalgia-inducing treats. It is a limited edition menu with modaks that can be best described as flavour bombs. Think kaju pineapple modak with a spiced jam, a gooey chocolate fudge modak with silky dark chocolate ganache, and a puran poli modak.
How to order: bombaysweetshop.com
7. Ether Atelier Chocolat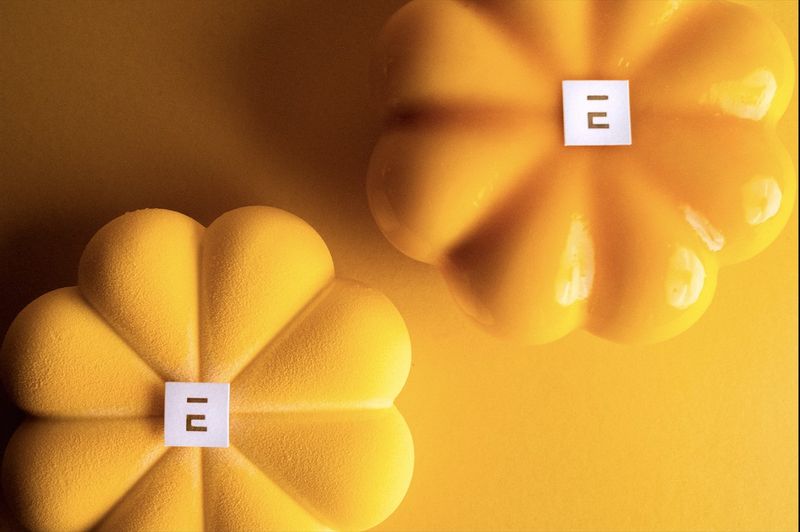 Not exactly modaks, but cakes inspired by a rice modak is what Ether Atelier Chocolat is presenting to make our Ganesh Chaturthi 2021 extra special. On offer are two cakes: first, the Moriya Coco, which is a delectable rice pudding with fresh coconut and cashew, and the second one is Moriya Mango, a cake that has rice pudding with mango and saffron. These festive special cakes are available until September 20, 2021.
How to order: www.etherchocolate.com 
8. The St. Regis Mumbai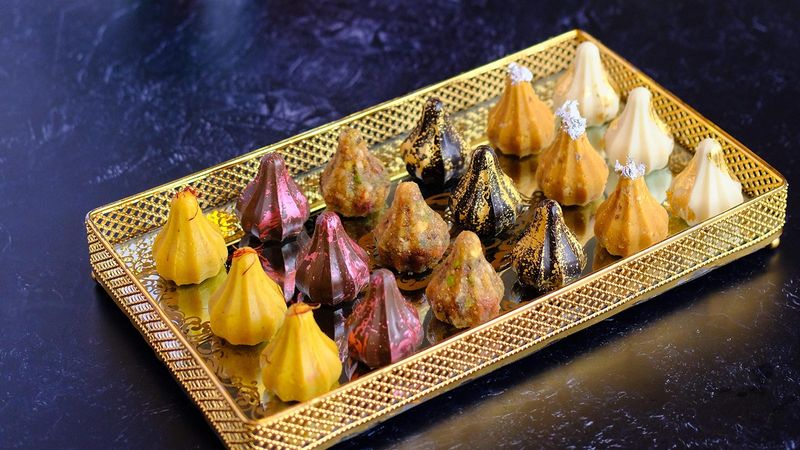 Whether you love chocolate-based modaks, Indian-inspired ones, or the classics, The St. Regis Mumbai has got you covered with its range of handcrafted modaks. On offer are Iranian pistachio with 34 per cent ghana milk chocolate, Turkish coffee with 64 per cent cacao, Madagascar vanilla modak with ras al hanout and 28 per cent white chocolate, ukadiche modak, slow roasted nuts and organic jaggery modak with 24 karat edible gold, and a few others.
How to order: Message on WhatsApp or call 8657522956
---
Photo: Banner - Bombay Sweet Shop | Inside images - Featured Brands