The GSB Seva Mandal in Mumbai's Sion celebrates the festival of Ganesh Chaturthi for five days every year and attracts devotees not just from the city but from across the country and outside. Reported to be one of the wealthiest mandals in the city, the Ganpati idol of the GSB Seva Mandal is decorated with gold and silver ornaments.
In 2018, the mandal marked its 64th year of celebrating Ganesh Chaturthi and drew an insurance policy worth almost Rs 264.8 crore. Apart from its luxurious celebrations, the GSB Seva mandal is also popular for the community meals it serves to the visiting devotees. Living Foodz got an insider's view of the making of the traditional Konkani delicacies served by GSB Seva mandal.
The Ganpati pandal opens for darshan at 6 am. As the pooja for the day begins, the volunteers get busy with the preparations for the meals to be served which are locally called samradhana or annapurna. "The mandal has the capacity to seat around 1400 people and about 200 volunteers serve the meals," says Vishnuu R Kamat, a committee member of GSB Seva Mandal. An enclosed seating area is reserved for senior citizens and a VIP dining area for visiting dignitaries and politicians.
Inside the GSB Kitchen
The GSB Seva Mandal kitchen serves meals to about 15,000 to 18,000 people daily during the festival. Gurudatt Prabhu heads the team that works in the GSB Seva Mandal's kitchen. Prabhu took over the mantle from his father and has been a part of the GSB kitchen for 20 years. During Ganesh Chaturthi, the day starts as early as 3 am for the kitchen team whereas the planning begins three months in advance. This includes committee meetings and brainstorming sessions, the members get feedback from the market and senior members of the mandal.
The GSB Seva Mandal has permanent staff who come from different parts of the country and have been associated with the mandal for a long time. They come to Mumbai every year during Ganesh Chaturthi to do their bit as they believe that working for the mandal brings them satisfaction and goodwill. The head chef decides who will be a part of the kitchen staff.
The five-day menu is decided by the GSB Seva Mandal committee members. This menu is then handed over to the head chef who is responsible for the smooth functioning of the kitchen. The food prepared in the mandal's kitchen is satvik, that is, it is cooked without onion and garlic, like any Goud Saraswat Brahmin kitchen.
A Day at GSB Seva Mandal
The day begins with a breakfast platter that consists of idli, upma or poha served with sev, tukdi (savoury shankarpali) and a sweet dish like balushahi or Mysorepak. Although the dry snacks, sev and tukdi, are not perishable items, they are freshly prepared in the GSB kitchen to ensure that devotees are served the best food. Breakfast at GSB Seva Mandal is served from 7 am to noon.
This is followed by the Madhyana pooja (afternoon worship) during which there is a procession with percussionists playing traditional instruments. Lunch begins only after the head priest carries out the naivedya or prasad offering to Ganesha. After this, lunch for the devotees begins around 12.40 pm and goes on until 5 pm.
The volunteers serve the meal in the traditional way, on a banana leaf. It consists of mixed vaag (mixed vegetable curry), channa gassi, dali-toy (dal), saar also known as rasam, rice, pickle and different varieties of payasam that is traditionally prepared for a Prasad (offering) such as doodh paak, lapsi payasam, madgane (chana dal payasam prepared by Konkanis along coastal Karnataka and Goa) or a sweet khichdi. The meal served for dinner is the same as lunch and begins at 7 pm.
Prasad Bags
Every devotee receives prasad which contains appe (a sweet version of paniyarams), two apples, pomegranate, coconut and a box of dry fruits. The contents of this prasad bag remain the same every year, and almost 75,000 prasad bags are distributed to devotees.
One lakh seventy thousand coconuts are sourced from Coimbatore considering it is an integral part of not just the kitchen preparations, but also used for various rituals. Similarly, apples and pomegranate are sourced from Shimla and Maharashtra respectively.
Unique Offerings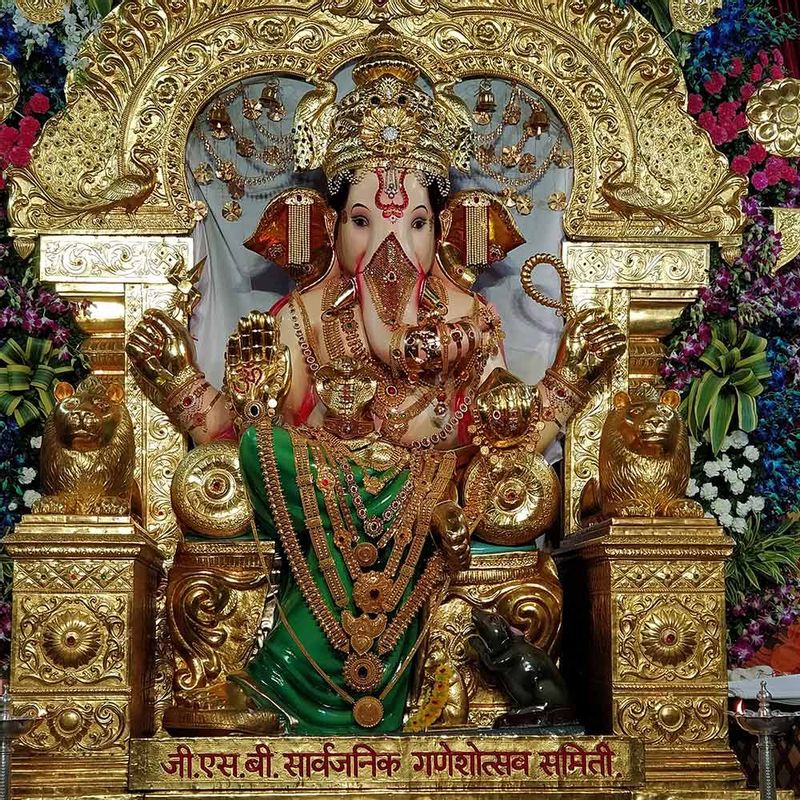 These are some of the unique offerings that are prepared in the GSB kitchen:
Patoli
Also known as turmeric leaf cakes, patoli is a dish prepared especially during festivals, in the Konkani kitchen. Parboiled rice paste is smeared on turmeric leaves, followed by a filling of grated coconut and jaggery. The leaf is then wrapped and steamed before serving.
Appe
This typically Saraswat Konkani dish, appe is a sweet variant of paniyarams, and served during Ganesh Chaturthi. It is made with a blend of wheat flour, jaggery, grated coconut and a hint of cardamom.
Panak
Panak is traditionally served in most temple festivals in south India. It is a drink made with a blend of water, jaggery, pepper, cardamom and ginger powder. Panak is a soothing drink and consumed hot or cold.
Panchakadayi
This is a Udupi-style sweet powder prepared for festivities and poojas. Popular Prasad during Chaturthi, Janmashtami or as a temple offering, Panchakdayi is relished by children. Its name comes from the five key ingredients used to make it – roasted chana dal, jaggery, coconut, ghee and cashew nuts.
Payasam
This preparation is essentially a kheer or porridge which is served in the GSB Seva Mandal on all five days. Different types of payasam are served and some of the popular varieties are doodh pak which is kheer made with basmati rice, madgane prapraed from boiled chana dal, jaggery and coconut milk, and lapsi payasam made from dalia or broken wheat.
---
Photo: Shutterstock