"Ekti katha shono, mone khotka na rekhe, tatka maachh jutlo naa to, shutki dyakho chekhe," goes an old Bengali chhawra (folk rhyme). It translates to "Listen to this, keep no qualms in your heart, should you not get fresh fish, try some dried fish instead". 
For ages, fish-eating communities the world over have been drying and curing fish to preserve excess catch as a stockpile for lean periods, when fresh fish is unavailable.  But dried fish, called shutki in Bengal, is not merely a substitute for fresh fish. For those in the know, dried fish is a vault of flavours—a sensory treat steeped in sentiments. While some cringe at the distinctive, strong rancid aroma of shutki, labelling it as foul and repugnant, there are also those who will wax eloquent about its umami-rich flavours and its Proustian effect.
Bengal's culinary affair with shutki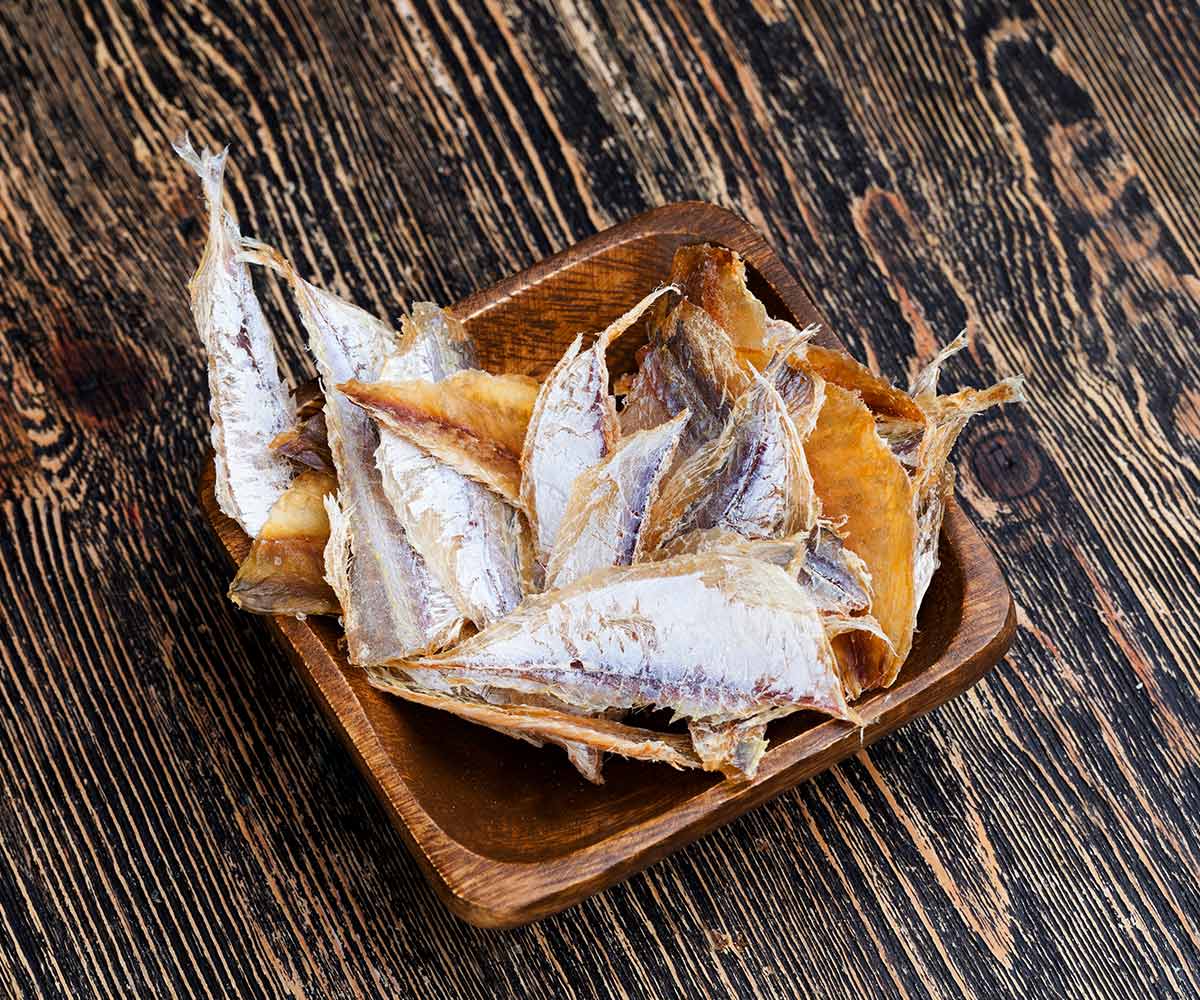 Rabindranath Tagore's nephew Dinendranath Tagore was a bona fide shutki connoisseur. Dinu Thakur, as he was affectionately called, would eat a bit of shutki—even after polishing off a bowl of sweet payesh (rice pudding)—to retain the flavour. However, dried fish—though eaten in parts of West Bengal, especially the coastal belt—is more popular among the people of the riverine East Bengal, present-day Bangladesh.
Food historian and development professional, Tanushree Bhowmik, who has roots in Sylhet (in Bangladesh today), says: "Dried fish is called by different names—hutki in most of Sylhet, futki and fukoin in Jagannathpur sub-region of Sylhet, hukoin in Beanibazar sub-region of Sylhet, and shukoin or shutki amongst the rest." In the Barak valley of Assam, which houses a majority Sylheti community, freshwater fish like pabda, puthi, tyangra, prawns/shrimps and even ilish (hilsa) is dried, Bhowmik tells us.
AlsoRead0
In fact, salt-cured and fermented hilsa or nona ilish has a cult of its own. It's made into fritters, whipped into spicy bhorta (mash), and even wrapped in pumpkin or bottle gourd leaves and fried to make nona ilish'er paturi. And then there's shidol or hidol, also called berma in Tripura. Shidol, primarily made with punti (Puntius Sophore), is prepared by cleaning and drying the finger-sized fish, stacking the fish tightly in earthen pots smeared with oil, which are then sealed and buried underground for four to six months for fermentation. In Tripura, many would tell you, no meal is really complete without shidol. 
In Sylhet, hidol and shutki are cooked in a myriad of ways—with seasonal vegetables such as brinjal, jackfruit seeds, and pumpkins etc; as a dry pickle; into a spicy gravy, the light soupy hira; into dry stir-fries with loads of chillies, onion and garlic; roasted with onions, garlic, and chilli and mashed into a bharta/chutney; or charred hidol pounded on a mortar-pestle and combined with raw chopped onions, garlic, green chillies and mustard oil to make a hidol pora, Bhowmik adds. Kumro patay shidol bora or fritters made of stuffed shidol in pumpkin leaves is a wild favourite.
A quintessential condiment in the North-East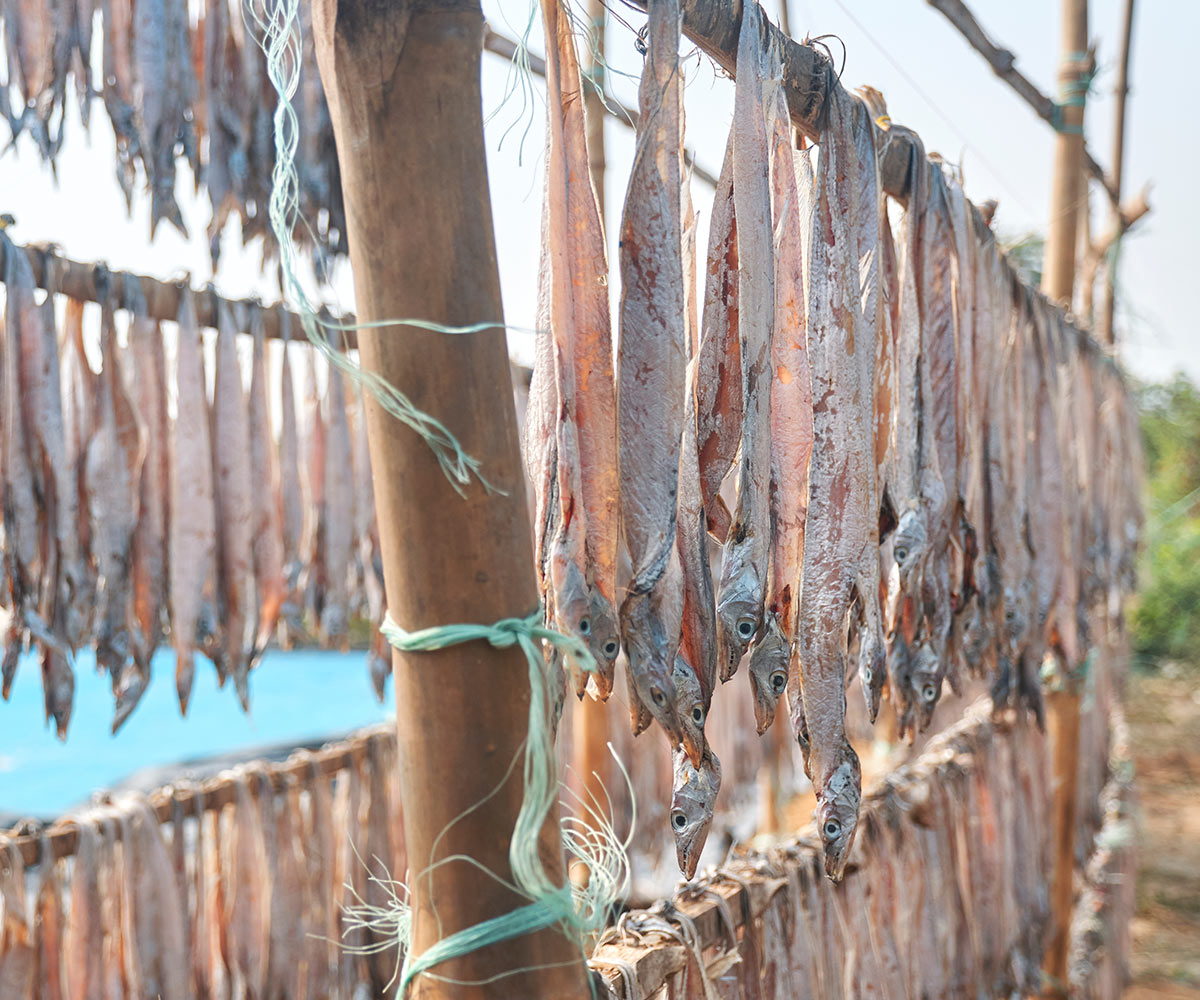 Not just in Assam or Tripura, all across the North East, dried fish is a big part of the daily diet and popular culture.  There are numerous kinds of traditionally processed fish used in cuisines across the region—smoked and dried fish like gnuchi, the sun-dried sidra, and sukuti, often turned into piquant pickles in Sikkim, and karati, bordia, and lashim that are sun-dried and salted fish specialities popular in Assam. "Dried, fermented fish called nakham is a pantry staple for the Garo community, and is added to soups, pounded into rustic chutneys, and cooked with local veggies, primarily as a flavouring agent," says Nambie Marak, who documents her community's food on her blog Eat Your Kappa. "Nakham, dry or wet, is always in stock," she adds.
The most iconic Garo dish prepared with dried fish is nakham bitchi. The dried fish is cooked with lots of chillies and alkaline solution or soda to make a light and flavourful soup, best savoured with piping hot rice. "Nakham is also cooked with brinjal to make baring nakham or even with bitter gourd or roselle," says Marak. "In Manipur, on the other hand, ngari or fermented dried fish is the prime ingredient in Eromba," says food blogger Pushpita Aheibam, who belongs to the Meitei community. Ngari is added to a muddle of potatoes and other vegetables jazzed up with chillies, onions, garlic, and fresh coriander. Besides, dried fish is used to flavour khangsoi, a light stew prepared with seasonal vegetables, or amp the oomph in singju which are Manipuri-style salads. 
AlsoRead1
Dried fish has been a part of the Manipuri diet and culture for ages. Keerti Chand Tensuba, in the book, Genesis of Indian Tribes, writes how the 13th-century Tai conqueror Samlungphaa demanded the Meitei people give up their habit of masticating bits of dried fish and chew paan instead. Interestingly, in the book The Muslims of Manipur, Salam Irene writes about the custom of Chakmangba—a period of forty days following the birth of a child when the mother of the newborn lives in confinement and typically dines on rice, dried fish and salt.  
Hentaak, on the other hand, is prepared by mixing sun-dried fish powder and petioles of aroids into a paste. Small balls made out of this paste are wrapped in banana leaves and stuffed into pots and allowed to ferment for at least seven to nine days if not longer. Hentaak is usually eaten as a condiment with hot rice or added to curries. It is often served to women in advanced stages of pregnancy or convalescing patients, for its curative and fortifying virtues.
More than just staple fare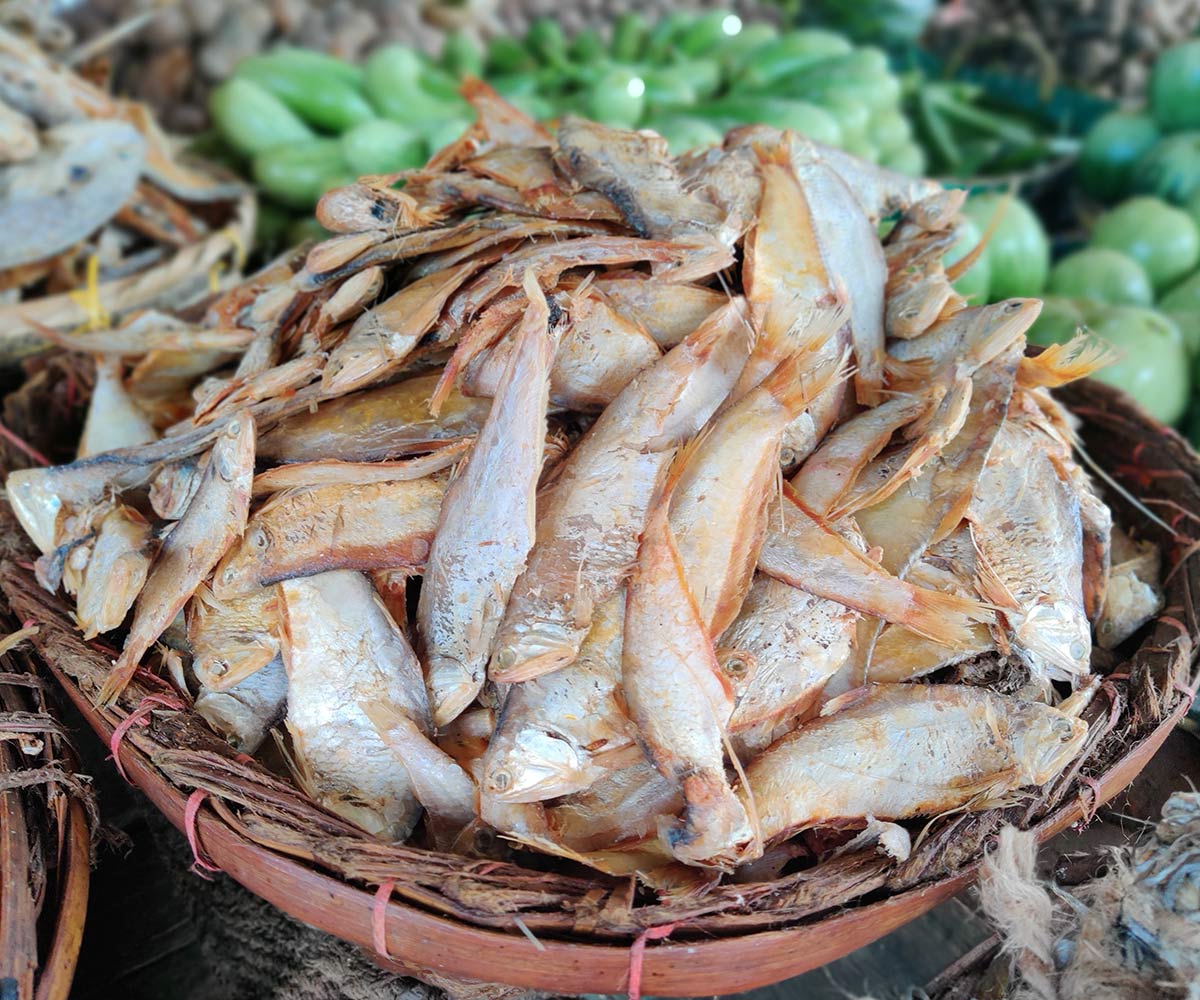 What's particularly striking about the popularity of dried fish in the North East, besides its culinary appeal, is its cultural iconicity and ritualistic significance among many communities in the region. In his essay Fish Lore of Assam, published in 1959, Dr BK Barua writes how dried fish is a part of the ritualistic offering to the Gods among some ethnic communities of Assam.
Among the Mikirs, for instance, dried fish is a mandatory offering to the gods; and dried fish cooked with crushed rice is distributed among those attending religious ceremonies, writes Barua. Sharmila Das Talukdar, in her book Khasi Cultural Resistance to Colonialism, writes about a wedding ritual among the Khasi community that involves pouring libations on three pieces of dried fish, while invoking the Gods to bless the couple. The dried fish is are then tied to the rafters of the ceiling and not brought down until the couple bears children. 
Dried fish is also relished in Odisha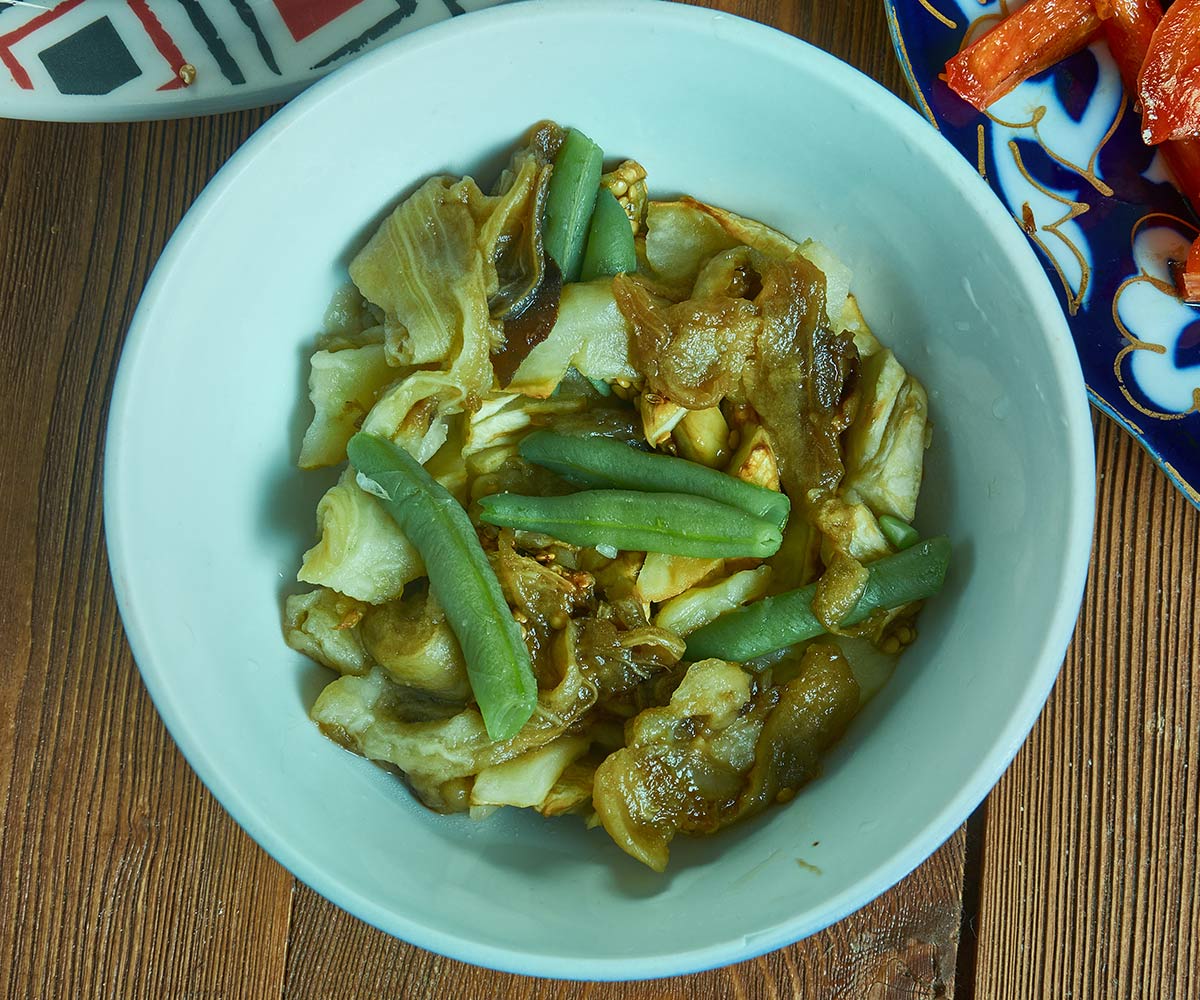 In coastal Odisha, dried fish or sukhua is used to make zesty curries, piquant chutneys, and stir-fries. Sukhua bhaja (fried) and paired with the pakhala (fermented rice gruel)makes a rustic yet iconic meal. Sukhua could be luni (salted) or aluni (non-salted), smoked or sun-dried, and made with a large variety of fish—from mackerel, mullet and anchovies to pathari mundi, catfish and Bombay duck. "Khainga and ilishi sukhua are among the most coveted," says home chef Sujata Dehury, who explores the cuisines of her home-state Odisha through her pop-ups.
"In Western Odisha, dried fish is called sukhla maach or sukha jhuri," says Dehury. "Freshwater fish, small- to medium-sized ones are typically smoked until dry or sometimes sun-dried on hot sand," she adds. Dehury remembers her childhood days in the village of Bonai near Rourkela, when her grandfather would smoke fish of different kinds on thin sheets of tin, suspended over a wood fire for three days, and then stack them in clay pots called mathia. These smoked fish would sometimes be roasted on dying embers and added to a mishmash of strips of dried mangoes, green chillies, onions, and tomatoes to make a dish called paga.
AlsoRead2
"A particularly popular way of cooking dried fish is with fermented bamboo shoots, but it's also cooked with vegetables like colocassia, eggplants, radish, pumpkin, or even plantain along with some mustard paste. During hot months sukha jhuri is cooked with sweet amaranth stalks, jackfruit seeds, and potatoes while during winter dried fish might be cooked simply with ripe tomatoes and lots of garlic," says Dehury. 
Photo: Shutterstock