When Bengalis all over the world saw Kishwar Chowdhury, a Bangladeshi-origin contestant on MasterChef Australia Season 13, present her finale dish — a glamorous 'Smoked Rice Water', their hearts did a little victory dance. Well, that was only after the initial response of squinting their eyes in disbelief. "That's her final dish? The panta bhaat? No matter what you call it, there's no way in hell that any Bengali worth their salt (sweet, actually) would fail to recognise the panta bhaat, anywhere in the world! Not just in Bengal, versions of the panta bhaat are prepared in Assam (poita bhaat) and Odisha (pakhala bhaat), too.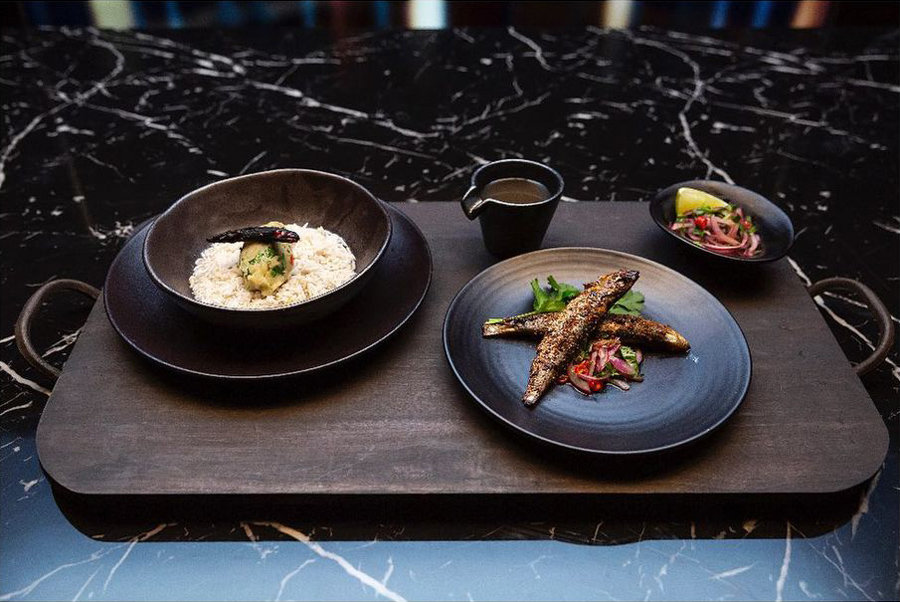 For the grand finale of MasterChef Australia Season 13, Kishwar, one of the top three contestants, added a twist to the traditional panta bhaat dish by smoking it with red chilli and serving it with fried sardines flavoured with white soy, ginger, garlic, chilli and honey, and a side of aloo bhorta and salsa. "The extraordinary chefs and mentors I met on my journey here, inspired me to research ancient traditions and techniques and reimagine dishes that have been passed down from generation to generation. Culinary genius @thehestonblumenthalteam had me thinking about the exciting concept of "Smoked Water". Meeting @scottpickettchef and finding out he has Charcoal Smoked Water on his menu, gave me the confidence to reach into my repertoire of dishes that people from my culture only serve at home. So here is my last and final homage to a dish that deserves this stage," Kishwar wrote in an Instagram post about her inspiration for her MasterChef version of panta bhaat. She boldly showcased a dish considered 'too basic' by many, but was something that was close to her heart, and deeply connected to the cultural heritage of her home in Bangladesh.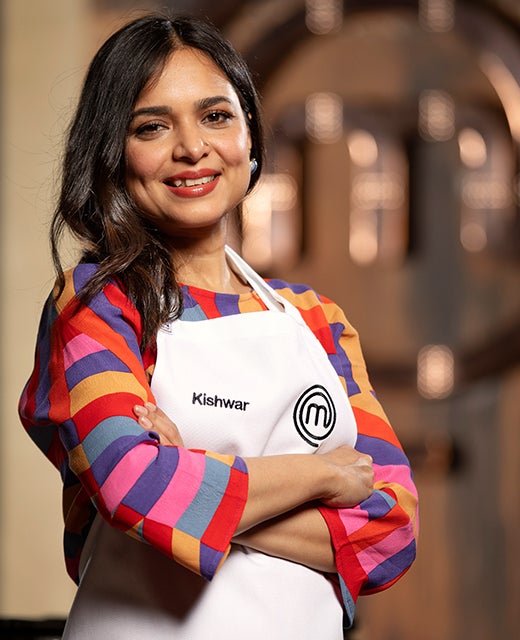 The audience and the Internet have been fairly divided into those, who applauded the move to bringing this everyday dish to an international platform, and others who believe that a dish as 'simple' as the panta bhaat doesn't adequately showcase a contestant's culinary talents.
Mumbai-based home-chef, Ananya Banerjee, has been including the panta bhaat and pakhala bhaat in her Bengali and Odia pop-ups, over the years. "I think both versions are delicious and I always thought they should make it to mainstream menus. I was thrilled to see Kishwar present it on MasterChef Australia. I've watched the show, followed her journey, and I think it's incredible that she chose to shine the spotlight on panta bhaat, a dish that has an emotional connection with Bengalis across the globe."
Kishwar, 38, has been born and brought up in Melbourne, Australia but has remained close to her Bangladeshi heritage. Earlier on MasterChef Australia, she has made Bengali khichuri, maach bhaja, begun bharta and niramish. Kolkata-based food blogger and home-chef, Debjani Chatterjee believes "making great food is more about how great it tastes and not about how difficult or easy it is to make. Kishwar has been making food that connects her to her country. We must applaud that."
Panta bhaat is the king of comfort food
Panta bhaat is a kind of comfort food that is simpler and even more humble than India's all-time favourite comfort food - the khichdi. "Traditionally, panta bhaat is believed to have been part of a rural tradition and was considered the food of farmers, workers and peasants. It didn't make it to a formal dining table because people looked down on it as a poor man's meal. The first time I tried panta bhaat was at my ancestral home, amidst rice fields, in a village in the Midnapur district, close to the Odisha border," says Banerjee. "Panta bhaat has been made since the times when there was no concept of refrigeration. Leftover rice was soaked in water and kept outside at room temperature to preserve it. It was usually fermented overnight. The water it was soaked in did a lot of good to the rice. The rice would be filled with vitamin B and other nutrients and was considered healthy. It was usually eaten for breakfast the next day and was accompanied by various side dishes like green chillies, raw onion, lemon and mashed potato," she explains. It's a dish that fills the stomach, is inexpensive and healthy, all at once. It's wholesome.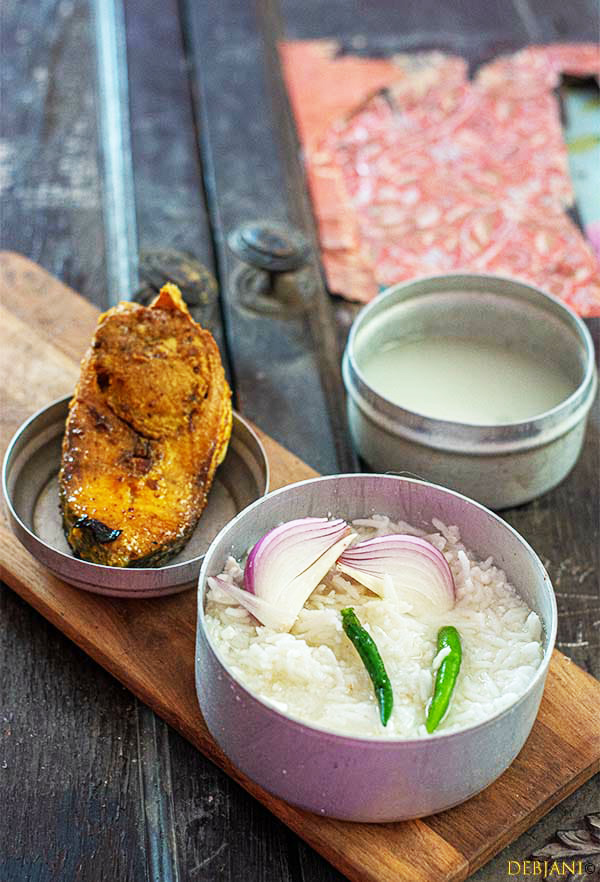 Most Bengali children who grew up in a house with grandparents know the story of 'Panta Budi', an elderly woman who lived in the village and loved her panta bhaat. She and her friends decided to teach the thief who stole her Panta Bhaat, a lesson. The story also featured in Thakurmar Jhuli (grandmother's sling bag), a collection of Bengali folk tales and fairy tales by author Dakshinaranjan Mitra Majumder, in 1907. Nobel-Laureate, Rabindranath Tagore wrote the introduction to the anthology.
Panta bhaat across borders
"The cooking process to make panta bhaat is the same in both East and West Bengal. In Odisha, the pakhala bhaat is made differently and yoghurt is added to ferment the rice. India and Bangladesh are both warm countries and the weather helps the fermentation process. Sometimes people place the pot full of fermented rice directly under the sun," says Chatterjee.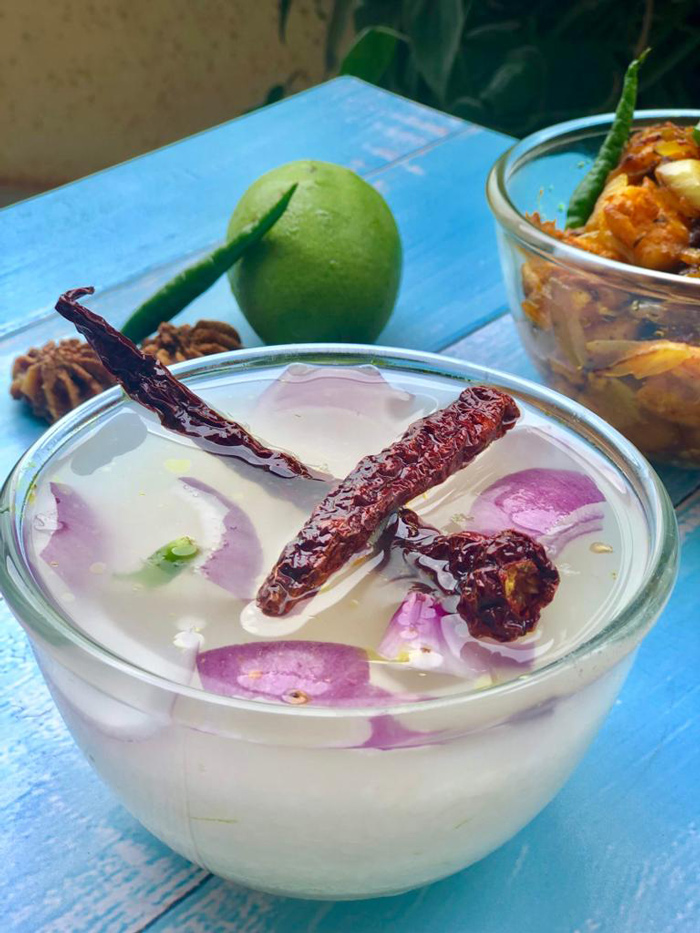 In Bengal, there are Ghotis (from West Bengal) and Bangals (originally from Bangladesh or East Bengal.) "On the day of Saraswati pujo, the Ghoti clan prepare panta bhaat and it is served the next day, on the occasion of Shitol Shoshti. It's usually a pujo done by parents for their offspring. Shitol means cold. On this occasion food that brings down the body temperature naturally, is served. It was traditionally held in the times where chickenpox was common and these foods are known to be healing in nature," explains Chatterjee. "The Bangals cook paanta bhaat on the night of Navami (the ninth day of the Durga puja) and serve it on Dashami (the tenth day of the Durga puja). It is usually served with illish maach (hilsa) and kochu shaag (mashed taro leaves)," she adds. In Bangladesh, the dish features prominently on Poila Boishakh, or the first day of the Bengali New Year.
Native wisdom, global platter
Even though Kishwar told the judges on MasterChef Australia Season 13 finale that "this is the kind of food that isn't found in restaurants," not too long ago pakhala bhaat, was on the menu of the award-winning Mumbai restaurant, The Bombay Canteen. Food writer and author Kalyan Karmakar says that Kishwar's choice of dish is part of a larger global movement. "It shows the diversity of the food of the continent and the fact that it's rooted in nature and collective wisdom. In the 90s we weren't as familiar with our native traditions. Globally, movements like MasterChef are doing a great job of that." Karmakar also says that this event reminded him of an earlier time when "Chef Floyd Cardoz made news internationally by whipping up an upma with mushrooms at the Top Chef Masters contest in Los Angeles."
Photo: Shutterstock