"Why is it called Habshi?" is the first question I ask, pointing to the dark, sticky squares stacked up on a paraat. Mohammed Shaan breaks into a smile. Curiously named 'habshi halwa' because of its colour, this grainy sweet is quite a winter favourite in north India.
"It is kaala just like a habshi," he explains, referring to a colloquial term for dark-skinned or black people. It may not be the most politically correct term for a sweet, but Habshi Halwa is rather popular in the walled city. It's one of the hottest-selling items at Kallan Sweets near Jama Masjid, especially between October and March. The sweets at Kallan's are made by 'karigars' from the kitchens of Rampur—karigar in Hindi refers to craftsmen and the cooks who carry on the legacy of the khansamas of yore who were creating nothing short of art.
Shaan is a fourth-generation manager of Kallan Sweets in Matia Mahal of Old Delhi. The shop is around the corner from the bustling gate number one of Jama Masjid, the biggest mosque in India, built by Shahjahan in the 18th century. It's named after his great-grandfather Kallan mia, who started selling local sweet treats in 1939. The shop is now known for its Habshi Halwa, Shahi Tukda and Sohan Halwa, among other sweets that await eager buyers.
A potent all-year favourite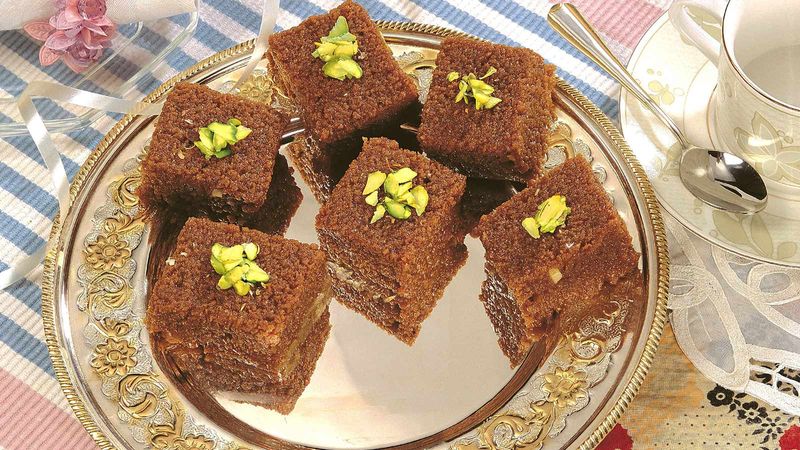 It may be famous as a winter speciality, but Habshi halwa is now renowned all year round. "It is popular because it is a takatwar (potent) halwa," explains Shaan, listing its chief ingredients--malted wheat (sabnak, says Shaan), milk, sugar, ghee, refined flour and edible gum.
The milk solids are separated and mixed with sugar. It is then stirred on a slow flame which caramelises the sugar, giving it the dark brown colour. The sprouted wheat is ground to a paste and cooked for over four hours with the milk and sugar. "We add cloves, cardamom, nutmeg and kesar (saffron) to temper the flavour," adds Shaan. The natural resin in the edible gum changes the texture to make it sticky and gooey.
In the winter season, as Old Delhi bustles with food stalls and curious food walkers, Habshi halwa is consumed hot, polished off steel plates right as it is served. Chilly and sunny afternoons send people scurrying outside for some piping hot kachoris, kebabs and winter specials like Gond ka Halwa and Moong Dal Halwa, but Habshi remains a favourite throughout the year.
Where: Kallan Sweets, Matia Mahal Road, New Delhi 9811417432
---
Photo: Shutterstock