Walking in the alleys of Old Delhi, one always discovers many places for good food. Be it a quick bite, the varieties of chaats, or if one is so inclined, a longer break for a more elaborate food exploration. Shops, stalls and bakeries with a two or three decades old history are commonplace and the usual suspects for food lovers. Some of the iconic food joints have even re-invented themselves with swanky new store-fronts, flashy neon signs and more professional service.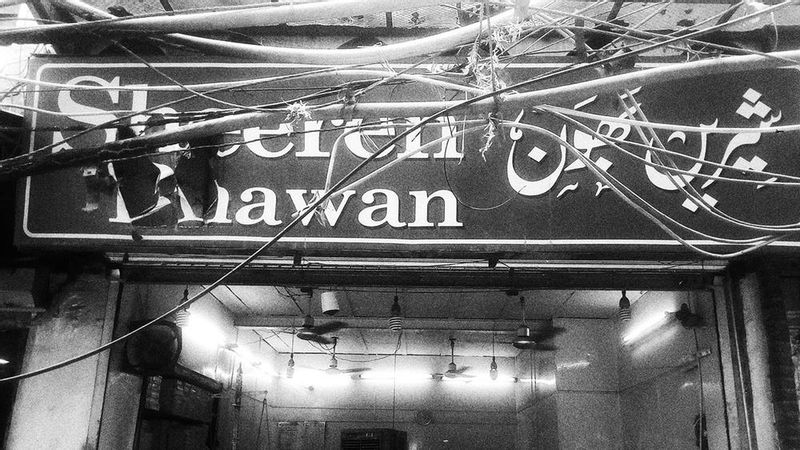 This is also one of the reasons why you're likely to dismiss a plain-looking shop called Sheeren Bhawan on Bazaar Chitli Qabar, near Jama Masjid. Unlike similarly popular shops, this one seems to have frozen in time. No sleek wall tiling or marble floors here. Even the worn-out flex-sheet signage seems a decade old, almost as if shadowed by uncertain times.
Sweet tooth paradise
But appearances are deceptive. The only clue that all isn't lost and that they are serious about their sweets is the shining glass-fronted display. Inside sit rows of sweets, ready for a foodie. If you mention the word 'mithaai' to any resident near Jama Masjid, they would direct you to Sheeren Bhawan. It's certainly the ultimate paradise for sweet and sinful delights!
It is 3 pm on a day that rings with festivities. As I step into the shop, for the umpteenth time in my past decade of food exploration, I get the same feeling I've had each time; of stepping into another era.
"Festivals are very hectic. We cater not just to the locals but also the area's old-timers who have settled in other parts of Delhi but always come back for their special festival treats," says Ahmed Shiraz, one of the two brothers who manage the business now.
Take a walk through time
It began its journey at the turn of the 19th century as a trader of ghee prepared from creamy camel milk that was hauled on camel-drawn caravans from Rajasthan to Shahjahanabad (the original name of Old Delhi). 
This nearly 110-year-old establishment has seen a century of Delhi's history unfolding. From the sleepy, small-town style, British-administered residential Shahjahanabad to 1911 when the Royal Delhi Durbar saw the English King George V visiting Jama Masjid and announcing the building of New Delhi. The wave of nationalism then gripped the Walled City people, attracting conspiracies against the English government, the black period of pre and post-partition, the departure of old friends for a new country and adjusting to newly displaced people.
And then seeped in the joy of being free Indians, rebuilding a nation to the ever-changing milieu, as more and more aristocratic families moved out of Shahjahanabad. It gradually became a trader hub in the late 1960s-70s. Fast forward to the era of internet-fueled social media which sent someone like me in search of the 'Sheeren' legacy 12 years back. Standing at the same spot over this long period, this shop has seen it all.
Sweets without milk and sugar
Shiraz Bhai, the great-grandson of Tajuddin who started the business, tells me that by the early 1940s they had started selling sweets. Their first attempt was "Imarti" (a deep-fried maida and lentil flour floral sweet dunked in sugar syrup). People loved it and there was no looking back. They didn't stop selling ghee which incidentally they still do.
The British lay down strict rules in the city since the start of World War II. Milk and sugar supplies were diverted for the war effort. In 1947, the partition-affected Delhi was no better. It was left to the 'Kaarigars' (traditional cooks) to create innovative sweets that circumvented the need for milk and sugar to a large extent. Thanks to this, the kitchens of 'Shiri' (fondly called so by Old Dilliwallas) invented culinary gems that have endured the passage of time and have been loved by sweet eaters of all ages and walks of life.
Rare halwas of old Delhi
Their two most unique and widely-known offerings are still a rarity in Delhi today -- Ghee Kwar Halwa (aloe vera halwa) and White Carrot Halwa. Shiraz tells us that the aloe vera halwa is cooked in their own brand of ghee with dry fruits. It's low on sugar and thus safer for diabetics. It even helps with joint pain and asthma as these halwas from Delhi are based on Unani principles of medicine. Another reason for a sweet-lover like me to throw caution to the wind and gorge on 'Shirin' goodies!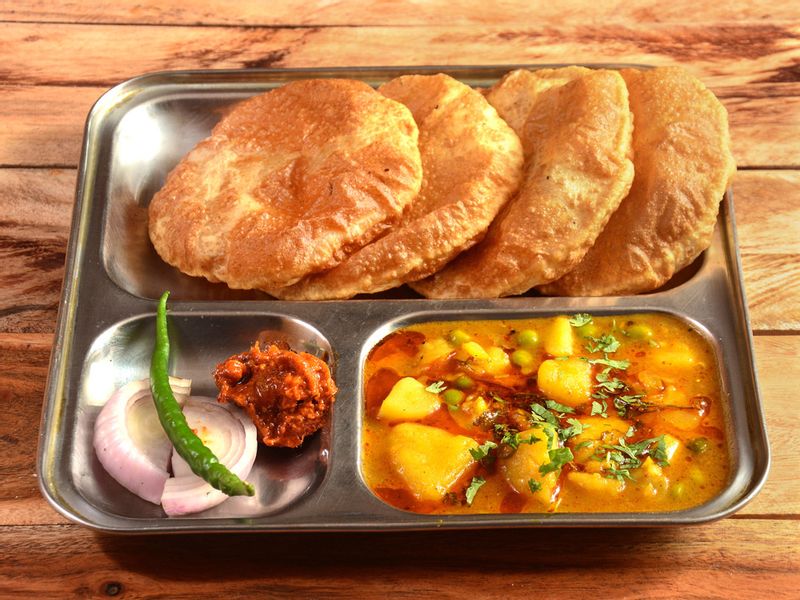 Some of their other must-haves include the Gond Halwa (natural plant glue), Poori Subzi served only in the mornings, Khoya-centred Kala Jamun and their legendary Ramzan specials of Pheni, Khajla and Khajlas (white flour batter in various shapes fried in ghee).
Post-partition horrors
As a new nation took birth in 1947, Sheeren Bhawan was already one of the most popular sweet shops in Old Delhi. But being in the heart of the majority Muslim quarter in the pre-1947 era, it also witnessed the sad times of pre and post-partition violence.
Sheeren Bhawan family elders were undecided. Many Muslim businessmen of Shahjahanabad had wound up and left for Pakistan. The family, despite being Muslims, felt they didn't want to be uprooted from their land of birth. Prominent members of society also didn't want their best sweets sellers to move away. Many reassurances later, they stayed on. And a good thing that they did!
Shiraz says that the family owes its luck and well-being to the good 'duaa' or prayers that people would silently bestow upon the makers of the quality sweets that have been part of the life and festivities, cutting across communities of so many Dilliwallas.
He says once people eat their sweets, especially the halwas which have been lovingly prepared in home-made ghee, they are hooked. The same is the case with their pooris and subzee. It is the pull of eating freshly-prepared sweets, in kitchens just behind the shop, all sweets cooked in pure ghee, using age-old recipes, that keep the legacy of their sweets alive.
Neither has anyone in the family ever tampered with the recipes. As he says, "Why do we need to? These specialities are known as our family secrets." Nor do they have any intention of sharing the recipes or scaling. It's a strict family rule - no opening of outlets in posh malls of Delhi or even competing with fancy branded factory-style sweet shops. As Shiraz says, "For us this shop is sacred. We don't want to change."
Few things though were out of their control. Till the 1970s they used to gift-wrap their halwas and other sweets in tin-boxes. Now it's cardboard boxes and so their packaging has changed a bit. But yes, that's the only thing we hear that is different from 1947.
---
Photo: Shutterstock