One of the world's healthiest and most adaptable foods is the humble egg. They may be used in a variety of recipes, such as omelettes, frittatas and egg salads, and are a fantastic source of high-quality protein, vitamins, and minerals. In this article, we'll discuss how eggs play such a huge role in our nutrition and some ways to eat eggs, including an egg salad.
The nine necessary amino acids that our bodies require to operate correctly are all found in eggs, making them a complete supply of protein. In addition, they are a great source of selenium, vitamin B12, and other vitamins and minerals like vitamin D. While vitamin B12 is necessary for healthy neural function, vitamin D is needed for bone health. Strong antioxidants like selenium can help prevent cell damage and lower the risk of developing chronic illnesses.
Choline, a vitamin critical for brain growth and function, is also abundant in eggs. Choline is actually so crucial that it is regarded as an essential nutrient. It is especially crucial for women who are pregnant since it might help avoid neural tube abnormalities in the growing embryo.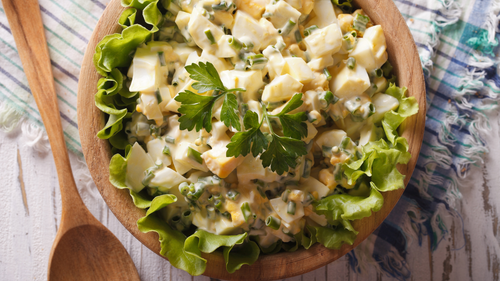 Egg salad is a delectable and convenient way to eat eggs. It's a traditional dish that goes well in a sandwich, as a side dish, or even a dip. Eggs are boiled until fully cooked and then mashed with mayonnaise, mustard, and other ingredients to make egg salad. For extra flavour and texture, some people like to mix chopped celery, onion, or other vegetables into their egg salad.
Egg salad is not only a delicious way to eat eggs, but it's also a healthy alternative. Depending on the amount of mayonnaise and other ingredients used, an ordinary egg salad dish has 200–300 calories. It is an excellent source of protein, healthful lipids, and other crucial nutrients.
Eggs are a wholesome and adaptable food that may be consumed in a variety of ways. - In addition to gaining essential elements like protein, vitamins, and minerals, it is a fantastic way to digest eggs. Hence, the next time you're seeking for a filling and nutritious lunch alternative, try creating egg salad and take advantage of its many health benefits.
Here are some recipes you can try with eggs
Parsi style Akuri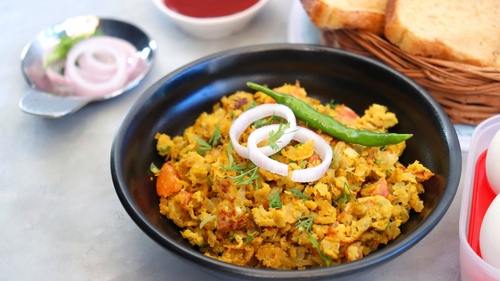 Popular in Parsi cuisine, Akuri is a tasty and spicy scrambled egg dish. To prepare the dish, eggs are cooked with a combination of tomatoes, onions, ginger, and garlic, as well as spices like turmeric and chilli powder. With bread or chapatis, the outcome is a flavourful and filling breakfast or brunch alternative. Depending on the individual, some variations of Akuri include adding meat or veggies. Overall, for people who like hot and savoury egg dishes, Parsi Akuri is a must-try.
Sunny side-up with a twist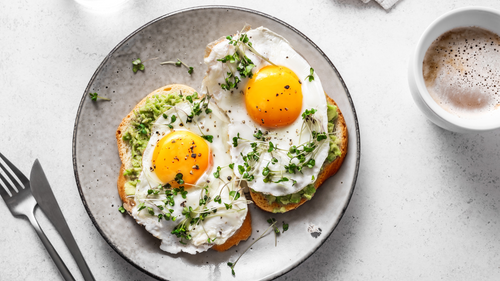 If you like your eggs sunny side up, we have a unique recipe for you from none other than Masterchef winner Pankaj. Try this quick and delicious recipe and surprise your loved one. 
If you're a non-egg eater, don't worry, we've got your covered! Broccoli is the super food that everyone has been talking about and we can't get enough of it! Making a salad is a delicious way of eating broccoli and we've got these broccoli salad recipes just for you. You can eat it by yourself or serve this at a party, either way it's delicious.
---
Photo: Shutterstock