You're not in a real Parsi home if you don't find trays of eggs stacked over each other in the kitchen. It would be blasphemous if a Parsi restaurant's menu didn't boast a separate section of egg dishes. The Parsi community's penchant for the humble egg in their cuisine is well known.
For the rest of the world, the egg may simply be an ingredient for breakfast dishes or desserts but for Indian Parsis, the community of Zoroastrians from Persia (now Iran) who settled in Gujarat in the 7th century, other than relishing good food, the egg is a way of life.
Parsi-style eggs
"It's difficult to explain our undying love for eggs," says Kainaz Contractor, who co-runs Rustom's Parsi Bhonu, a Delhi-based restaurant that offers home-style traditional Parsi food. "How can anyone resist a simple fried egg with a runny yolk? What I love the most is how comforting eggs are, not to mention their versatility," says the food writer turned restaurateur.
Every Parsi has grown up on a diet of eggs. "Right from the age of one, my mother fed me one fried egg every morning," recollects Rita Kapadia, a software engineer who runs Parsi Cuisine, a 20-year-old blog on all things Parsi food. Meanwhile, Contractor has been a fan of eggs from a young age. "My parents tell me stories of days when I polished off three to four eggs in one sitting," she exclaims.
Tracing how the egg came to dominate the Parsi recipe book, Contractor explains, "During the month of Bahman, the protector of all animals, Zoroastrians abstain from eating meat. Since vegetables were limited in availability and variety, fish and eggs were the mainstays of the month."
Par Eeda
The Parsis don't believe as much in the popular saying "break a leg" as much as they believe in their cooking motto, "when in doubt, break an egg." Be it vegetables, meat, paratha, leftover food, the Parsis can turn around absolutely any dish by breaking an egg over it. "Eggs can uplift any plain dish to something indulgent with minimum fuss," says Contractor.
In fact, to make vegetables more appealing to children, Parsi parents often introduce egg into the recipe. It's no wonder then that many Parsi recipe names include the Gujarati term "par eeda" or "par eedu". "It means 'eggs on top of'," says Kapadia, "so 'Bhindi Par Eeda' means 'eggs on top of bhindi."
The menu at Rustom's Parsi Bhonu has a section dedicated to egg dishes. "This includes vegetables topped with eggs. There's bheeda (crispy okra), papeta (garlicky potatoes) and tamota (spiced tomatoes) topped with egg," says Contractor.
Kanda Papeta Par Eedu Parsi Recipe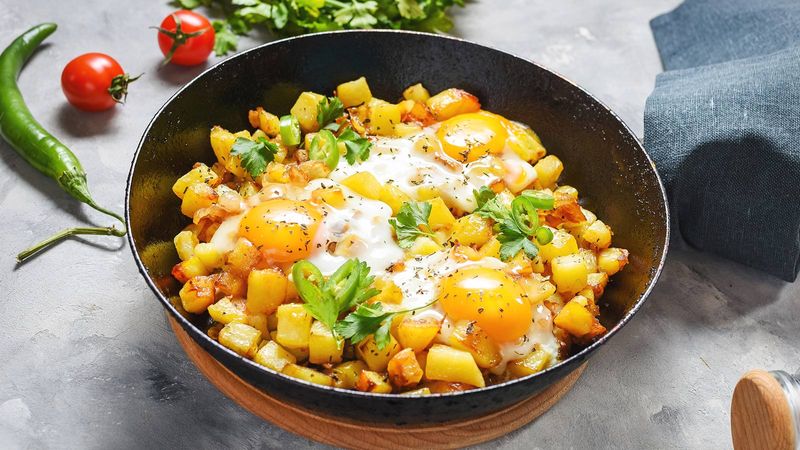 Ingredients:
8 eggs
3 tbsp of oil
2 lengthwise sliced onions
1.5 tsp of ginger-garlic paste
4 potatoes cut into wedges and then thinly sliced into cubes
5 chopped green chillies
4 tbsp of chopped coriander
2 tbsp fried onions
half a tsp of turmeric and
salt to taste
Method:
Heat oil in a large flat-bottomed pan and fry the sliced onions till light brown. Add ginger-garlic paste and fry for a minute.

Add the sliced potatoes, green chillies, salt and turmeric powder. Cover with a lid and cook on very low flame for about 15 minutes, stirring occasionally. To prevent it from burning at the bottom, sprinkle a little water and put the pan on a thick tawa or griddle.

Once cooked, stir in the fresh coriander and flatten the potatoes.

Make slight depressions a few inches away from each other and break an egg into each.

Cover with the lid and cook on a low flame for another 5 to 7 minutes or till the eggs are steamed.
Recipe by Kainaz Contractor
Poro and Akoori
Besides the "par eeda" variations, Poro and Akoori are the two most popular egg recipes from the Parsi kitchen. The Poro is a Parsi-style masala omelette with onions, coriander, green chillies, turmeric, ginger-garlic and red chilli powder. "We add a splash of milk while whisking the egg to make the omelette fluffy and light," says Contractor. The Akoori could be compared to scrambled eggs or egg bhurji, but Kapadia explains, "The Akoori is made a little looser and is less cooked than the egg bhurji."
Traditional Akoori Parsi Recipe 
Ingredients:
4 eggs
1 onion finely chopped
1 tomato finely chopped
¼ cup of chopped fresh coriander
1 finely chopped green chilli
2 tsp of ginger-garlic paste
½ tsp of turmeric
½ tsp of coriander powder
½ tsp of cumin powder
½ tsp of red chilli powder and
salt to taste
Method:
 Fry the chopped onion till it turns pinkish brown and then add the chopped tomato. Stir well and see that the tomatoes are tender. 

Add the ginger-garlic paste, stir well and then add all the dry powder spices.

Sauté until the oil comes up and cook on a low flame.

Beat eggs with a fork in a new bowl. Beat till frothy. Add the beaten eggs to the pan and stir.

Cook to the consistency of scrambled eggs.
Recipe by Rita Kapadia. This Parsi Recipe originally appeared on Parsi Cuisine
Beyond the kitchen
For Parsis, the egg is more than just another ingredient in the kitchen with its significance extending to Parsi culture. "In ancient Iran, and the entire Caucasian region, eggs symbolise fertility and new life," explains Contractor. The egg plays an integral part in the Parsi Ses or auspicious puja thali. Kapadia says, "Egg is added as the one that gives life and represents fertility."
"It was and is still a custom to decorate hard-boiled eggs on Navroz. In fact, this custom was later adopted by the Christians to celebrate Easter," adds Contractor. The community also uses eggs to ward off the evil eye. "We believe that if the evil eye is encountered or a bad wish may wreak havoc in your life, you take a raw egg and circle it around the person's head seven times while reciting Parsi prayers to negate the evil eye," says Kapadia. This ritual is common at Parsi weddings and Navjote celebrations.
So whether in the kitchen or outside, if you want a slice of mouth-watering Parsi cuisine, we reckon you have got to be egged on!
---
Photo: Shutterstock