Over the years, broccoli has gained the reputation of being a little bland in taste. Vaguely resembling a small tree, it is packed with a wide range of minerals, vitamins, and almost everything that you need to fulfil your everyday nutrition requirement. It is a powerhouse and contains various bioactive compounds and antioxidants that help in reducing inflammation, high sugar levels, and the risk of heart diseases. Being a fibre rich food, it also promotes healthy digestion, and reduces constipation. Broccoli also acts as an anti-aging ingredient, and boosts the immune system. Whether you use it raw, partially cooked, or added in your dishes, the right method can help elevate the nutritional and deliciousness of any preparation. Multiple studies have shown that broccoli can protect you from breast, prostate, gastric, colorectal, bladder, and kidney cancer.
Below are a few broccoli salad recipes that will help you to re-imagine what the green superfood tastes like and convince you to add it to your daily fare.
1. Greek broccoli salad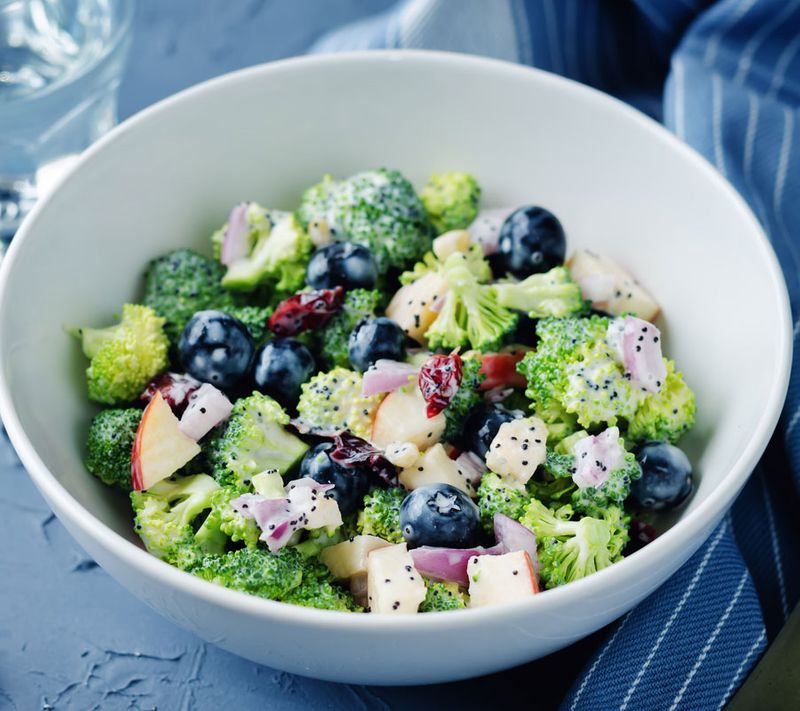 The crunchy and tree-like broccoli can easily be converted into a fulfilling and satisfying salad. A healthy bowl of Greek broccoli salad can be easily prepared with fresh vegetables like olives, plump tomatoes, onion, cucumber, lettuce, and other indigenous vegetables available at your place. Toss some feta cheese and sprinkle the entire platter with olive oil, salt, black pepper, and other condiments. This broccoli salad recipe is perfect when you're looking for a vibrant, healthy side dish that doesn't compromise on flavour. So, get all your veggies and give them a Greek-y twist.
2. Sweet and sour broccoli salad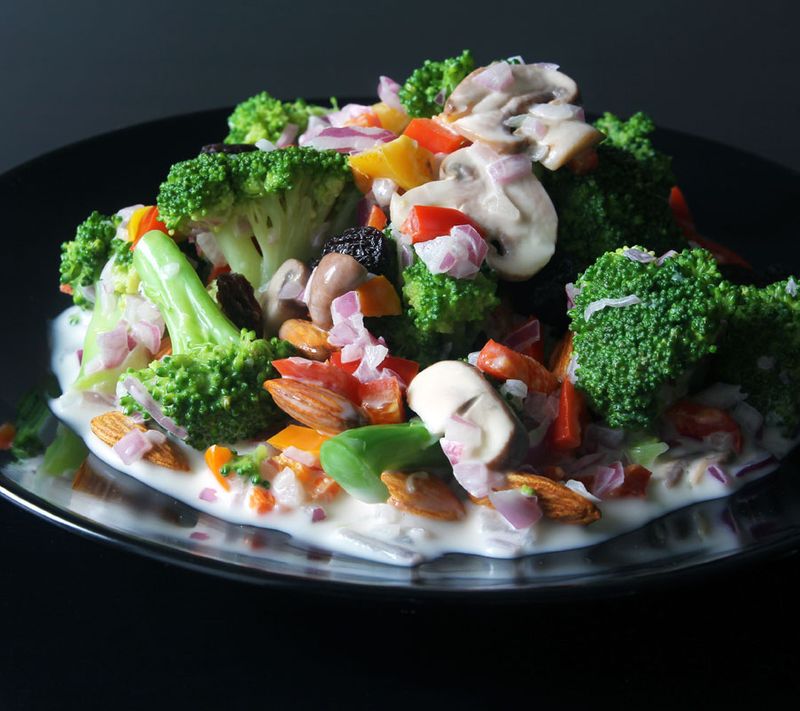 This sweet and sour broccoli salad is an ingenious combination of all the fresh vegetables that will not only fulfil your cravings but also help you take that step towards healthy living. The low carb version of a classic salad is perfect for daily eating or for special occasions. What's more? You can also add nachos to it or just fill this salad between tacos and have it. You would love to make this salad over and over again and is definitely one of those recipes that everyone seems to like. So, bring out all your veggies and mix them all up with our super-vegetable to prepare yourself one of the best salads ever!
Pro tip – If you do not like broccoli just mince it into small pieces and you are good to go.
3. Creamy broccoli salad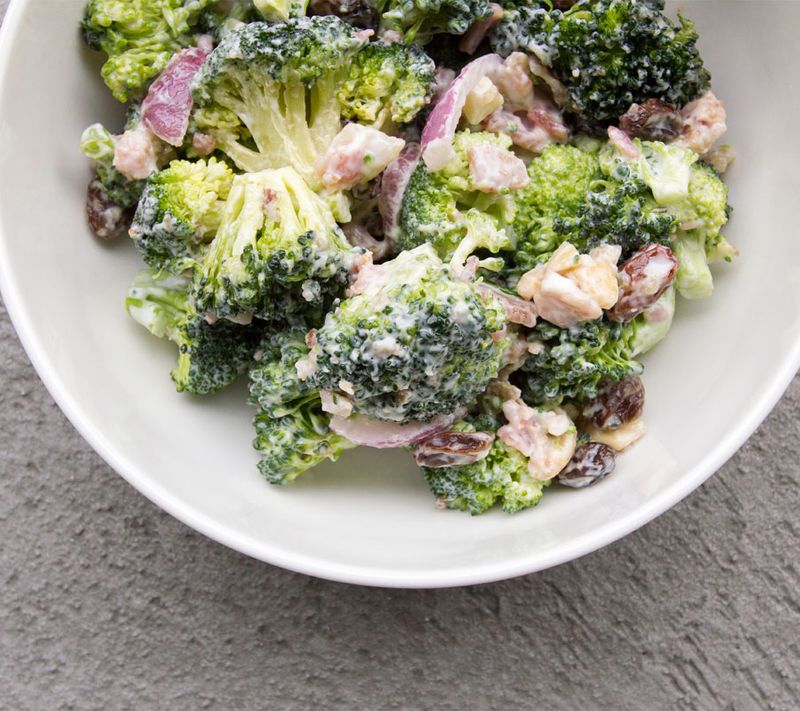 We love this creamy broccoli salad recipe, and trust us, when you get to know how easy it is to make and how delicious it tastes, your definition of salads will change. Toss some plump diced tomatoes, fresh cucumbers, onion, lettuce, bacon (optional), and our key ingredient, broccoli. To make it even healthier, you can also add overnight soaked kidney beans, peas, and black lentilsthat will add to the taste. Enhance the taste and nutrition of your bowl by adding finely chopped cashews, almonds, walnuts, and other nuts of your preference. The use of home prepared mayonnaise will ensure that the dressing is creamy. So, next time when you wonder how to make a delightful broccoli salad, you know the answer!
4. Classic broccoli salad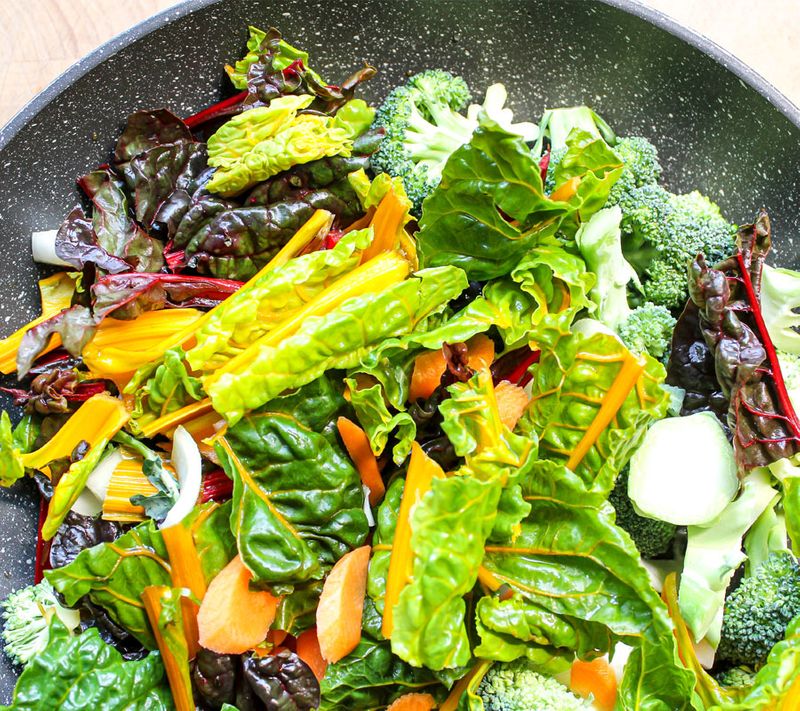 There is something about old things that always outshine their derivatives. A classic broccoli salad is one such dish that will always beat all the other salads. Easy to prepare, dress, whip, and toss in a bowl regardless of your cooking skills, it will always be a hit. You can give it a twist by adding finely chopped fruits like apple, pear, guava, or perhaps sprinkle the entire salad with a fistful of pomegranate seeds. The perfect blend of these ingredients and a pinch of condiments gives you an invigorating and refreshing salad that is perfect for any time of the day. 
---
Photo: Shutterstock