Durga Puja and 'pet pooja' are synonymous. Because what is Durga Puja without some khichuri, labra and beguni? Or some luchi, cholar dal, kosha mangsho, rolls and chop cutlets, right? Well, the list is never-ending and even thinking about these dishes makes you salivate. Although most of these dishes are not limited to festive treats only, savouring them during the five-day carnival when this special sort of nostalgic puja 'mood' sets in just personifies Bengali's love for food.
However, a visit to one's hometown is not always possible during the Durgotsav. So, we have curated a list of home chefs in Mumbai who are delivering the flavours of Kolkata to your doorstep. Check them out.
1. Kitchen Tales by Somma Ghosh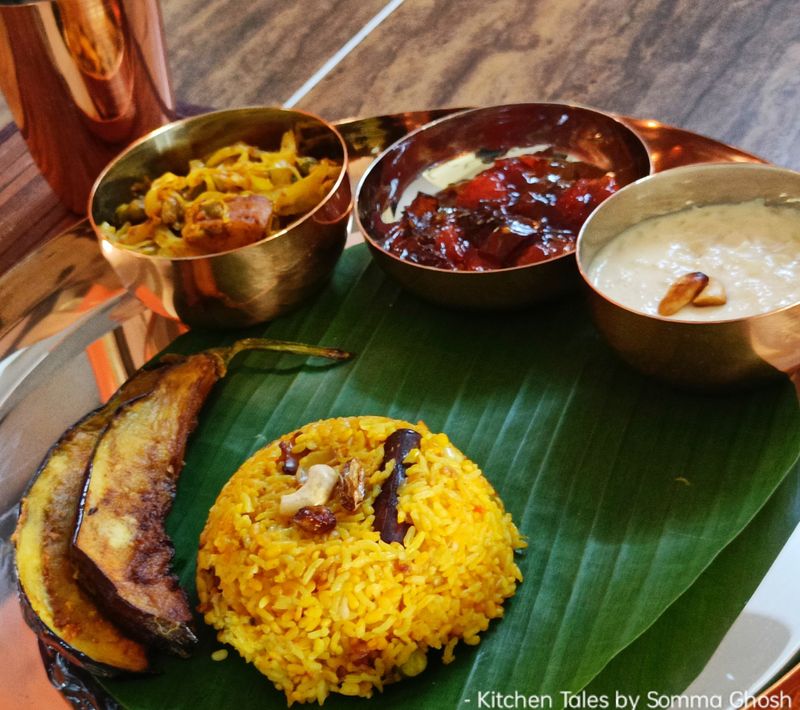 This year's authentic delivery menu lineup at Kitchen Tales will see a mélange of historically traditional dishes and some drool-worthy crowd favourites. Somma explains, "One of the myths of Bengali cuisine is that it is all about maach (fish), phuchkas, and roshogollas. My parents were born in erstwhile East Bengal and I was born in Kolkata. So I have had the dual privilege of savouring the best of both Bengals. Bengali cuisine uses all kinds of and all parts of vegetables you can think of (sometimes even to the extent of making use of the whole tree) and one vegetable can be made at least in 10 different ways. I like to highlight seasonal produce and make them the stars in my curated menus."
Her pujo menu includes bhoger khichuri, labra (mixed vegetable), numerous preparations with river fish, meat, and plum chutney to name a few. Apart from these, you can also order dishes such as panchphoron diye katlate ljhol, zaffrani bhapa doi, shorshe katla, and zaffrani gobindo bhoger kheer that are cooked to perfection.
"Durga Pujo is the biggest festival in the Bengali calendar. And my endeavour is to share the nostalgia of the patron's childhood memories associated with maybe being born or born and brought up or having grown up in the eastern states of India, or have familial ties to the region, through my home cooked meals," Somma concludes.
Call to order: 9820462881
2. Insomniac Cook by Madhumita Pyne
Madhumita is known for reviving long-forgotten traditional Bengali dishes, and this year too she's delivering a diverse menu from October 1 to 5, across Mumbai, Navi Mumbai and Thane, on one day's notice and additional delivery charge on actuals. The menu includes some of the more unique and unconventional dishes such as gondhoraj chingri fry, mangsher pithali, tokdoi er dalna, begun baluchari, dudhmachh, gondhoraj pulao along with some all-time crowd favourites such as the Kolkata-style chicken and mutton biryani, chicken pakora, veg chop etc.
Call to order: 9892803506
3. Gitika Saikia
Assamese Durga Puja celebrations are as grand as in Bengal, with food being a major part of it. So, if you want to give Bengali food a break, and try traditional Assamese cuisine this pujo, check out Gitika Saikia's menu. Gitika elaborates, "The menu has dishes eaten during Durga Puja - for instance duck or goose meat. Consumption of these two varieties start from now as the temperature is set to go south from now on. Plus, on Ashtami day, duck is sacrificed - therefore the dish Ashtamir Haansh."
This year, her menu features a new sweet dish - bora bhat or mitha pulao, for which sticky rice from Assam will be slow cooked in ghee, sweetened by jaggery and topped with dry fruits. Best part is - it will be paired with cream. Imagine, warm aromatic sweet rice served with cold cream. It doesn't get better than this! Pork lovers can also try the brinjal pork dry and pork banana blossom dry.
Call to order: 9820445990
4. The Lunchbox Co by Arpita Roy
For this year's Pujo, Arpita has curated a menu that focuses on comfort food. It includes dishes such as ghugni, prawn cutlet, mutton rezala, pomfret tel jhal, bhog -style khichuri, labra, tomato khejur chutney, nimki and narkel nadu.
DM to order.
---
Photo: Shutterstock; Featured home chefs