Durga Puja might have taken on a modern veneer and built a reputation as one of the greatest street carnivals in the world, but its soul is ancient, steeped in legends and lore, and in time-honoured rituals and traditions of spiritual significance, as well as cultural and sentimental value. Before Barowari, or community Puja became popular and later got their glamorous update, Durga Puja was a more intimate affair, mostly confined to the inner quarters of aristocratic homes where the dedicated Thakur Dalan (God's courtyard), the nucleus of the house, is often referred to as Durga Dalan.
From Bodhon or the ritual unveiling of the Goddess's face on Shashti (sixth day of Devi Paksh) to Boron, the farewell rituals on Vijayadashami, numerous rites and ceremonies, sanctioned by the shastras, are performed during Durga Puja. Besides, every household has its own rituals and traditions that often reflect caste, class, and regional culture. 
The overriding sentiment around Durga Puja, and by far its most endearing aspect, is one of filial affection. In the Bengali imagination, Durga is the daughter of the land who visits her parental home, once every year, along with her children Lakshmi, Ganesh, Kartik and Saraswati. These autumnal festivities are laced with the poignant joy of a daughter's homecoming. This sentiment finds the best expression at household pujas sometimes in the form of peculiar traditions rooted in emotion, rather than liturgy.
Balyabhog: Treats for the young'uns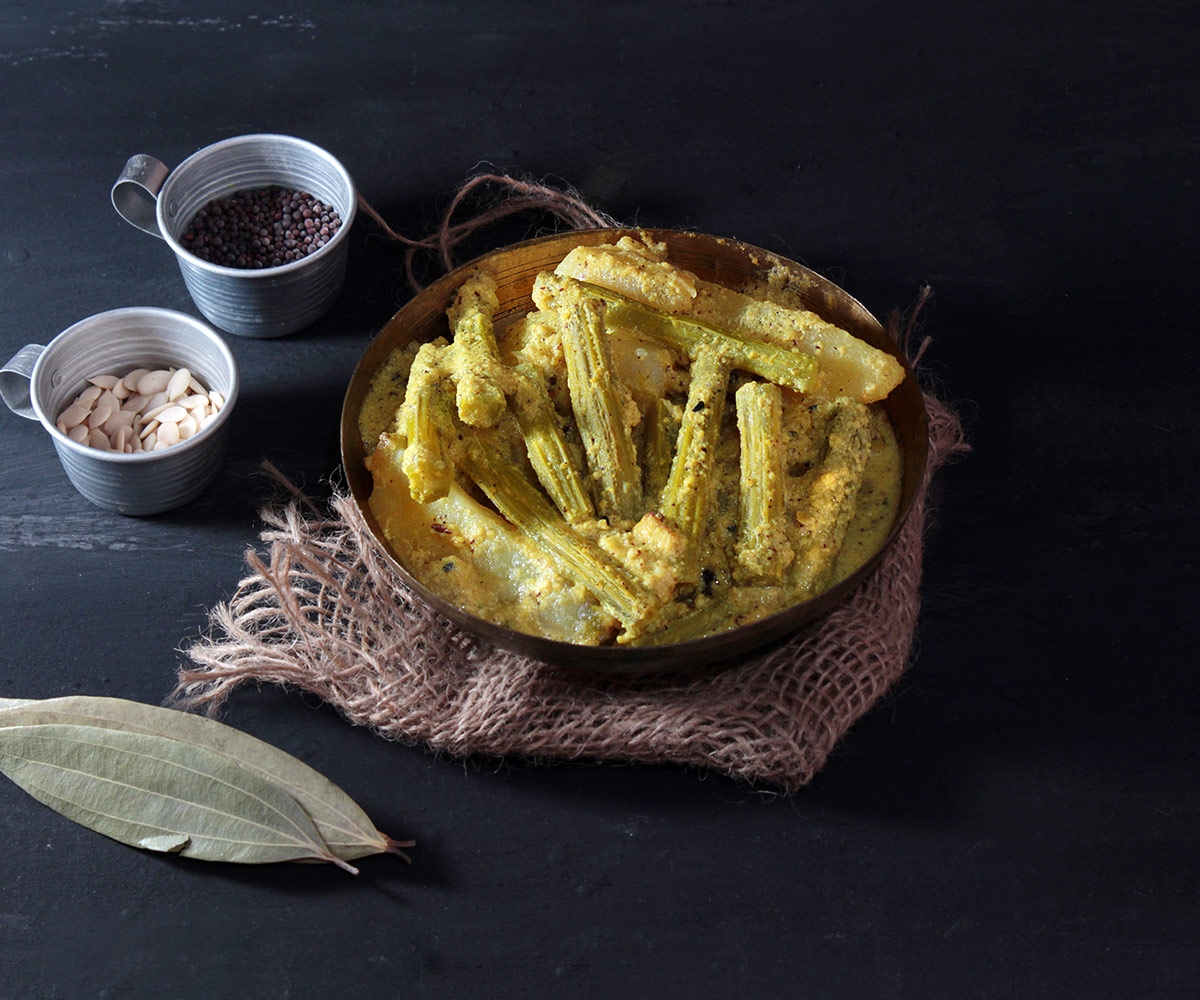 At the Moulik residence in North Kolkata's Bangur area, every morning of the five-day Durga Puja festivities, a special meal comprising fragrant Gobindobhog rice, Teetar Daal (bitter-sweet lentils), and fried brinjal is prepared for Goddess Durga's children. The offering is called Balyabhog (children's meal). "It's common practice in Bengali homes to feed the children first and often special food, cooked with minimal spices, suitable for a child's palate. Hence, the concept of Balyabhog (child's meal)," says Showli Chakraborty, a daughter-in-law of the house.
Bori and other goodies for the Goddess
In another part of North Kolkata, at the illustrious Mitra household on Nilmoni Street, Goddess Durga is treated to an assortment of Bori (sun-dried lentil dumplings) made with ingredients like poppy seeds, spinach, peanuts, yellow split peas, black lentils, etc, and pickles made with plum, tamarind, mango and aamshi (dried mango). "Every year we reserve the first batch of bori and pickles made for the household to offer to Durga, just like we would for the daughters of the house," Anasua Biswas, a member of the Mitra family, told me a couple of years ago. Another unique tradition at the Mitra residence requires married women of the household to eat a meal of shukto (bitter stew made with a medley of vegetables) shaak (leafy greens), prashadi achaar (pickles offered to the goddess) and fish, before they perform the Baran rituals on Dashami, the final day of the pujas.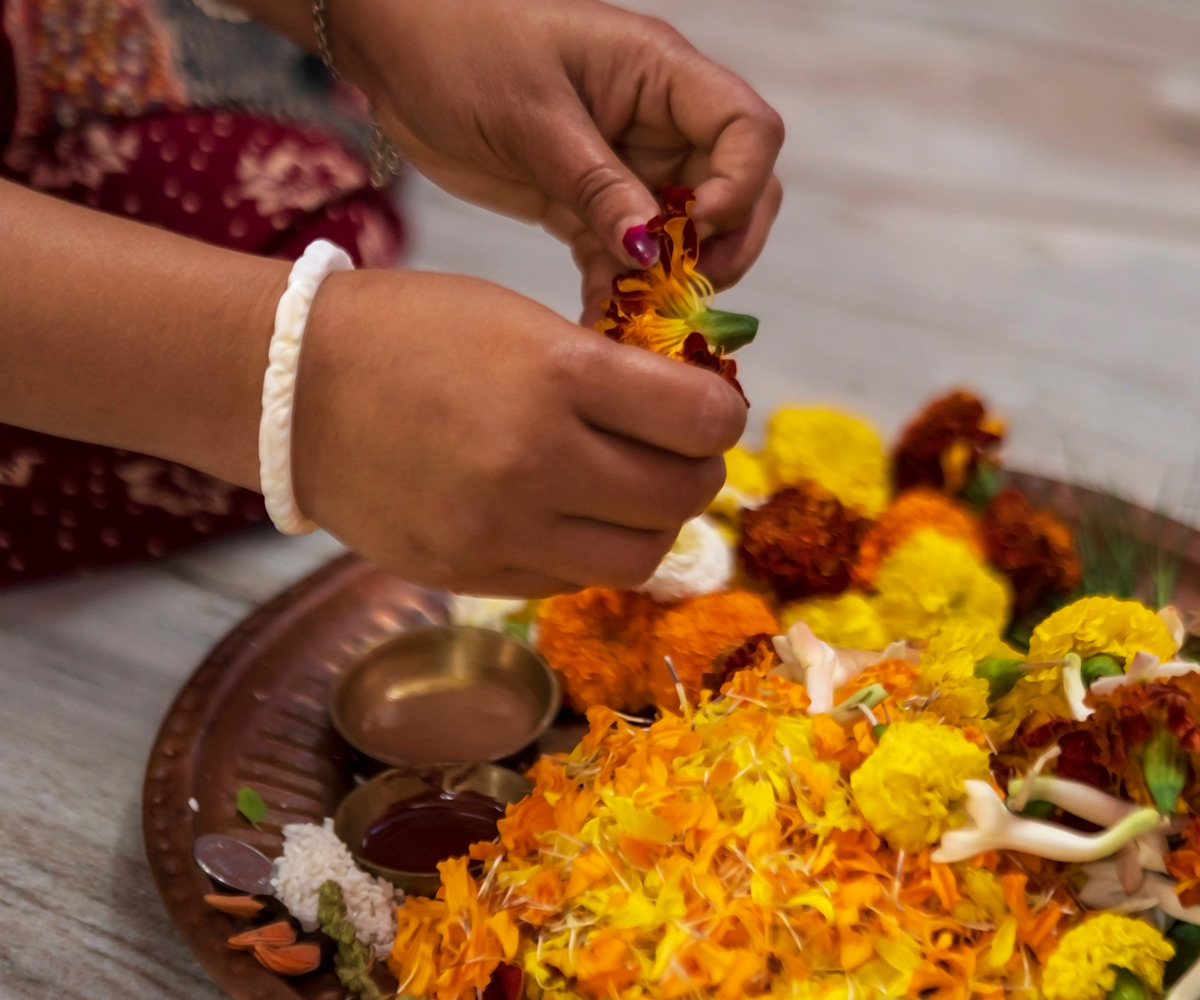 Dhuno Porano 
At Beadon Street's Bholanath Dham, the residence of the Dutts, Durga is worshipped in the form of seven-year-old Uma, who sits on the lap of Shiva, her husband. "She is Rajnandini, the daughter of a king, and she must be treated like a princess," said Ajay Dutt. Uma is pampered with an exquisite bath in water collected from 41 different sources. This list is long and staggering. "Water from the seven seas and seven rivers, the first drop of rain, first dewdrop, water with lotus pollen, water from Gomukh, water in which ashtadhatu (octo alloy) has been washed and so on and so forth," Dutts tell us. Another interesting ritual here is Dhuno Porano.  The women of the family sit with clay malsha (bowls) filled with burning frankincense in their hands, and on their heads, as a votive offering.
Ritual sacrifice
Again, Bali or Boli, a ritual sacrifice, is an integral part of the goddess-centric Shakta tradition. In the past, goat or even buffalo sacrifices were often made during Durga Puja, usually during Sandhi Puja that signifies the Mahashandhikkhan or the sacred juncture between Ashtami and Navami, when Goddess Durga is worshipped as the fierce Chamunda, the slayer of demons Chanda and Munda. Nowadays, animal sacrifice is rare, but not inexistent. However, in many homes, particularly in Vaishnav families, vegetables such as gourd or cucumber, fish, etc, are ritually sacrificed to avoid bloodshed. Interestingly, at the illustrious Pathuriaghata Ghosh Bari in North Kolkata, curious sugar structures called Mata Chini are sacrificed.
Kumari Puja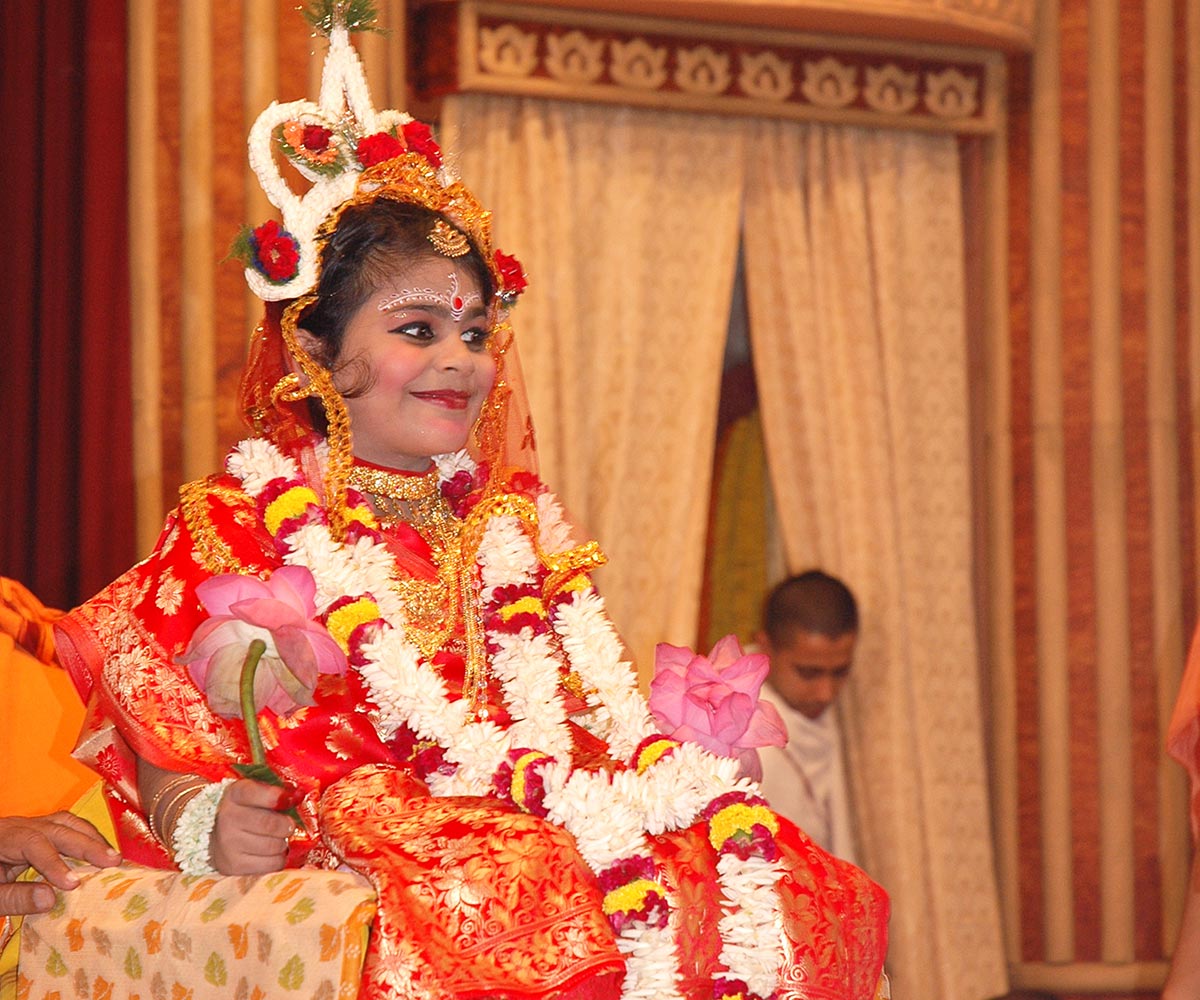 Another important part of Durga Puja is Kumari Puja or the symbolic worship of prepubescent girls as an embodiment of the Goddess's Kumari form. At the Mallick Bhawan in Posta, in North Kolkata's Burrabazar, where Durga Puja was started 168 years ago by Bihari Lal Mallick, Kumari Puja is accompanied by Shadhaba Puja, where a shadhaba or a married Brahmin woman is worshipped as the shadhaba form of Durga. Also, here Goddess Durga is brought home and later carried out for immersion on the shoulders of family members. "In the past, the idol would be propped on two boats and carried to the middle of the river, where the boats parted slowly and the idol descended into the waters," says Ayandrali Dutta, a member of the household.
Avian messengers
While most of these traditions are centuries old, some old traditions have been adapted to the times and age. At Shovabazar Ranir Bari, a branch of the Sovabazar Rajbari, known for its Durga Puja started by Raja Naba Krishna Deb in honour of the British victory at the Battle of Plassey, the old tradition of flying Neelkantha birds (Indian Roller) before immersion ceremony (the birds, it was believed, carried the news of Durga's journey to Kailash to her husband Shiva) has been replaced with a new one of immersing clay models of the bird in the Ganges.
Good luck charms
Besides, different regions of Bengal have their own unique lokachar (popular customs). For example, as Chitra Deb writes in her Bengali essay, Mahilader Chokhe Durga Puja (Durga Puja As Viewed By Women), refers to how in some parts of erstwhile East Bengal, on Dashami (in some places, the day after Dashami) it was considered auspicious to see a fresh pot of yoghurt and a whole fish first thing in the morning. It was a guarantee for good luck on journeys round the year. 
Kalyani Dutta in her book, Thod Bori Khada, which offers comforting glimpses into the life and times of early 20th century Kolkata, recalls the simpler Durga Pujas of yore. Dutta writes about the tradition of drinking shiddhir sharbat (cannabis infused sharbat) made with a mix of thick, palm candy syrup and nuts after partaking in prasad on the last day of Durga Puja. Shiddhi is still a part of Bijoya celebrations, albeit in hushed notes. 
Common Durga Puja rituals
Here are few common Durga Puja rituals one could partake in. However, this year some of these rituals might be impossible to conduct or participate in due to COVID-19 protocols. 
1. At the crack of dawn on Maha Saptami witness the unique ritual of Kola Bou Snan or Nabapatrika Snan at one of the Ghats along the Ganges. Nine plants, each representing a form of Durga, are ritually tied together and bathed in the Ganges before being draped in a saree, anointed with vermillion and carried to the site of puja accompanied by the sound of a conch shell and dhaak.
2. On Maha Ashtami, offer pushpanjali, an offering of flowers to the Goddess, at one of the pandals. This year, in view of the pandemic, most puja committees have strict restrictions and a code of conduct in place for those keen on offering pushpanjali.
3. Help light the 108 lamps during the Shandhi Puja.
4. An exciting Durga Puja tradition is the dhunuchi naach, where devotees dance in front of the goddess with clay pots full of burning frankincense. Thrill-induced gasps guaranteed.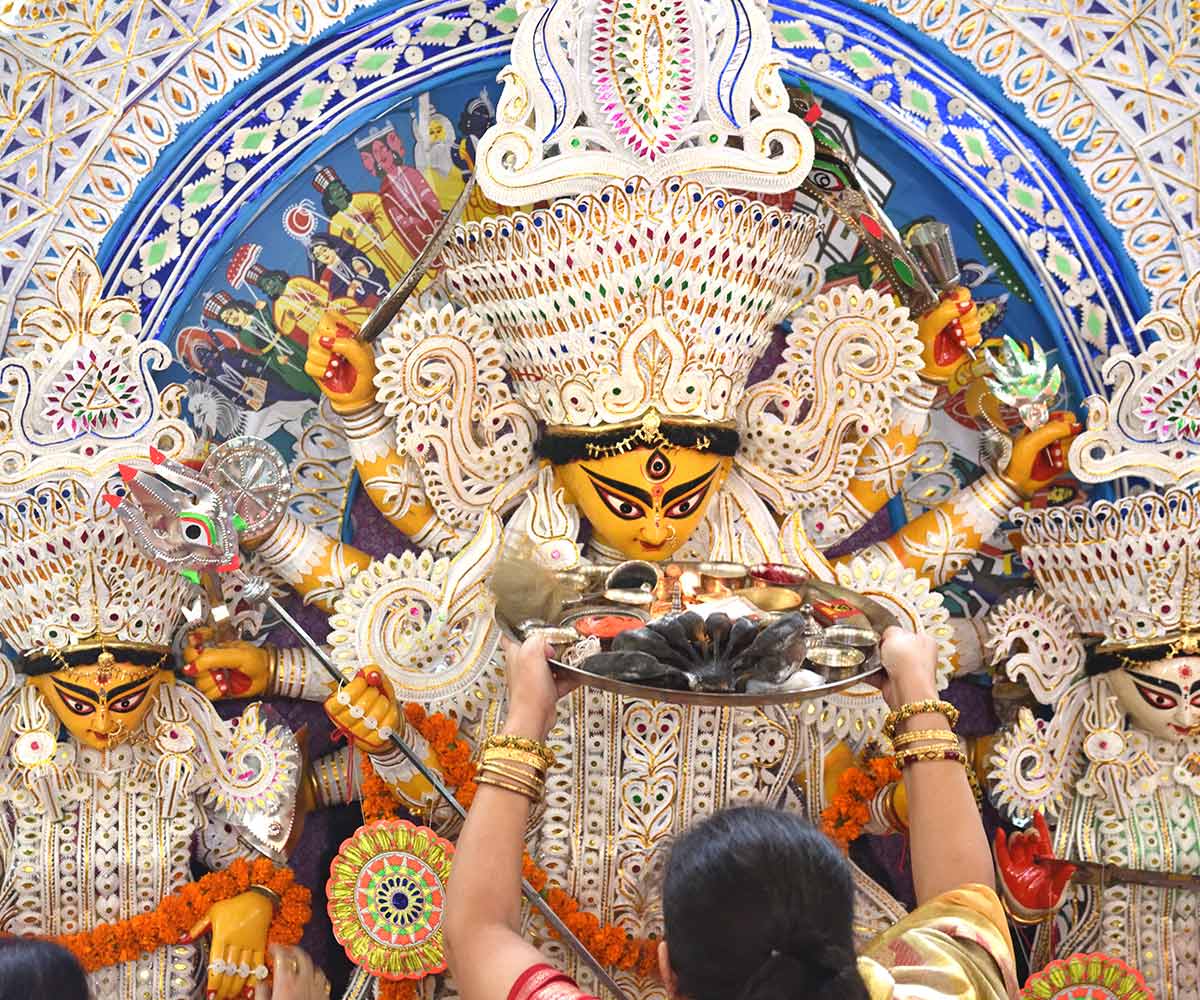 5. On Mahadashami, participate in and witness the Baran or the farewell rituals typically performed by married women. It's a poignant ritual, the sadness in the air is palpable. The fun part however is the sindoor khela, that follows. Typically, married women clad in red-and-white, smear Sindoor or vermillion powder on each other's foreheads and cheeks. 
Photo: Shutterstock