During the five-day festival of Durga Puja, besides festive pleasantries, dhunuchi puja, sandhi puja, and new clothes, the most important topic of discussion among Bengalis is the pujo prasad (which is the food offered to goddess Durga as bhog) that one gets to eat at the puja pandal.
Close to lunch hours, it's common to see people queuing up at pujo pandals to eat bhog–it is like a community lunch. These lunches make for an inevitable part of the celebrations and they consist of kosha mangsho (a spicy Bengali mutton curry), fish kalia, ghooghni, and more.
But when it comes to a highlight meal, it has to be the ashtami bhog, which is a vegetarian meal cooked without garlic and onions. To give you a breakdown of what the Ashtami bhog comprises, we got in touch with Kolkata-based culinary advisor chef Jayanta Banerjee.
Scroll on for a detailed view of this ashtami bhog offered to Goddess Durga.
Decoding The Ashtami Bhog
Khichuri
"The khichuri, which is a type of khichdi, makes for an important element of the Ashtami bhog. It is a traditional Bengali dish made using Gobindobhog rice (a variety of rice from West Bengal), yellow moong dal, vegetables (of your choice), and spices," says the chef.
Bhaja
"The khichuri is accompanied by crunchy, well-spiced vegetable fritters, shallow fried in mustard oil," he explains. While some stick to the all-time favourite begun bhaja (eggplant fritters), several others serve five varieties of bhaja including pumpkin, potato, pointed gourd (parwal), and bitter gourd. 
Labra
Ask him what labra is and Chef Banerjee explains it as a Bengali-style mixed vegetable dish cooked with panch phoran. He adds, "For the uninitiated, panch phoron, literally meaning five spices, is a whole spice mix that makes for an important part of the Bengali cuisine. It consists of fenugreek, fennel, black mustard seeds, cumin, and nigella seeds (kalonji)."
Pumpkin, potatoes, cauliflower, eggplant, spinach, carrots, and radish are a few of the vegetables commonly used in making labra.
Tomato Chutney
A sweet-and-spicy condiment, the tomato chutney is a hot favourite at weddings and family get-togethers, as a matter of fact, no Bengali meal is complete without it. It is made using tomatoes, ginger, mustard oil, panch phoron, salt, sugar, red chilli flakes, and some water.
Payesh
"Payesh is a type of kheer made with rice, milk, cardamom powder, and chopped dried fruits. This version of the kheer is not runny but thick, and is made using Gobindobhog rice," says the chef. Apart from Durga Puja, payesh is also prepared on special occasions such as baby showers, weddings, birthdays, etc.
Where does the tradition of bhog come from?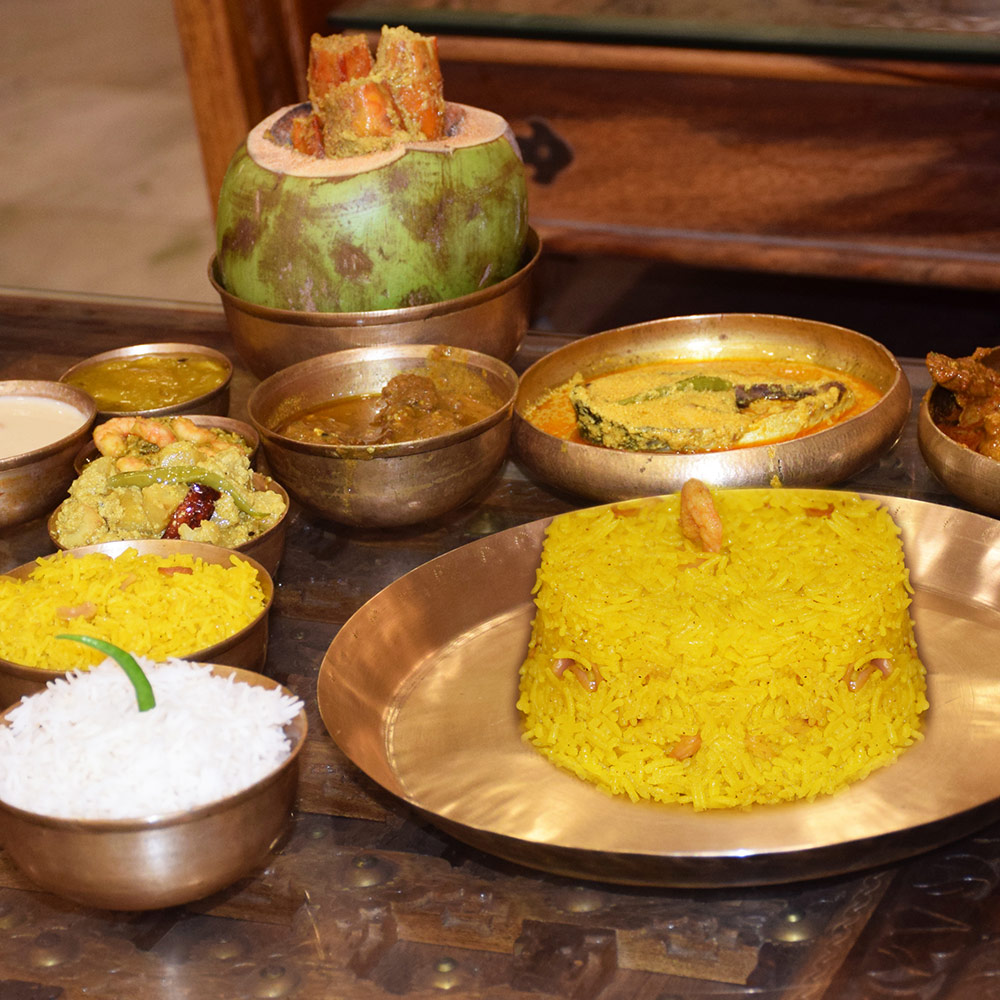 According to culturalist Urmi Chanda Vaz, Durga Puja is considered a festival of kings, having mythically originated from kings. This autumnal version (there is a spring version too) is associated with Lord Rama, who invoked the goddess 'unseasonally' to bless him before he went into war with Ravana. 
"Socially, this grand festival in its present form was started in the early 16th century by the local rulers and zamindars of Bengal. The inspirations were large-scale ancient rituals like the Ashwamedh or Rajasuya yajnas. Held at palatial homes, Durga Puja became a show of authority/autonomy against the British, and gradually it became an opportunity to flaunt their wealth and social status. Like the kings of yore, these 'yajmaans' would organise grand feasts and undertake acts of charity. The grander the feast, the more the social prestige. Exorbitant menus were but natural," adds Vaz.
Apart from this, an emotional narrative also justifies these grand feasts. "According to Hindu mythology, Bengal is the maternal place of Goddess Durga, and it is during this five-day period she visits her home. She, then, has to be duly pampered and fed all delicacies during her short visit," shares Vaz.
Photo: Shutterstock