This ultimate Christmas food gift hampers list is for YOU! If you're aiming for that best guest title at an upcoming festive or holiday party, being someone's Santa secretly or hoping to pamper your loved ones this holiday season and have got your hopes and dreams high on gifting something unique, look no further than this list of Christmas gift hampers – food edition. Loaded with sugar, spice, and all things nice, these gift baskets and hampers are as pretty as their packaging.
Scroll down to check our list of Christmas 2022 special gift hampers for the foodie in your life.
1. Sequel X Noon Christmas hamper
Chef and entrepreneur Vanika Choudhary's restaurants, Sequel and Noon, together have introduced a Christmas 2022 hamper that puts the spotlight on festive classics but with a twist. This includes cookies, Christmas cake, savoury snacks, mulled wine, and more – all made using indigenous ingredients.
Buy here (available across Mumbai, only on pre-order basis)
Price: INR 4720 
2. Coppetto Artisan Gelato
Who said gelato is only for the summer season? Certainly not us because we're already eyeing this customisable Christmas hamper by Coppetto Artisan Gelato. Choose your loved ones' favourite gelato flavours - from Sicilian pistachio, dark chocolate to raspberry sorbet, salted caramel, and Ferrero Rocher – and get it packed in a tub or cup, as per their choice. To add that extra flair, pick some toppings like grains or whipped cream, and ensure your special one has a merry Christmas.
Price: On request 
3. Cremeitalia
Ditch the traditional munchies to make way for a trendy cheeseboard featuring a variety of delectable cheese. Cremeitalia has curated a range of indulgent cheese hampers, which your loved ones can turn into a fun cheeseboard by pairing those with crackers, fruits, olives, and/or toasted bread.
Price: On request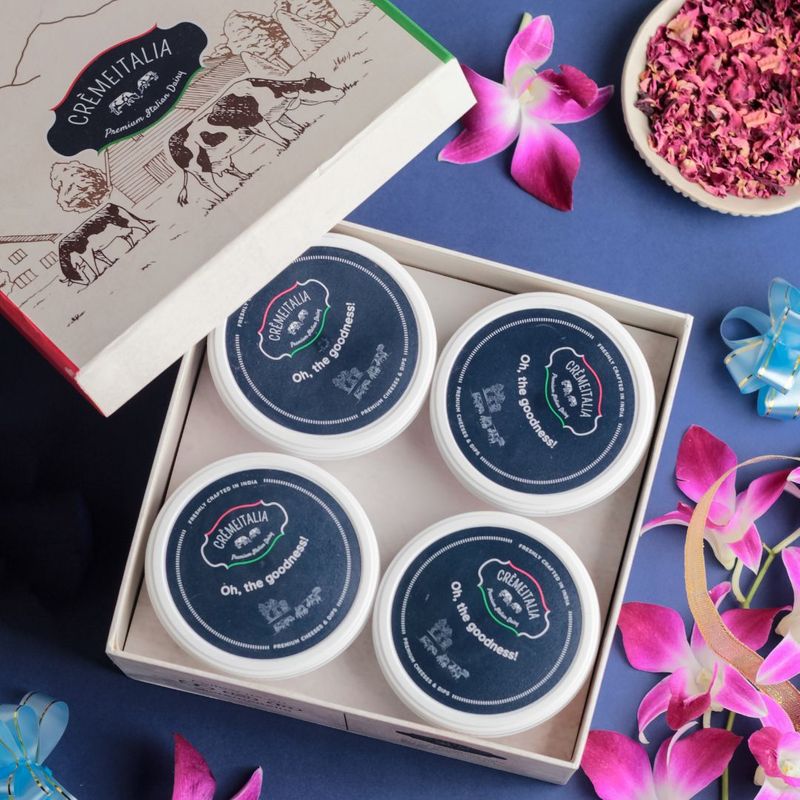 4. Bean to Bark
Sibling duo Devansh and Upasana Parasrampuria's Bean to Bark, a sister brand of Pink Harvest Farms, has an exciting curation of gift boxes that chocolate lovers will appreciate. Our pick is the 'Best of Barks' package that consists of three handcrafted, refined sugar-free chocolate barks with almond, hazelnut, and quinoa.
Price: INR 1099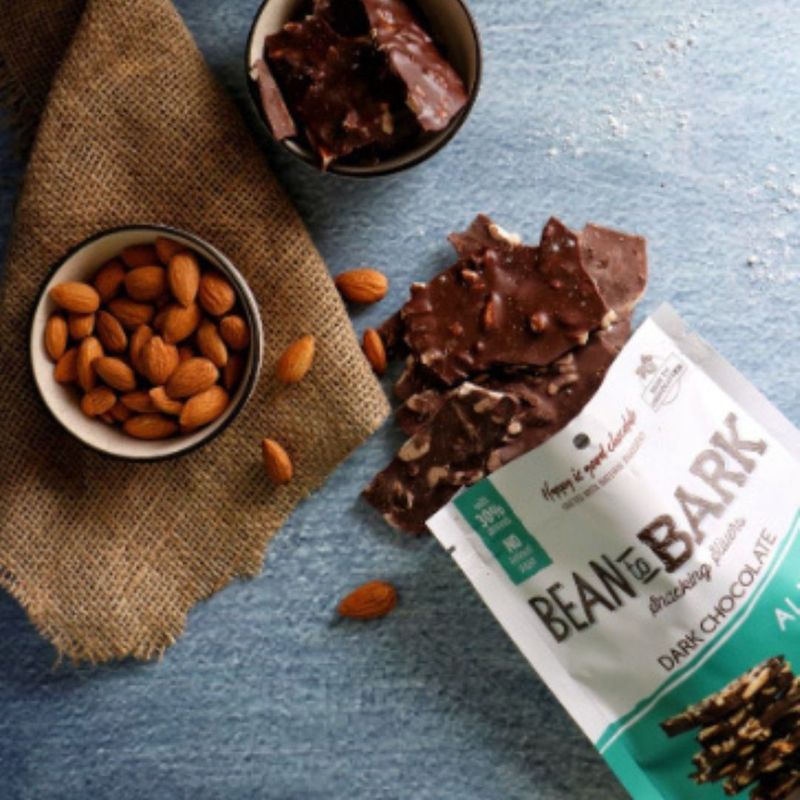 5. Bevzilla
Does coffee count as food? If the person you're buying it for lives for a good cuppa, it certainly is. For Christmas 2022, Bevzilla is offering a coffee gift set that contains a jar of instant coffee powder (flavoured), made using 100 per cent Arabica beans, a frother (because what's coffee without that creamy froth on it), and an enamel mug to enjoy the beverage in. The flavour offerings range from Colombian gold, Turkish hazelnut, French vanilla, and English butterscotch.
Buy here (Available until December 31, 2022)
Price: INR 999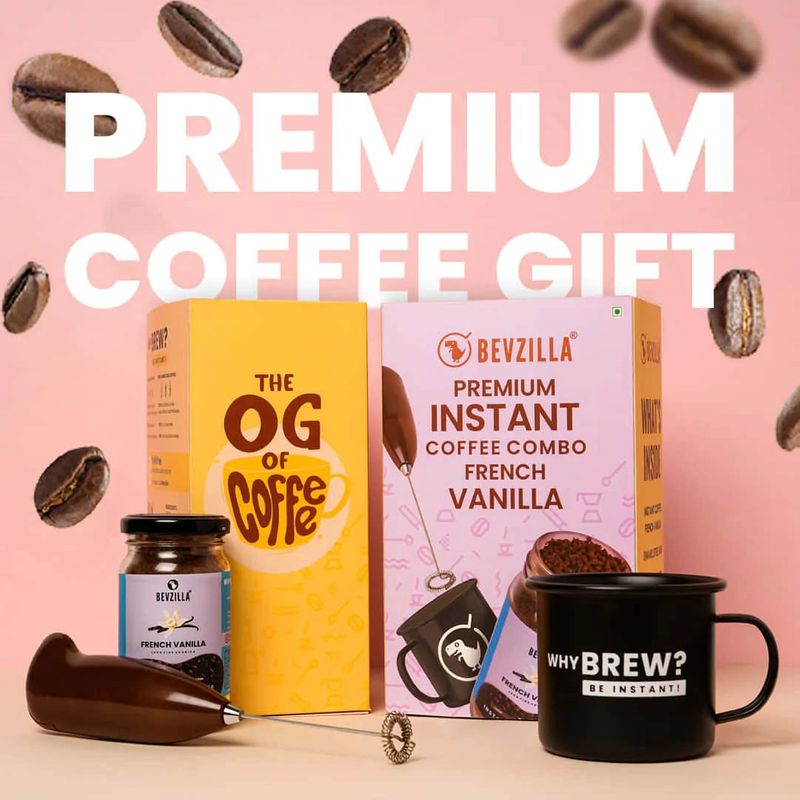 6. Grand Hyatt Mumbai
Santa-shaped chocolates, gingerbread houses, stollen, snowmen, and many other sweet and savoury treats are packed in Grand Hyatt Mumbai's Christmas hampers to fill the festive celebrations with joy and happiness. Take your pick from their array of hampers, gift them and get ready to watch the sheer joy on your loved ones' faces.
Buy here: Call +91 7045950135/ 7045950137
Price: INR 999 onwards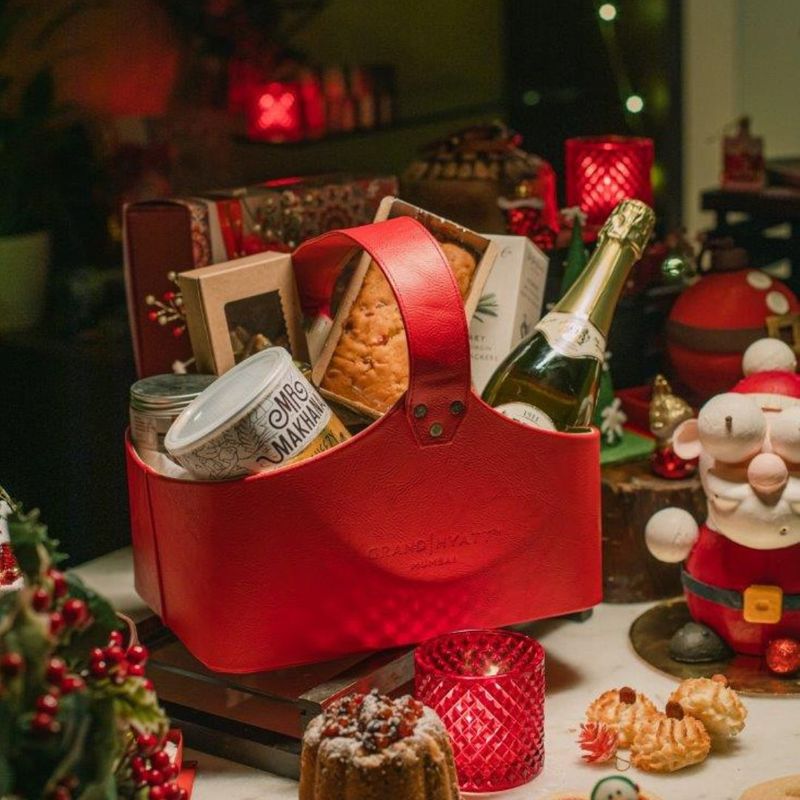 7. Wellness Forever
Is it even Christmas season if your family, friends and you haven't downed mugs and mugs of hot chocolate? Ensure it happens by gifting them Wellness Forever's hot cocoa hamper. It contains Cadbury hot chocolate powder mix, Christopher cocoa double chocolate powder mix, Beanies flavour instant coffee sticks (variety pack), Haribo chamallows (pink and white), Hershey's chocolate spreads, Weikfield icing sugar, Waffle Mill dark choco drizzle and sea salt, and Le 15 assorted macarons (pack of six).
Price: INR 2500 
8. The Gift Studio
A charcuterie board is a favourite among food lovers and for all good reasons. And curating such a board/platter is an art. For Christmas 2022, The Gift Studio is offering a chicken-based platter that features pistachio kernels, red currants, Chilean walnuts, and a variety of chicken-based ready-to-eat items such as ham, salami, lyoner, and pepperoni.
Price: INR 2399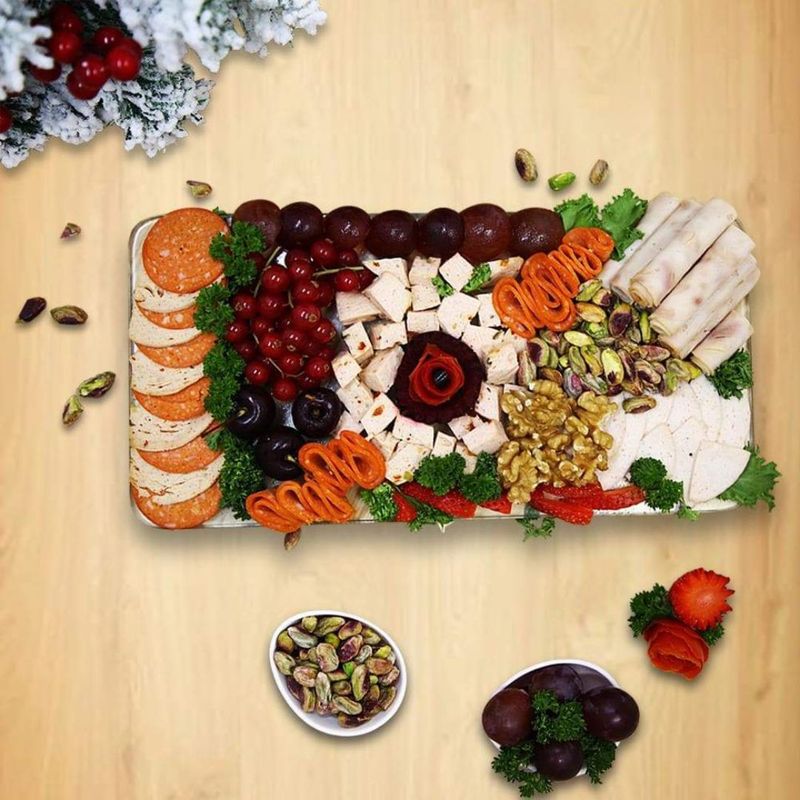 9. Frozen Fun
Is the person who you're buying the Christmas gift for not a big fan of baked goods? How about customising a gourmet gift box with tubs of gelato instead? Frozen Fun in Delhi has an interesting range of gelato and sorbet cakes in flavours like chocolate passion fruit and salted butter caramel and toffee. And these are available in a variety of shapes and sizes.  
Buy here: +91 9311870046 or sales@coldcravings.com
Price: On request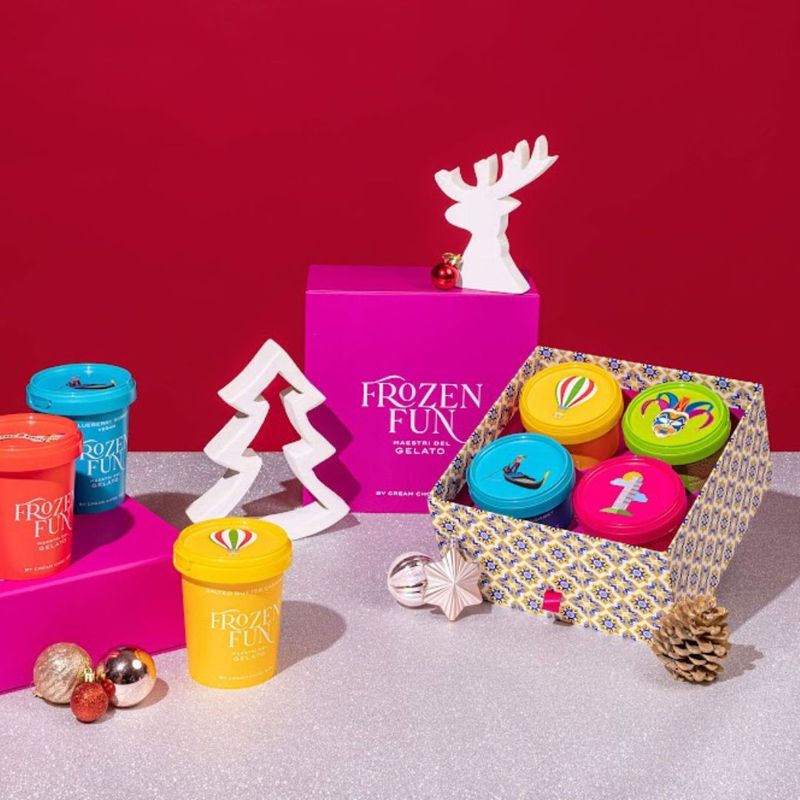 10. The Baker's Dozen
A fun combination of sweet and savoury bakes, The Baker's Dozen sweet saga hamper will impress everyone, especially those with a sweet tooth. It comprises a portion of lavash, sweet peanut butter cookies, red velvet cupcakes, chocolate almond cake, and beautifully decorated shortbread cookies.
Price: INR 951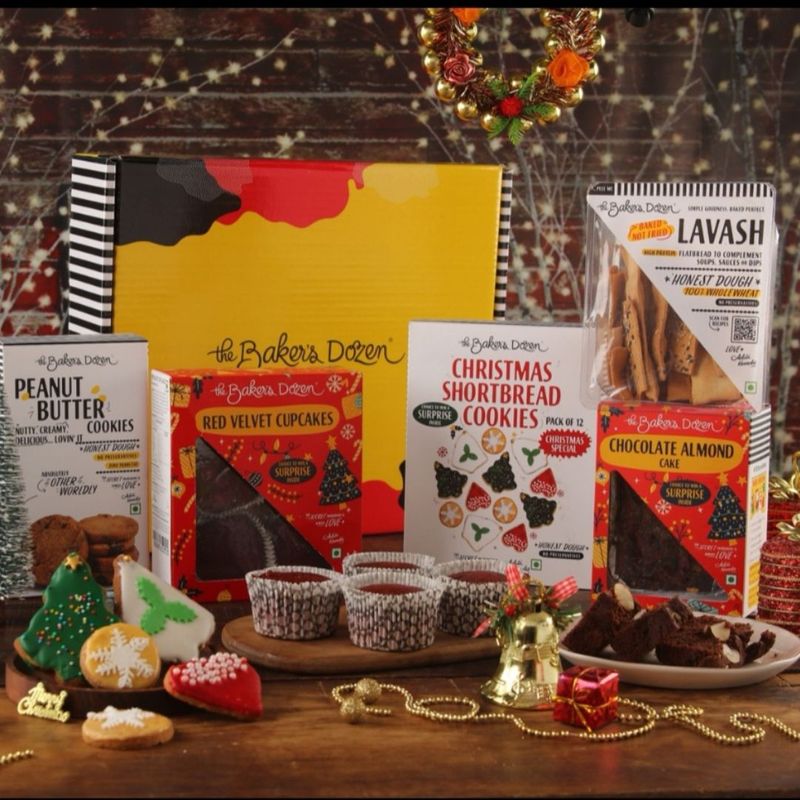 11. Essange
Let them eat cake says Essange with its delectable Christmas 2022 line-up, which feature hampers of bento cakes (customisable flavours) decorated as Santa Claus, a snowman, a Christmas wreath, and a Christmas tree; sugar cookies, cakesicles, and the brand's signature cupcakes with chocolate and vanilla buttercream frosting.
Buy here or call +91 7208496291
Price: On request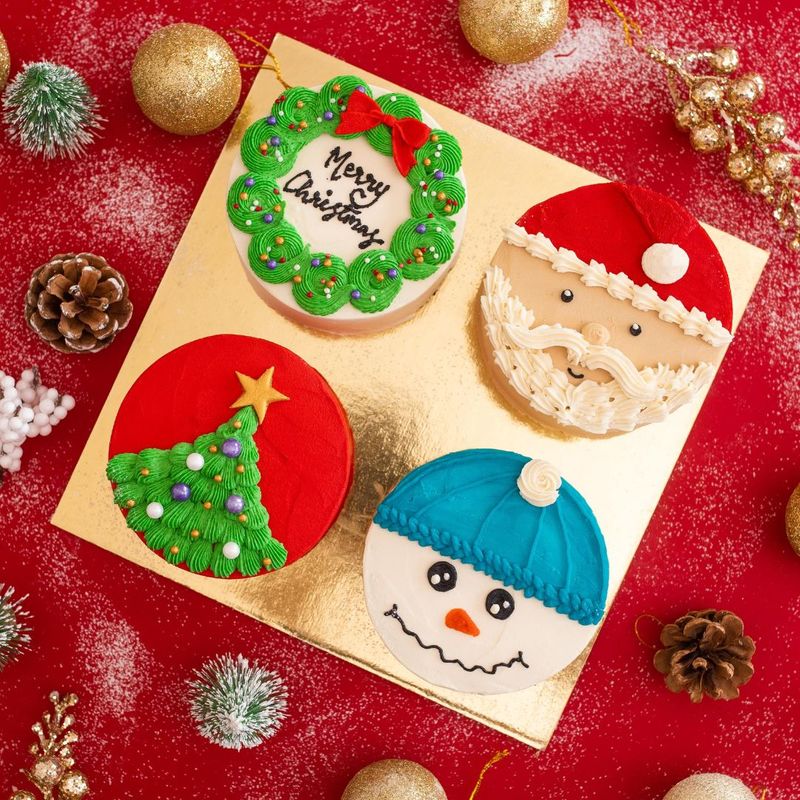 12. The Simple Brew
The perfect Christmas gift for coffee lovers comes in the form of The Simple Brew's Very Merry Goodie Box. It contains two half-litre bottles of single-brew and double-brew coffee, an assorted box of chocolates, a coffee bean or vanilla coconut-infused bubble candle, a small dreamcatcher ornament, and a seasonal discount card.
Price: Rs 2000 
---
Photo: Shutterstock and featured brands